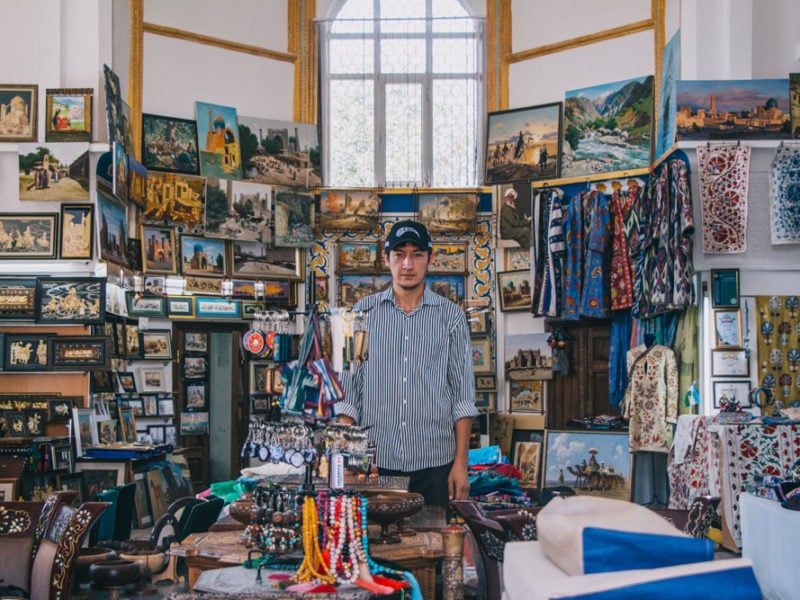 Whether you're staying for a long or a short time, souvenirs are a must if you're staying in Jakarta. As long as you know where to look, finding affordable, high-quality handicraft is a piece of cake. But if you don't know where (or how) to look for them, hunting for handicraft souvenirs can be tricky and time-consuming. Therefore, we compiled a list of the best souvenir stores in Jakarta for you to explore.
Read also: Best Shopping Malls in Jakarta
Don't forget to spare an entire day to visit these places, because you'll find more than just souvenirs waiting for you!
1. Pusat Oleh-Oleh dan Kerajinan Jakarta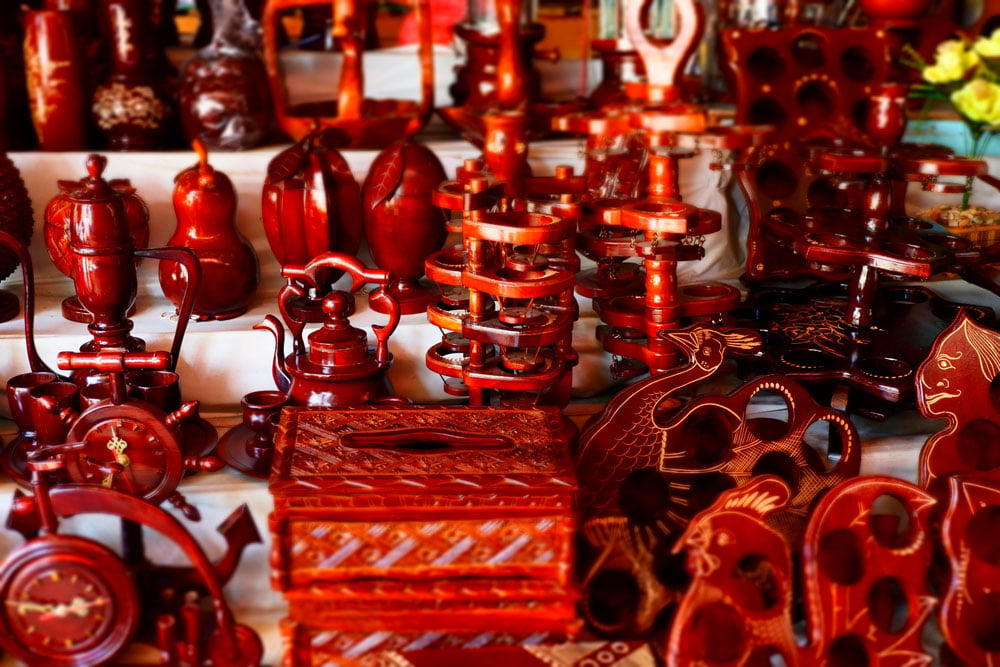 Pusat Oleh-Oleh dan Kerajinan Jakarta translated to Center for Jakarta Souvenirs and Handicrafts, is a souvenir hotspot heavily endorsed by the government of Jakarta. It aims to empower small and medium business owners that produce handmade souvenirs, from ornaments to street food.
The Center for Jakarta Souvenir and Handicrafts is the perfect spot to go for authentic Betawi and Jakarta-themed mementos. Here, you can buy unique keepsakes such as handwritten batik (batik tulis that depicts the Jakarta scenery) and Ondel-Ondel dolls. The store's best-selling souvenirs, however, are their dry food products, like kembang goyang and kue semprong.
If you haven't had time to try out authentic Betawi food, take your sweet time here and try out the Gado-Gado and Soto Betawi sold in front of the center!
Address: Jl. Prof Dr. Satrio No 7, Kuningan, Jakarta Selatan.
Price Range: Rp15.000,00 – Rp300.0000,00
Opening Hour: 10.00 – 19.00, 10.00-16.00 (Ramadhan)
2. Betawi Store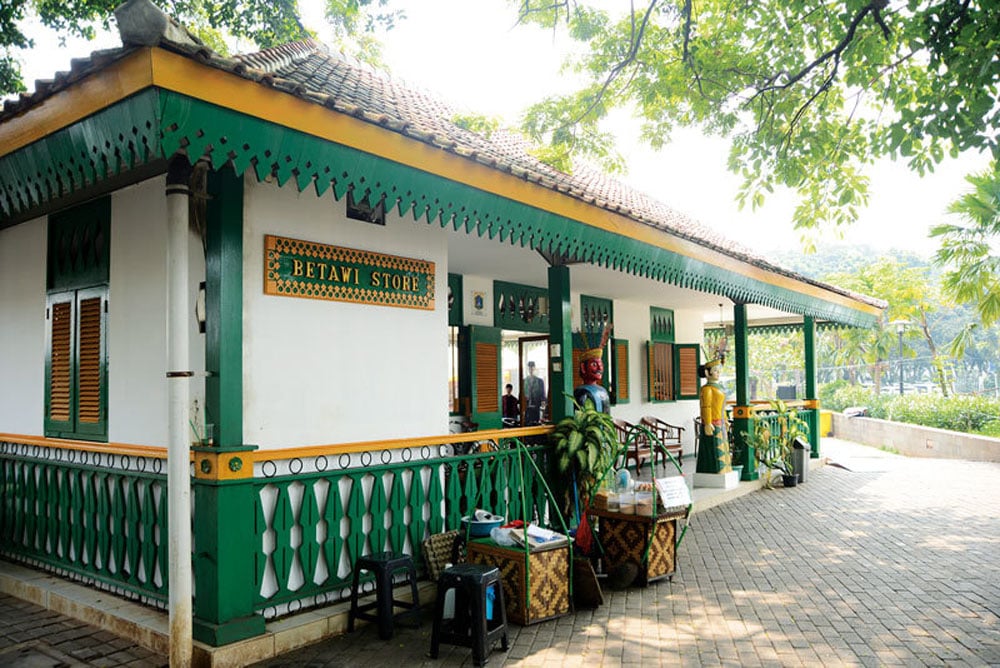 At the Lenggang Jakarta part of the Monumen Nasional (Monas) complex, stands a white-painted Betawi heritage house with vintage wood furnishing and green-gold accent. It's the Betawi Store, another souvenir center that distributes goods made by small handicraft businesses from all over Jakarta.
In the Betawi Store, you get to discover Betawi heritage souvenirs that you seldom find anywhere else. You can expect kebaya krancang, kedok, sendal lily, bangku Betawi, etc.
The shop is especially famous for its street food vendor. Local and tourist's favorites include the legendary kerak telor and the ever-popular bir pletok (the Betawi version of 'halal' beer).
Address: Jalan Medan Merdeka Selatan RT.5/RW.2 Lenggang Jakarta MONAS, RT.5/RW.2, Gambir, Kecamatan Gambir, Kota Jakarta Pusat, Daerah Khusus Ibukota Jakarta 10110
Price range: Rp10.000,00 – Rp1.500.000,00
Opening hours: 09.00-19.00 (weekdays), 07.00-20.00 (weekends)
3. Pasar Jatinegara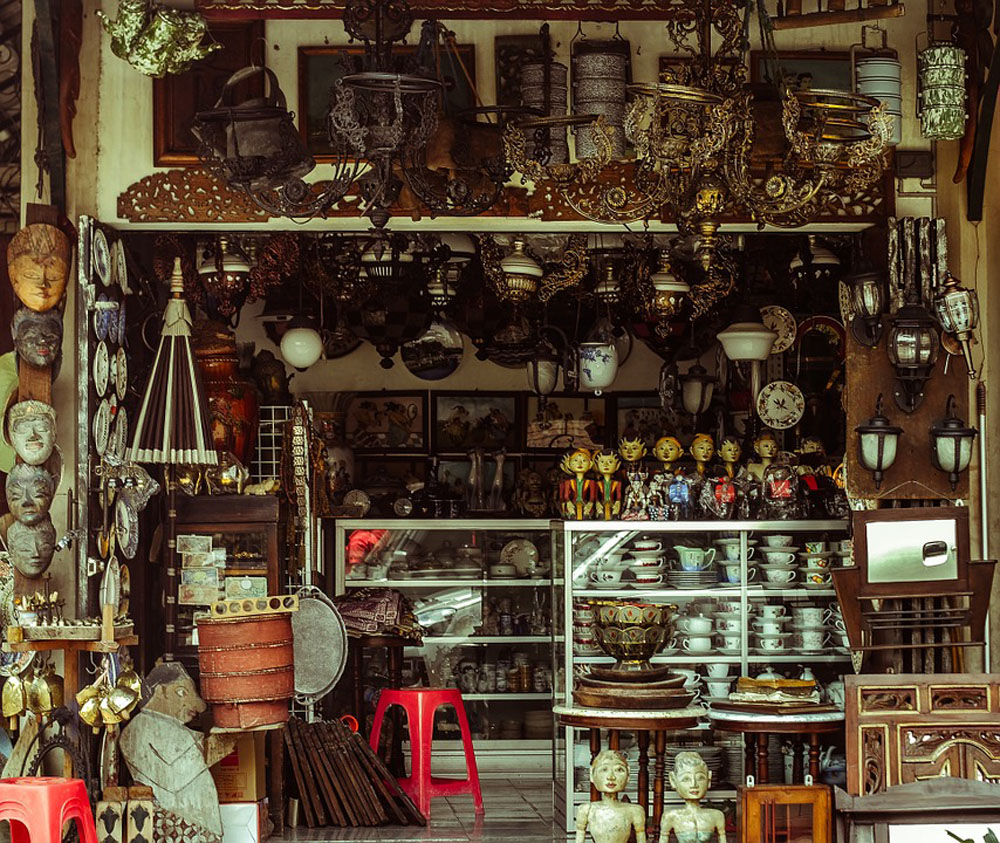 Pasar Jatinegara, historically known as Pasar Mester as Pasar Kemis, has been around since Dutch colonial times. Even until now, it's still the go-to-market for locals in Jakarta.
Pasar Jatinegara is pretty vast, and the items you can buy are varied. For starters, however, we suggest that you buy your traditional snacks (or kue here), as they are Pasar Jatinegara's hottest items.
A tip from us: be wary of pickpockets and don't wear flashy clothes or accessories. Also, make sure you bring cash since most stores don't accept credit cards.
Address: Jl. Jatinegara Tim., Bali Mester, Kecamatan Jatinegara, Kota Jakarta Timur, Jawa Timur 13310
Price range: varied (usually less than Rp500.000,00)
Opening hours: varied (flea markets are open 24 hours)
4. Thamrin City
Just four minutes away from the famous Tanah Abang market, Thamrin City is a retail center for fashionistas with an eye for affordable but quality apparel.
Thamrin City is the best place to shop for western and traditional clothing. You will not only find print t-shirts (which you can get for cheaper in bulk) here but also Betawi garbs such as pangsi and kebaya Betawi. Speaking of which, if you're thinking of bringing a kebaya set home, Thamrin City has a budget-friendly collection of batik skirts to complete your look.
Stores in Thamrin City, aside from selling traditional clothes, also have Jakarta handicrafts such as Monas miniatures and wooden Ondel-Ondel dolls. You name it, they have it!
Tip: for foreigners, bring along a trusted Indonesian friend to help you haggle. You can get better deals that way.
Read also: 4 Affordable Apartments in Thamrin
Address: Jl. K.H. Mas Mansyur, Kb. Melati, Kecamatan Tanah Abang, Kota Jakarta Pusat, Daerah Khusus Ibukota Jakarta 10230
Price range: Rp35.000,00 – Rp260.000,00 (clothing)
Opening hours: 09.00-22.00
5. Mpok Romlah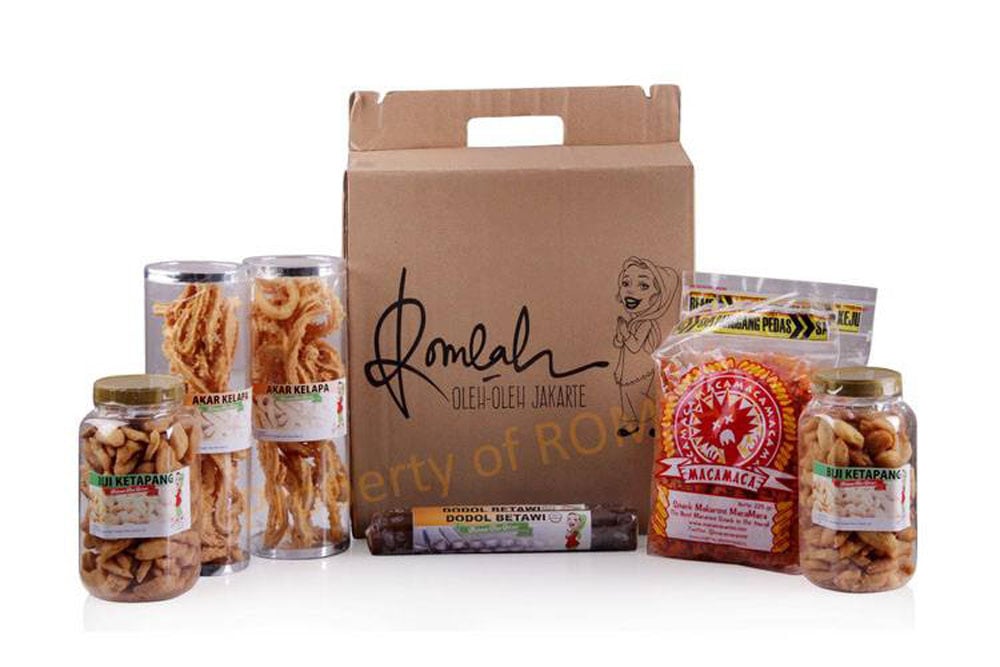 Still need more Jakarta souvenir supply? Worry not! Mpok Romlah Oleh-Oleh Jakarta is the place you go when you need more quality Jakarta Souvenirs at a reasonable price.
There, you can find unique-looking contemporary handicrafts like printed handbags, canvas bags, and laptop bags with Jakarta patches. It's all worth noting that they're all affordable, and sometimes Mpok Romlah gives out discount deals when you buy in bulk.
Mpok Romlah is especially well-known for its kue and snacks like pencok, biji ketapang, sagon, and multi-flavored Rengginang. All in all, Mpok Romlah is the place you go if you want to bring home cookie packages for your elderly neighbors or teachers.
Website: https://romlah.com/
Address: Jl. Swadaya II No.20B, RT.7/RW.5, Tj. Bar., Kec. Jagakarsa, Kota Jakarta Selatan, Daerah Khusus Ibukota Jakarta 12530
Price range: Rp7.500,00 – Rp 57.000,00
Opening hours: 09.00-20.00 (weekdays), 09.00-17.00 (weekends)
6. Babakan Setu
Known as a kampung budaya or heritage village, Babakan Setu is the ultimate souvenir spot for Betawi trinkets and garments.
There's an assortment of curious stuff you can find here, from Ondel-ondel masks to dolls and even traditional Betawi keris and machete. Other anti-mainstream gifts include miniatures of bajaj and kerak telor vendors (cute!).
Setu Babakan is culinary heaven. Here, you can try various street foods like nasi ulam, kerak telor, rujak bebek, es selendang mayang, and so much more.
Also, since this is a heritage villain, keep an eye out for performances like Tari Topeng (mask dances) or balas pantun. Especially recommended for people who love learning about other cultures!
Website: http://www.setubabakanbetawi.com/en/
Address: Jl. RM. Kahfi II, RT.13/RW.8, Srengseng Sawah, Jagakarsa, Jakarta Selatan, DKI Jakarta, Indonesia, 12640.
Price Range: varies from store to store
Opening hours: 06.00-18.00