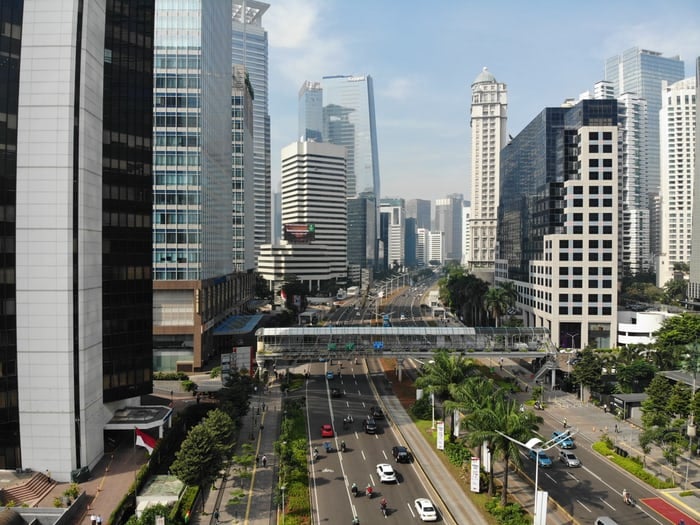 Settling Down
4 Sudirman Apartment Recommendations with Strategic Access
Are you looking for a Sudirman apartment to live in? Don't miss this article because Flokq has recommendations for Sudirman apartments with the best facilities and strategic access. Life in the business center of Jakarta is tiring. But it's not impossible to have a comfortable life, especially if you choose to live in an apartment. With the right moment, the right taste, and enough money, living in the middle of the city will still feel comfortable. If you're thinking about it, check out this article in full to find the best apartment in Sudirman, the heart of Jakarta.
1. Tamansari Semanggi Apartment
Located in the prime area of ​​South Jakarta, Tamansari Semanggi is an affordable apartment that caters to young executives, as well as ex-pats. Tamansari is a mid-range apartment complex that offers affordable prices for studios, one-bedroom or two bedrooms. This apartment is designed to suit every individual's lifestyle. Each unit is also fully equipped with high-speed internet, a fully equipped kitchen, and a TV with popular local and international channels.
To find a healthy life in the middle of the city, you can go to the gym, swimming pool, play badminton, and jogging tracks which are the facilities of this apartment. Or if you want to exercise further, you can go to the Gelora Bung Karno Stadium which is only a few minutes away. In addition, there are also coffee shops and restaurants to fill the stomach. Or salon and spa to pamper yourself when you are tired. There are even dentists and pharmacies that support your health. To meet your monthly or daily needs, you can go to the nearest shopping center, namely Plaza Semanggi, Kuningan City, Lotte Avenue, and Bellagio Ambassador. You can travel using an online motorcycle taxi that is ready to pick you up from the lobby.
Address: 8, Jl. Akri No.134, RW.2, Karet Semanggi, Setiabudi District, South Jakarta City, Special Capital Region of Jakarta 12930.
Price: starting from IDR 6,000,000 per month.
People also read: 5 Best Jakarta Apartments Near Grocery Stores That You Should Know
2. Aryaduta Semanggi
Sudirman premium apartment, even though it is located in the middle of the dense city of Jakarta, Aryaduta Semanggi can provide peace for its residents. Its very strategic location in the middle of the Kuningan, SCBD, and Central Jakarta areas provides many advantages for its residents. You only need about 2 minutes to get to Plaza Semanggi and 7 minutes to get to Lotte Shopping Avenue, Oakwood, Mega Kuningan, Duta Mall, and Kota Kuningan.
The facilities are very complete, supported by the swimming pool and warm water they provide. Don't forget to taste the best spa from Aryaduta. You can also use the function room to hold meetings with business or work colleagues. Not only that, other facilities such as a mini-market, fitness center, basketball court, tennis, and squash are also available in this apartment. Its strategic location is very close to various offices so you are less likely to be late for the office. If you don't have a private vehicle, you can use the commuter line to cover the entire city of Jakarta. In just five minutes, you will arrive at Palmerah Station.
Address: Jl. Garrison No.8, RT.5/RW.4, Karet Semanggi, Setiabudi District, South Jakarta City, Special Capital Region of Jakarta 12930.
Price: starting from IDR 5,600,000 per month.
3. Tamansari Sudirman
It's not impossible to stay frugal even though you live in the city of Jakarta, because this Sudirman apartment is known as a cheap apartment. Tamansari Sudirman is a standard but decent apartment for its residents. Its strategic location makes this apartment popular for expats. Although cheap, this apartment still provides good facilities. There is a swimming pool located between two towers so that there is a part that partially covers the pool. In addition, you can also find a fitness center with several types of equipment that is enough for you to get a relaxing workout.
Another plus point is that Tamansari Sudirman is in a strategic place, in the golden triangle of Jakarta. It is only 400 meters from Jalan Sudirman, one of the most famous streets in Jakarta. Although there is no shopping center within walking distance you can reach the nearest mall by car in 10 minutes. One of the closest shopping centers is Pacific Place or another cheaper one at Mall Ambassador. The surrounding area has clean sidewalks, encouraging exploration on foot. But if you have to travel far, you can use an online motorcycle taxi to make it more effective.
Address: Jalan Bek Murad No.42 RT.9/RW.1 Karet Setiabudi District RT.9, RT.9/RW.1, Kuningan, Karet Kuningan, Setiabudi District, South Jakarta City, Special Capital Region of Jakarta 12940.
Price: Starting from IDR 4,800,000 per month.
People also read: 5 Reasons Why You Should Rent an Apartment in Kalibata
4. Sudirman Park
This residence is relatively simple and is located between the golden triangle of Jakarta, namely Sudirman, Thamrin, and Kuningan. With a modern design, the facilities are very complete for residents who have a dynamic lifestyle. Entering the lobby, you will be greeted with ethnic crafts from Indonesia and comfortable sofas. Each unit is fully furnished and equipped with a kitchen. There is also a TV with popular cable channels. Taman Sudirman also offers a number of facilities for its residents. You can spend the afternoon at the pool relaxing.
Other needs can also be met, such as clinics, salons, child care centers, to ATM centers. From the apartment, you can easily reach various shopping centers in just a few minute's drive. Shopping malls such as Lotte Shopping Avenue and Kuningan City in Kuningan, FX Sudirman and Pacific Place in Sudirman, and popular Grand Indonesia and Plaza Indonesia in Thamrin are all within a 10-15 minute drive. Another advantage, its strategic location between many transportation centers gives you many options to get around. This apartment is only 650 m from the Karet commuter line station. Or MRT Setiabudi Astra if you want another option.
Address: Jl. K.H. Mas Mansyur No.11, RW.9, Karet Tengsin, Tanah Abang, Central Jakarta City, Jakarta 10220.
Price: Starting from IDR 6,200,000 per month.
People also read: 5 Reasons to Rent Kost Exclusive in South Jakarta & Recommendations!