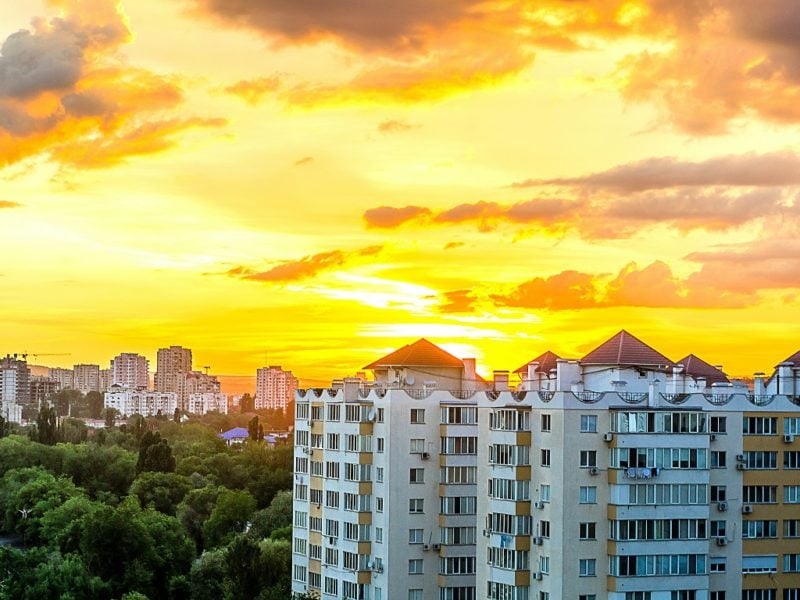 Settling Down
Rent an Apartment in Sunter: 4 Best Apartments Near Public Transportation For You!
Renting a Sunter apartment is a perfect decision for anyone who works around North Jakarta. Since they stand in a strategic area, it is possible to reach other places in Greater Jakarta in a short time.
Moreover, living in North Jakarta will give you plentiful advantages, such as easy access to theme parks, chilling at the beach, and visiting various shopping malls. On top of that, you will be able to travel conveniently, because you can find public transportation nearby.
Are you planning to rent an apartment in Sunter soon? Flokq has summarized 5 recommended Sunter apartments near public transportation in this article. Let's check it out!
Green Lake Sunter Apartment
Developed by the famous Agung Podomoro Land, this two-tower apartment is located in Tanjung Priok, North Jakarta. If you love to work by public transportation, you can find the TransJakarta (Penjaringan-Tanjung Priok route) nearby.
It only takes around 15 minutes to the commuter lines Ancol station and Rajawali station. Furthermore, the apartment stands in a less-crowded area, so you won't get trapped in traffic jams very often.
You can also travel to other parts of Jakarta because it is close to the Jakarta Inner Ring Road. It is also not too far from the business district like the Thamrin area.
Living in Green Lake Sunter will give you easy access to some public places. Need to buy groceries? The Carrefour supermarket is only 5 minutes away. Artha Gading Mall and Sunter Mall are just 9 minutes from the apartment. Within 14 minutes of driving, you can visit Golden Truly Mall at Kemayoran.
Green Lake Sunter apartment provides great facilities for its residents. Each unit is fully-furnished, equipped with high-speed Wi-Fi and cable TV.
Plus, you can relax at the swimming pool and train yourself at the gym. At the ground floor, there are coffee shops, laundry, small restaurants, and even an ATM Center.
Also read: 5 Recommended 1BR Apartments Jakarta to Rent!
Sunter Icon Apartment
This Sunter apartment is a great choice for those who seek an affordable residence. Located in Jalan Sunter Barat, you can reach the commuter line Ancol Station within 8 minutes (3.1 km).
It is also close to the Kemayoran toll road, making it easier for you to travel in the Great Jakarta area. Within a 17 minutes drive, you also can find the Sunter toll gate. This makes the apartment suitable for those who have high mobility.
Looking for the nearest malls? The Sunter Icon is accessible from some shopping centers. Mangga Dua Square is only 19 minutes away (6.4 km), WTC Mangga Dua is 23 minutes away by driving (6.6 km), and Mega Glodok Kemayoran is within 10 minutes drive (4.7 km).
Moreover, you can spend holidays with family or friends in several tourist spots nearby. From the apartment, you can reach Taman Impian Jaya Ancol in 19 minutes (6.9 km) and SeaWorld Aquarium in just 13 minutes drive (4.6 km).
Need to catch the plane? It only takes 37 minutes to reach the Soekarno-Hatta International Airport!
Sunter Icon apartment offers comfortable residential with open sea view and numerous facilities inside. There is a spacious parking lot, laundry, swimming pool, BBQ area, and many more. Apart from its strategic location, this residence comes with a cozy environment which is perfect for executives and professionals.
Also read: 3 Apartments Near Transportation Hubs in North Jakarta
Metro Sunter Apartment
Looking for a flood-free apartment building in North Jakarta? You should consider this apartment for real. Located in Tanjung Priok, Metro Sunter Apartment is the best option for those who wanna live in a strategic area.
If you are a professor, student, or executive, it would be great to live here since it is close to several offices and universities. Furthermore, there are some vital places nearby and reachable from public transportation.
One of the most popular options is the commuter line. From the Metro Sunter Apartment, the Ancol station is only 12 minutes away! There is also Tanjung Priok station just 16 minutes away by driving.
Do you travel by plane often? Don't worry, you can catch the plane in a short time. It only takes around 40 minutes to arrive at the Soekarno-Hatta International Airport. This would make you save more time, right?
In your free time, don't hesitate to visit the well-established recreational park, Taman Impian Jaya Ancol. It is only 6 km or 15 minutes drive away from Metro Sunter Apartment.
This apartment is significantly a small residential building with only 6 floor levels. Nevertheless, you still can enjoy great facilities here which maximize your comfort. There is a jogging track, a fully-equipped fitness center, and an outdoor swimming pool to support your healthy lifestyle.
To protect its residents, there is a 24-hour security system with CCTVs in all corners. Each resident is also granted card access for using the elevator. It also provides cleaning service to make your room stay tidy.
Also read: Rent An Apartment Monthly In Jakarta That Allows Pets
Maple Park Apartment
Maple Park apartment is suitable for every young individual or small family who want to rent an affordable apartment in Sunter. Work by public transportation? This apartment gives you access to the commuter line Rajawali Station (8 min) and Mangga Besar Station (10 min).
If you travel by TransJakarta, you can reach the nearest bus stops: Penjaringan, Ancol, and Mangga Dua. Plus, you don't need to spend much time on the way to the airport. It only takes around 30 minutes driving through the airport toll road!
Living in the Maple Park apartment also makes you able to reach malls, schools, hospitals, and other vital places. In only a couple minutes, you can visit Pluit Village, Baywalk Pluit, and Artha Gading Mall.
Maple Park comes with numerous facilities to meet your convenience. Need to take cash immediately? There is an ATM center in the building. Inside the unit, you can enjoy the cable TV and Wi-Fi connection. Moreover, there is a convenient store for your household needs.
---
That's all 4 recommended apartments in Sunter near public transportation for you. With great location and facilities, no wonder why there are more people considering North Jakarta as a place to rent an apartment, right? Planning to rent one? Check out Flokq homepage to find a Jakarta apartment to rent!