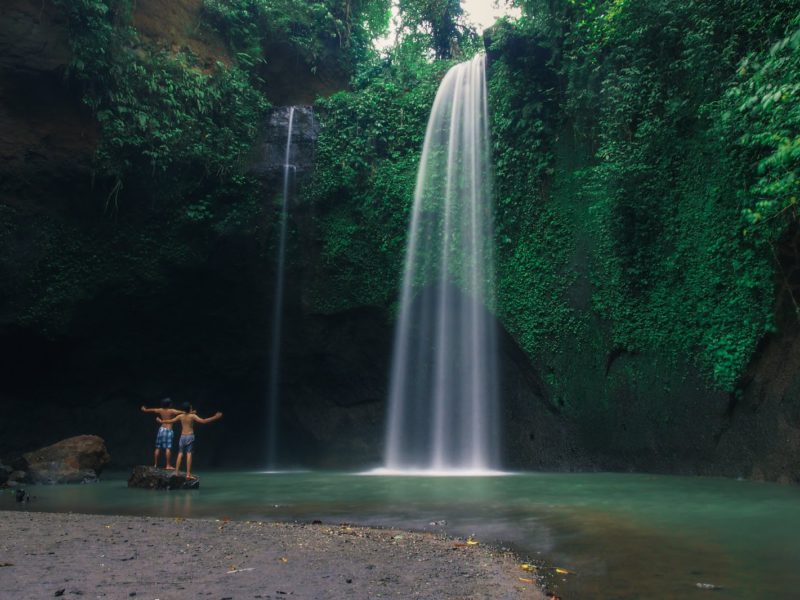 The beautiful island of Bali is an island in Indonesia that should be on everyone's bucket list. The tropical hideaway manages to be an adventure seeker's paradise, a spiritual sanctuary, a food lover's heaven, and a surfer's oasis all at once. The locals' warm welcome and their rich cultural and religious heritage are complemented by landscapes that include rocky coastal cliffs. As far as the eyes can see, coral reefs within aquamarine oceans, steep volcanic mountains, and emerald-green rice paddy fields.
While its beautiful beaches and fascinating temples are plentiful, you will also find an excellent, eclectic, and natural landscape in Bali. Whether you want to get amongst the action of Seminyak, the relaxed vibes of Canggu, or the exquisite neighboring islands. There are a lot places to explore and things to do in the beautiful Bali.
---
It must be confusing for you to decide what to do in Bali with all of the descriptions above. But worry no more, we have you covered! Here are the 13 best things to do in Bali that you should never miss (except for beaches and temples)!
Things to Do #1: Waterfalls
Bali is not only about beautiful scenic beaches and sunset cocktails. This beautiful paradise island is also home to stunning and breathtaking waterfalls too!
If walking through dense jungle, ducking under lush green canopies, clambering over rocks, and getting splashed by a lot of water is your idea of fun, then hunting for Bali's hidden waterfalls absolutely should be on your Bali bucket list. Luckily for adventurous souls like you, Bali is home to hidden treasure waterfalls that many of which are off the beaten track and unbeknownst to the tourist crowds.
Here we have you covered with the 5 most impressive waterfalls you should spend your time visiting in Bali!
1. Sekumpul Waterfall, Singaraja
Some people regard this waterfall as the most incredible waterfall Bali has to offer. Sekumpul Waterfall offers you breathtaking 80 metres tall drops of water into the refreshing natural pool.
The relatively long but easy walking trail through the forest takes you to a jaw-dropping panoramic landscape. Picture perfect Instagram photos guaranteed!
2. Tegenungan Waterfall, Ubud
One of the most popular spots Bali has to offer. A 15-minute trek through the forest will reveal an overwhelming waterfall, with a thudding cascade that drops around 15 meters tall. It's a powerful fall, so don't expect to be wading underneath it. Instead, view from the rocky surrounds or take a dip in the catchment.
It's worth noting that the walk down to it is quite steep, and it gets quite busy in the day time. So, consider heading to it earlier in the morning if you're after a more serene experience.
3. Niagara Munduk, Buleleng
The Niagara Falls of Bali, Niagara Munduk lies in the rainforest around Munduk Village in Buleleng.
There are three waterfalls in this area, with the most spectacular being Niagara Munduk which some visitors have compared to Niagara Falls. Not only is the 15 meters tall waterfall a jaw-dropping spectacle, but the two twin lakes are also a stunner. With clove plantations, rice fields, and the backdrop of Bali's beautiful mountains all around, Munduk is a great place to find some inner peace.
There is a restaurant here too, where you can enjoy some grub and a drink, before you journey one kilometer further to either the main Munduk Waterfall, or Melanting Waterfall which lets you splash around in the waters below.
4. Tibumana Waterfall, Bangli
Located in Bangli regency, Tibumana Waterfall offers you a large pool of water at the base of a picture-perfect stream. Perfect for you who want to dive in, swim around, and make the most of naturally refreshing waters.
The shallow pool is great for wading through and splashing around for hours. And the best bit is, it's not far from Ubud as well! It takes just 10 minutes to walk from the parking area, crossing bamboo bridges and palm-lined pathways.
5. Tukad Cepung Waterfall, Bangli
Every good photographer knows that lighting is everything, and Tukad Cepung Waterfall has got it down pat. Famous for its heavenly streams of light that burst through the rock and forest canopy right when the sun is at a certain point in the sky, Tukad Cepung certainly knows how to help you work the camera.
Set inside a ravine-like cove with a wall of water that rushes from the divine-like beams above – it's no surprise that Tukad Cepung is becoming a must-visit destination for everyone's Instagram feeds.
Things to Do #2: Rice Terraces a.k.a Subak
Bali not only has beautiful waterfalls, but there are also rice terraces that offer outstanding landscapes that can fill entire memory cards with stunning snaps.
They are among the must-sees for visits to the island, giving insights into the local way of life. Rice terraces in Bali are part of the people's heritage. The centuries-old traditional irrigation cooperative called subak lives on through such artistry in nature.
If you're a green-area lover, these are 3 sites in Bali that offer you impressive rice field views. Some even feature majestic mountains as backdrops. Due to succession planting, there's no best season to see the green rice fields – they look amazing all year!
6. Jatiluwih Rice Terrace, Tabanan
Jatiluwih is the largest and most picturesque of all of the rice terraces in Bali. The Jatiluwih rice terraces flow down the southern slopes of the Batukaru mountain range in West Bali. Once a UNESCO Cultural Heritage site candidate and listed as one of the world's important cultural landscapes. The rice fields cover over 600 hectares, which follow the cascading hillside of the highlands and are well-maintained by the local village's subak cooperative.
You will get the impressive 180-degree 'sea of green' viewpoint just halfway up along the paddy roadside. If you're in the area, you can visit a neighbouring site in the village of Pupuan, a short distance away.
7. Tegalalang Rice Terrace, Ubud
The craftsmen's village of Tegallalang is one of the Ubud region's 3 villages famous for their terraced landscapes, the others being Pejeng to its east and Campuhan to its west. The high roadside outlook at Tegalalang is cool and breezy. Being situated in a small valley which is crowded with palm trees, the scenery here is quite compact and busy.
Numerous restaurants serve coffee and local cuisine with spectacular views, while art kiosks and cafés near the ledge offer all sorts of paintings and carvings at bargain prices.
8. Sidemen Rice Terrace, Karangasem
Sidemen Village is located along the Klungkung and Besakih Temple route, roughly a 2-hour drive from Ubud. It's an excellent spot for viewing beautiful rice paddies in East Bali. Driving along the rural neighbourhood's roads is quite pleasant, and you can enjoy the soothing views from up close on various paddy trekking tours. Some of the walks over lush hillsides available here cross rivers to different farmlands, where you can learn about the local organic produce.
The village offers great local souvenirs to take home, including traditional dye weavings known as songket and endek. They are praised for their intricate motifs and use of colourful hand-loomed cotton and silk threads. You can purchase these clothes and a large print of the rice paddy landscape as mementoes of your visit to the 'real' Bali.
Things to Do #3: Foods in Canggu
Canggu is a literal foodies heaven! Canggu has more than 300 restaurants and still counting that serves Indonesian food, burgers, fusion, vegan, and the best coffees and cakes.
To help you choose the best spot to eat, or snack, or maybe just drink, we have you covered with these 5 recommended food places in Canggu.
---
Also read: Mermaid Stuff and Activities You Can Do in Bali for All Age!
---
9. Manggis, Fusion Restaurant
This well-decorated oasis in Berawa is the place where you go for an incredible Spaghetti Meatballs, Nasi Campur, Chicken Satay, Chicken Nugget Salad, and many more.
For your surprise: Everything in Manggis is vegan. After tasting the foods here, there is a high chance that you will probably choose Manggis over every other place no matter if it is vegan or not.
10. Shady Shack
With its organic atmosphere and yummy vegetarian dishes, Shady Shack offers you the back-to-the-nature dine experience that you would love.
11. Warung Bu Mi
Fresh veggies, meat, fish, and loads of vegan options all in buffet style; Warung Bu Mi is the best restaurant in Canggu to eat Indonesian food.
12. Ruko Cafe
This good-looking cafe in Canggu has a delicious breakfast and lunch menu. It is a small space and pretty much always occupied. Looking at the price and options we would say they offer the best breakfast in Canggu. It is located near Finns Beach Club on the junction with Bali Bowls.
13. Hungry Bird Cafe
Start your day perfect with a coffee at Hungry Bird. Hungry Bird offers a good and very affordable breakfast and lunch. The coffee at Hungry Bird has a great taste to boost your energy.
---
Besides its beautiful panoramic beaches and fascinating temples, Bali still has a lot to explore. Hence, those were the other 13 things to do and places to visit in Bali that you should never miss!
Are you more excited now to visit Bali? Don't forget to bring your camera and see you in Bali, Flokqers!
---
Want to find a rental option for your vacation in Bali? Flokq has several rental options in Bali with well-facilitated rooms and at an affordable price! Click the button below to find out more.
Click Here to Check Out More Flokq's Homes