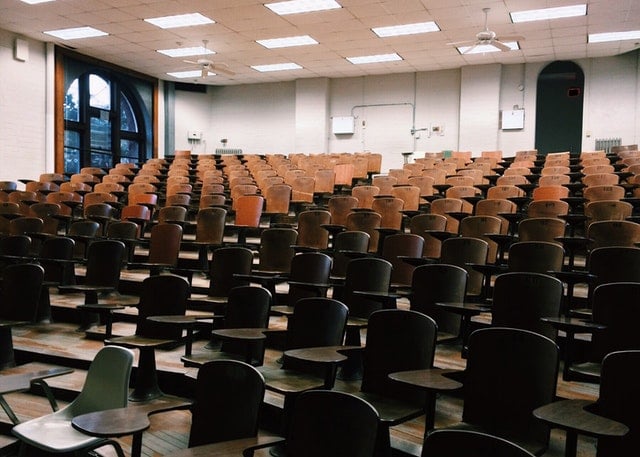 Aside from the abundance of business activities in Jakarta, it also has many options when it comes to education. There are a handful of well-known universities in Jakarta. Of course, each university has its own specialties and advantage, but nevertheless, overall ranks help to understand their respective merits. The ranks are also important for finding the right place to study or to assess a potential employee's academic merit. These universities also put additional value to certain areas due to the closeness to their campus and accessibility for students. So here are the top 8 universities in Jakarta based on the 2019 ranking by the Ministry of Research and Technology.
Universitas Indonesia
Known for its distinctive yellow alma mater jacket, Universitas Indonesia is a prominent university in many fields of different sciences. Because of the distinctive color, students of Universitas Indonesia are often referred to as Jakun or 'Jaket Kuning' (Yellow Jacket).
Their campus is spread into two campuses, one in Salemba and one in Depok which houses most of the faculties. In the field of research, UI has over 60 research organizations within its 18 faculties, 2 schools, and vocational program. Notable alumni from UI include the current Indonesian Minister of Finance Sri Mulyani and Mohammad Hatta the first Indonesian vice-president.
Universitas Bina Nusantara
Commonly known as 'BINUS', this university is a private university established in 1996 and evolved from a computer training institute. That is why BINUS has many technology-related programs in its educational options such as in cybersecurity and information systems. BINUS has three faculties and four schools, potential students can also pick fully online college degrees and double degree programs.
Their campus is spread into 3 places in Jakarta, which are located in West Jakarta, South Jakarta, and Alam Sutera. BINUS also has campuses in Malang, Bandung, and Bekasi – the last one being arguably the nearest to Jakarta.
Universitas Katolik Indonesia Atma Jaya
This university was established in 1960 and is known for its distinctive green emblem and Catholic roots in its history. The university gives plenty of room for students to grow outside of the classroom in their various student-run organizations. It has 8 faculties and one postgraduate school. The faculties include the Faculty of Law, Faculty of Economics, and Faculty of Engineering.
Commonly abbreviated as Unika Atma Jaya, this university provides opportunities to its students in terms of expanding their linguistic skills. Unika Atma Jaya has three campuses in Jakarta which are located in Semanggi, Pluit, and Bumi Serpong Damai (BSD).
Universitas Tarumanagara
This university is among the oldest private universities in Indonesia along with Unika Atma Jaya. Commonly abbreviated as 'UNTAR', the university was established in 1959 and was made for higher education in economics. The university has 8 faculties that produce 40 study programs that potential students can choose. That includes visual communication design, law, architecture, psychology, industrial engineering, mechanical engineering, accounting, interior design, medicine, civil engineering, and management.
Universitas Tarumanagara has campuses in three places which are located in West Jakarta for the first and second campuses. Meanwhile, the third campus is located in South Jakarta with a fourth, under-construction one is located in Karawaci.
Universitas Trisakti
Abbreviated as 'Usakti', Universitas Trisakti was founded as Universitas Baperki, then to Universitas Res Publika before bearing its current name. Usakti originally only had five faculties, but it expanded to have another four to keep up with Indonesia's national development. From those 8, Usakti delivers 23 undergraduate programs (S1), 12 postgraduate programs (S2), and 3 doctoral programs (S3).
Universitas Trisakti's faculties are spread in 6 campuses all around Jakarta. Campus A, B and G are in West Jakarta, C and F in the East, while D is in the South. It has seven campuses if one counts the one not utilized for everyday teaching in Nagrak.
Universitas Pancasila
This university is another top private university in Indonesia that was founded back in 1966. The university as it stands today is from a merger between the old Universitas Pancasila and Bung Karno University. It has 7 faculties and its Faculty of Law is noted by Tempo as especially a favorite pick in Indonesia.
Universitas Pancasila is divided into two locations, its main campus in Jagakarsa, South Jakarta, and its postgraduate Campus in Menteng. The university was almost nationalized and made a public university back in 2015 but was canceled due to a lack of possessed land.
Universitas Mercu Buana
This private university was established back in 1985 and was originally the Dewantara Entrepreneur Academy in 1981. The step to establish a university from the academy was made by a decree of the chairman of the Menara Bhakti foundation. The university has six faculties and also has postgraduate programs and vocational programs in its university curriculum.
Universitas Mercu Buana (UMB) has four campuses, A, B, C, and D. Campuses A and B are located in Jakarta while, Campus C is in Depok and Campus D is in Bekasi. This makes campuses A and B to be the ones that are technically located within Jakarta.
Universitas Gunadarma
Established in 1981, Universitas Gunadarma (UG) originally started as an educational institute for studying computers. It is only in 1996 that its university form took shape. Nodaway's, it is among the popular private university pick for youngsters about to enter college. UG has six faculties that serve undergraduate (S1), postgraduate (S2), and doctoral students (S3).
Universitas Gunadarma is separated into multiple campuses, fourteen in total. Campuses A, B, C, H2, J5, and L are the ones that are located within Jakarta. Other campuses are located in Depok, Bekasi, and Tangerang. These campuses contain 167 college rooms in total.
From all of the universities on the list, there are several considerations that may take place before picking them. Things such as the difficulty to enter, the distance to home, the living cost are all common things to consider. Remember that this list is merely an overview of the universities mentioned here. So do your research and ask your friends, family, and the internet for further information! After all, you might be needing different information than the ones that we put here.