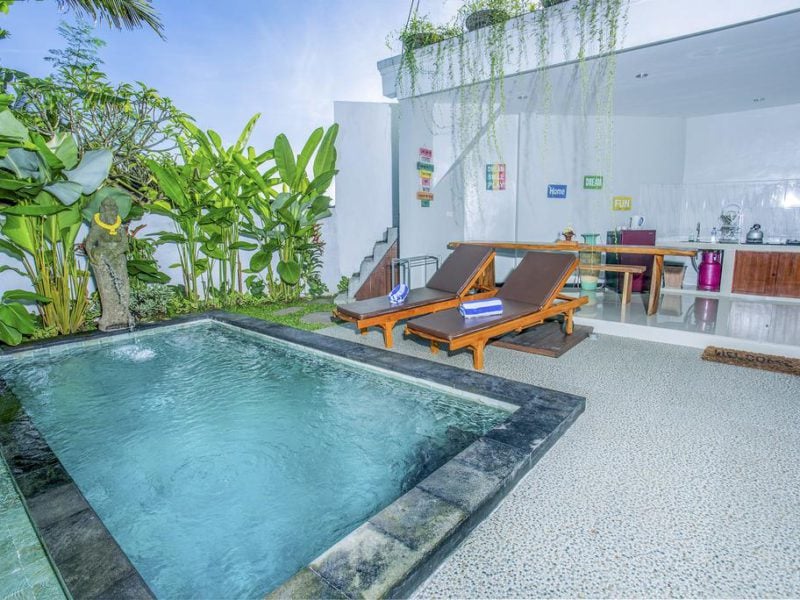 Settling Down
10 Bali Villas with Private Pool for Your Enjoyable Staycation!
Bali is famous for its beautiful beaches. Well, it's no wonder that many local and foreign tourists still make Bali one of their bucket lists. If you come on vacation with family or friends, of course, it will be more fun and more private if you rent a villa. Therefore, here we have prepared 10 recommended villas in Bali with a comfortable atmosphere and complete facilities for you!
1. Paradise Loft Villa, Jimbaran
Designed with the Mediterranean concept, they build this Bali villa on a hill in the Jimbaran area facing directly towards Tanjung Benoa.
Yup, with a panoramic view like this right from the living room, it feels like you will be lazy to get off the sofa. It's even more fun with a cup of tea in the afternoon or enjoying breakfast on a sunny morning.
The best part is that you can also enjoy incredible sea views while soaking in your private pool or relaxing in the tiny gazebo by the pool.
Want to taste a variety of seafood typical of Jimbaran Beach? You only need to drive about 10 minutes. Meanwhile, if you want to shop, just go to the Bali Collection Shopping Center in Nusa Dua, it's about 20 minutes away.
2. Svaha Private Villa, Nusa Ceningan
This Bali villa with a simple cottage concept but offering all modern conveniences is one of the best-reviewed accommodations in Nusa Ceningan.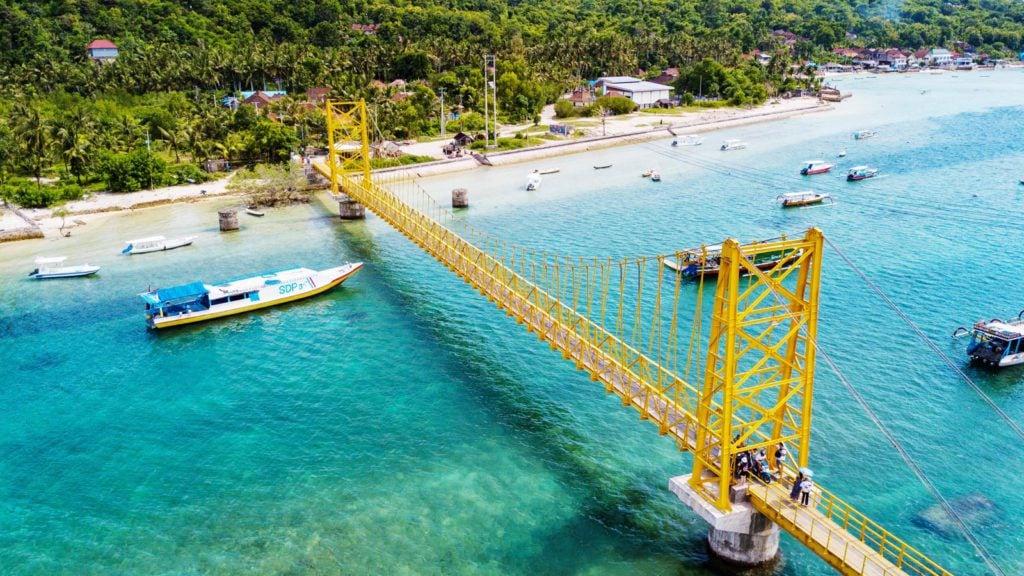 Even if you stay here, you will get a free shuttle service to the iconic Yellow Bridge on the island.
The swimming pool is not that wide, but it is enough to cool the body in the middle of the hot air while looking out at the ocean. Oh yes, what is also unique here is the semi-open bathroom.
3. Tamyang Villa, Ubud
Spacious, breezy, quiet, and comfortable. Those words are an accurate description of this Bali villa in the middle of a typical green rice field in Ubud.
Just look at the room size, which is above average. Not only the bedroom, even the bathroom, terrace, and even the kitchen is also spacious. Anyway, really spoiled!
Free Wi-Fi is available, as is breakfast served in the poolside dining area.
If you really want to find an atmosphere that is full of privacy while on vacation with your partner, this villa is the answer!
4. Puri Mesari Suites, Sanur
Is your goal on vacation to Bali to "date" with the sun? If so, Puri Mesari Suites will make that dream come true.
This open concept villa is perfect to warm up your honeymoon. Literally! Starting from an outdoor bathtub, a large swimming pool in the garden, and an area to relax while sunbathing. Also, no need to worry about privacy because it's still quite closed from the outside!
Located in the southern part of Sanur, not too far from Mertasari Beach, there are two Puri Mesari accommodations to choose from. Starting from a small hotel with 21 rooms or a complex of 5 suites that are located close to each other.
Managed by experienced management, there is no need to doubt the matter of service at this villa. Want to take a walk on the beach in the less crowded Sanur area, or just relax in your room all day? Just as good!
5. Pande Villa, Canggu
In this private and romantic villa, you can see first-hand views of the ocean and amazing rice fields without having to leave your room.
To make it easier for you to see extraordinary views, they also equip Pande Villa with large windows. The morning sun would be the first view to greet you when you wake up.
The inside is so spacious and equipped with a private terrace and swimming pool.
If you want to take a break from the comfort and luxury of this villa, you can step onto Mengening Beach, which is only a five-minute walk away.
If you want to explore further, Echo Beach and Balian Beach are a 15-minute drive away. Meanwhile, the legendary Tanah Lot Temple is only 20 minutes away by driving.
---
Also read: Mermaid Stuff and Activities You Can Do in Bali for All Age!
---
6. Noah Villa and Chapel, Jimbaran
Have you ever dreamed of being able to make out with your partner in a pool located in the house? Well, you can make it happen at Noah Villa and Chapel which is equipped with a private indoor pool for just a dip. If you want a bigger pool for swimming then just step into the sharing pool which is located on the outside of the villa.
This villa is strategic as it is near to Garuda Wisnu Kencana Cultural Park, the Italian Consulate, and the Danish Consulate.
Noah Villa also has its own chapel – so if you're planning to have your wedding ceremony and honeymoon in the same place, you know where to go!
7. Balangan Pratama Villa, Jimbaran
This villa is truly unique. If usually direct access to a private pool is from the bedroom, terrace, or living room. But here you have direct access to the swimming pool from the bathroom!
Yes, you heard that right. Even the divider between the bathroom and the swimming pool is a glass wall. So you can soak in the bathtub while imagining that you are swimming in the pool.
No need to ask about the facilities again. Very complete. From a washing machine, kitchenette, microwave, to a toaster.
Want to go to the beach? You only need about 12 minutes on foot!
8. The Royal Bali Villas, Canggu
This spacious Bali villa has a wooden interior with a touch of gray, bringing luxury in a contemporary minimalist design typical of a Scandinavian-style residence.
Right at the end of the bedroom is a swimming pool complete with a wooden deck and bean bags for lazing around with a glass of cocktail. And what is no less tempting is the spacious bathroom with a large enough bathtub.
Located in the area of Berawa Beach which is famous for its hip cafes and restaurants. Besides having a culinary tour you can also do activities at the Canggu Club, enjoying the sunset at Batu Belig Beach which is only 10 minutes away. Or you can also relax at Echo Beach and Batu Bolong Beach which are only 15 minutes away.
9. Puspa Villa, Tabanan
If you think a dramatic sunset is a must-have on a romantic getaway, then you will love Villa Puspa.
Located in the Tabanan area and near Kedungu Beach – one of the best surfing spots in Bali, Villa Puspa offers a unique yet romantic residence. The location is also not too far from Tanah Lot Temple, one of the most famous sunset viewing locations on the island of Bali.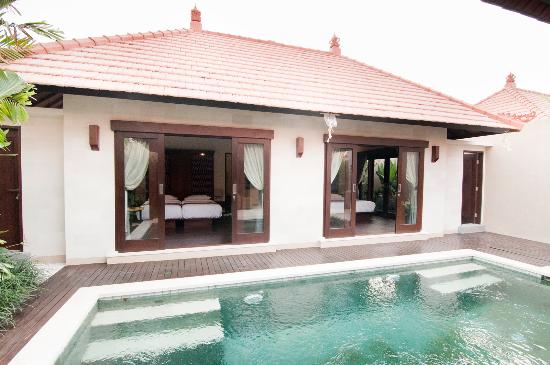 Yes, you only need to drive for 5 minutes to get to this romantic location to watch this sunset, you definitely can see the sunset every day! And if you need a vehicle, don't hesitate to ask the staff who will gladly help you to make your stay more enjoyable.
The villa itself carries a concept like an art gallery that is thick with elements of Balinese architecture. The green garden and swimming pool add to the luxury of this villa. Suitable for those who want a honeymoon, right?
10. Di Abian Villas, Amed
Tired of the southern Bali area which has been crowded with visitors?
No less beautiful, the east coast of Bali also offers a charm that is second to none. One of them is the Amed area which is famous for its black sand beaches and diving locations with views of shipwrecks.
In the Amed area, there is also Di Abian Villa. A villa that at first glance looks like a typical Balinese house with a gate and carved wooden furniture doors.
Don't feel like swimming in the sea? Just open the front door of the villa and swim in the large swimming pool surrounded by gardens. There is even a pool for children that is shallow too, Flokqers!
---
Those are all the 10 villas in Bali that we recommended for you. Each one of them has its own unique style and private pool. The neighborhood around each of the villas is also strategic. See you in Bali, Flokqers!
---
Want to find a rental option for your vacation in Bali? Flokq has several rental options in Bali with well-facilitated rooms and at an affordable price! Click the button below to find out more.
Click Here to Check Out More Flokq's Homes