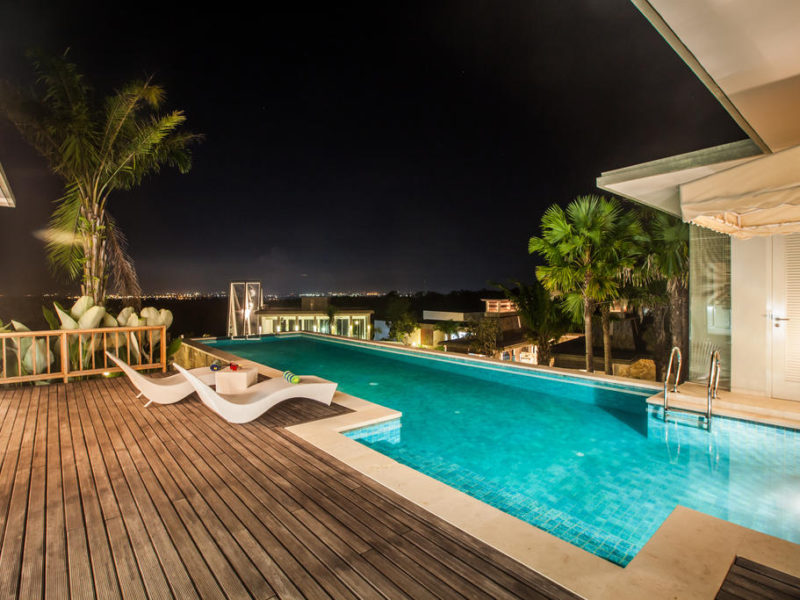 Settling Down
7 Instagrammable Villas in Jimbaran with Private Pool
Jimbaran is an old fishing village in Bali that is now filled with a romantic atmosphere. Famously known for its beaches and the seafood shacks on the beaches. Surrounded by luxury but also offering a simple yet magical feel, Jimbaran still carries on the local traditions, especially religion-related activities. The temple in front of the Jimbaran market is the center for religious activities as well as religious celebrations.
Want to stay for a vacation in Jimbaran? No worry, we have you covered with the 7 best villas in Jimbaran for you to stay, complete with a private pool!
1. Paradise Loft Villas
The first on the list is Paradise Loft Villas Bali, a luxury inn located in Jimbaran. This villa carries the Meditarania concept which is founded on a hill located in the Jimbaran area.
One of the highlights of Paradise Loft Villas Bali is its location which directly faces Tanjung Benoa. You can see this beautiful panorama directly from the living room of Paradise Loft Villas Bali, Flokqers. It feels very difficult to just get out of the living room sofa because of its comfort. Interestingly, you can also enjoy sea views while soaking in your private pool from the tiny gazebo on the edge of the pool.
2. The Villas – Ayana Resort, Jimbaran
Ayana Resort is one of the best villa locations which is very well known among tourists, especially for tourists who want to honeymoon in Jimbaran.
Ayana Resort has world-class lodging facilities such as the Rock Bar which is built right on the cliff as the Kubu Beach as a background. You can get a private beach, Kubu Beach, by staying at this villa. Even though it offers fairly expensive lodging prices, Ayana Resort promises unmatched satisfaction for you. If you are interested, we recommend you to start saving from now on!
3. La Joya Biu Biu
This villa in Bali, Jimbaran, offers a nice view and is highly recommended for couples who want to honeymoon.
La Joya Biu Biu is a villa that offers a very beautiful beach view. Its location is directly facing Balangan Beach and is right on top of a cliff which makes it even more stunning. Even though it doesn't provide a private beach, you and your beloved partner still have the opportunity to enjoy the beautiful view of the Balinese sea from the jacuzzi.
4. The Jimbaran Villa
Next on the list is The Jimbaran Villa, completely perfect for a couple who wants to honeymoon in romantic and intimate ambience during the stay.
In The Jimbaran Villa, they offer you memorable packages for honeymoon, anniversary, or birthday to surprise your loved ones. They can arrange flower decorations in the pool, bathtub, and flowers surprise in the villa to make your stay unforgettable.
5. Noah Villa and Chapel
Have you ever dreamed of being able to make out with your partner in a pool located in the house? Well, you can make it happen at Noah Villa and Chapel, Jimbaran, which is equipped with a private indoor pool for just a dip. If you want a bigger pool for swimming then just step into the sharing pool which is located on the outside of the villa.
This villa is strategic as it is near to Garuda Wisnu Kencana Cultural Park, the Italian Consulate, and the Danish Consulate.
Noah Villa also has its own chapel – so if you're planning to have your wedding ceremony and honeymoon in the same place, you know where to go!
6. Balangan Pratama Villa
This Jimbaran villa is truly unique. If usually direct access to a private pool is from the bedroom, terrace, or living room, in this villa you directly access the swimming pool from the bathroom!
Yes, you heard that right. Even the divider between the bathroom and the swimming pool is a glass wall. So you can soak in the bathtub while imagining that you are swimming in the pool.
No need to ask about the facilities again. Very complete. From a washing machine, kitchenette, microwave, to a toaster.
Want to go to the beach? You only need about 12 minutes on foot!
7. Muaya Villa, Jimbaran
This villa is a hidden gem located in the Bukit Jimbaran area. The design is cool and trendy and modern but still has tropical nuances, making the experience of staying here as good as in a five-star hotel at once.
You can also feel a warm feeling like your own home thanks to the beautiful lighting and the many open areas. It can be seen that the interior of this villa is very neatly calculated. Almost every detail that is here comes together and is so pleasing to the eye by combining modern and traditional elements.
If you like a place to stay that is beautiful, beautiful and comfortable, then just stay here. Moreover, they provide free shuttle service to the airport.
---
Those are all the 7 villas in Jimbaran that we recommend for you, complete with private pool, and even a chapel. Hope this can help you decide where to stay in Jimbaran!
---
Want to find a rental option for your vacation in Bali? Flokq has several rental options in Bali with well-facilitated rooms and at an affordable price! Click the button below to find out more.
Click Here to Check Out More Flokq's Homes