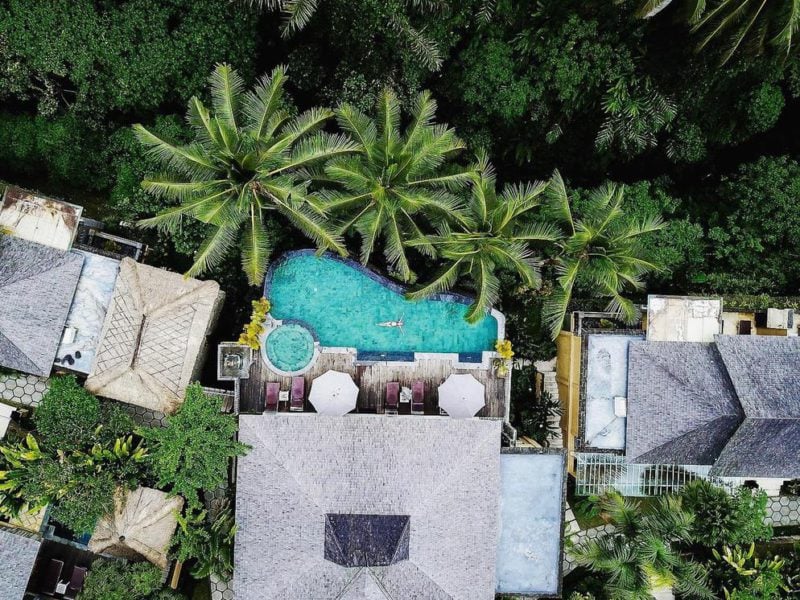 Ubud, a city about an hour's drive from central Bali, is known for its traditional crafts and dances. There are many places that you must visit. For example, Goa Gajah, a cave known for its stone carvings of Hindu gods and history from the 9th century, is a place you shouldn't miss.
There are many other attractions in Ubud that we can share, but this time we have you covered with the 10 best villas in Ubud, complete with private pools, for you to stay!
1. Udhiana Resort
This resort is located on Jalan Rijasa, next to Pura Dalam Dp Nagi. This villa with air-conditioned bedrooms has an extra-large double bed that fits two people, a spacious private bathroom with a hot tub and a private pool. There is also a flat-screen TV with international channels and a safe for storing valuable documents.
You can also enjoy the beautiful view from the balcony and terrace. The restaurant and bar within the complex area provide drinks and buffet-style meals and an à la carte menu. This villa is also equipped with a roaster and serves orders to the villa.
Ubud Market and Ubud Palace are 1.3 km from the villa. If you want to enjoy adrenaline-pumping activities, we recommend rafting at Ayung River Rafting Bali, located about 5 minutes drive from Ubud Palace.
2. Amora Boutique Villas
The second on the list is Amora Boutique Villas, located on Jalan Bangkiang Sidem near Tjampuhan Sacred Hills, a 12 km long hikers destination.
This air-conditioned bedroom is located on the ground floor and features a large double bed with a semi-open bathroom, private pool and terrace with views of the valley. About 20 minutes drive you will arrive at the Monkey Forest and 5 minutes from this forest, you will arrive at the Ubud Palace. You can continue your exploration to the Puri Lukisan Museum. There are many dining options in the area.
3. Komaneka Villa
Located on Jalan Bisma, in the heart of Ubud, Komaneka at Bisma Ubud is only a 4-minute walk from Owlhourse Art.
This one-bedroom villa features a large double bed, dressing room, living room, kitchenette and private pool with terrace. There are a fitness centre and library on-site as a place for a quick exercise or solitude. There is also a fine dining restaurant that provides Indonesian specialties.
Sangeh Monkey Forest and Mumbul Sangeh Park have located about 14.2 km from this place. For food, you can consider the Mang Boo Restaurant which is located in the middle of the Monkey Forest.
4. Tejaprana Resort and Spa
The fourth on the list is Tejaprana Resort & Spa, located on Jalan Raya Tegallalang. About 7 minutes away by car from Kokokan, Heron Bird Colony Watch.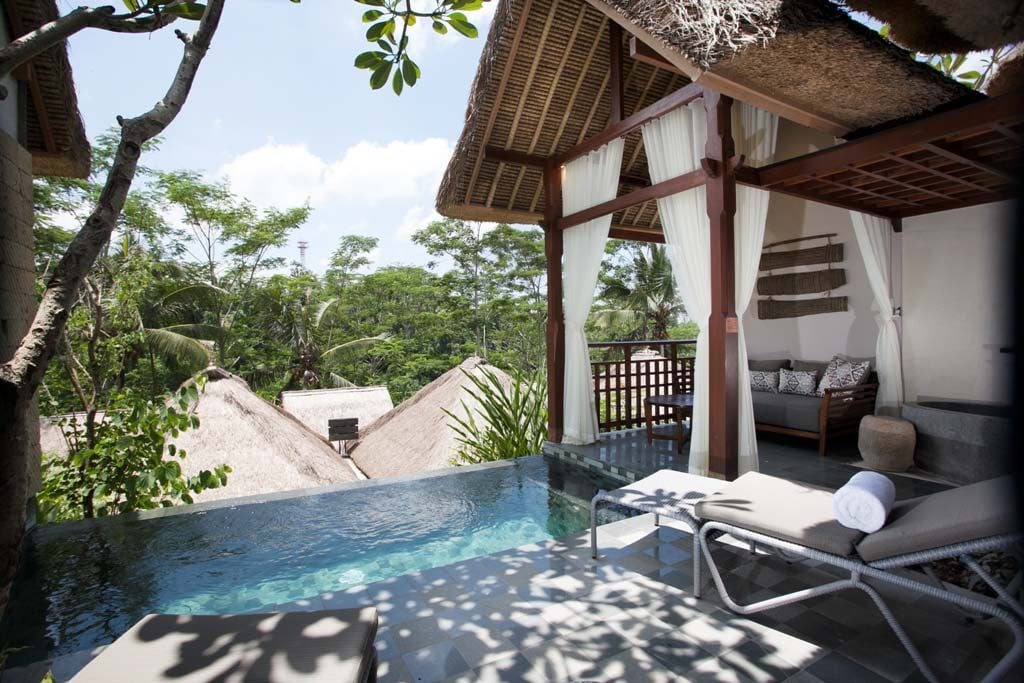 This villa has two bedrooms for 4 people, one bedroom with two bedrooms and one bedroom with an extra-large double bed. There are a living room and dining area overlooking the private pool.
As a guest, you can enjoy yoga activities, scheduled daily transportation to Ubud center, and a free 15-minute massage at Chattraka Spa. Not to be missed, the luxury of fruits and flowers every day. Ubud Palace has located about 5 km and Monkey Forest about 6.5 km from this place.
5. Kamandalu
The fifth on the list is Kamandalu Ubud, located on Jalan Raya Andong. About a 15-minute drive from Tjampuhan Sacred Hills, a popular destination for hikers.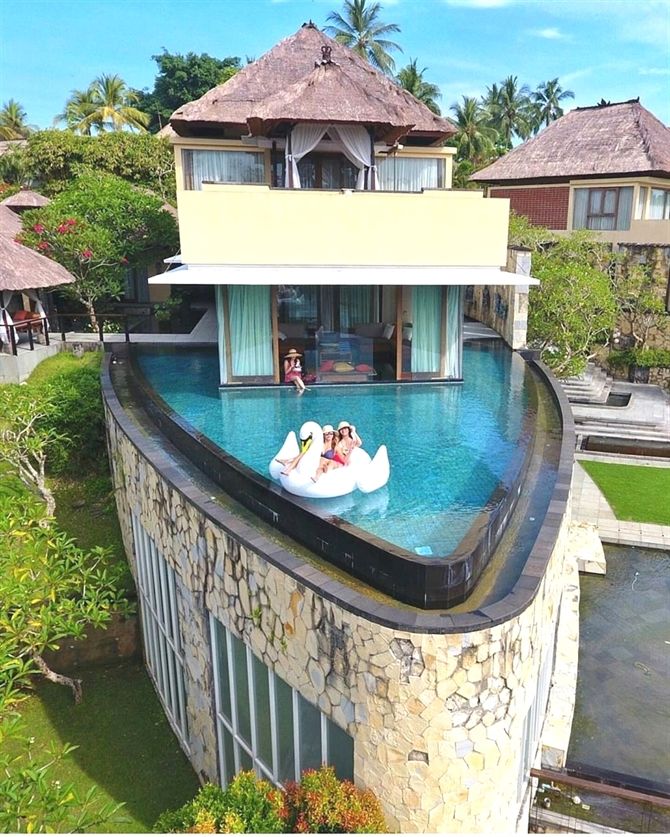 The bedroom features a large double bed overlooking the private pool. The en suite bathroom is equipped with an outdoor shower. Guests are welcome to join the morning yoga class if you are the early riser type. After that, you can head to the Village Club to enjoy unlimited tea, coffee and snacks. The property also offers daily scheduled transportation to Ubud Center.
As an alternative, you can take a private vehicle to Goa Gajah, about 15 minutes. Pura Samuan Tiga and the Deking batik class are within walking distance of Goa Gajah and another 5 minutes' drive, you can reach Setia Darma House Mask and Puppets.
---
Also read: The Ultimate Guide to Ubud, Bali
---
6. Sankara Resort
Located on Jalan Banjar Kumbuh, near Pelangi School Bali, Sankara Ubud Resort combines a white and wooden theme.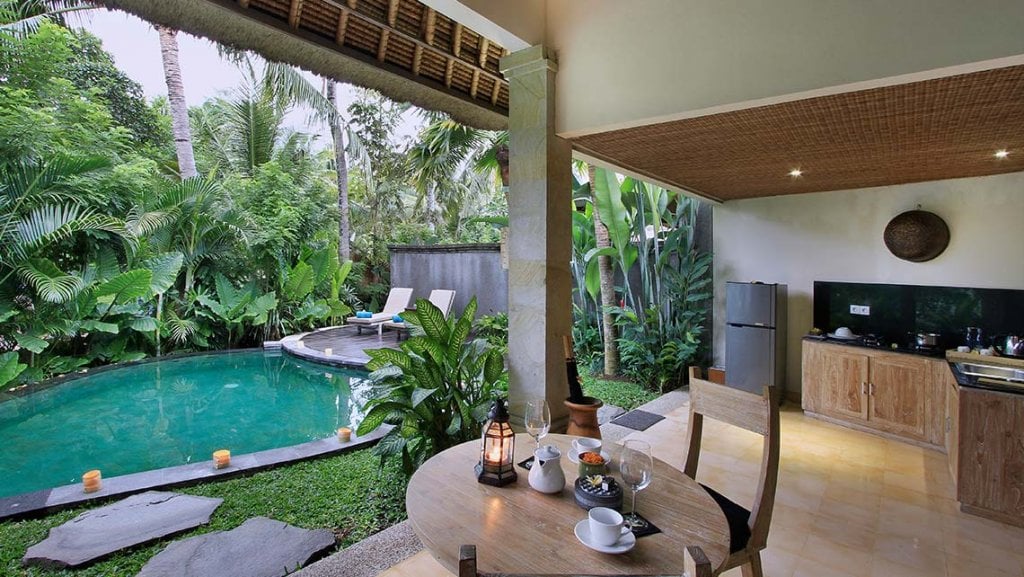 The deluxe villa has a large double bed, a living room and a private pool with views. You can enjoy yoga classes, transportation services to Ubud, and free tickets to the Monkey Forest for two people if you stay at least 3 nights. Kumbuh Restaurant is located in the area and provides Indonesian and western menu.
The resort is located about 5 minutes drive from the Semar Kuning gallery. Maybe you want to stop by the statue of a baby before heading to Kemenuh Butterfly Park, Blangsinga waterfall, and Tegenungan.
7. Chapung Sebali
The seventh on the list is Chapung Sebali Resort & Spa, located on Jalan Raya Sebali and away from the hubbub of the city.
This VIla has a very large double bed and a private pool overlooking views of the tropical forest, valley and rice fields. There is also a kitchenette and bathroom inside along with a bathtub. During your stay at this resort, this property provides fresh fruit every day along with in-room breakfast options. Transportation to downtown Ubud is also provided by the property.
Tegallalang Terraces are only 7.7 km away. If you are a coffee lover, we recommend walking for about 15 minutes or driving to the Bali Pulina area, where a coffee plantation tour ends with a coffee tasting. D Alas Warung Restaurant is located right next to Bali Pulina.
8. The Kayon Resort
And the eighth on the list is The Kayon Resort, located on Jalan Raya Kendran. About 8 minutes' drive from Kokokan and Heron Bird Colony Watch.
This one-bedroom villa has a private pool surrounded by lush green surroundings. The private bathroom includes a deep soaking bath and separate shower overlooking the outside.
Every day there are various activities such as yoga, trekking in the rice fields, and transportation services to the center of Ubud. KE-PI-TU Restaurant, a fine dining venue, provides a variety of fusion menus and alcoholic drinks. The resort also has Serayu Spa and a beauty salon.
About 35 minutes away by vehicle, you will arrive at Tegenungan waterfall. Keramas Water Park is located about 20 minutes drive from this waterfall. This water park may not be big, but it has plenty of bonding activities like yoga and meditation sessions, as well as a flying fox!
9. Wapa di Ume
This beautiful Ubud villa is located on Jalan Suweta near Wapa di Ume Wedding Chapel.
The room has a very large double bed, private pool, living room, and balcony. The private bathroom has a bathtub with views to the outside. Do you like Balinese tradition? Various activities are held every day including yoga, rice paddy walks, and coconut craft classes. Transportation schedules to the Ubud center are provided from the resort.
Campuhan Ridge Walk and The Blanco Renaissance Museum are within 2.9 km. The Puri Lukisan Museum and the Ubud Palace are in the same area. Monkey Forest can be reached by a 5-minute drive or 20-minute walk.
10. Anusara Luxury Villas
Last but not least, Anusara Luxury Villas is located on Jalan Raya Pejeng Kawan near the Mount Batur Trekking Guide Bali.
The one-bedroom deluxe villa has a living room with views of the private pool and rice terraces. Guests staying for a minimum of 4 consecutive nights will get 1 hour of free Balinese massage service which you can enjoy in a private room.
Laundry and dry cleaning services are also available. Goa Gajah, a cave known for its carvings of Hindu gods, is located about 9.8km. From this cave, Agung Rai Museum of Art is located about 7 minutes drive or you can walk to The Yoga Bar.
---
Those are all the 10 best villas in Ubud with a private pool that we recommend for you. Hope this can help you decide which villa you want to stay. Happy holiday!
---
Want to find a rental option for your vacation in Bali? Flokq has several rental options in Bali with well-facilitated rooms and at an affordable price! Click the button below to find out more.
Click Here to Check Out More Flokq's Homes