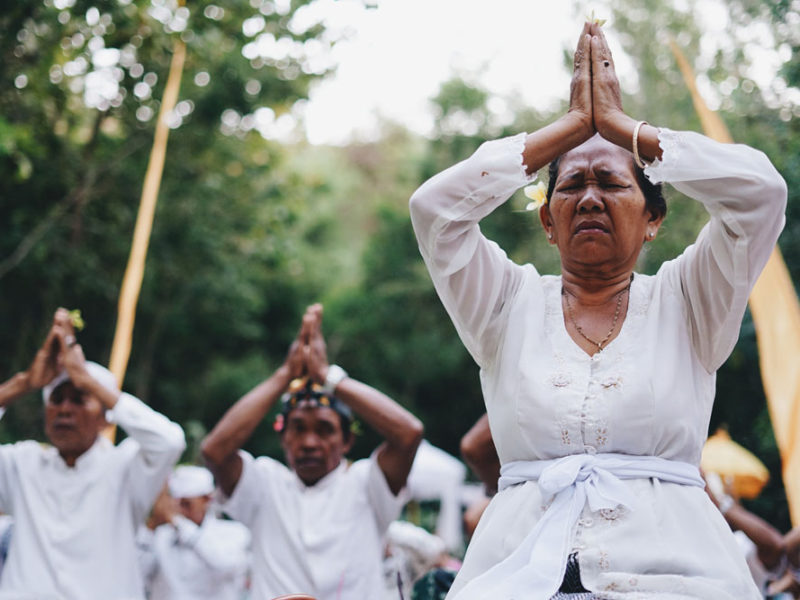 The neighborhoods in East Jakarta are a good choice for many people to build their homes and lives, especially for a family. Part of it is because the area is very friendly and not too crowded. The other is because the neighborhoods are provided with many facilities to keep residents' needs fulfilled.
Read also: When in East Jakarta: Things to Do
One of these needs is to practice their religions, whether it be for yourselves or as a family. With multiculturalism in Jakarta, there are many religions that are practiced by its residents. The places of worship were built to accommodate these needs. So, if you had concerns before about difficulties in finding places of worship for you, we've got you covered. We've gathered an option for the 6 biggest religions in Indonesia.
1. Masjid Raya Pulo Asem
It is a very well known fact that Islam is the biggest religion in Indonesia, meaning that the majority of Indonesians are Moslems. This being said, most public places are equipped with prayer rooms for Moslems to do their prayers according to the time.
However, for bigger celebrations like Idul Fitri and Idul Adha, there are bigger mosques built all over East Jakarta. One of them is Masjid Raya Pulo Asem, which you can find easily with public transportations. The mosque is built near Velodrome, a well-known stadium, and sports center in Jakarta. With its elegant design and serene feeling, this mosque is the chosen place for many Moslems to do their prayers together for Friday prayers and other celebrations.
The practice of Christian faith in Indonesia usually differs depending on its churches, as some churches are built and made for certain particular cultures from other regions in Indonesia, adopting its languages and events that the churches hold. However, Gereja Kristen Indonesia (GKI) takes a more inclusive way in its practice as it finds the common ground in all cultures. Using the Indonesian language, their services are planned to welcome all people who wish to join, without looking at their backgrounds.
GKI Kayu Putih can be found, of course, in the Kayu Putih area. They offer guidance for people who want to devote their practice to religion, by providing services for communion, weddings, or dealing with grief. With a total of 4 services every Sunday, you can schedule the perfect time for you to join this community and work on your faith. This church often holds events to maintain the value of the community while building on the faith of its followers.
The Catholic faith is practiced by many residents in Jakarta. Paroki St. Bonaventura is one of the beautiful places where Catholic people gather to share their faith and join the weekly mass that are held by this church every Sunday. This beautiful church was built in 1980 and inaugurated in 1981, located in Pulomas. This church is also close to several Catholic schools for children in East Jakarta, such as SD Tarakanita 5 and SMP Tarakanita 4. The church was named after Saint Bonaventura (meaning 'good fortune' in Italian), an Italian theologian and philosopher who started many discussions about reason and faith.
Community is always a held value in church, and this church makes sure that they accommodate this need. There are many guides that they provide as a church, such as weekly mass, and different types of sacraments that you can register online.
Pura Aditya Jaya is a beautiful temple for people with Hindu faith to share their faiths. Considering that the center of Hindu as a religion in Indonesia comes from Bali, you'll notice the infusion of Balinese culture in their architecture. This temple was initially built in 1972 as a place for Hindu people to come and practice their prayers, especially during big celebrations. Over the years, the temple has been renovated several times to improve the condition of the temple, and to make sure that the area and facilities provided by the temple support the needs of their followers.
This temple can be found in Rawamangun, and you'll find that this temple stands out from the rest of the buildings in Rawamangun. You'll also find this temple near a very well-known golf course, making it easier for you to reach with public transportation.
5. Vihara Amurva Bumi, Jatinegara
Vihara Amurva Bumi can be found in Jatinegara, known as one of the oldest buildings in Jakarta. This temple has been used as a place of worship for more than 320 years, making it the second oldest viharas in Jakarta (the first one is Jin de Yuan in Glodok, just so you know!). The temple was built near a market in Jatinegara, and initially many vendors came to this temple to pray for wealth and prosperity. With the historical and cultural context of the place, this temple is also a destination for tourists.
Usually, many people come to this temple in celebration of Imlek or Chinese New Year. The celebration usually consists of a prayer ritual, to say grace, and to say your wishes to their ancestors and also to their Gods.
Kelenteng Kong Mao is built inside of Taman Mini Indonesia Indah (TMII), as a place of worship for people of Confucianism faith. TMII was built to showcase the different cultures and diversity in Indonesia, including in religion. So in TMII, this kelenteng is built in alignment with other places of worship for other big religions in Indonesia. This temple was built in 2009 and then inaugurated back in 2010, with the President being in the audience.
This temple was built as a complex consisting of 3 buildings, each holding their own meaning. Used in religious ceremonies and other celebrations, this temple is used by the followers of Confucianism faith to come and pray to their Gods and ancestors, to say their worship and gratefulness for the blessings in their lives.
Wherever you come from and whatever religion you believe in, there is a place for you in East Jakarta to come and practice your faith. Although there are many other options for you available in this area, we believe that these places of worship show as a symbol of cultural diversity, acceptance, and a welcoming community in East Jakarta.