Sometimes, shopping for groceries can be a burden, especially on the weekends when you just want to stay at home.
The monthly shopping routine is often related to queuing and crowded shopping places. The crowded supermarkets sometimes make the shopping atmosphere uncomfortable, especially when the product you are looking for is not available due to out of stock.
Thankfully, as technology develops, today there are many conveniences that support life. One of them is the existence of a delivery service or online purchase service. This kind of service can help you to meet your daily needs without hassle, save time, and save energy so you can just sit and wait.
Therefore, we made a list of online groceries platforms and applications for you to buy daily necessities that are practical and easily accessible in Jakarta:
1. Sayurbox
Sayurbox is an app that lets you buy fresh and organic vegetables and fruits straight from local farmers and delivered to your doorsteps. This application aims to simplify the distribution chain for fresh products so as to provide quality products for consumers at lower prices while improving the welfare of Indonesian farmers.
The farmers will receive your order from the previous few days. So, they can prepare products according to demand. Then, the Sayurbox team will carry out a quality check on the order and deliver it to your doorstep within 24 hours of harvesting.
The delivery time span is around 2-8 days after ordering, with a delivery cost of IDR 20,000 for the Jakarta and South Tangerang areas. In addition, you can get free shipping if you spend over IDR 150,000!
2. Happy Fresh
HappyFresh is Southeast Asia's first online groceries delivery service. This fastest growing online shopping platform has a smartphone application to ensure that services can be accessed by anyone, anytime, anywhere.
If you use Happy Fresh, the quality of your ingredients is guaranteed. Food ingredients are handpicked and sent from supermarkets of your choice such as Carrefour, Food Hall, Transmart, Lotte Mart, Grand Lucky, Ranch Market, and others directly to your doorstep.
For deliveries, the estimated time is between 10:00 – 22:00. You only need to add IDR 20,000 for the shipping cost which will be free if you spend IDR 500,000.
3. TaniHub
TaniHub is an online agricultural marketplace and groceries service that offers easy access to fresh agricultural produce directly from local farmers. Fresh produce choices ranging from fruits, fish, vegetables, eggs, or even meat.
Tanihub has worked with around 20 thousand Indonesian farmers, the majority of whom are in Java and Lampung. With the entry of agricultural products into the marketplace, it is hoped that it will reduce the costs of farmers to market them.
TaniHub also provides home delivery services, so you will get all of this fresh produce delivered home without a hassle. Don't worry, the TaniHub team will ensure the quality of your order. It only costs IDR 20,000 for deliveries, and you can shop monthly from anywhere.
---
Read more: Supermarket Chains in Jakarta
---
4. Brambang
Brambang.com is an online supermarket where you can buy fresh produce and quality food ingredients. This online grocery application provides food ingredients such as vegetables, spices, staples, to snacks. All the products they provide have gone through an internal quality control process.
Brambang also ensures shopping becomes easier and more efficient with 1-day delivery throughout Jabodetabek. Apart from that, you can also get free shipping and 5% cashback on their website or their app on the Google Play Store.
5. TukangSayur.co
Tukangsayur.co is another online groceries shopping service that makes it easy to deliver fresh food ingredients directly from traditional markets. What's more, you can also order ready-to-cook ingredients packages, you know, for example the tamarind vegetable package.
The price offered is also cheap, like shopping in the traditional market. All you have to do is add IDR 10,000 as shipping costs. In addition, your order is delivered directly on the same day. Regarding product quality, don't worry because everything is packaged cleanly and hygienically.
6. GoMart
Next, this online groceries service is in the Gojek application, a national scale application known as an online motorcycle taxi or online taxi platform. They are also known as home delivery service (GoSend).
Gojek collaborates with more than a hundred merchants throughout the city. This includes food (GoFood) to groceries, clothing, or any product (GoShop and GoMart) that is available from affiliated stores and delivers to your home.
7. GrabMart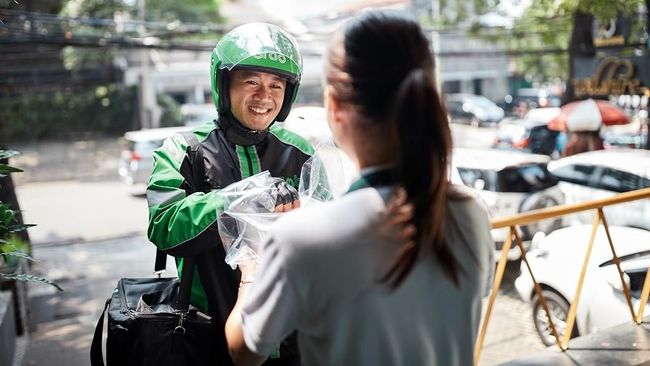 GrabMart in the Grab application is a program from GrabFood that sells fresh products (groceries) online through the application. Products sold include fruits, vegetables, raw food, snacks, and frozen foods.
Grab partners will pay the groceries to the place first, then you as a customer can directly reimburse the cost to the driver when the goods are received. Easy and practical, right?
---
Read also: Where to Find Asian Supermarkets in Jakarta
---
8. KlikIndomaret
In Indonesia, everyone knows Indomaret. KlikIndomaret.com is an application version for ordering groceries from one of the well-known retail chains in Indonesia, Indomaret. By using KlikIndomaret you can order every product available in the shop.
This app offers on-site or via internet banking and virtual payments. This application also allows you to pay virtual bills, rent, tickets, or payment points through their application.
9. AlfaCart
Similar to Indomaret, Alfacart.com from Alfamart is here to meet the needs of the Indonesian people for a practical and easy way to shop. Alfacart provides a variety of personal and family needs, ranging from daily household needs, kitchen utensils, fashion, hobbies & lifestyle, health & beauty, to electronic goods.
Through Alfacart, you can shop online from anywhere, anytime, can be accessed with a laptop or mobile application. Your order from Alfacart.com can also be delivered to your home or collected by yourself at the nearest Alfamart Pick Up Point at your house.
10. BlibliMart
As the most complete groceries online shop, BlibliMart offers the convenience of shopping for household products for daily needs. You can also find a variety of groceries at wholesale and retail prices at low prices, from food products, beverages, household care, body care, children's needs, to fresh fruit.
The benefits that you can get when shopping at BlibliMart besides not having to get stuck in traffic are competitive prices, same day delivery, free shipping, point rewards, and you can pay your purchases in installments with or without a credit card! Nice deals, right?
---
Those are 10 applications and sites for shopping for groceries online in Jakarta. Using this online shopping platform allows you to buy the daily necessities you need without having to bother leaving the house and facing traffic jams on the road.
You can save your time and energy, while shopping conveniently!