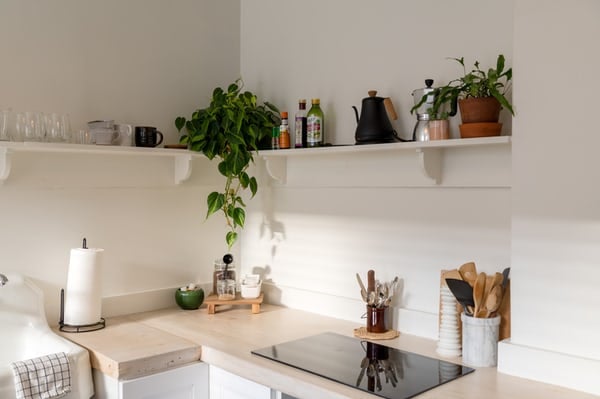 Settling Down
9 Recommended Aesthetic Apartment in Jakarta for Your Instagram Feeds!
In choosing a place to live, of course, there are many considerations that need to be considered. Comfort, security, facilities, and so on. Various apartment in Jakarta offers various rooms and residential facilities.
However, did you know? There are other factors that can make a residence comfortable to live in. One of them is the aesthetic design or arrangement of the room. Aesthetic rooms show a unique and different side from other room designs.
Occupancy with an aesthetic interior certainly provides its own comfort for its residents. In addition, an aesthetically pleasing apartment in Jakarta can also be an interesting photo spot.
For this reason, Flokq has provided 9 apartment recommendations in Jakarta with aesthetic nuances or concepts. Let us see below!
People also read: 7 Affordable Studio Apartment in West Jakarta
The aesthetic apartment in Jakarta has a strategic location too, you know. This vertical residence is surrounded by shopping centers, starting from Lotte Shopping Avenue, ITC Kuningan, Mall Ambassador, and Kuningan City. Plus, this apartment room is designed with a beautiful interior design that can be used as a photo spot.
Various interesting facilities are also offered by this apartment, such as a semi-beach swimming pool, function room, gym, and tennis court. You can spend your weekend swimming or playing tennis. Interested in living here?
Address: Jl. Prof. Dr. Satrio Kav. 1, Kuningan, South Jakarta
Price per month: Starting from IDR 25 million
This 23-floor residence has lots of interesting spots that can be used as photo spots, one of which is a sky pool with a minimalist design. If you are someone who is active on social media, this spot is suitable to be captured and uploaded on your social media.
This apartment, which is located in South Jakarta, is equipped with luxurious facilities such as a sky garden, sky lounge, jogging track, fitness center, tennis court, and various other facilities. To get rid of a tiring day, you can use the sauna facilities in this apartment. You can enjoy all these facilities anytime.
Address: Jl. Raya Pasar Minggu No.15, RT.7/RW.9, Pancoran, South Jakarta
Price per month: Starting from IDR 9.5 million
The next recommended aesthetic apartment in Jakarta is Sahid Sudirman Residence. Various types of housing such as 1 BR, 2 BR, and 3 BR are available in this apartment. Uniquely, in each unit, there is a different interior concept. Can be an option according to the tastes of residents.
Overall, each unit is designed with the dominance of white color combined with neutral colors, giving a minimalist and aesthetic impression. Plus, this vertical residence is also surrounded by shopping centers, such as Plaza Semanggi, Plaza Indonesia, Pacific Place, and Grand Indonesia.
The facilities offered by them include a swimming pool, mini market, laundry, cafe, restaurant, children's playground, and a taxi pool. Of course, the facilities provided comfort for the residents.
Address: Jl. Jen. Sudirman No.86, Karet Tengsin, Tanah Abang, Central Jakarta
Price per month: Starting from IDR 9.3 million
Lastly, there is the Thamrin Residence. This apartment has a design with neutral colors, such as black and white. For those whose favorite color is monochrome, this residence is for you. You no longer need to paint and arrange the interior because it has been wrapped in these colors.
For facilities, they provide various facilities such as an outdoor swimming pool, free WiFi in all units, indoor swimming pool, hot tub, and jacuzzi. These facilities make the residents feel at home living in this Jakarta apartment.
People also read: 25 Jakarta Apartments with Monthly Payment 5 Million
Address: Jl. Kebon Kacang Raya No.3, RW.8, Kb. Melati, Tanah Abang, Central Jakarta
Price per month: Starting from IDR 4.2 million
This luxury apartment is located in the middle of Sudirman's business center, making it suitable for those of you who work in the area. Each Ascott Sudirman unit has a spacious size with upscale interiors. This makes it one of the most aesthetic apartments in Jakarta.
Besides its beautiful design, this apartment is also equipped with many supporting facilities. For example, free parking for one car per unit, spa and sauna, tennis court, swimming pool, and more.
Address: Ciputra World 2, Jl. Prof. DR. Satrio No. KAV. 11, RT.3/RW.3, Karet Semanggi, Setiabudi District, South Jakarta City
Monthly price: Starting from IDR 52 million
This apartment is no less aesthetic than the previous residence. Puri Casablanca is a residence suitable for the upper class with an elegant design.
The location is quite close to the business district which will make it easier for you to work. You can also find many important places around the apartment, such as hospitals and recreation areas.
Address: Jl. Puri Casablanca No.1, RT.4/RW.12, Menteng Dalam, Kec. Tebet, South Jakarta City
Prices per month: Start from IDR 12 million
For those of you who are looking for an elite apartment in the Mega Kuningan area, don't miss this one, okay? Oakwood Premier Cozmo Jakarta is a comfortable residence with a luxurious style. Like a 5-star hotel, this apartment offers complete, sophisticated facilities.
Not only that, but Oakwood Premier Cozmo is also in a very strategic location. Around the apartment, you can find office buildings, malls, to public transportation.
Address: Jl. DR. The idea of ​​Anak Agung Gde Agung Lingkar Mega Kuningan Block E4.2 No.1, RT.5/RW.2, Kuningan, Kuningan Tim., Setiabudi District, South Jakarta City
Prices per month: Start from IDR 52 million
This residence is located in Kemang, South Jakarta. The area is a comfortable place to live alone or with family. Here, you can rent a spacious room with complete furniture.
The design is also aesthetic, so it will look good if you upload it to social media. Plus, the apartment building is claimed to be flood-free and close to anywhere.
Address: Jl. Bangka Raya No.7, RT.4/RW.1, Bangka, Kec. Mampang Prpt., South Jakarta City
Monthly price: Start from IDR 15 million
Looking for an aesthetic apartment in Menteng? Well, this place might be right for you. Menteng Park Apartment is located in a luxury residential area in Menteng which offers a quiet atmosphere and easy access to other parts of Jakarta.
This place has complete facilities for residents. From sports facilities to laundry services, you can find them here.
Address: Jl. Cikini Raya No.79, RT.2/RW.2, Cikini, Kec. Menteng, Central Jakarta
Prices per month: Start from IDR 6 million
---
Now, those are 9 apartment recommendations with an aesthetic concept in Jakarta. You can choose one of them. Have you found the right one? Order now with Flokq!
RENT AN APARTMENT HERE