Settling Down
Rent an Apartment in North Jakarta: 5 Affordable Apartments Near Ancol
As the closest administrative city to the beach, North Jakarta has become one of the most favorite holiday destinations in Jakarta. Here, you can have fun in the famous Taman Impian Jaya Ancol, spend your time at the beach, or shop in several premium malls nearby.
Apart from its landmarks, living in North Jakarta will give you access to many strategic places. If you're planning to rent an Ancol apartment with an affordable price, this article might help you to find one.
1. Mediterania Marina Ancol Apartment
By living here, it will be easier for you to reach those family-friendly destinations in Ancol. It is reachable to the Pantai Indah Kapuk (PIK) area, numerous seafood restaurants, and many more in several minutes. Living in this Ancol apartment will make you be able to have fun and be productive at the same time. Not only close to the amusement park, but also reachable to the public places and business districts.
Located in a strategic area, Mediterania Marina Ancol gives you easy access to highways, including Pluit, Jembatan Tiga, and Kemayoran. Public transportation is also available, such as the commuter line Kampung Bandan Station (5 minutes away) and online transportation.
Developed by PT Sarana Multiland, this apartment has been one of Ancol residence spotlights since 2007. It provides high-quality amenities to make the tenants live in comfort. If you want to exercise, there is a fitness center and a swimming pool.
Wanna do sport with your kids? You can use the basketball court here. Every unit is supported with a cable TV and high-speed Wi-Fi connection. Mediterania Marina Ancol is perfect for those who live with their family, friends, and even living alone.
Rent this apartment at an affordable price, starts from: Rp 6.800.000/month
2. Northland Ancol Residence
Rent an affordable apartment that has a rooftop swimming pool? Why Not? Experience another level of cozy living at the Northland Ancol Residence. This Ancol apartment is still relatively new, built by the well-known PT Pembangunan Jaya Ancol, Tbk.
It comes with the concept of living in comfort, but not to erase the fun. Northland Ancol Residence is perfect for you who wanna rent an apartment in the pandemic, since it provides all your daily needs in the building.
If you are a homebody who loves to stay at home on the weekend, it is such a must to put this apartment on your wishlist. Living here will feel like you are on a private island with complete facilities. Wanna swim and enjoy the beach view? Northland Ancol Residence has a rooftop swimming pool that keeps you stay active.
No need to worry about working from home, since the apartment provides a full-speed Wi-Fi connection for you. Need to hold a private meeting? You can use a function room here. To maximize your comfort, the 24/7 security system will keep you and your family safe.
Rent this apartment at an affordable price, starts from: Rp 3.600.000/month
3. Ancol Mansion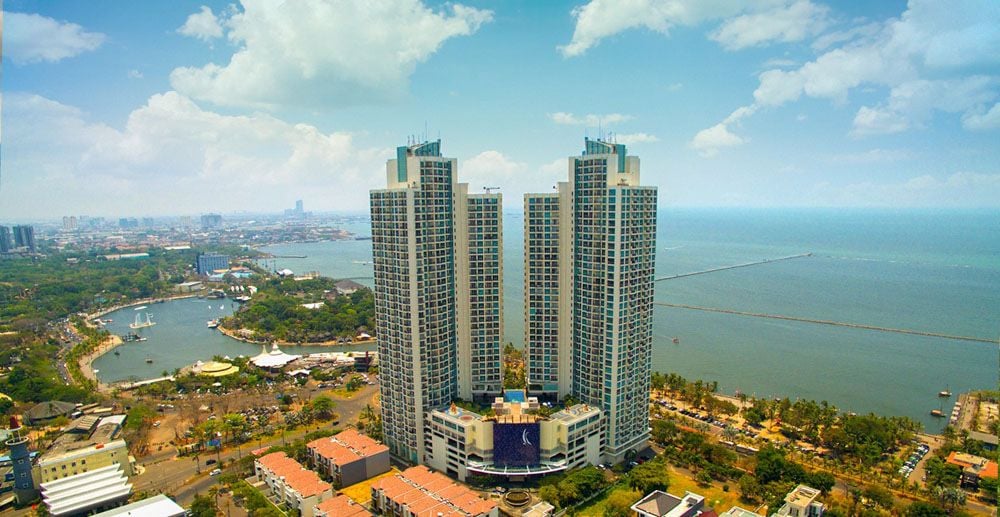 This exclusive apartment is located in a beachfront area of Ancol. If you live here, you won't find any problems visiting the recreational area. Within several minutes, you can reach Pantai Indah Kapuk area, Dufan, or the premium seafood restaurant by the sea Bandar Djakarta.
The apartment is near to some shopping centers, including Glodok, Mangga Dua Square, WTC Mangga Dua, Pluit Village, or Emporium Pluit. If you have to work in another part of Jakarta, living here will give you an advantage of accessing the highways nearby, such as Jakarta Outer Ring Road and Jakarta Inner Ring Road.
Built by the famous Agung Sedayu Group, Ancol Mansion comes with a premium living concept in a strategic area. Inside the unit, you can get a homey vibe while enjoying the bay view from the balcony. If you rent the 3 BR room, you will get access to a private lift!
It also provides other facilities, including an ATM center, swimming pool, and even a grocery store. Seeking some courts to play the ball? Well, you can use the tennis court and the basketball court. Seems legit, right?
Rent this apartment at an affordable price, starts from: Rp 5.200.000/month
4. Mediterania Palace Residences
This fully-furnished Ancol apartment offers a living experience in a super strategic area of Jakarta. Built in Kemayoran, Central Jakarta, Mediterania Palace makes it possible to reach some top tier business districts, including Kelapa Gading, Thamrin, and Sudirman. Furthermore, it is located near North Jakarta, which means spending a holiday in Ancol is possible!
This apartment is surrounded by plentiful malls, such as Mangga Dua Square, Food Centrum, Epicentrum Mall, and Mall of Indonesia. If you want to shop at reasonable prices, just come to Pasar Senen, Pasar Baru, or Plaza Atrium.
Moreover, there are the commuter lines Rajawali and Kemayoran Station which can be reached within 10 minutes. The TransJakarta shelter is also available for you and is only 6 minutes away from your residence.
Don't worry about the facilities, because Mediterania Palace Residences provide you everything you need. There is a function room, ATM center, restaurants, and a grocery store in the building, so you don't need to go outside. After a long workday, don't hesitate to relax at the swimming pool or boost your immune system at the fitness center here.
Rent this apartment at an affordable price, starts from: Rp 3.700.000/month
5. Springhill Terrace Apartment
Located in Kemayoran, Central Jakarta, this apartment is accessible to your favorite recreational places at Ancol. Besides, the Springhill Terrace offers a modern yet cozy living which is suitable for those who seek comfort. Moreover, its surroundings are relatively quiet, so if you have to work in Jakarta but prefer to live in a less crowded place, this one is perfect for you.
Apart from its cool swimming pool, gym, and a sauna, what makes Springhill Terrace different is that it has a Martha Tilaar Salon & Spa. It also comes with a Clubhouse!
For those who live with their family, you will get an advantage of being nearby to some international schools, including Jubilee School and Gandhi International School. Need to go to work in a hurry? Well, just calm down, because this apartment has less traffic jams compared to other areas in Jakarta.
Rent this apartment at an affordable price, starts from: Rp 4.000.000/month
---
You've reached the end of the article! So, what do you think? Still need assistance to choose an apartment to rent? Go check it out at Flokq's page here, right now~