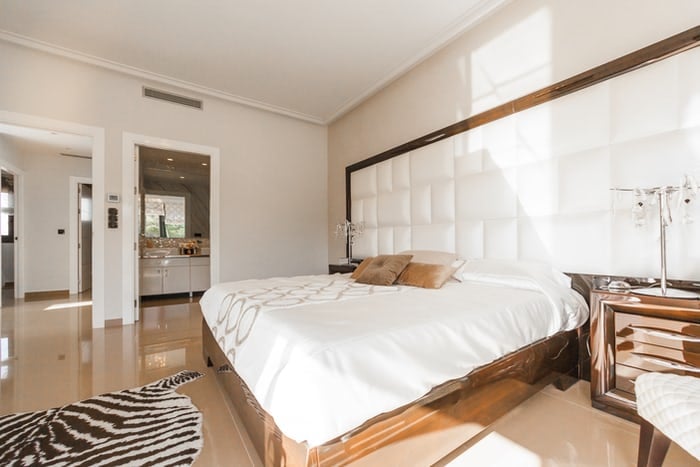 Settling Down
10 List of Apartments with Field Facilities for Exercise
Having a healthy life is an important aspect. Moreover, entering a productive age requires energy and a healthy body to do many activities. Sometimes you spend a lot of time traveling and at work, but that doesn't mean you can't exercise. One solution to having a healthy life is to live in an apartment with field facilities for exercising. You can set your exercise time at any time in the apartment, either in the morning or evening.
Here are apartment recommendations with field facilities for you to exercise! let's check this out.
Green Bay Pluit, located in Penjaringan, North Jakarta. Although there are not too many offices or public areas, this apartment complex is close to the Baywalk mall. So that residents will not face difficulties in finding their daily needs or hanging out. In addition, Green Bay Pluit is located near the waterfront so it is great for those looking for a beautiful view from home. There are several facilities provided by Green Bay Pluit Apartment. Apart from offering fully furnished units, they also provide several sports centers such as swimming pools for adults and children, a gym, a basketball court, and a tennis court. You can maintain your health by enjoying the many health facilities that this apartment provides because Green Bay Pluit is one of the residential apartments with field facilities.
Menteng Square Apartment is a residential complex located in the strategic location of Menteng in the center of Jakarta. Located in front of Jl. Matraman, Central Jakarta, this apartment has easy access to Jakarta's central business district in Sudirman-Thamrin, Mega Kuningan, and Gatot Subroto. In addition, there are several public transportation options near the apartment, such as TransJakarta BRT and Cikini Train Station, thus providing easy access to other areas in Jakarta.
The combination of strategic location and access to public transportation makes this apartment the perfect place for people with high mobility on a budget. Even though it's cheap, there are a number of facilities that you can use, such as a swimming pool, badminton court, and jogging track. In addition to living in a strategic place, you can also manage your exercise time well. Menteng Square, an apartment with field facilities for you to exercise.
Hamptons Park, a cheap apartment in South Jakarta located in Cilandak. Located in an upscale area in a premium apartment complex next to the Pondok Indah goldfield. The location is very close to Cilandak Town Square, a mall that has a complete supermarket and various restaurants lined up. Besides being near a shopping center, Cilandak is also famous for its many nightlife entertainments that you can visit. Not only that, Hamptons Park is an apartment with field facilities. You can choose the sport you like because Hamptons Park has tennis courts, basketball courts, children's playgrounds, or swimming pools.
People also read: Kost with Wi-Fi in South Jakarta: 10 Apartment Rooms for Rent!
Located in Kemang, this apartment is very close to Lippo Mall Kemang. You only need to walk for about 3-5 minutes to get to Lippo Mall Kemang. Moreover, this mall which is intended for the upper-middle class has many variants of shops that are quite complete. You can fulfill all kinds of daily needs easily.
In addition to its location, which is very close to the mall, this apartment also has a series of luxurious facilities for its residents. Starting from the swimming pool, jogging track, tennis and basketball courts, to the gym, you can use everything to maintain your health. Even though you live in a crowded and busy city, you can still maintain your health because Kemang Village Residence is an apartment with field facilities.
Royale Springhill Residence, an apartment with a private lift, is located in an apartment complex in Kemayoran, Central Jakarta. You can enjoy beautiful views of the lush Bandar Kemayoran Golf Course or the enchanting Java Sea. Located in a strategic area, residents of Royale Springhill have easy access to JIEXPO, Jakarta Inner Ring Road, Ancol, Kelapa Gading, and many more. Royale Springhill is the perfect place for young executives who spend most of their time in the Kemayoran area with the concept of comfort and environmentally friendly living. In addition, there are quality outdoor facilities for residents, such as a large outdoor swimming pool, jacuzzi, sauna, tennis court, basketball court, ping pong table, and jogging track. You can still manage your exercise time easily because Royale Springhill Residence is an apartment with field facilities.
Luxurious apartment with a modern residential theme close to the large and complete Kota Kasablanka Mall. This apartment is also suitable for those of you who want to relax and stay healthy because Casa Grande is an apartment with field facilities. You can use the gym, swimming pool and jogging track to exercise. Then there is also a Jacuzzi that you can use to relax after exercising or a tiring day. Known for its area for expatriates, international cuisine is also widely available near this apartment. This area is also famous for several bars such as Basque or Hause Rooftop, famous bars, and restaurants.
Each unit is complete with home appliances so you don't have to bother when moving. The Pakubuwono Spring is an apartment with field facilities and other health units, ranging from indoor and outdoor swimming pools, onsen, basketball court, jogging track, restaurant, BBQ area, children's playground, multipurpose building, to a gym. This apartment is located in a strategic area throughout Jakarta, especially SCBD. To fulfill your daily needs, you can go to several selected malls such as Gandaria City, Plaza Senayan, Senayan City, and Pondok Indah Mall.
Located in a strategic location with adequate facilities, Pondok Indah Residence makes its residents more comfortable. You can get daily needs and entertainment a few steps from Pondok Indah Residence because this apartment is located opposite Pondok Indah Mall. Other than that. Pondok Indah Residence has facilities such as a swimming pool, children's playground, ATM center, function room, mini market, fitness center, jogging track, basketball court, tennis court, and BBQ area. For the nearest public transportation, there is the Haji Nawi MRT which can be reached in just 10 minutes. Even though you live in the city center, you can still arrange a schedule for exercising because Pondok Indah Residence is an apartment with field facilities.
Taman Rasuna Residence is located in Karet, Setiabudi, South Jakarta. The environment is quite strategic for expatriates and workers in the Kuningan business district. You only need 15 minutes to get to the office. In addition, Rasuna Park is also only 30 minutes from Jalan Sudirman, the main road from the business district. In addition, this apartment also provides convenience for its residents to complete their monthly needs. You can go to Epicentrum Walk, a comfortable and modern shopping center. In addition to its strategic location, Taman Rasuna is an apartment with fields and other health facilities. So you can easily manage your exercise schedule. Starting from swimming pools, ATMs, gyms, basketball courts, tennis courts, jogging tracks, grocery stores, restaurants, and even children's playgrounds.
This private living apartment is located in Darmawangsa, Kebayoran Baru, South Jakarta. Although it is quite far from the business district, it is quite popular among ex-pats because it is close to international schools. This apartment provides several sports facilities such as a swimming pool, children's pool for children, indoor fitness center, sauna, jacuzzi, and a field. To meet your monthly needs, you can go to Lippo Mall Kemang which is only 7 minutes by driving. With other conveniences, you can also have a healthy life because managing sports becomes easy if you live in an apartment with field facilities.
That's it! 10 apartments with field facilities. So, which apartment do you want to rent?