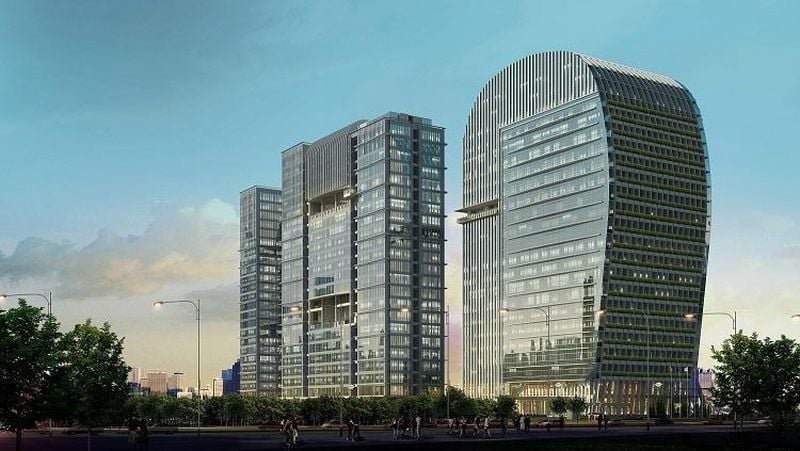 Settling Down
7 Apartments Near Gama Tower; Comfortable and Luxurious
Can you guess which building is the tallest building in Jakarta? Yep, you're right. Gama Tower is known as the tallest building in Jakarta, and even Indonesia, as of 2016! It was called Rasuna Tower and Cemindo Tower during its construction period before it was established as Gama Tower. Located in Jl H. R. Rasuna Said, this skyscraper is a luxurious office tower. It applies green building concepts and development and has Westin Hotel occupying the top 20 floors, a restaurant occupying the 51st floor, and a club occupying the 67th floor. Meanwhile, the rest of the floors are executive office spaces. Are you a professional who works in one of those offices? We at Flokq have 7 recommendations for apartments near Gama Tower. Psst; they're all comfortable and luxurious!
Also read: 7 Apartments Near World Capital Tower for a Comfortable Stay
1. Taman Rasuna Apartment
At the top of our lists for apartments near Gama Tower is Taman Rasuna Apartment. Taman Rasuna Apartment was developed by Bakrieland, and the project was completed all the way back in 2007. Located in Rasuna Said, this apartment is only 3 minutes away from Gama Tower by car, and 11 minutes by foot. Perfect for a light morning exercise, right? This apartment is also one of the largest apartment complexes in Jakarta, with 17 towers and 32 floors. Their facilities are also high-quality and complete to provide comfort for their residents. From a lagoon-shaped swimming pool, ATM centres, gym, a basketball and a tennis court, a jogging track, a restaurant, to a playground, they've got it all! If you seek a comfortable but also lavish lifestyle, this apartment's the right fit for you.
Address: Jl. Taman Rasuna Tim., RT.16/RW.1, Menteng Atas, Kecamatan Setiabudi, Jakarta, Daerah Khusus Ibukota Jakarta 12960
2. The Elements
The second apartment in our list of apartments near Gama Tower for you is The Elements. This apartment has a strategic location in Rasuna Said where you can easily access Gama Tower. It's only 1,5 km away, which means you can arrive at Gama Tower from The Elements within 4 minutes by car! Otherwise, this apartment is also near other prominent CBD, shopping centres, and culinary areas. For facilities, no need to worry. Residents will be able to unwind in a large swimming pool and a safe pool for children, or at their jogging track, accompanied by an amazing river view. A fitness centre is also available for those who like to take care of their physiques, as well as a spa and massage room, a library, and an indoor children playground. You can also easily run errands here, as they have ATM centres and mini markets near the apartment. Amazing, right?
Address: The Grove Suites, Jl. Epicentrum Tengah No.2, RT.2/RW.5, Karet Kuningan, Kecamatan Setiabudi, Kota Jakarta Selatan, Daerah Khusus Ibukota Jakarta 12940
3. L'Avenue Residence
L'Avenue Residence is another luxury apartment for you working men and ladies! The best part is that this apartment is still considered to be one of the apartments near Gama Tower. It's only 7 km away, which means that you will only need an 18-minute trip by car to arrive safely at Gama Tower from L'Avenue Residence. Developed by Bintang Rajawali Perkasa, L'Avenue Residence offers a high-end residential experience. With green gardens, a rooftop swimming pool, sauna, and playground, it's the perfect living place for working men and women, and also families! Residents can also find all they need with reachable distance. Kalibata City is near this apartment, as well as many fast-food restaurants and fine dine restaurants at CBD Jakarta.
Address: Jl. Raya Pasar Minggu No.Kav.16, RT.7/RW.9, Pancoran, Kec. Pancoran, Kota Jakarta Selatan, Daerah Khusus Ibukota Jakarta 12780
4. Menteng Park
Our fourth pick for apartments near Gama Tower is Menteng Park. This apartment is only 13 minutes away from Gama Tower by car, and 18 minutes by public transportation. The moment that you step into this apartment, you will feel its luxurious ambience immediately. From their combination of granite and marble to their high-quality facilities, this apartment is perfect for those who are looking to live in a high-class space. Each unit comes with high-speed internet access and cable television, and you can choose between a studio unit, or a 1, 2, to 3-bedroom unit. This apartment also has a gym, a jogging track, and a tennis court for you fit people! Aside from Gama Tower, this apartment is alls near shopping centres, many restaurants and bars, and many entertainments.
Address: Jl. Raden Saleh II Gg. VI No.106, RT.18/RW.3, Cikini, Jakarta, Kota Jakarta Pusat, Daerah Khusus Ibukota Jakarta 10330
5. Bellagio Residence
Bellagio Residence is our last recommendation for apartments near Gama Tower. This apartment was developed by Gapura Prima Group, and it combines a mall, a residence, and offices. Its location in Mega Kuningan makes this apartment within walking distance from high rise offices, embassies, and other shopping centres. Not to mention, Gama Tower. This apartment is only 11 minutes away from Gama Tower by car. Overall, it's perfect for people seeking a lavish lifestyle. As for its facilities, you don't need to worry. They have it all! Each unit comes with a fully equipped kitchen, living room, private bathroom, and flat-screen television. They also provide facilities to make their residents' lives easier. From a 24-hour mini-market, swimming pool surrounded by greeneries, jogging tracks and gyms, residents are ensured to have 24/7 comfort!
Address: Jl. Mega Kuningan Barat No.3, RT.5/RW.1, Kuningan, East Kuningan, Setiabudi, South Jakarta City, Jakarta 12950
Aren't these the perfect apartments to live in? Whether you are about to live alone for the first time, or you are about to live with your family, these comfortable and luxurious apartments are suitable for all. Go check one of these apartments out if you'd like to rent one of the apartments near Gama Tower. We assure you, you won't regret it!