Local Guide
15 Bali Dessert: Must-try Fancy and Traditional Sweets
Traveling to Bali is not complete without spending time on culinary hunting. Many options of foods are available in Bali, where you can literally get through the whole day by trying various dishes, and one of them is dessert. Be it a fancy and Instagrammable dessert, to the traditional and authentic taste of Bali dessert, you always have a place to go and get some.
Here, we will guide you to the best fancy dessert places available in Bali, and introduce you to some traditional Bali dessert which is a must-try one while you are in Bali. Pay a visit to one of these places and trying local desserts in Bali will obviously make your stay even better.
People also read: 13 Local Foods in Bali with Authentic Taste, Must-try!
10 The Best Fancy Dessert Places in Bali
Whenever you are feeling low and tired, and need some sweets to raise up your sugar blood, head out to one of these recommended fancy dessert places in Bali. Not only do they serve yummy desserts, but also their appealing appearance is definitely worth trying.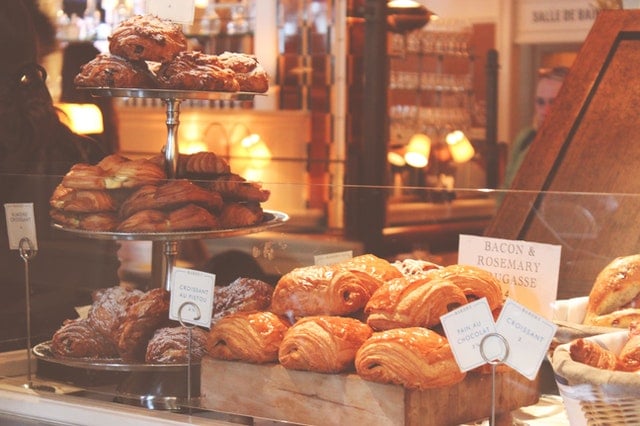 1. Bali Bakery
Bali Bakery is a popular place among locals and tourists especially for dessert-lovers. This place is famously-known for their wide range of cake creations with a yummy taste. Some of their best menu and should not miss are Guava Cheesecake and White Truffle. Apart from their dessert, they serve the main course which can always be the answer whenever you need something more.
If you happen to visit Bali Bakery which is located within the Seminyak Square area, you will be welcomed by a cozy and nice ambience interior. Such a good place to hang-out with your loved ones, right?
Address: Bali Island, Seminyak Square, Jl. Kayu Aya No.1, Seminyak, Kuta, Kabupaten Badung, Bali 80361
Opening hours: Daily 7.30am – 10.30pm
Contact: (0361) 738033
2. Flapjacks
For those looking for desserts such as pancakes and waffles after a tiring day exploring Bali, you can head out to Flapjacks. Located in the famous Kuta area, this place serves you a yummy dessert and even better because it is all homemade! Enjoy your appetizing desserts without worrying about fat as they serve a low-fat dessert.
Address: Jl. Kartika Plaza, Kuta, Kabupaten Badung, Bali 80361
Opening hours: Daily 8am – 12am
Contact: (0361) 763100
3. Room 4 Dessert
Speaking of fancy dessert in Bali will never be complete without mentioning Room 4 Dessert. This place provides a harmony combination of Balinese and Western dessert which is made of high quality local ingredients.
Some of their popular menus are Black Sticky Rice Pudding and Sugar Refinery 2.0, each of them offering different taste and sensation but undoubtedly tasty. At this place, you can try all dessert available in a mini size as they offer a special package for that.
Address: Jl. Raya Sanggingan, Kedewatan, Kecamatan Ubud, Kabupaten Gianyar, Bali 80561
Opening hours: Tue – Sun from 4pm – 10pm
Contact: 0813-3705-0539
4. Movenpick Café
Movenpick Café is a beautiful place to enjoy fancy desserts in Bali. It is because Movenpick is a sophisticated and relaxing café, supported by the modern European-style interior which makes this place filled with amazing ambience. Here, you can try their ice cream, espresso, as well as traditional Switzerland-style of cakes and pastries.
Address: Jimbaran, Kec. Kuta Sel., Kabupaten Badung, Bali 80361
Opening hours: Daily 9am – 9pm
Contact: (0361) 4725777
5. Caramel Pâtisserie & Café
A hot place all over social media, Caramel Patisserie and Café offer you unique and creative but undoubtedly yummy dessert creations in Bali. During your visit to this place, make sure to try their signature menu which is Caramello Ice Cream, and you will get a chance to try a sensation of vanilla ice cream with salted caramel and completed by dark chocolate. So mouth-watering, right?
Address: Jl. Hanoman No.4 B, Ubud, Kecamatan Ubud, Kabupaten Gianyar, Bali 80571
Opening hours: Daily 12.30pm – 5.30pm
Contact: (0361) 970847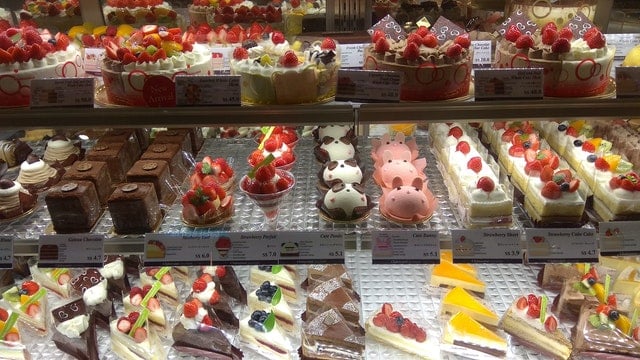 6. Revayah Coffee & Cake
Revayah Coffee and Cake provide a wide options of cakes as dessert in Bali. Other than that, you can try their special Nutella Freakshakes which come with chocolate, pretzel and marshmallow as toppings. Apart from Nutella, they offer all-matcha desserts such as Matcha Latte Affogato, Mille Crepes Cake and Crème Green Tea.
Address: Jl. Gatot Subroto Tim. No.99, Penatih, Kec. Denpasar Tim., Kota Denpasar, Bali 80237
Opening hours: Daily 9am – 9pm
Contact: (0361) 467433
7. Monsieur Spoon
Craving for some croissant dessert while in Bali? Monsieur Spoon is always there to give you the answer. This place is famously-known for their fantastic croissant almond. Other must-try menus available here are carrot cake, creamy oreo cheesecake, pecan pie and many more. Completed with the beautiful little garden, this place is definitely worth visiting.
Address: Jl. Umalas II No.43, Kerobokan Kelod, Kec. Kuta Utara, Kabupaten Badung, Bali 80361
Opening hours: Daily 7am – 7pm
Contact: 0878-6280-8859
8. Dough Darlings
Not like any typical donut you ever met, this fancy dessert place in Bali is named Dough Darlings. Here, you can get your donut topping to be fun and a little wild, and try a whole new experience of having donut. Using high quality ingredients, this place produces more than 20 types of flavours you can choose such as Strawberry Mojito or Matcha Black Sesame.
Address: Jl. Petitenget No.22, Seminyak, Kec. Kuta Utara, Kabupaten Badung, Bali 80361
Opening hours: Daily 8am – 8pm
Contact: 0878-6279-0904
9. Gusto Gelato
The most popular place for gelato in Bali is named Gusto Gelato and this one is also ready to bring you a fancy dessert to try to maximize your trip. With a wide range of flavours available, Gusto always refreshes their creations. You can find a unique taste of gelato here, such as lemongrass, basil, ginger, and even chilli!
Address: Jl. Mertanadi No.46B, Seminyak, Kec. Kuta Utara, Kabupaten Badung, Bali 80361
Opening hours: Daily 10am – 8pm
Contact: 0851-0052-2190
10. Mad Pops
Other dessert options for gelato place in Bali is Mad Pops. This one is a hot place especially among young generations. Coming in a beautiful design interior, you will get the best experience while having desserts in a lovely atmosphere. What makes Mad Pops even better is because they serve vegan-friendly desserts.
Address: Jl. Pantai Batu Bolong No.48, Canggu, Kec. Kuta Utara, Kabupaten Badung, Bali 80361
Opening hours: Daily 11am – 10pm
Contact: 0813-3777-9122
5 Must-try Traditional Desserts in Bali
Whenever you are feeling enough with the fancy dessert and artistic places, you will always have another option of Bali dessert to go. It is a traditional and local dessert in Bali that is coming in an authentic taste. Keen enough to know more? Here are 5 must-try traditional desserts in Bali for you.
1. Bubur Sumsum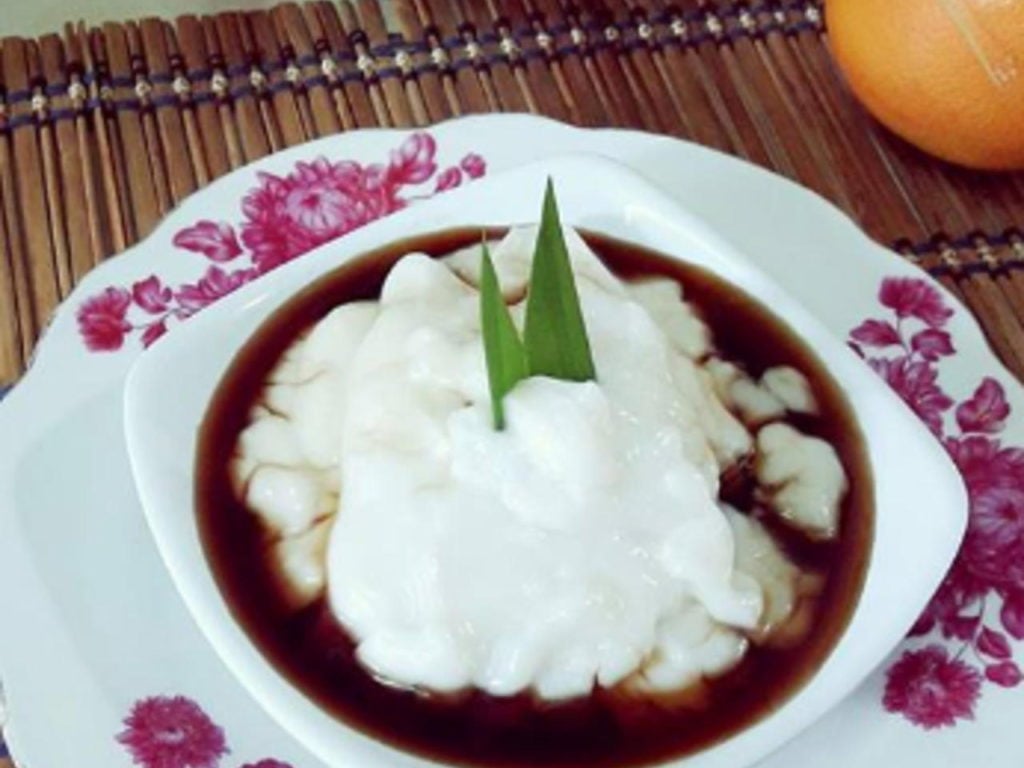 Bubur Sumsum is basically a coconut rice porridge dessert in Bali which is made by cooking the rice flour and a pinch of salt in coconut milk, that is why this dessert is having a sweet and salty sensation at the same time. Mostly served with palm sugar syrup and other local food, bubur sumsum can be useful to get rid of indigestion.
As a local food, this can be found in literally any parts of Bali. But quite hard since they don't usually sell this in a settled place. Head out to Badung Market on Gadjah Mada Street to start your hunt for bubur sumsum.
2. Klepon
Sticky rice balls filled with caramelised sugar is the best way to describe Klepon. This traditional Bali dessert is quite popular among tourists. After biting into the chewy, circular rice ball, you'll be rewarded with a gooey burst of sweet caramelised coconut sugar. Klepon is usually green – an extract from the suji leaf is used to colour the rice flour.
Klepon can be found easily in Bali since this one is a popular Bali dessert. You might find Klepon from the nomad seller walking around with a basket on their heads, or in market stalls lining the streets.
3. Batun Bedil
To understand what Batun Bedil is, you can imagine glutinous rice flour dumplings in brown sugar sauce. The texture of the rice cake is soft yet slightly chewy because it is made from rice flour mixed with coconut milk. It's shaped by hand to form a small bullet (bedil), then boiled and served with a melted brown sugar sauce and freshly grated coconut.
Just like other local desserts, you will often find batun bedil wrapped in banana leaf on sale at one of the traditional markets all around the Bali area.
4. Laklak
Laklak is a Balinese pancake dessert in Bali which is made from rice flour and coconut milk and served with grated coconut and a little sugar on top. Laklak are usually green as it uses suji leaf. Balinese people like to eat these pancakes served fresh in the morning, sprinkled with shredded coconut and palm sugar.
Head to Hayam Wuruk Street in Denpasar, and you can see many places selling Laklak in an authentic and yummy taste.
5. Bubur Injin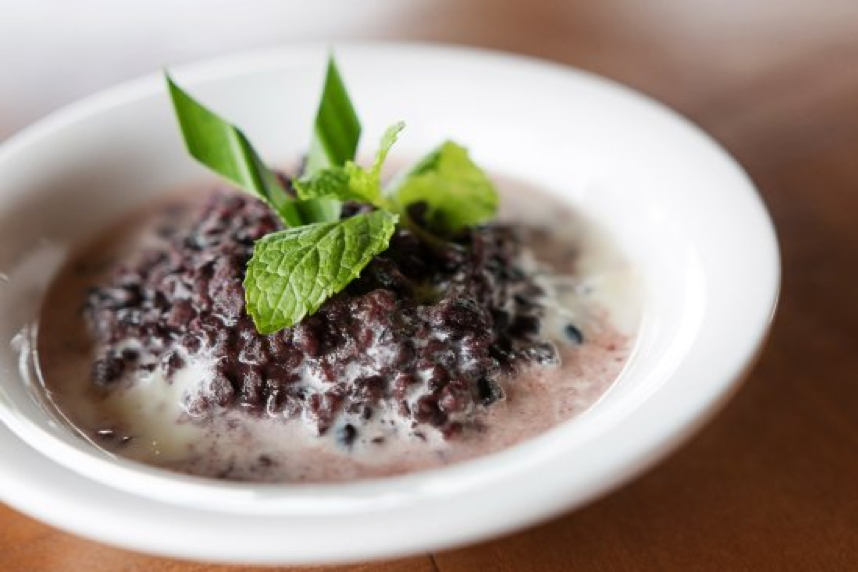 Bubur Injin is a black rice pudding dessert in Bali which requires a long process to make. But the tasty side of this dessert is definitely worth all the process. This sweet sticky dessert is often topped with fresh fruit like strawberries, pomegranate or jackfruit.
Visit traditional markets in Bali to find Bubur Injin. But due to the unsettled place, sometimes your hunt for bubur injin could be hard too. Therefore, you can have a go at making this one yourself at the Green Kitchen cooking school located close to Ubud.
So, that's all for it! A list of our recommendations for the best place to get fancy dessert while in Bali, and a short introduction of Balinese local dessert to give you a whole new experience of authentic taste.
Read also: 7 Affordable Coliving Bali Spaces in Badung Regency
---
Want to explore more rental options in Bali before the next trip there? Flokq has several listings for a more affordable option from their offers. Head up to Flokq to find out more!
CLICK HERE TO EXPLORE RENTAL OPTIONS IN BALI