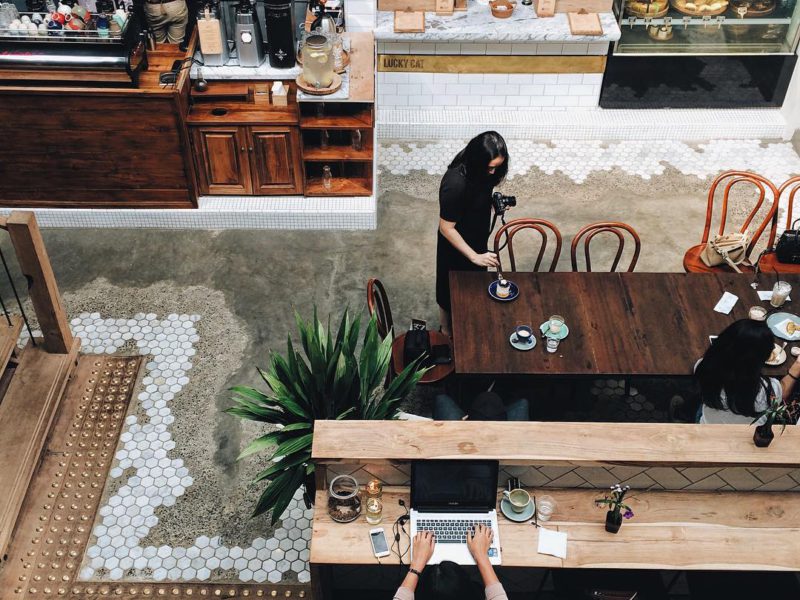 Coffee is a daily necessity for many. A lot of people enjoy coffee to stay focused in the middle of doing stressful assignments. Some have them in order to stay awake in the middle of the night, and others just crave it while meeting up with a friend or colleague. Each kind of coffee gives a different taste, and so does the coffee shop's atmosphere.
Coffee lovers have their preference for coffee shops based on the menus or the place itself. Now we have compiled some of the best coffee shops in Mega Kuningan, a business area in South Jakarta. It's perfect for both locals and expats who might be working there or living near the area. Go check them out!
1. Meanwhile Coffee
Meanwhile Coffee suits those who love minimalist places to spend their break time with coffee and snacks. The interior and exterior are dominated by white and tosca, with a big window on the side to give natural lighting. You might find this small yet cute coffee shop instagramable. Meanwhile Coffee is located in Kuningan Guest House, thus it creates a cozy and homey mood.
Furthermore, they have a unique way to serve several menus like using a cute bottle for its cold coffee. They also have a wide selection of coffee beans to make their coffee.. Feel free to chat with the baristas as they are super friendly and welcoming.
For coffee recommendation, you can try their Hello White and also munch on their Brownies for a nice chocolatey snack. For a coffee shop in the Kuningan area, this place is pretty affordable.
Address: Kuningan Guest House Jl. Perintis No. 16, Jl. Mega Kuningan Barat, RT.3/RW.5, Kuningan, Kuningan Timur, South Jakarta
Instagram: @meanwhile.coffee
Phone Number: +6289 512 261 980
Price Range:
Coffee, non-coffee, and snack starting from Rp15.000 to 35.000
Opening Hours:
Monday to Thursday & Saturday to Sunday (07.30 – 21.00)
Friday (13.00 – 21.00)
2. Ottoman's Coffee
Ottoman's Coffee is perhaps the most chic-looking coffee shop in Mega Kuningan with pink and green pastel interior. Every corner feels perfect for your Instagram feed. Located in the Sopo Del Tower, this coffee shop is a great place to meet up with friends and colleagues. With great ambiance and a great selection of meals and beverages, Ottoman's Coffee can be slightly crowded so be prepared to wait a bit for your coffee and food.
Ottoman's Coffee serves a great variety of drinks, appetizers, main courses, and desserts. Overwhelmed by the options? We recommend you to try their Avocado Fries and Long Black Iced Coffee. They also serve refreshing smoothies and smoothie bowls, perfect for those wanting some sweet and sour delish. For those who love an aesthetic coffee place, this one will be your favorite.
Address: Sopo Del Tower Jl. Mega Kuningan Barat III Lot 10, 1-6 Ground Floor Unit 01-02, South Jakarta
Instagram: @ottomans.coffee
Phone Number: +6221 50806510
Price Range:
Coffee and non-coffee starting from Rp11.000 to 49.000
Meals starting from Rp39.000 to 145.000
Opening Hours:
Monday to Sunday (07.00 – 19.00)
3. Caffe Bene
Are you a part of the Korean wave? If so, this café would become a favorite because it is the best coffee shop and dessert cafe from Korea. Caffe Bene originated from South Korea and now has many branches in many countries. You can find one in Kuningan, which is located in the Rajawali Tower. Like many other Korean cafés, they use a simple yet cozy concept for their customers. Every customer who enters the café would be greeted by the infamous greeting "Annyeong Haseyo."
This place is also ideal for non-formal meetings with your business partner or casual catch-ups with friends. Not only coffee, but you can choose some snacks or their famous shaved-ice dessert from Korea as well. The recommended ones are Waffle, Meat Bagel, and Caramel (caramel cinnamon honey bread/caramel macchiato/caramel frappeno). You can also enjoy Manual Brewed Coffee, so don't hesitate to come and have your daily dose of caffeine!
Address: Rajawali Tower Ground Floor, Jl. Dr. Ide Anak Agung Gde Agung Lot 51, Setiabudi, RT.5/RW.2, Kuningan, Kuningan Timur, South Jakarta
Sunken Plaza, Menara BTPN, Mega Kuningan Kav. 5.5 5.6, Jl. DR. Ide Anak Agung Gde Agung, RT.5/RW.2, Kuningan, Kuningan Tim., Jakarta, Kota Jakarta Selatan, Daerah Khusus Ibukota Jakarta 12950
Instagram: @caffebeneid
Phone Number: +6221 29408226
Price Range:
Drinks starting from Rp35.000 to 53.000
Foods starting from Rp40.000-100.000
Opening Hours:
Monday to Friday (07.00 – 20.00)
4. Fillmore Coffee
Located slightly away from the crowd, Fillmore Coffee is a hidden gem. Despite its small space, the ambiance is very nice, especially at night. This building has two floors. The first floor is one in which the coffee bar is located, and the second floor is filled with several small chairs and tables. Both are nice for you to have a seat.
Moreover, the baristas kindly help you to find an empty table when it is already full or recommend some items from the menu for you. Since the vibe is nicer in the evening, we recommend you to order Hot Cappuccino and Brookie. Good news, they have their food menu now!
Address: Suites@Seven Residence, Jl. H. Sidik No. 7, Kuningan, Karet Kuningan, Setiabudi, Kuningan, South Jakarta
Instagram: @fillmorecoffeejkt
Phone Number: +6221 57851751
Price Range:
Coffee and non-coffee starting from Rp32.000 to 45.000
Smoothies starting from Rp65.000 to 72.000
Opening Hours:
Monday to Sunday (08.00 – 21.30)
5. Common Grounds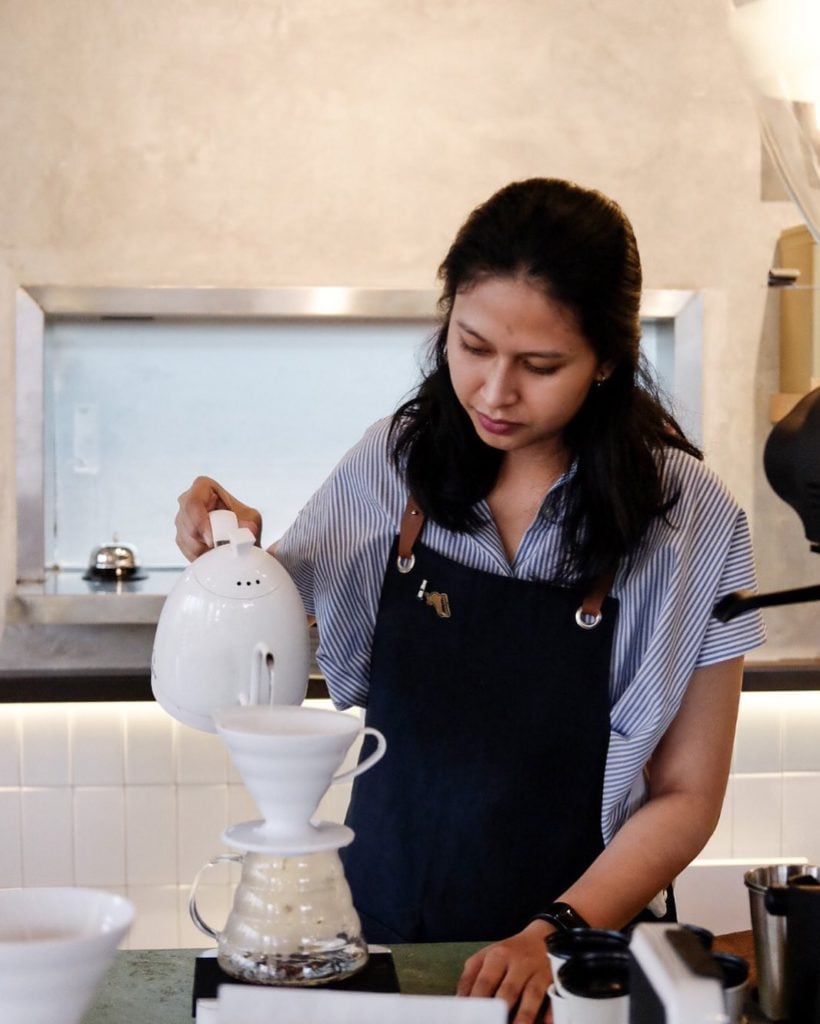 If you're a coffee addict, this name will be very familiar to you. Common Grounds is one of the biggest coffee shop chains in Indonesia which also located in Bandung and Surabaya. They're very passionate about delivering coffee which is shown by their achievement in barista, latte art, brewers, and cup taster competition.
As a coffee-enthusiast, try their Filter Coffee with their wide-array of beans across Indonesia. The barista will help you to find the best beans for your taste buds. Can't handle the caffeine? No worries! They also have a big selection of teas or healthy drinks like juice or smoothies. We recommend you to try White Peony Tea or Mango Colada Smoothies. This place is also perfect for you to have a brunch with classic breakfast menus like Egg Benedict or Waffle.
Address: Citywalk Sudirman, Lantai Ground, Jl. KH Mas Mansyur, Sudirman, Jakarta
Instagram: @common.grounds.coffee
Phone Number: +622125558963
Price Range:
Baverage starting from Rp38,000.00 to Rp60,000.00
Food starting from Rp55,000.00 to Rp125,000.00
Opening Hours:
Monday to Sunday (08:00 – 22:00)
Coffee lovers, it is time to get your favorite cup at one of these best coffee shops in Mega Kuningan!