Local Guide
7 Church in Bali: Most Beautiful and Unique Ones
Although famously known as an Island with Thousand Temples, in Bali also sets a house of worship from other religions, and one of them is a church. As a city with diversity, every Christians in Bali can worship in peace at their sacred church. If you happen to visit Bali, you can also take a look at a church in Bali to see the beauty of it.
You can find quite a number of churches on the island that boast amazing structures with features rendered in a distinctly Balinese style. These churches offer architecture brilliance for the visitors to the island to marvel at. So, here are some of the most beautiful and unique church in Bali for you to visit.
People also read: 30 Most Beautiful Temples in Bali That You Must Visit
1. Palasari Church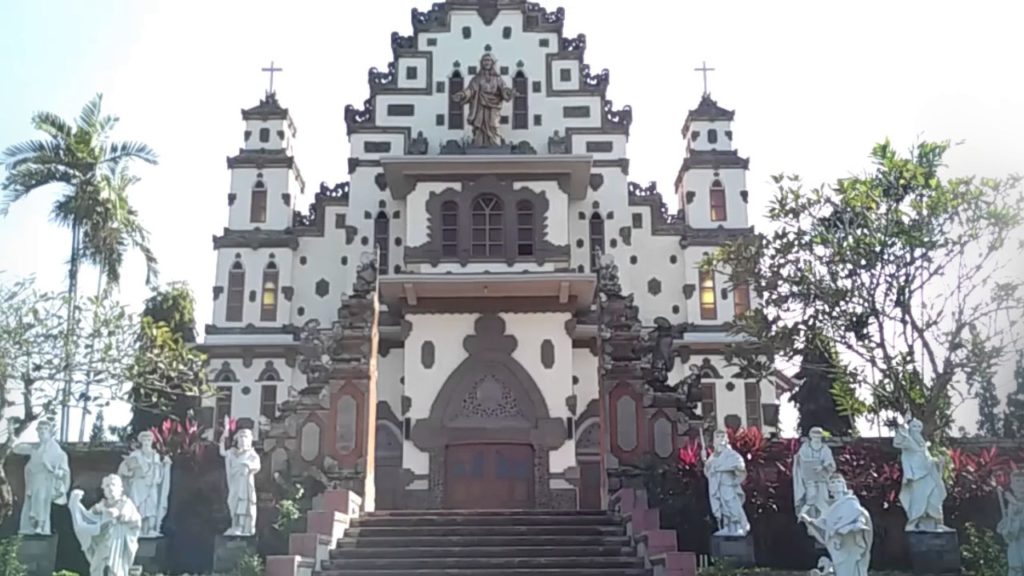 Palasari Church is a Catholic church that is located in the Jembrana area. This church is alive and bustling with their own traditions and ceremonies. As for their architecture, you can see that their buildings are acculturated and influenced by Balinese Hindu style, which make Palasari Church as a unique church in Bali.
Inside the church, the interior and relics such as statues, altar, cross, and carvings also reflect this beautiful fusion. At Palasari Church, their local members are sometimes using traditional Balinese attire for attending church events.
Address: Jl. Palasari Banjar Palasari, Desa No.2, Ekasari, Kec. Melaya, Kabupaten Jembrana, Bali 82252
2. St. Michael Church
St. Michael Church or also known as Gereja Katolik Santo Mikael in local language is situated amidst the lush and tropical greenery of Bali. Supported by the gothic architecture and unique atmosphere throughout the area, this church offers a picturesque sight. Furthermore, the beauty of St. Michael Church architecture also makes this a popular place for holding a wedding ceremony.
Located in the Seminyak area, this church is worth visiting because of their special features, which is a stained glass behind the altar. It holds the historical and artistic piece created more than a hundred years ago in England. Sounds cool, right?
Address: Jl. Camplung Tanduk No.66, Seminyak, Kuta, Kabupaten Badung, Bali 80361
3. Church of St. Joseph
Next, we have the Church of St. Joseph as one of the must visit beautiful and unique churches in Bali. This church is relatively small, but the gorgeous architecture of the building, and its stunning interiors will surely never disappoint you. The beauty that this church holds also will be a great support for wedding ceremonies.
Inside this church, you will see the intricate and intriguing carvings surrounding the altar, as well as the usage of rich details and vibrant colours. These designs show that Balinese elements are featured strongly in the interiors of the church, which makes this one as an evidence of strong diversity in Bali
Address: Jl. Kepundung No.2, Dangin Puri, Kec. Denpasar Timur., Kota Denpasar, Bali 80232
4. Pniel Blimbingsari Church
Another option for a beautiful church in Bali is called Pniel Blimbingsari Church. This church also holds a high influence from Balinese Hindu culture especially in the ornament and carvings on the church's structure. Other than that, the interior of this church also can be seen as a success acculturation of Christian and Hindu cultures in harmony.
One of the things that can be considered as a Balinese Hindu influence is the creation process of Pniel Blimbingsari Church is similar to Temple's establishment. Balinese people also believe that making a traditional building is a way to transform a value of life. Furthermore, Pniel Blimbingsari Church as a house of worship is surrounded by a calm and relaxing atmosphere around.
Address: Blimbingsari, Kec. Melaya, Kabupaten Jembrana, Bali 82252
5. The Holy Spirit Cathedral Denpasar
The Holy Spirit Cathedral or also known as Katedral Roh Kudus in Indonesian language, but often referred as Bali's Denpasar Cathedral. This is a religious building affiliated with the Catholic Church located in the Denpasar area. The present structure was built between 1993 and 1998, but still sturdy and holds a unique charm.
Visiting this church will allow you to see evidence of mixing cultures of Balinese traditional architectural style, and Christian house of worship. The building is dominated with a brick colour, which makes it such a picturesque spot especially when the sky is bright. You definitely do not wanna miss it!
Address: Jl. Tukad Musi No.1, Panjer, Kec. Denpasar Sel., Kota Denpasar, Bali 80234
6. St. Fransiskus Xaverius Catholic Church
Next on our list, we have St. Fransiskus Xaverius Catholic Church is a beautiful church located in Bali's Kuta area. The buildings are dominated in white colour, and as soon as you enter the church area, you will be welcomed by two bell towers on the left and the right side of the church, with a cross on top of the bell towers.
This is a unique church because not like the other Catholic churches which mostly build an artificial cave to place The Virgin Mary statue. This church places the statue inside a room which has a pool, and is completed by four angels' statue. You need to go through a wooden bridge on top of the pool to reach The Virgin Mary statue.
Address: Jl. Kartika Plaza No.107, Kuta, Kabupaten Badung, Bali 80361
7. Maria Bunda Segala Bangsa Parish at Puja Mandala Complex
Last but not least, we have a unique church that can be a perfect destination for you to witness the strong diversity in Bali. This church is called Bunda Maria Segala Bangsa in the local language. What makes this church special is because it is located within the Puja Mandala Complex in the Nusa Dua area.
Puja Mandala Complex is a popular area, this can be considered as a house of worship complex because here, you can find 5 houses of worship from different religions. Mosque for Muslims, Church for Christian and Catholic, Hindu Temple, as well as Buddhist Temple. All sets in harmony and peace. What makes this complex even better is because located on top of a hill, so you will be able to enjoy the fresh air and relaxing vibes here.
Address: Jalan Nusa Dua, Kuta Selatan, Benoa, Kec. Kuta Sel., Kabupaten Badung, Bali 80361
There you have it, 7 churches in Bali that you can visit for your religious services. Which ones are you most interested with?
---
Want to explore more rental options in Bali before the next trip there? Flokq has several listings for a more affordable option from their offers. Head up to Flokq to find out more!
CLICK HERE TO EXPLORE RENTAL OPTIONS IN BALI