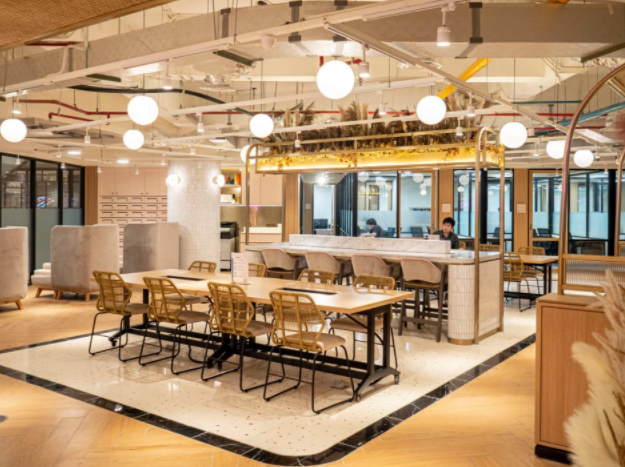 West Jakarta isn't only famous for the Dutch buildings, Chinatown, churches and mosques from the old days of Dutch occupation. Now, West Jakarta has become one of the business districts in the Jakarta area besides South Jakarta. We can find shopping malls, schools, entertainment centers, hospitals, you name it. One of the key places in West Jakarta is the Central Park. It's a complex of shopping malls, office towers, apartment buildings, and hotels that becomes the 10th largest building in the world. As a strategic place, you can also consider choosing a coworking space to work here. Don't worry! We have the list of coworking spaces near Central Park that you're about to read, which will be helpful for you. So that you don't have to put too much hassle on yourself. Check this out! 
read also: How to Stay Productive with Many Deadlines
1. GoWork Central Park
Apparently, GoWork also opens its branch in Central Park. As one of the leading coworking companies in Indonesia, you don't need to doubt what they provide in order to support your necessities in a working environment. Their amenities include relaxing lounge areas, high speed internet, phone booth, conference room, coffee, fruit water, printing, onsite staff, cleaning service, and event spaces. No need to be confused about the price and service that they offer, they also prepare certain plans for you.
Address: Central Park, LG Floor Jl. Letjen S. Parman No.28, Tanjung Duren, Grogol Petamburan, Jakarta Barat 11470
Operating Hours: Monday-Friday (09.00-16.00)
WhatsApp: +62 811-9968-896
Price:
Hot Desk Daily: Rp. 125.000/day*
Hot Desk Flexible: Rp. 1.000.000/10x use*
Hot Desk Monthly: Rp. 2.300.000/pax/month*
Private Office: Rp. 2.800.000/pax/month*
*VAT is applicable
Website: https://go-work.com/central-park–jakarta-barat
2. Kedasi – Working Space
Kedasi – Working Space offers you a designated coworking space with various amenities and services offered. Amenities and services offered are different between one another, depending on which plan that you choose in accordance with your budget. Good news for you who are still studying as a student! They also have plans for students with interesting and affordable offers. At minimum, you can get desk space, high speed internet, free flow of coffee and tea. Additional 20 sheets free printing will be included if you choose Daily Plans and Daily Plans for Students. They also offer Monthly and Unlimited Plans with more amenities and services provided.
Address: Jl. Tanjung Duren Timur 6 No.2A, RT.7/RW.3, Tj. Duren Sel., Kec. Grogol Petamburan, Kota Jakarta Barat, Daerah Khusus Ibukota Jakarta 11470
Instagram: @kedasi.space
Phone Number: +62 819-0233-0677
Price:
Hourly: Rp. 30.000/hour
Daily: Rp. 100.000/day
Daily (Students): Rp. 75.000/day
Monthly Coworking: Starts from Rp. 450.000 to Rp. 900.000
Unlimited: Rp. 1.200.000/month
Website: http://www.kedasi.co.id/
3. Werkspace Soho Capital
This coworking space is located strategically in Soho's Capital Premium Grade-A Office Tower. You can take the view of the skyline city as you work and gain access to West Jakarta's Central Park Superblock. This coworking space is also facilitated with secured access and high speed elevators, perfect to safely work and move around. You can conveniently park your vehicle in the same building or you can also go to this coworking space with public transport since it's pretty accessible. Other than that, they also provide many essential facilities and services, including CCTV, cleaning service, printing, and many more. They provide so much to the point there won't be enough space to mention it all here. You can check their website for the full information of spaces they offer with its prices.
Address: Podomoro City, JL let. S Parman kav 28 Soho Capital, 19th Floor Tanjung Duren Selatan Grogol Petamburan 14470, RT.3/RW.5, Tj. Duren Sel., Kec. Grogol petamburan, Kota Jakarta Barat, Daerah Khusus Ibukota Jakarta 11470
Phone Number: +6221 5051 5088
Price:
Coworking: Rp. 120.000/day
Dedicated Desk: Rp. 1.650.000/month (T&C apply)
Website: https://www.werkspace.id/locations/soho-capital 
read also: Best Kos-kosan in West Jakarta
4. Vantage Office – APL Tower Central Park
This coworking space is located right at the APL Tower, a walking distance from Central Park Mall and other iconic shopping malls like Taman Anggrek, Neo Soho (Soho Capital), and Pullman Hotel. You can choose this coworking space if you're looking for the one with an affordable and competitive price that fits your budget the best. Don't worry about the facilities or amenities that they provide, they come with full serviced coworking space that you can use. Being strategically located in a business and shopping district is another considerable advantage, you can go to various different entertainment places that you want in case you need a break from your work.
Address: Jl. Letjen S. Parman 28, Tanjung Duren Selatan, Grogol Petamburan, Jakarta Barat, 11470, Indonesia (APL Tower – Central Park 7th Floor, 17th Floor, and 26th Floor Unit T3)
Operating Hours: Monday-Friday (08.30-17.30)
WhatsApp: +628111998998
Price:
Open Plan: Rp. 100.000/day
Open Plan: Rp. 500.000/week
Open Plan: Rp. 2.000.000/month
Website: https://www.vantage-office.com/
So, after looking through the list that we gave you, have you made up your mind to choose which coworking space that you want and fits your budget? You can check each of those websites to know more about the coworking spaces that they provide. Don't forget to check other articles about coworking spaces in other places around the Jakarta area in this blog! You can also share this to people that you think need to know about this information. Find other recommendations, tips, interesting stuff and activities recommended by Flokq!
read also: Introducing Co-Living in Jakarta