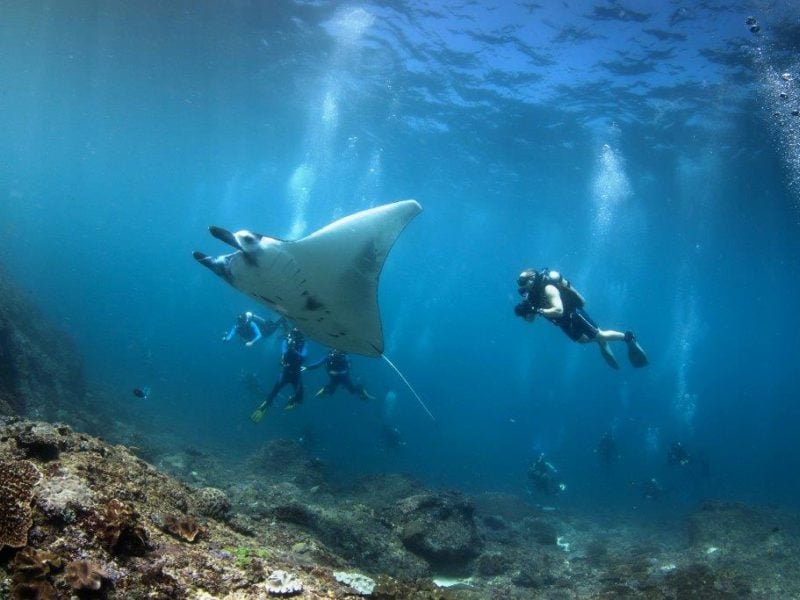 Bali is an iconic island in Indonesia that is craved by tourists from all over the world. There are thousands of tantalizing tourist, cultural and culinary destinations for you to explore. The most prominent tourism in Bali is beach tourism and its culture. Needless to say, almost all beaches on the island of Bali are of extraordinary beauty. So naturally, Bali is one of the world's favorite snorkeling and diving tours.
Here are 15 of the best spots for snorkeling and diving in Bali that you must visit, all of which have their own uniqueness!
1. Menjangan Island
Menjangan Island is located in Teluk Thank, in the area of ​​West Bali National Park, Jalan Raya Singaraja, Gilimanuk. This island is a nature reserve protected by the government.
In this island area, there are many snorkeling spots that will amaze you. If you wait for the sea water to recede a bit, you can snorkel a little to the middle, served by an amazingly beautiful underwater view with colourful fish and of course beautiful corals.
If you are tired of your daily routine, it would be perfect if you decide to take a vacation to this island. Around Menjangan Island, there are many luxury resorts to cheap guest houses. It really is a great stress reliever.
You can also rent snorkeling and diving equipment here. Travel time taken to this place is around 3-4 hours if taken from Denpasar to the west, passing through Negara district.
Quite far, but worth it because of the beauty of the original view on this island.
2. Pemuteran
Pemuteran is marine tourism which is also a very popular coral reef breeding place. The Pemuteran area is located approximately 30 km from Gilimanuk, or 55 km to the west of Singaraja.
The location is quite far, but the Pemuteran area is very quiet and far from the hustle and bustle of the city, which is guaranteed to make you fresher and calmer. Snorkeling and diving in this area can only be done in the morning when the water level is not too high.
3. Lovina
Talking about Lovina Beach, you must have immediately remembered the dolphin tour, right? This place is not only about the dolphin tour, but also a really good place for snorkeling lovers.
The price of dolphin and snorkeling tour packages for adults in Lovina usually costs around IDR 200,000 per person. It is very cheap, you should give it a try!
4. Tulamben
Tulamben is a favourite spot for divers from around the world. The reason is, this tourist area is famous for its incredibly beautiful marine life. This diving spot is also decorated with various kinds of colourful fish and very beautiful medium-sized fish.
When diving in Tulamben, you will also be presented with a view of a shipwreck on the seabed named USAT Liberty Glo belonging to the United States. Give it a try, guys!
5. Jemeluk Bay, Amed
Amed has a lot of popular snorkeling and diving spots. Like Jemeluk Bay which is located quite close to Vienna Beach. For beginners who want to try snorkeling, Jemeluk Bay is the right place for you.
You don't have to go to the middle, even on the beach you can do snorkeling because the view on the beach of Jemeluk Bay is already very beautiful. Wanna try?
6. Vienna Beach, Amed
Its location which is not far from Jemeluk Bay makes this beautiful beach often a target for snorkeling and diving for tourists. Its location which is also quite far from the hustle and bustle of the city is a pity to be missed for those of you who want to spend time with nature.
Almost similar to Jemeluk Bay, Vienna Beach has many marine lives with beautiful coral reefs. The place is also instagrammable for your photo collection.
7. Japanese Ship Wreck, Amed
Similar to Tulamben, Amed also has a spot with the view of a shipwreck. The Japanese Ship Wreck is located in Lipah Bay in Amed.
The beauty of marine life here is extraordinary. Coral reefs that grow naturally on the wreck of the Japanese Ship Wreck provide its own exoticism for snorkelers and divers. You will not be disappointed.
Also read: Boost Your Adrenaline with 15 Most Exciting Water Sports in Bali!
8. Manta Point, Nusa Penida
Nusa Penida is the island in Bali that has the most cool spots for snorkeling and diving. There are so many, one day vacations on this island won't be enough, guys! One of the most common spots known to tourists is Manta Point.
Manta Point is the best spot to see manta fish, aka stingrays. Usually in the morning, mantas will bask at sea level, and this is the perfect time to get acquainted with these mantas.
Don't be afraid, guys. It is said that the mantas here have their deadly poisonous tails removed. So it is safe for divers. However, you still have to be vigilant and be careful.
Manta point is usually more suitable for experienced snorkelers and divers who have a high adrenaline spirit. Because the depth of the sea in this tourist spot reaches 10-25km. Wow, you can imagine what it is like, right?
9. Crystal Bay, Nusa Penida
The second most famous spot in Nusa Penida is Crystal Bay. Well, this area is a diver's paradise. Why? This is a valuable spot to see sunfish.
Not only Mola-mola fish. This area is also famous for its beautiful marine life. If you like watching the movie Nemo, here you can meet Nemo, Marlyn, Dory and their friends. The coral reefs are also very beautiful, don't you miss this spot!
10. Nusa Lembongan
You don't need to doubt the beauty of Nusa Lembongan. The island, which is famous for its exotic blue beaches, has four cool spots that are loved by snorkelers and divers in the world.
First of all, we start from the north of the island, which is the beach close to the mangrove forest area. In this area, there are lots of cute little fish and it is a safe spot for those of you who are diving for the first time because the depth is only about 2 meters.
Next, it is located in the Lembongan Bay, Mushroom Beach, and Blue Corner areas which are suitable for diving spots, because they are quite far from the shoreline. Here you can enjoy various types of water tourism besides snorkeling and diving such as watersports, sea walkers, or cliff jumping. So, make sure you don't miss this spot!
11. Blue Lagoon Beach, Padang Bai
It can be said that Karangasem Regency is a paradise for water tourism for snorkeling and diving, and one of them is Blue Lagoon Beach.
This area has an amazingly beautiful underwater natural biota. Not only in Nusa Penida, here you can also see stingrays, you know! Plus, the Blue Lagoon itself has lots of cool spots for those of you who like to take photos.
12. Sanur
This snorkeling and diving spot is located in the city of Denpasar, about 30 minutes from I Gusti Ngurah Rai International Airport. Sanur is famous for its calm beaches, coral reefs, and beautiful fishes.
If you visit Bali, Sanur is a spot that you shouldn't miss.
13. Serangan Island
Not only Sanur, Serangan Island is also located in the city of Denpasar, exactly 13 kilometres from I Gusti Ngurah Rai International Airport. Besides being famous for its turtle conservation, Serangan is also a favorite place for tourists to do snorkeling.
The reason is, this area has an underwater Safari Park which presents a variety of marine life and extraordinary beautiful coral reefs. This Safari Park was initiated by fishermen in the area, who are trying to continue to optimize the return of marine biodiversity that has been damaged by reclamation.
14. Tanjung Benoa
This snorkeling and diving spot is generally the most visited water tourism spot in Bali. Not only does it present extraordinary underwater beauty, this place also has the best watersports in Bali.
The location of Tanjung Benoa is quite close to I Gusti Ngurah Rai International Airport, which is about 30 minutes to the south towards Nusa Dua. The price of the snorkeling package here starts from IDR 95,000. It's really cheap and you don't need to go far to find a cool snorkeling spot.
15. Melasti Beach, Ungasan
The beach is located in Ungasan Village. Badung Regency has been busy in recent years. The area, which is a private beach area for several luxurious five-star resorts, makes Melasti Beach the beach that is most often used as a place for pre-wedding photos as well as small wedding events for some foreign tourists.
You will be amazed by the small fish, cute coral reefs, brilliant white sand, and blue sea that is so calming on this beach. What's more amazing is that everything you can enjoy for free! There is no parking charge, no entrance fee, you only need to prepare your own snorkeling equipment. Just. Come. Here!
---
So, those are 15 water tours that are suitable for snorkeling and diving in Bali. Don't just hang out in Kuta, Ubud, Nusa Dua, or Seminyak. There are still many cool places in Bali that you need to visit. Enjoy your water experience in Bali, Flokqers!
---
Want to find a coliving option for your stay in Bali? Flokq has several well-facilitated homes in Bali at an affordable price! Click the button below to find out more.
Click Here to Find Your Bali Home