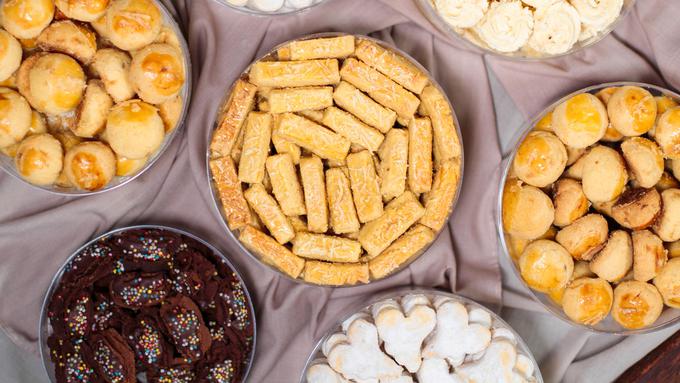 Others
Recommended Types of Eid Cookies and How to Make them!
Pastries are one of the typical Eid foods that are sought after by many people. These pastries are usually served when guests or family come to visit your home. There are many different types of Eid cookies.
Pastry makers will usually innovate so that the cakes they make are even more varied. For those of you who want to prepare pastries when Eid arrives, here are some recommendations for types of pastries along with recipes or how to make them that can be a reference and you should try.
Read also: 7 Oatmeal Recipes That You Can Easily Try at Home
1. Nastar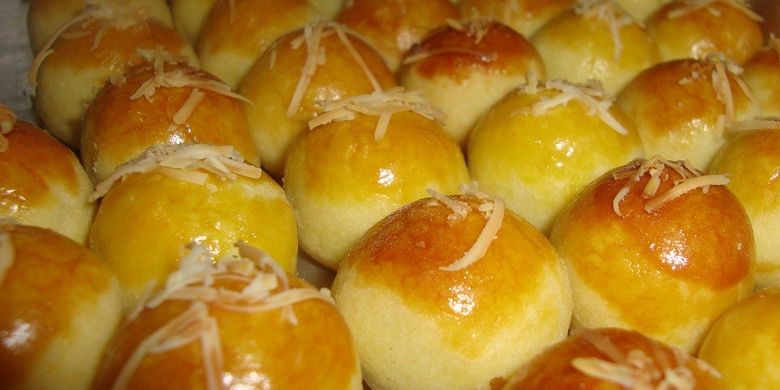 Nastar is Eid cookies that are quite popular among people. Generally, this nastar cake is round with pineapple jam filling. The combination of the sweet dough plus the fresh taste of pineapple jam makes many people like it. How to make nastar cookies is also quite easy. Check out the full recipe below.
Ingredients:
Butter 120 g
Low protein flour 175 g
Cheddar cheese 50 g
Powdered sugar 25 g
Milk powder 25 g
One egg yolk
Pineapple jam
One egg yolk and 1 tablespoon honey (for spread)
How to make:
Beat eggs and powdered sugar until smooth
Add eggs and cheese then beat until smooth
Add milk powder and flour while sifting
Stir with a wooden spoon or spatula
Take enough dough and flatten it
Add the pineapple jam filling, then round it up
Place on a baking sheet and grease with oil
Bake the dough until the cookies are done
2. Kastengel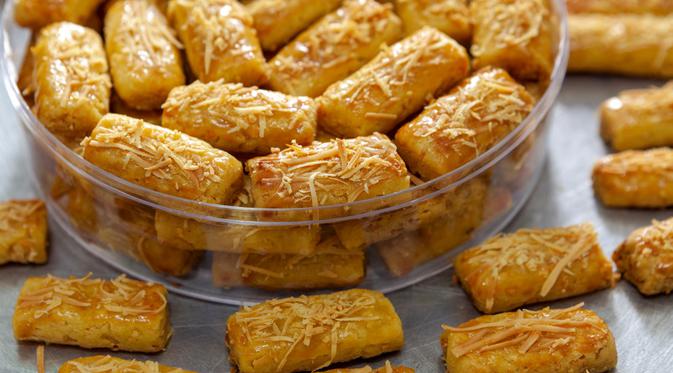 Another Eid cookies that are also a favorite of many people is the kastengel cake. This type of pastry has a salty and savory taste so this kastengel is perfect for those of you who don't like the type of pastries with a sweet taste. How to make a kastengel is as follows.
Ingredients:
Wheat flour medium protein 350 g
Butter 300 g
100 g grated Edam cheese
100 g grated parmesan cheese
Corn flour 50 g
Milk powder 2 tbsp
Egg yolks are beaten off, as a spread
Grated cheddar cheese, as a topping
How to make:
Mix and sift the flour, cornstarch, and milk powder then set aside
Beat butter briefly until soft
Add the Edam cheese and grated parmesan cheese, stir until smooth
Add flour, cornstarch, and powdered milk, stir until the dough is smooth
Roll out the dough to the appropriate thickness
Print according to taste
Place on a baking sheet, then brush with egg
Don't forget to sprinkle with grated cheese
Bake in the oven until done
3. Cheese sago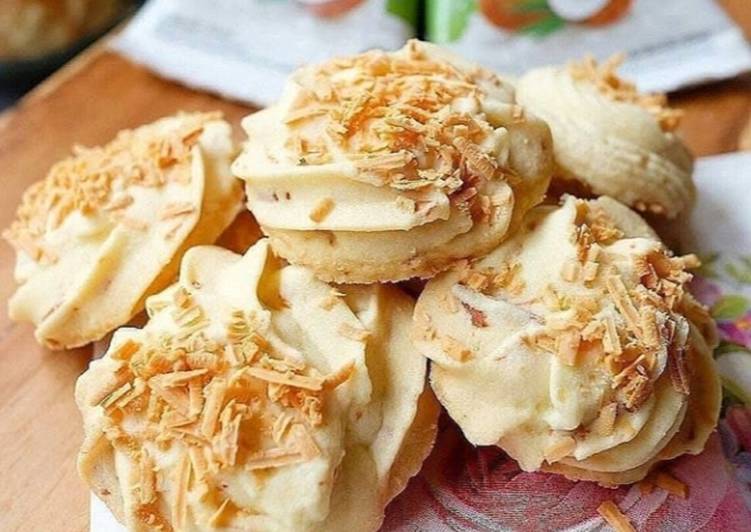 For those of you who like pastries with a crunchy taste, then cheese sago cake can be the right choice for you. The taste offered by this cake is savory because there are ingredients such as coconut milk and cheese in the manufacturing step. As for how to make pastries Khal Lebaran sago cheese is as follows.
Ingredients:
Margarine 150 g
Granulated sugar 150 g
One egg yolk
100 g grated cheese
Coconut milk 50 ml
Sago flour 300 g
How to make:
Roast the sago flour until it feels light, then sift and set aside until cold
Stir margarine and powdered sugar until smooth and soft
Add the egg yolks to the margarine and powdered sugar mixture, then mix well
Add grated cheese and coconut milk, then mix well
Add sago flour little by little
Print the dough on a baking sheet, then bake for about 30 minutes
Remove the cake and allow it to cool and harden
4. Snow white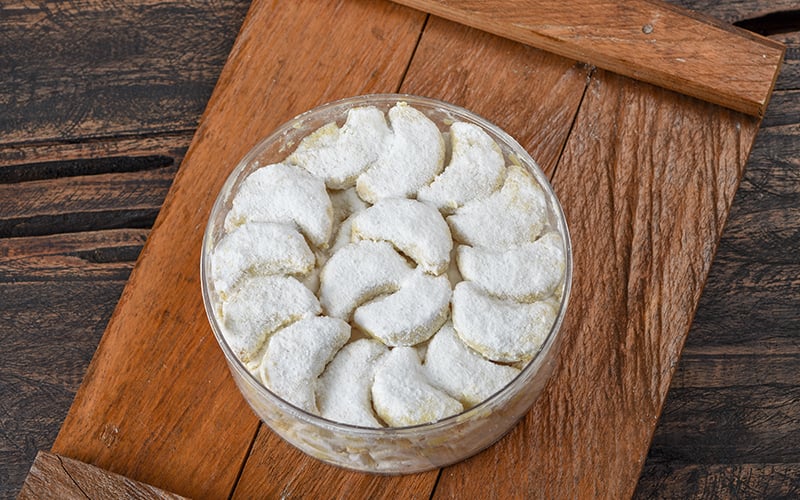 Snow White is a recommendation for the next type of Eid cookies. These pastries are served with a sprinkling of powdered sugar so that these cookies have a sweet taste with a soft texture. Usually, the snow-white cookies are also added with roasted peanuts so it is more savory and delicious. How to make snow-white cookies is easy enough that you can make it at home. Check out the steps to make it below.
Ingredients:
Unsalted Butter 375 g
Granulated sugar 150 g
Cashew nuts that have been roasted or roasted 300 g, then puree
Wheat flour 375 g
Powdered sugar for sprinkling, to taste
How to make:
Beat butter and sugar until pale
Add finely ground cashews and flour and mix well
Shape the dough according to taste, then arrange it on the baking sheet
Bake in the oven until cooked. Take it out of the oven, wait until it cools down
Lastly, sprinkle with powdered sugar
5. Peanut cookies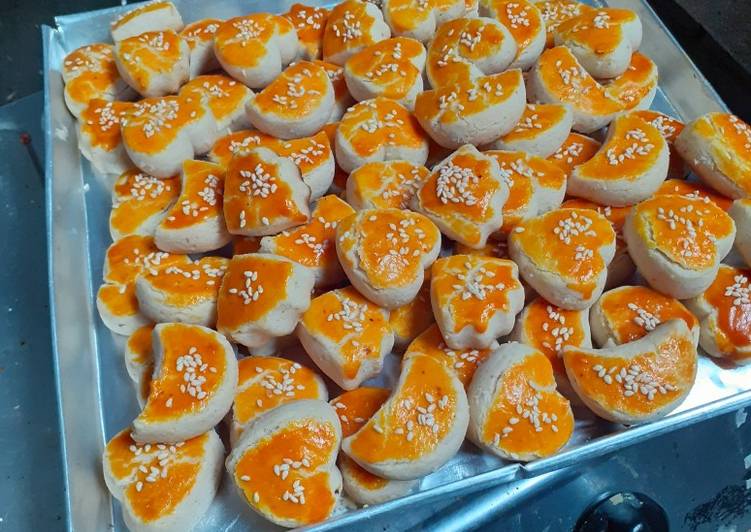 Other pastries that are also commonly found during Eid are peanut cookies. This type of pastry has a savory taste and is suitable for you to enjoy with your family when Eid arrives. Here's an easy way to make peanut butter cookies that you can duplicate the recipe for.
Ingredients:
Peanuts that have been mashed 250 g
Granulated sugar 150 g
Wheat flour 400 g
2 egg yolks
Margarine 200 grams that have been melted
Salt and vanilla powder
One egg yolk as a spread
Margarine or butter for greasing the pan
How to make:
Mix ground peanuts, flour, powdered sugar, vanilla powder, and salt. Stir the dough until all the ingredients are mixed
Add melted margarine and beaten egg yolks
Knead the dough until it's smooth
Print the dough according to taste
Grease a baking sheet with margarine or butter, then place the dough that has been molded on the baking sheet
Grease the molded dough with egg yolk
Bake the cake until it's cooked and let it cool
Store the cake in a closed jar or container
6. Cat's tongue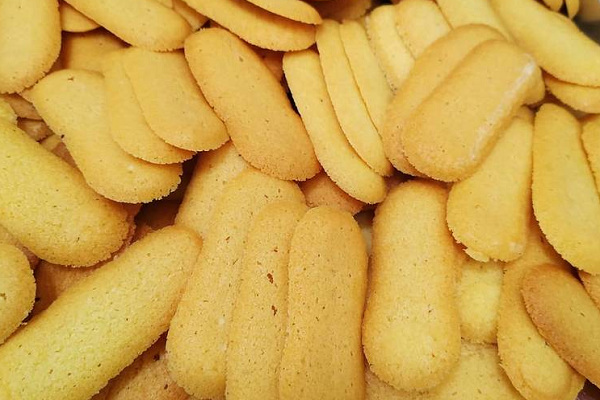 The next recommendation for the type of typical Eid cookies is the cat's tongue. This unique form of pastries makes this cake often sought after by many people. To enjoy cat tongue cake, you can try the steps to make it below.
Ingredients:
250 gr low protein flour
200 gr butter
2 egg whites
170 gr powdered sugar
1/4 tsp baking powder
How to make:
Mixer butter and powdered sugar, mixer on low speed until fluffy and frothy
Add egg whites and mix again for 3 minutes
Add flour and baking powder, mix slowly until evenly mixed
Pour the dough into a piping bag or triangular plastic and then cut the ends
Spray the cat's tongue dough onto a baking sheet lined with margarine
Put almonds on it
Put it in the oven and heat it for 30 minutes at 120 degrees Celsius
Take it out and wait for it to cool
Put it in a jar and it's ready to be served
7. Rocking flower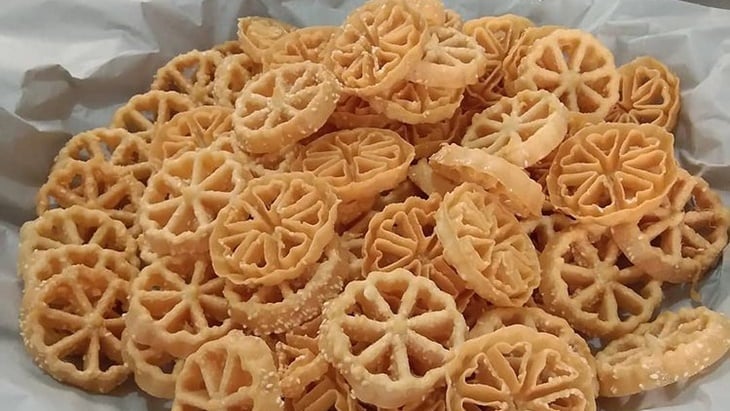 In addition to the cat's tongue cake, other Eid cookies have a unique shape, namely rocking flowers. Check out the complete recipe for making the following rocking flower cookies.
Ingredients:
130 gr wheat flour
60 gr rice flour
2 tbsp margarine
80 gr kanji
2 eggs
1/2 tsp vanilla
100 gr sugar
1/2 tsp salt
1 sachet of instant coconut milk
Enough water
Sesame to taste
How to make:
Mix flour, rice flour, and starch, sifter until evenly distributed and without lumps
Add vanilla, set aside
In another bowl, beat the sugar, eggs, and salt using a mixer until evenly mixed and foamy
Pour the coconut milk, melted margarine, and stir until evenly distributed
Add the flour that has been mixed while being given water little by little
Stir using a low-speed mixer
Add sesame and mix well
Heat the oil and soak the mold into the dough that has been smooth and well mixed
Dip the mold containing the dough into the hot oil
Fry until cooked and the cake comes out of the mold
Repeat until the dough runs out
Arrange on a baking sheet and wait for it to cool
Ready to be stored and served
Those are some recommendations for types of Eid cookies and the steps to make them so you can also try making them at home. Hopefully, this Flokq article is useful for you.