Settling Down
10 Highest Apartments in Jakarta with a View of the Capital City
For lovers of beautiful scenery, living in the highest apartment in Jakarta can be an option. At night, Jakarta has its own beauty with the lights that flood the city. After a tiring day, you can enjoy the view of the capital city from the top of the room. So, for those of you who are looking for the highest apartments in Jakarta. Don't miss this article because Flokq has the best recommendations for you.
This apartment has upscale residential designs and 5-star facilities which makes this apartment a very comfortable residence. District 8 is one of the highest apartments in Jakarta that consists of 43 floors. You can swim while enjoying the view of the capital city. But not only that, there are a number of other premium facilities ready to pamper the residents. Like the indoor pool to the outside; both are perfect for swimmers. There is also a small swimming pool for children, a Jacuzzi, sauna, and steam room. A large gym with professional machines, an aerobics room, a yoga and pilates room is also available there.
Apart from that, there are also tennis and basketball courts for those of you who like to play this particular sport. Uniquely, you can also find an indoor kitchen and a barbecue. This premium facility is also complete with a strategic location. The apartment and its complex are located close to the center of Jakarta's famous business districts. Such as Sudirman, Senayan, Kemang, as well as the central business district of Central Jakarta. If you plan to go to SCBD offices and buildings, you can take a short walk because it is located between SCBD and Jalan Senopati. Just a five-minute walk, you can reach one of the spacious and luxurious malls, Pacific Place mall.
As the name of one area in Bali, Denpasar Residence is very thick with a Balinese atmosphere that is oasis-style and exotic in the Jakarta area. Located in Kuningan, South Jakarta, this apartment is very close to many offices and embassy buildings. The apartment building consists of 40 floors with 1758 units in total. With guaranteed security, you can easily explore this place to get a variety of international cuisine as well as night entertainment that is no less interesting than South Jakarta has to offer. Ranging from international cuisine to several nightlife spots in Jakarta are available near this apartment.
Each apartment unit is fully stocked with kitchen utensils, high-speed internet, and flat-screen TV along with international favorite channels such as Star World, Fox Movie, HBO, CNN, etc. To add to the comfort of its residents, Denpasar Residence also provides various complete facilities with an additional touch of Balinese culture so that it makes you feel like you are on vacation there. For those of you who prefer outdoor sports, Denpasar Residence also provides a jogging track, tennis court, and basketball court. After a long day at work, you can relax in the luxury of the sauna, jacuzzi, and swimming pool designed to overlook the splendor of Jakarta's skyscrapers.
Located in the center of Jakarta, Casa Domaine is the second Highest apartment in Jakarta. You can get a beautiful city view from the room. Standing at a height of 230 meters above the ground with a total of 323 units and 55 floors. Casa Domaine offers spacious accommodation, luxurious designs, and quality materials to ensure a modern living space in the center of Jakarta. To ensure the best security and privacy of its residents, Casa Domain provides separate access.
In addition, you can also fill the weekend with so many premium facilities. Either by soaking or just relaxing by the pool. Not only that, There are several high-class outdoor facilities provided to residents of Casa Domaine, including a large gym, yoga pavilion, B.B.Q. Area, jogging track, sauna, spa, and lush garden. Also, other facilities such as restaurant, Hero Supermarket, and child care are also provided on the ground & first floor of the building. Enjoy the stunning views of Jakarta at the Sky Terrace.
Read also: The Big 5 Cities: Where to Rent Apartment Monthly Jakarta
Located in the prestigious Sudirman area, South Jakarta, The Peak Residence is luxuriously designed with a modern lifestyle and consists of 55 floors. The Peak is only minutes away from high-rise offices, embassies, and shopping malls. Each unit is equipped with a fully equipped kitchen, high-speed internet, flat-screen television with popular satellite channels. Some of the units even have private apartment lifts as well.
To live a healthy lifestyle, you can go to the well-equipped fitness center and the perfect Olympic-sized swimming pool. Or if you prefer to exercise outdoors and enjoy the fresh air, you can walk on the available jogging trails. The Peak is also in a strategic location – 300 m from Sudirman and 2 KM from Rasuna Said. To fulfill your shopping needs, you can go to Grand Indonesia which only takes a 10-minute drive.
Lastly, there is The Pakubuwono Signature as one of the highest apartments in Jakarta. Pakubuwono Signature is a premium apartment in the Pakubuwono area, Kebayoran Baru, South Jakarta. This apartment is the highest vertical residence with a total of 50 floors and the 4th tallest building in Jakarta. In addition to getting a beautiful view, you will also get abundant comfort from premium facilities and a strategic location in Kebayoran Baru. The distance only takes 10 minutes to get to SCBD.
This apartment has various public facilities such as ATM, Minimarket, Jogging Track, Tennis Court, Basketball Court, Multipurpose Room, Internet, Swimming Pool, Laundry, and Playground. Everything can be used to pamper the residents. In addition to a series of facilities that pamper its residents, this apartment is also close to other important locations. You only need 5 minutes from Gelora Bung Karno, and upscale malls like Senayan City and Plaza Senayan, and Pondok Indah are only 10 minutes away.
This apartment is ranked 15th on the list of the highest buildings in Jakarta. It is 225m high and consists of 48 floors with 54 units. Bringing out the Indonesian traditional design combined with premium facilities, Keraton at the Plaza is suitable for those who seek luxury and comfort in the middle of the city.
Inside this 5-star apartment, you will enjoy several high-class facilities, including the private elevators for the occupants, a multifunctional room, indoor and outdoor pools, and many more. Plus, you can get easy access to Plaza Indonesia!
Located in Menteng, an elite area of Central Jakarta, this residence offers convenient homes for the high-class communities who work in the business district. The building has 58 floors with a total unit of 263, making it one of the highest apartments in Jakarta.
Besides its high-class facilities, Kempinski Private Residences also provides quick access to the Grand Indonesia shopping mall. It is also reachable from Plaza Indonesia and has several public transportation options.
Stands in the Sudirman business district, this apartment will give you much convenience to work and shop. It is connected with the FX Mall, so you can easily hang out with friends.
Moreover, the building is very close to Gelora Bung Karno Stadium. It is easy for you to do sports here. FX Residence is one of the highest apartments in Jakarta at 213m high and consists of 45 floors.
This luxurious apartment consists of 43 floors with a total of 750 units. If you work in SCBD, this apartment might be the best for you. It is located in Senopati, right at the scope of District 8.
Inside the apartment, you can live comfortably with numerous facilities, such as an Olympic-sized swimming pool, a gym, spa & sauna, BBQ area, and many more. Not too far from the building, there are many restaurants, cafes, and clubs. Such a great place to stay, right?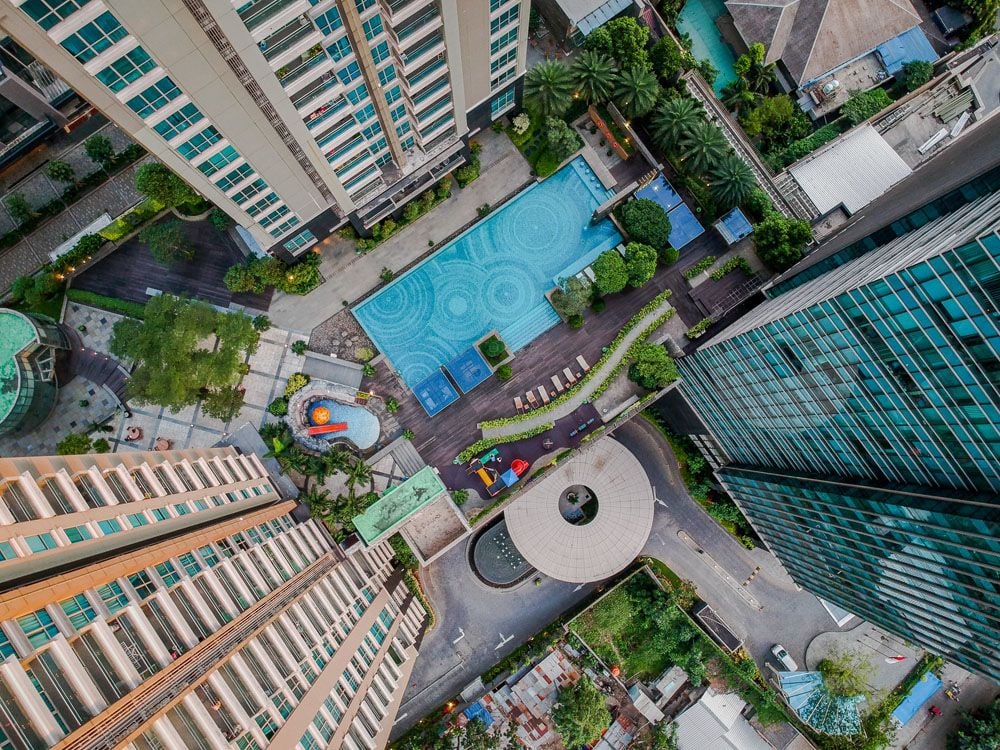 Located in Penjaringan, North Jakarta, this apartment is a superblock near Baywalk Mall. Here, you can find three high apartments with different views, such as Bayview Apartment, Coastview Apartment, and Seaview Apartment.
The last is listed on the highest apartment index at the 38th place with 48 floors and 208 m high.
Green Bay Pluit is a great option for those whose activities are based in North Jakarta. The apartment is surrounded by malls, schools, and supermarkets. Moreover, it is very close to the seafront.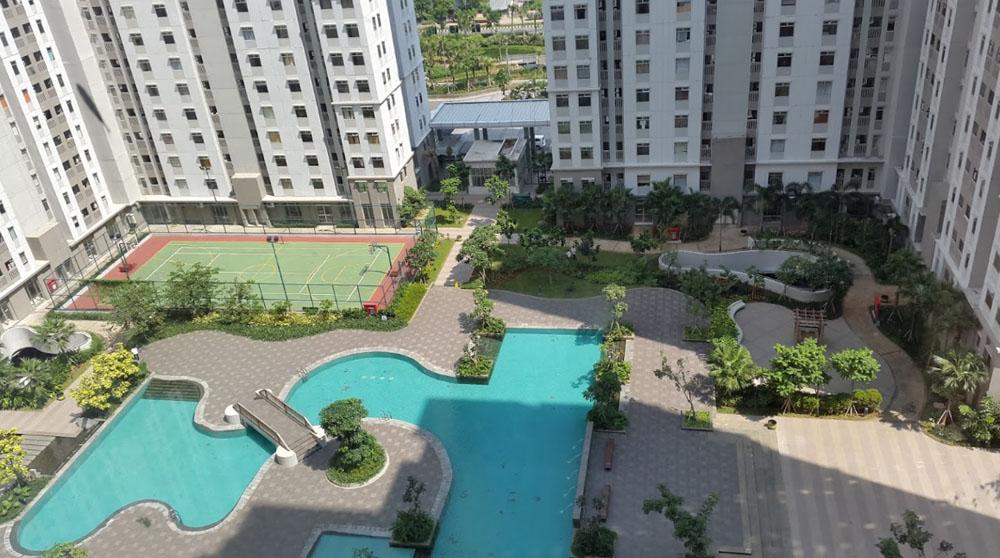 ---
The 10 tallest apartments in Jakarta can be your reference to get a residence with beautiful city views. Have you decided? Find other apartment recommendations that are no less good on the Flokq website.