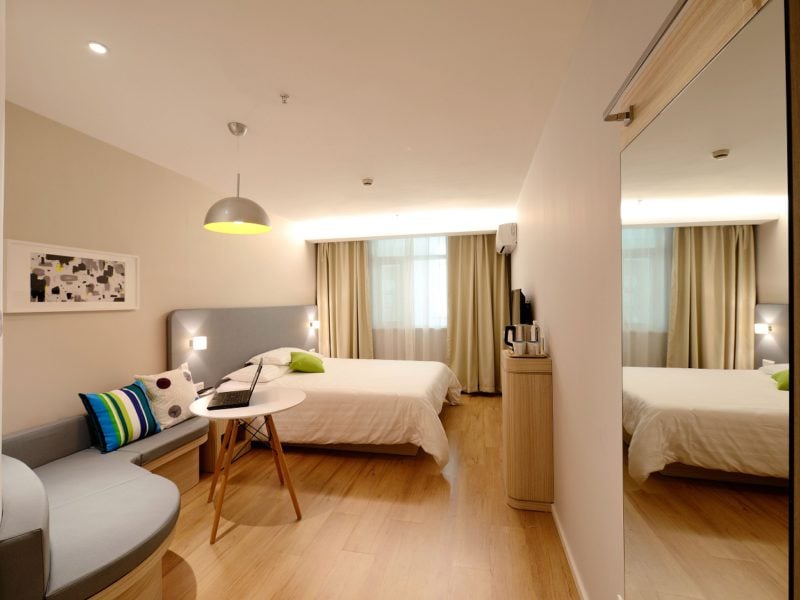 Settling Down
10 Recommended 'Kost Exclusive' Near University of Indonesia
Living in an exclusive boarding house or kost exclusive near the University of Indonesia (UI) will provide many benefits for students. Not only does the location make it easy to commute, but it is also close to other important places. From malls to public transportation, everything is within reach.
Before choosing a kost exclusive as a temporary residence, of course, you have many considerations. Well, for those of you who are still confused about finding a kost exclusive that is close to the University of Indonesia, check out this article for recommendations.
1. Cinere Inn Residence
This kost exclusive is located in the very strategic area of ​​Cinere, Depok. Besides being close to offices and shops, Cinere Inn Residence is also easy to reach from UI and hospitals.
This place is suitable for students, expatriates, employees, and married couples. You don't have to worry about the facilities, because there is complete furniture in each room with AC and LCD TV. There is also an en suite bathroom with a water heater. In addition, there is a 24-hour security guard for residents.
Address: Jl. Madrasah 8, Cinere, Depok (Near Cinere Fresh Market)
Price: IDR 2.1 million/month
2. Dhewy's Kost
Looking for a kost exclusive near the University of Indonesia that is also in a student environment? Well, don't miss Dhewy's Kost, a premium residence near Gunadarma University and the University of Indonesia. This boarding house can be occupied by both men and women.
In the room, you get AC facilities, an en suite bathroom, and complete furniture. Boarding tenants can freely use the shared kitchen and motorbike-car parking. There is also a gathering room such as a family room here.
Address: Gang H. Mahali RT.001/RW.04 No.48 Pondok Cina, Beji, Depok
Price: IDR 2.5 million/month
3. Kost Singgahsini Bozzo Beji Depok
This kost exclusive near the University of Indonesia has a minimalist design. Here, you can rest comfortably in a fully furnished 4×3 room. There are mattresses, wardrobes, tables and chairs, TV, dispensers, and air conditioning. There is also a clean private bathroom. Every tenant can access the free WiFi network at this boarding house.
Around the boarding house, you can find many interesting places. In addition to the UI campus, there are shopping centers such as ITC Fatmawati, Cilandak Town Square, and Depok Town Square.
Address: Jl. Koja IV No.12, RT.3/RW.5, Kukusan, Beji, Depok
Price: IDR 1.4 million/month
4. Kost Mara Juara Depok
This kost exclusive has rooms with an area of ​​4×4. Suitable for those of you who want to rest in comfort. Each room is equipped with mattresses, pillows, bolsters, wardrobe, work desk, TV, mirror, to WiFi connection.
Kost Mara Juara Sukamaja Depok offers many shared facilities, including a dining room, living room, washing machine, laundry service, dispenser, clothes drying area, and refrigerator. This place also has 24-hour access and CCTV cameras for safety.
This place is surrounded by many malls, such as Cilandak Town Square, Depok Town Square, and ITC Fatmawati. If you are sick, there are several hospitals that you can visit: Fatmawati Hospital, RSUI, and Bunda Margonda Hospital.
Address: Jl. Ir. H. Juanda No. 15, Bakti Jaya, Sukmajaya, Depok
Price: IDR 2.6 million/month
5. Kost Exclusive Kukusan Near UI
This place offers quite spacious rooms with a minimalist design. There is complete furniture such as a study table, single size bed, wardrobe, and shelves as a place for your belongings.
If you rent here, you can access unlimited free WiFi in air-conditioned rooms. Although there are no shared facilities, there is still a parking area for residents who bring private vehicles.
Not only is it located near the UI Campus, but this kost exclusive is also not far from the National Institute of Science and Technology. The location of the boarding house is also close to the mall and hospital.
Address: Jl. K.H. Ahmad Dahlan, Steam, Beji, Depok
Price: IDR 1.7 million/month
6. Kondokos Anak Juragan
Looking for kost exclusive near the Univesity of Indonesia with many room options? At Kondokos Anak Juragan, you can rent a room that suits your needs. There are rooms for daily rental and also spacious rooms that can be filled by you and your roommate.
Not only are the rooms comfortable, but this place also provides easy access to your daily needs. For example, minimarkets, food stalls, ATMs, to photocopy services.
Address Jl. Juragan Sinda Raya No.27, RW.7, Kukusan, Beji
Price: IDR 3 million/month
7. Kost La Jolie Barel
This kost exclusive for women is located in the barrel or behind the train tracks near the University of Indonesia station. There are many students living in this area.
La Jolie Barel boarding house is located near the Faculty of Law and the Faculty of Psychology, UI. Even so, the residence is easily accessible from other places on campus. You can use the yellow bus or online transportation to travel around it.
As one of the favorite boarding houses, La Jolie Barel offers a comfortable residence with complete facilities. The design is interesting too, so it makes you feel at home. This kost is also facilitated with maximum security. If you rent a room here, you will have 24-hour in and out access.
Address: Jl. KH. Ahmad Dahlan, Kukusan, Beji, Depok
Price: IDR 2.2 million/month
8. Griya Muslimah Kukusan Beji Depok
This place is located about 20 minutes from the UI Campus and not too far from the Jakarta State Polytechnic and the National Institute of Science and Technology. Besides being close to a number of malls, Kost Griya Muslimah provides a variety of facilities that make your stay comfortable.
You can enjoy room facilities in the form of a table and chairs, an en suite bathroom with a sink, and free WiFi connection. Not inferior to other boarding houses, this place also has a living room, shared kitchen, drying room, refrigerator, balcony, and outdoor bathroom.
Address: Jl. Juragan Sinda IV, Kukusan, Beji, Depok
Price: IDR 1.3 million/month
9. Urban24 Residence Pancoran Mas
This minimalist-style boarding house is also a kost exclusive near UI at an affordable price. The location is also not far from Pesona Square Mall Depok and D'Mall Depok.
In addition to having an en suite bathroom and complete furniture, the rooms in this boarding house are also equipped with WiFi and air conditioning. So, you can rest or make tasks comfortably.
Do you bring your own vehicle? Don't worry, because there is a motorbike and car parking area for residents.
Address: Jl. Kartini Kelurahan No. 38J, Depok, Pancoran Mas
Price: IDR 1.8 million/month
10. Kost Nugie II Beji Depok
This boarding house is suitable for those of you who don't want to live too far from the UI. At Kost Nugie II, you not only get a room with ready-to-use furniture, but also a WiFi connection that you can access for free. There is also an en suite bathroom in each room.
You can use a variety of shared facilities, such as a living room, kitchen, refrigerator, and dispenser. Residents also have 24-hour access. Inside the kost exclusive, there is a housekeeper who is ready to help you to meet your daily needs.
Address: Jl. Galur, RT.002/RW.003. Kukusan, Beji, Depok
Price: IDR 1.1 million/month
---
Well, those are some kost exclusive near UI that can be your reference while studying in Depok. Want to find a boarding house in an apartment? Flokq has many recommendations, you know. Check here now!