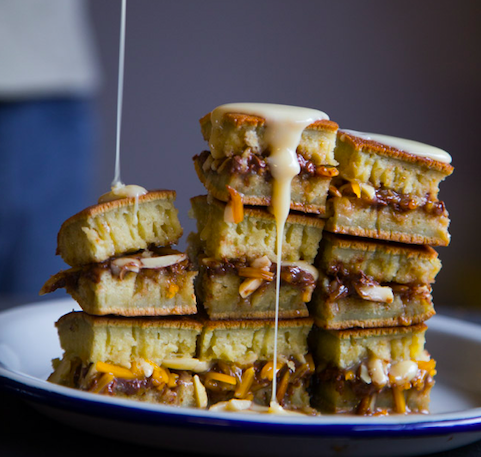 East Jakarta has been known for its educational area, with various top-known schools, and universities such as Lab school and Universitas Negeri Jakarta are located in Rawamangun. This is also why the housing and culinary goods have expanded around these areas. So, it's not a crime if you're visiting East Jakarta and wondering where you can grab tasty finger-food snacks because East Jakarta will surely have the goods to satisfy you!
Martabak is always a great choice when wanting a tasty snack! It is a folded pan-fried dough which commonly found consisting of two types of yummy rich-flavor. There is the savory type Martabak, which common ingredients are beaten egg, sliced green onions, salt, and potatoes and also The sweet type Martabak spread with margarine, sugar, crushed peanuts, chocolate sprinkles, cheese or other toppings, it's a pancake-like dish. Despite plenty of choices, some of them are known as their commendable tasty yet affordable and worthy to enjoy yourself or together with your friends! Here are our 5 must-try Martabak recommendations in East Jakarta.
read also: 5 Best Martabak in North Jakarta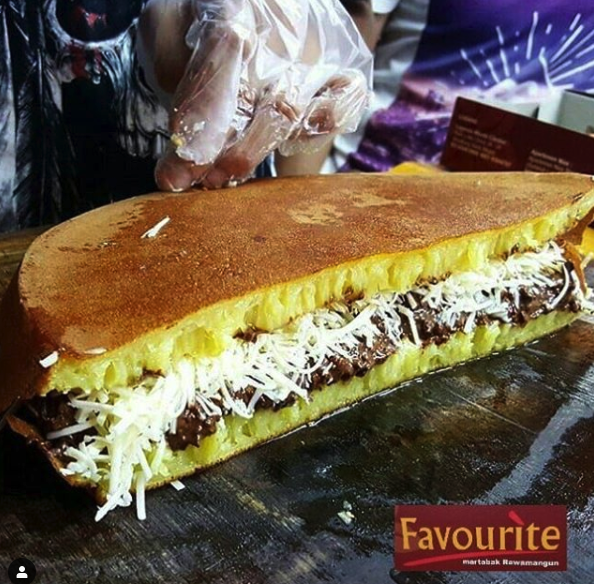 Martabak Favourite Rawamangun
Even though it's located on the side of the road, Martabak Favourite is well-known for its taste in East Jakarta specifically in Rawamangun. It is also one of the oldest Martabak places in Jakarta since it has been selling its signature bites for 10 years. So don't be surprised by the long queue, because their taste is absolutely worth trying! Its sweet type Martabak has a lot of topping variants such as Toblerone, KitKat, Oreo, and also Ovomaltine. You should try their Martabak Coklat Keju because of the fluffy-moist texture and fantastic sense of melt right into your tummy! Dare to try?
Address: Jl. Balai Pustaka, RT.1/RW.9, Rawamangun, Pulo Gadung, East Jakarta City, Jakarta 13220
Phone Number: +62816-1922-336
Social Media: @martabakfavourite on Instagram
Price Range:
Rp70,000.00 – Rp95,000.00
Opening Hours:
04.30 PM – 12.00 AM (Every day)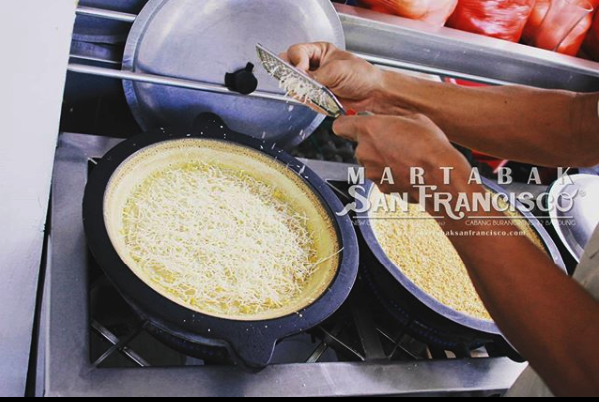 Martabak San Francisco
Martabak San Francisco is located in Sunan Giri Street right in the center of Rawamangun, known as its crispy-thin Martabak is a guarantee satisfaction for your tummy. This place is crowded with youth, because its located in the educational areas, Rawangmangun. This is also why they offer various types of toppings and mixes, green tea, cheese, Nutella, even red velvet are ready to serve. Its modern-ish packaging adds value to the dish and perfect for the taste that the youth has! Your really must try it!
Address: Jl. Sunan Giri No.01, RT.2/RW.15, Rawamangun, Kec. Pulo Gadung, Kota Jakarta Timur, Daerah Khusus Ibukota Jakarta 13220
Phone Number: +62812-9153-2121
Social Media: @sanfranciscomartabak on Instagram
Price Range: Rp50,000.00 – Rp150,000.00
Opening Hours:
03.00 PM – 12.00 AM (Monday, Friday – Sunday)
03.00 PM – 11.00 AM (Tuesday – Thursday)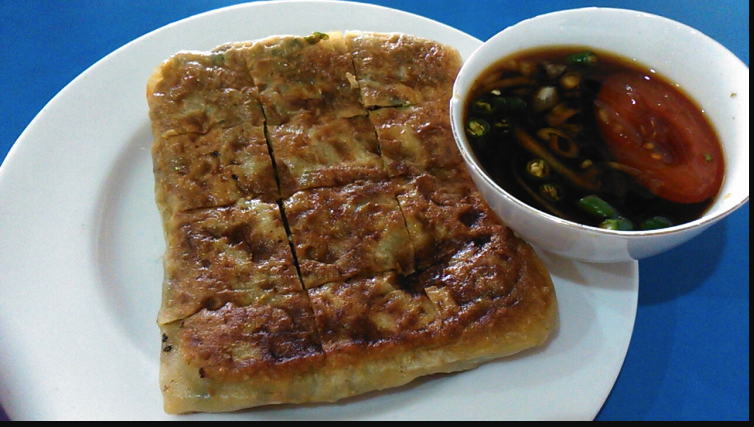 Martabak Kubang Hayuda
Are you in between Bekasi and East Jakarta, and you spot a huge canal? That's Kalimalang! One of the best Martabak located there is Martabak Kubang Hayuda. The place will serve you right with it's West Sumatran style of Martabak. It gives a new sensation of Martabak served with a West Sumatran dressing. If you have tried Indian curry Martabak, Martabak Kubang Hayuda sure gives you a mixed sensation of Indian curry and West Sumatran beef. It is said they have 20 kinds of spices included on the Martabak to make those kinds of flavor and taste. The dressing itself consists of two main ingredients, West Sumatra's Rendang as well as vinegar. Yum!
Address : Jl. Raya Kalimalang No.14B, RT.6/RW.12, Pd. Klp., Kec. Duren Sawit, Kota Jakarta Timur, Daerah Khusus Ibukota Jakarta 13450
Phone Number: +6221-8610-4167
Social Media: @martabakkubanghayuda on Instagram
Price Range: Rp35,000.00 – Rp120,000.00
Opening Hours:
11.00 AM – 12.00 AM (Monday – Thursday, Saturday and Sunday)
03.00 PM – 12.00 AM (Friday)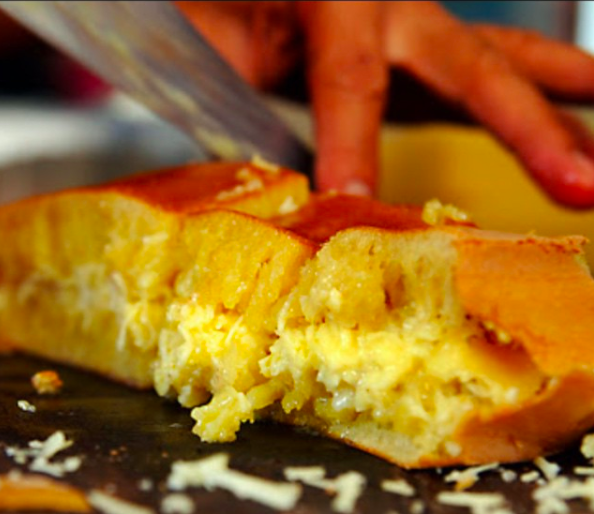 Martabak Bandung Erwin
Have you just finished your recreational visit around Taman Mini Indonesia Indah? Or have you finished playing at Snowbay Waterpark? Don't worry, Martabak Bandung Erwin will be the perfect snack after a long day, it will definitely tempt you for sure! Known for its savory Wysman butter and bulky dough, its taste will surely blow you away. Their toppings vary from chocolate, cheese, sesame, even Nutella. It's Martabak Komplit Special consists of chocolate, nuts, sesame, cheese, and condensed milk sure satisfy you!
Address: Jl. Raya Mabes Hankam No.22, RT.1/RW.2, Ceger, Kec. Cipayung, Kota Jakarta Timur, Daerah Khusus Ibukota Jakarta 13820
Phone Number: +62878-8064-4794
Social Media: @martabakerwin on Instagram
Price Range:
Rp45,000.00 – Rp100,000.00
Opening Hours:
04.00 PM – 11.00 PM (Every day)
Martabak Pedro
Martabak Pedro is located in Matraman, the area is known for its Pramuka Market, a medicine wholesale market to find any health needs, Gramedia Bookstore where you can explore their huge bookstore for any stationery, and Pramuka Birds Market. While you're strolling around the area, Martabak Pedro sure is there to ensure your tummy needs! You should try their version of crispy-thin Martabak, served with vanilla sauce for even more satisfaction. Spanish-touched menu and black-themed packaging add up to their uniqueness.
Address: Jl. Matraman Raya No. 157 (Di Dalam Area Parkiran Indomaret), Matraman, Jakarta Timur
Phone Number : +62878-8265-2030
Social Media: @martabakpedro on Instagram
Price Range:
Rp30,000.00 – Rp80,000.00
Opening Hours:
02.00 PM – 10.00 PM (Every day)
So, there you have your list of the best Martabak in East Jakarta! We hope this list satisfies your taste buds and tummy! Don't forget to check our other posts on Martabak recommendations all around Jakarta!
find out more about best fish markets in Jakarta here