Indonesian dishes are prominent by their rich flavors, whether those are the savory foods, desserts, or snacks. Indonesian foods use a bunch of ingredients that are hardly found outside Indonesia, however, you can easily find those ingredients in traditional markets and supermarkets around the country. Hence, when you cook Indonesian foods while you're in Indonesia, the taste of the dishes is going to be authentic and you will pay less for the ingredients compared when you cook the dishes outside the country.
Even though Indonesian dishes use many ingredients, it will not complicate you when making the dishes! There are some dishes that you can prepare in less than an hour, even less than 30 minutes so you don't need to go out or grab a take out to eat Indonesian food. These are Indonesian cuisine recipes that you can try to make at your kitchen.
Soto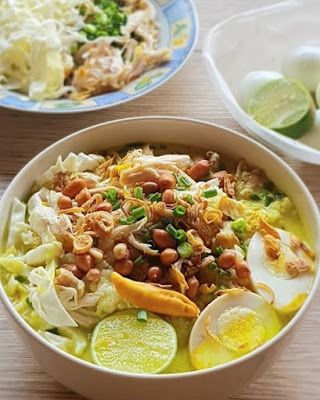 Soto is a basic Indonesian dish that the locals like to cook at home. Why? Because it is an easy-to-make dish! What you have to do is to make chicken stock and boil all the ingredients in the stock. It doesn't take a long time to prepare, therefore, it is a perfect dish to make at home when the weather is chilly.
There are different types of Soto in Indonesia but all of the types use the same basic ingredients which are chicken, ginger, galangal, lime leaves, lemongrass, hazelnut, shallot, garlic, water, salt, pepper, and others. If you want to make a Betawi style of Soto, what you need to do is adding powder milk to the chicken broth, and it will result in a creamier texture of the soup. If you're into a thick-soup style, we recommend you to add coconut milk to the chicken broth; not only making the soup thicker, it will enrich the taste to be more savory.
Ingredients
– 1/2 kg chicken
– 1,5-liter water
– Bay leaf
– 2 lemongrasses
– 1 cut of galangal
– Frying oil
– Salt
– Sugar
– 8 cloves of shallot
– 6 shoves of garlic
– 1 slice of turmeric
– 1 slice of ginger
– 3 hazelnuts
– pepper
– lime leaves
Sayur Asem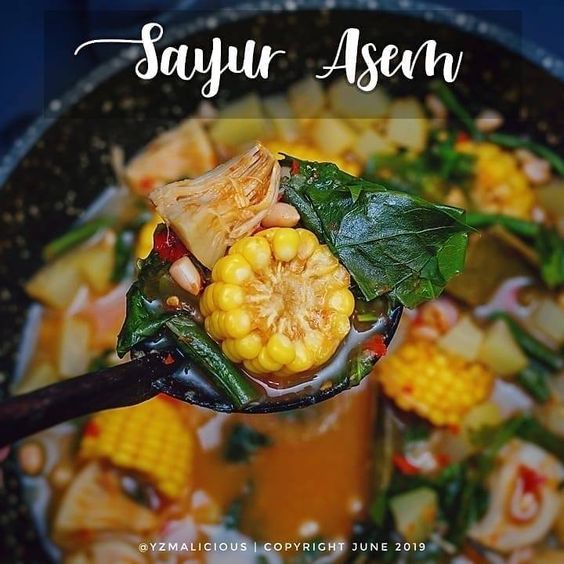 Sayur Asem is a vegetable dish in the form of soup. Sayur Asem comes from Java and the sour flavor comes from tamarind, tomato, and belimbing wuluh; the mandatory ingredients of Sayur Asem. Aside from the three ingredients, some ingredients may sound strange for the expatriates cause these ingredients are rarely found outside Indonesia which are chayote, bay leaf, melinjo leaf, and galangal. The sweet taste in Sayur Asem comes from the corn and long bean. Just like in any other Indonesian savory food, garlic and shallot must be used in making Sayur Asem. Just like the name "Asem", which means sour, Sayur Asem will give you a refreshing sour-savory sensation that will entertain your taste buds.
Ingredients
– 1 bundle of melinjo leave
– 5 pcs of long bean
– 1 pc of chayote
– 1 pc of corn
– 2 pcs of carrot
– 3 cloves of shallot
– 2 cloves of garlic
– 2 bay leaves
– 3 cm pressed galangal
– 1 sliced tomato
– 2 tbsp of tamarind water
– Powder stock
– 700 ml water
Tempe Mendoan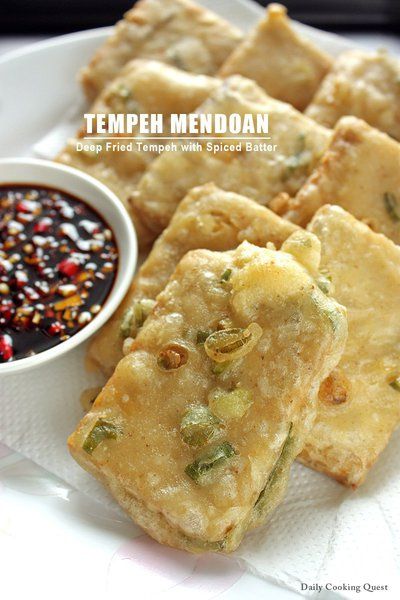 Tempe Mendoan is a deep-fried tempeh dish that can be served as a snack or a side dish for the entree. The ingredients are simple and cheap, and you can get the ingredients at the nearest vegetable vendors. Before deep-frying the tempeh, the tempeh needs to be dipped in the mixture wheat flour, tapioca flour, leek, water, coriander, salt, sugar, and others. The main point of this dish is the half-cooked flour mixture of the mendoan that is crispy on the outside and melty on the inside. You can prepare this dish for only 20 minutes! The best time to eat Tempe Mendoan is while it's still hot and the best accompany for Tempe Mendoan is a glass of sweet ice tea!
Ingredients:
– Sliced Tempe
– 6 tsp of wheat flour
– 2 tbsp of rice flour
– 2 tbsp of tapioca
– 1 sliced leek
– 200 ml water
– Salt
– Frying Oil
– 3 cloves of garlic
– 1 tsp of coriander
Pisang Goreng
Pisang Goreng is a sweet snack that is popular in Indonesia. It is a common snack that you can find in most restaurants and stalls. Pisang Goreng is a cheap dish that is super easy to make. What you need is banana, wheat flour, sugar, and some other ingredients that you can easily get. The way to make Pisang Goreng is the same as Tempeh Mendoan, you dip the banana in the mixture of flour and deep-fry it. Because the texture of the banana is already soft, it takes a longer time to fry the banana to make the flour mixture crispy on the outside and the inside. You can make a variety of Pisang Goreng by adding different types of ingredients such as rice flour and bread crumbs. This dish can be made in 25 minutes!
Ingredients
– 10 slices of kepok banana
– 5 tbsp of wheat flour
– 1 tbsp of rice flour
– 1/4 tsp of vanilla powder
– 1 tbsp of sugar
– A pinch of salt
– Water
– Bread crumbs
Here are some Indonesian recipes that you can try at home. We hope this article will help you to enjoy and explore more about Indonesia. Also, don't forget to see other recommendations on our blog. we provide you restaurants, malls, coffee shops, and other recommended places that are worth visiting around Jakarta.