Jakarta is so diverse because one of the reasons might be because of how humongous this city is. As one of the biggest cities in the World, a lot of its neighborhoods can be explored by travelers or even by its citizen. With a lot of streets that are connected, it might be confusing but it also leads to hidden gems that might be fun to be explored. One of the neighborhoods is Bendungan Hilir. This is a location with a lot of housing or kost, and it is caused by the strategic location of this area. Not just that, Bendungan Hilir is also located near the CBDs or Jakarta's famous golden triangle square. Well, this might be your housing neighborhood too! Because of that, we want to provide you with a guide for you to travel the area of Bendungan Hilir.
History
Bendungan Hilir is an area that is located in one of the strategic places in Jakarta. Bendungan Hilir is located in one of the most crowded sub-district, Tanah Abang. This area is located in Central Jakarta, and maybe that's why this place is so strategic and easy-to-reach from a lot of places. Not only famous because of its strategic place, but this place might also be festive for people that want to look for traditional food or restaurants that are not easy to be found anywhere. This place is indeed the home for a lot of famous restaurants and also you can try out to explore the culinary in the area of Bendungan Hilir. So what are you waiting for? We're going to provide you with several things to try out in the area of Bendungan Hilir
Transportation
It might be confusing which type of transportation to choose from when you're deciding to use it. You might have the thought of 'Is it better to use public transportation? Or should I use my vehicle?'. Do not worry too much about it, because we're going to give you an insight into the best transportation that you can choose from in this place. Because of how enormous the size of Jakarta as a city, The government try to provide a lot of transportation to fulfill the needs of its citizens. This is also because Jakarta is populated and the government tries to lower the traffic jam.
To encourage citizens to use public transport, the Governments tried to provide its citizen with comfortable public transportation. Mass Rapid Train or more well-known by the citizens as MRT, is one of the most modern public transportation that is available in Jakarta right now. With this train, you can travel from the are of Central Jakarta until South Jakarta just in a blink of an eye. With MRT, you can reach or go from the area of Bendungan Hilir so you don't have to worry that you'll get caught in a traffic jam while you're traveling.
Another way to travel to or from the area of Bendungan Hilir is by using the Transjakarta, Jakarta's Bus Rapid Transit. Unlike MRT that can only reach several areas, Transjakarta has a lot of bus stops in the entire Jakarta. Transjakarta has its line in the street of Jakarta and not only that, but Transjakarta also has the longest line in the entire world even though Bus Rapid Transit is not originated from Indonesia. If you're looking for something more practical for your journey, we also have something for you. You can use the uber-like apps that are famous in Indonesia called Gojek or Grab. With Gojek or Grab apps, you can order a motorcycle or car like the uber apps. We recommend you to use the motorcycle because with a motorcycle, you can travel to many places in no time and you don't have to worry to get caught in traffic jams in a long time.
Read More: Bahasa 101: Public Transportation
Eatery
RM Bopet Mini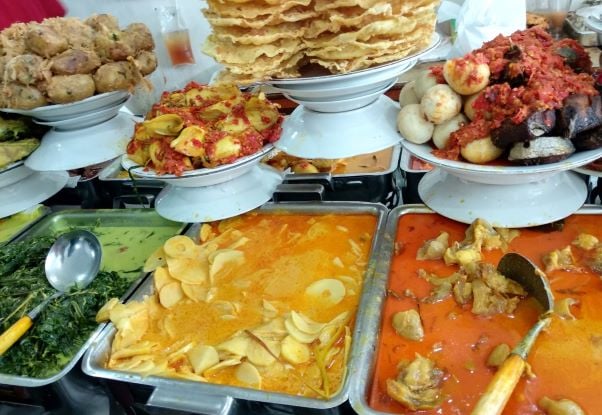 Jakarta is surely a diverse place. This is because Jakarta is the capital city of Indonesia and this place might be the sanctuary for a lot of people from different backgrounds and ethnicities. In 1982, the famous restaurant called Rumah Makan Bopet Mini was established. This restaurant is a family-run type of business so they preserve the recipe very much. Back then, Rumah Makan Bopet Mini is located inside the Bendungan Hilir Traditional Market. But in 2004, the owner decided to move this restaurant to the street of Bendungan Hilir. When this restaurant is still located inside the traditional market, Rumah Makan Bopet Mini doesn't offer a lot of dishes in their menu, you can only find simple traditional dessert, and their famous bubur kampiun and also katupek sayur — or more well known as ketupat sayur in Indonesia. When this restaurant moved to the street of Bendungan Hilir, they added more Padang dishes that are common to be found in a regular Padang restaurant. They also renovated the place and making this place more spacious for their consumer.
Cafe
Goedkoop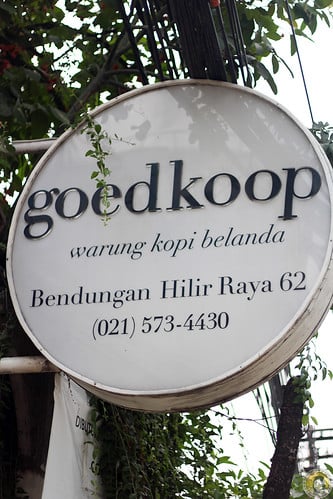 Jakarta's hot weather might dehydrate and make you anxious. Under the sun, it might be a good choice to sip a glass of ice coffee and take a rest for yourself a little bit. But there are tons of cafes in Jakarta and it might be difficult to pick one, well we don't want you to waste your time so we're coming with an option for you. You can try out Goedkoop, a unique cafe inside the area of Bendungan Hilir. Goedkoop might remind you of the Netherlands country, well this is because the theme that is used by Goedkoop is inspired by the Netherlands.
That is it! Places you need to know about the neighborhood in Bendungan Hilir. Hopefully, this can help you while you reside in this area. Also, don't forget to see other recommendations on our blog. Ciao!