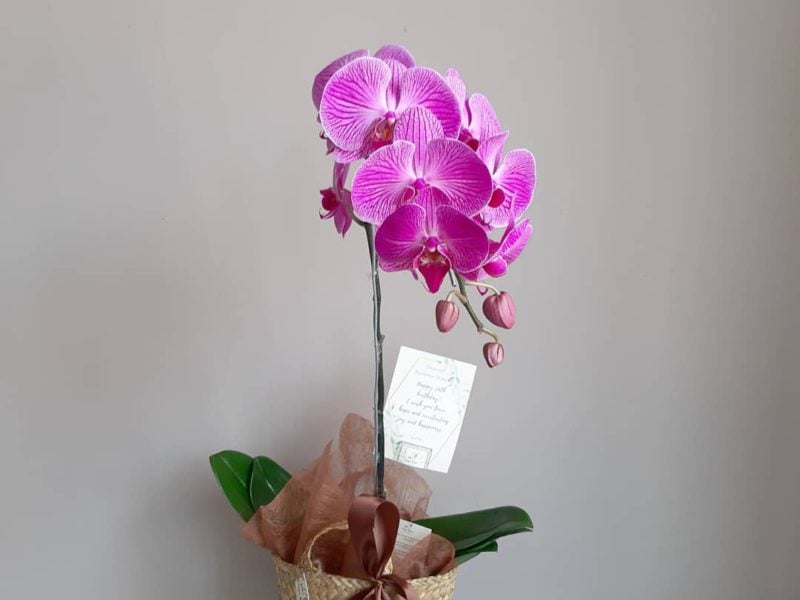 During the COVID-19 pandemic, many people were looking for new hobbies to fill their spare time or get rid of boredom just at home. One of the many options for filling your spare time is gardening. Gardening activities that can be done are very diverse, ranging from collecting and caring for ornamental plants, planting the plants that you like by buying seeds so that you can see for yourself the development of your plants at home or by hydroponics, which is currently a gardening trend. Here we have recommendations for plant stores that you can buy online for your gardening activities and for those of you who want to give plant gifts to your loved ones. Check this out!
1. Delfawood
Delfawood, which is owned by Anjar, is a well-known online plant store. The name Delfawood itself appeared because Anjar initially sold wooden tools. For example, cutting boards, wooden spoons, and glass mats, because the woodworking business is not going well. Anjar started an ornamental plant store because of his hobby of caring for plants since high school. Delfawood is widely recommended by the plant-loving actress because it has various qualities and types of plants. Not a few customers also come because they want to buy the same plant as their idol artist because it was posted on the actress Instagram.
No need to worry for those of you who want to start a hobby of caring for ornamental plants during the Covid-19 pandemic because you can order the ornamental plants you want at Tokopedia Delfawood. Later the plants shipped safely and from South Tangerang.
Website: –
Social Media: @delfawood on Instagram
Tokopedia: https://www.tokopedia.com/delfawood1?
Phone Number:
Retail Purchase or Non-Sale: +6282114004339
LIVE SALE only: +6282119113449
Operational Hour: 8 am – 4 pm (Tuesday – Sunday)
read also: Best Plants for Mosquito Repellent
2. BenihKita
Do you want to try gardening by planting your seeds at home? Try visiting the website or online store owned by BenihKita. Unlike before, BenihKita sells seeds or plant seeds that you can plant yourself. The various kinds of seeds offered are flower seeds, chili seeds, herb seeds, vegetable seeds, and fruit seeds. Apart from selling seeds, BenihKita also sells a variety of gardening equipment that you need as fertilizers, pesticides, gardening equipment, hydroponics, planting pots, and planting media. So, you don't need to worry if you want to garden but don't have the necessary gardening equipment.
Website: https://www.benihkita.com/
Social Media: @benihkita on Instagram
Tokopedia: https://www.tokopedia.com/benihkita-com
Shopee: https://shopee.co.id/benihkita
BukaLapak: https://www.bukalapak.com/u/benihkita
Phone Number: +62-859-2167-1760
Offline Store: Jl.Kupu Bombay, RT.001/06 No.93, , Pasir Putih, Sawangan, Depok,16519.
Operational Hour: 8 am – 5 pm (Monday – Saturday)
3. Kojo Plant
Kojo in the Japanese language means to grow. The owner hopes that more people can get into the joy of owning plants. Kojo Plant is a plant store that was originally selling online and now can be visited at Cayenne Home, Kemang. This store also not only sells ornamental plants but also other locally made products. Ornamental plants you will purchase at Kojo Plants can purchase together with ceramic pots that are the result of cooperation with local craftsmen from Yogyakarta and Bandung. Kojo Plant collaborates with artists to create their ceramics, and to showcase those artisan ceramics to other parts of the world.
You can also make plants with typical ceramic pots owned by Kojo Plant to beautify your room and create a comfortable interior design while providing the maximum level of comfort to improve your mood.
Website: –
Social Media: @kojoplant on Instagram
Phone Number:
+62 816-1990-826 (WhatsApp)
Offline Store: Jl. Kemang Selatan VIII No.C2, RT.7/RW.2, Bangka, Kec. Mampang Prpt., Kota Jakarta Selatan, Daerah Khusus Ibukota Jakarta 12730
Operational Hour: 9 am – 6 pm (Monday – Saturday)
4. Cassa Kebun
Are you confused about giving gifts to your family or friends? If they like plants, maybe buying plants that are sold at Cassa Kebun can be a solution for you. Cassa Kebun is one of the unique plant stores because it sells plants to be used as gifts. The plants you choose will be packaged and decorated with greeting cards for the loved ones you gift. You can also order plants for you to make Christmas gifts for your family. Besides sharing love with your family, you also help the earth to stay green. You can order it via DM Instagram.
Website: –
Social Media: @cassakebun on Instagram
Phone Number: –
Operational Hour: 9 am – 4 pm (Monday – Friday)
5. Tanema By Larch
Tanema By Larch is part of Larch Studio that provides all products related to plants, such as all kinds of indoor plants, pots, details, etc. They provide a wide range of furniture, home details, and crafts. Larch Studio is a Jakarta based integrated creative design that puts forward "Nature" as a basic design concept as a facility to bridge between human activity and its natural environment. So, Tanema By Larch will provide the plants for Larch Studio decoration that can also buy the plant online if you want to have one.
Website: https://www.larch-studio.com/copy-of-kkum-studio
Social Media: @tamemabylarch on Instagram
Phone Number: +6281290770872
Offline Store: Jl. Putih Melati No. 10 B Cipete, Jakarta
6. Sanggar Kemuning
Not only provides a variety of plants that you can buy, but Sanggar Kemuning also offers Landscape design services, rental plants, an online plant store, and garden maintenance. There are various choices of plants that you can choose for the indoor and even outdoor areas of your home. Plants can be purchased online or directly by making an appointment before visiting. So for those of you who want to buy plants as well as decorate your garden, you can immediately contact Sanggar Kemuning if you are too lazy to do it yourself.
Website: –
E-Mail: sanggarkemuningofficial.ind@gmail.com
Social Media: @sanggarkemuningofficial on Instagram
Tokopedia: Sanggar Kemuning Official
Phone Number:
+62-821-1788-1987 (Plantshop)
+62-821-1298-9992 (Landscape and rental)
Offline Store: Jl. Cici No.152 Sawah Lama, Ciputat Kota Tangerang, Banten 15413
Operational Hour: 9 am – 4 pm
That's it! Here are some plant store recommendations that you can buy online to start your farming activities at home. If you are a beginner who wants to do gardening to fill your spare time, before starting home farming, you should learn the types of plants for beginners. You can also read tips on caring for ornamental plants on our blog! Happy gardening!