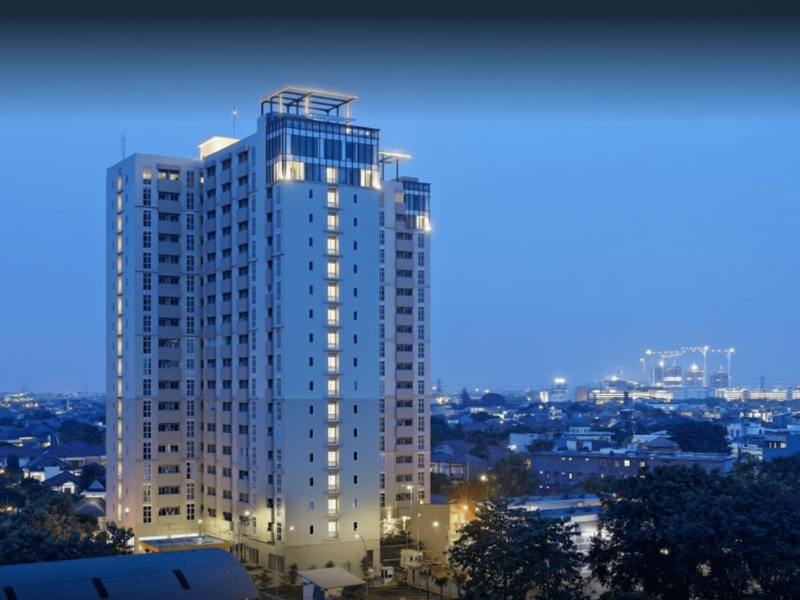 Karawaci is a strategic business and residential area, with corporate giants like Lippo Karawaci (now Lippo Village) dominating the subdistrict. Alongside people looking to build their career here are students of the prestigious Pelita Harapan University (UPH) who move in annually every year. The rapid growth of Karawaci has also been attracting expatriates too recently.
Therefore, it's no wonder that apartments flourish in Karawaci. Many tenants rent out their unit to out-of-towners with the help of hotel management companies such as RedDoorz, OYO, Travelio, and many more. That is because serviced apartments managed by developers are rare around these parts, except for premium-class apartments such as Skandinavia Tangerang.
Here are some of the serviced apartments around Karawaci that we recommend. Except for Fika Rooms, all these apartments are serviced by OYO, Travelio, etc. Please browse listings on their websites for further information.
1. U Residence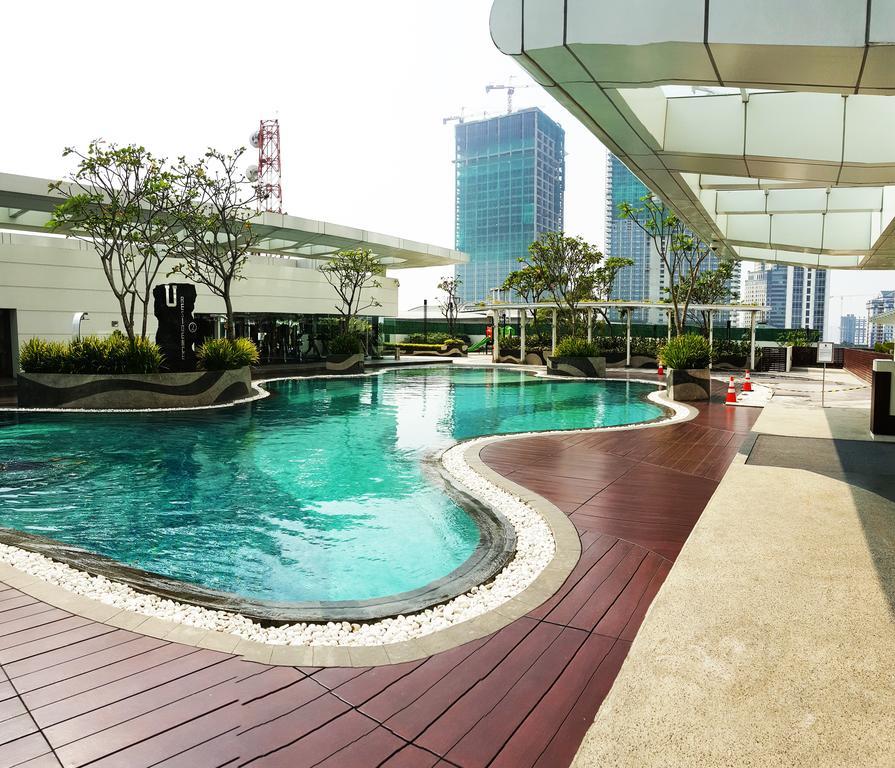 U Residence is a residential tower complex that combines with Supermal Karawaci. It's an artistic project that was a collaboration between the mall's developers, architects of the award-winning Sekawan DesignInc, and international interior designer Erick Brooke Hayden.
First and foremost, this apartment is a prime choice for students of Universitas Pelita Harapan. That is because they can reach the campus in just several minutes' walk. There is also the Universitas Multimedia Nusantara in the nearby Summarecon Serpong area.
The apartment is only five minutes away from the Karawaci 2 toll gate, which connects you to the Jakarta-Merak tollway. You can also catch TransJakarta buses at the Pengumpan TransJakarta T11 and Palem Semi bus stations.
The next-door Supermal Karawaci also provides a shuttle bus that can take you to fx Sudirman, Asia Tower Sudirman, Mangga Dua, and other places in Jakarta.
For shopping and entertainment, you can drop by the Supermal Karawaci which has everything you need from restaurants, department stores, karaoke booths, to one of the largest arcade game centers in Southeast Asia. Just across the Supermal Karawaci is also the Maxxbox Lippo Village, with its fashion street and restaurant rows (known best for its restaurant recommendations).
U-Residence has five-star hotel facilities such as a swimming pool, a fitness center, a sky garden, a jogging track, and a food court. The security system uses Smart Card Access.
Address: Lippo Karawaci 1200, Jalan Boulevard Diponegoro No.105, Bencongan, Kelapa Dua, Bencongan, Kec. Klp. Dua, Tangerang, Banten 15811
Monthly rental price: Studio starting from Rp 4.536.000,00
2. Paragon Village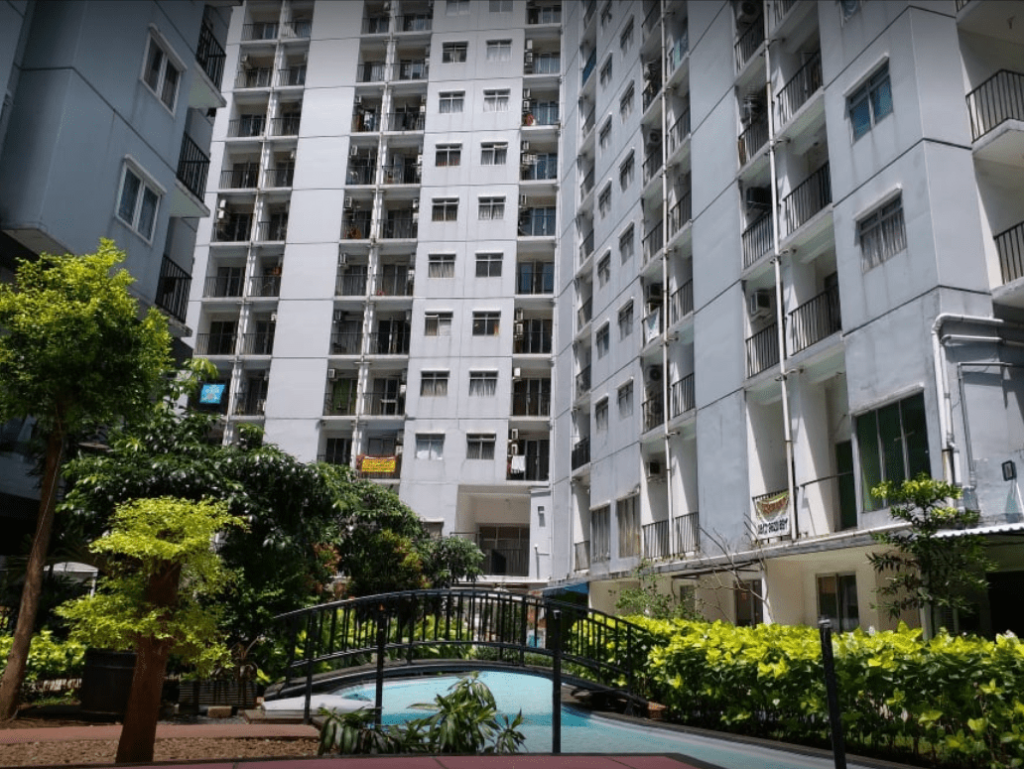 Paragon Village is a One-Stop Living residential apartment with four towers. Standing in the Curug area, it's very close to Supermal Karawaci and the Lippo Village residential era.
We recommend this apartment for those whose activities revolve around the nearby Siloam Hospitals, Universitas Pelita Harapan, and Lippo Village. That is because it's also easy to access other Tangerang areas such as Alam Sutera and Gading Serpong.
Available public transportation that can get you anywhere from this apartment includes Transjakarta buses that stop near the Supermal Karawaci. Alternatives include larger ones you can catch around Islamic Village.
The markets that surround the apartment make it easier for shopping. You can choose between traditional ones like the Curug Market and Kepala Dua Market, or bigger supermarkets like the Hypermart Cyberpark Karawaci.
Other shopping centers in Karawaci also have culinary offerings you can enjoy, such as MaxxBox Lippo Village and Supermal Karawaci.
The apartment itself has a commercial area with minimarkets, a swimming pool with a poolside bar, a spa, sauna, laundry facilities, and 24-hour room service.
Address: Jl. Raya Binong Kavl. 9, Karawaci, Binong, Curug, Binong, Kec. Curug, Tangerang, Banten 15810
Monthly rental price: 2BR starting from Rp Rp 3.500.000,00
Read also : Best Luxury Apartments in Pondok Indah
3. The Medina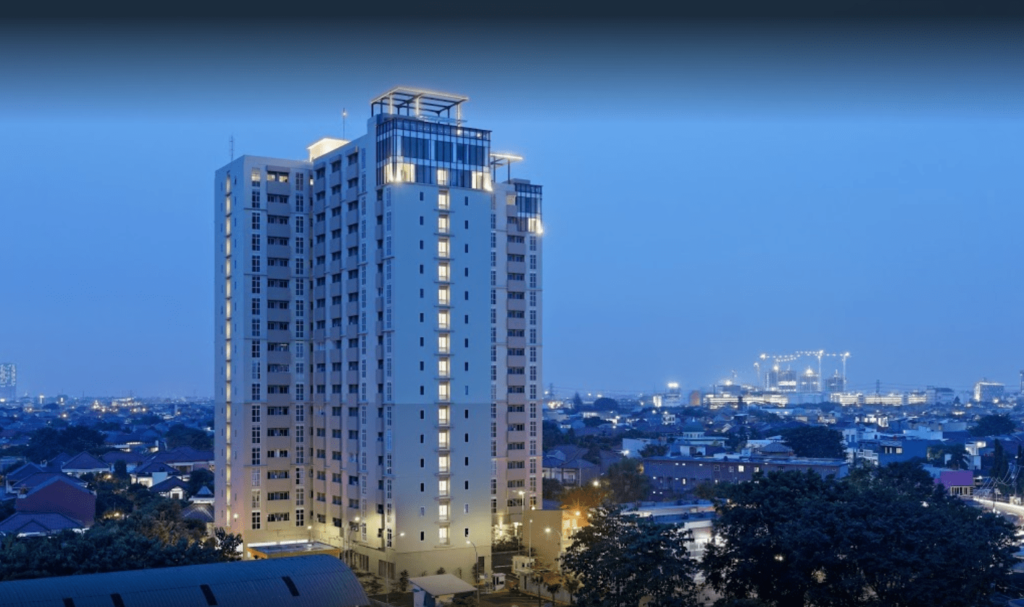 The Medina Apartment is a fully furnished, high-rise apartment that puts attention on Islamic aesthetics. It's a project by PT Asfi Ilhami Rayhan that developed the nearby Islamic Village.
Among the many upscale residential complexes and apartments, the Medina is one of the most convenient ones since it's only four minutes away from the Karawaci tollgate. Therefore, you can get to Jakarta and the Soekarno-Hatta International Airport.
The Karawaci area may be a developing business district, but it's also a district with a high college student population. Some notable universities around are Universitas Pelita Harapan, Universitas Gunadarma, and Universitas Bina Nusantara.
To support your everyday needs, you can choose to shop for fresh ingredients at Pasar Kelapa Dua and Pasar Modern Gading Serpong traditional markets, both five minutes away by car. Or you can explore the malls around like Lippo Supermal Karawaci and Summarecon Mall Serpong.
Within the apartment complex, you will also have facilities like a baseball court, a tennis court, a swimming pool, a fully-equipped gym, and a function room for events. There is also a minimarket among the shophouses in front of the apartment for quick grocery runs.
Address: Jl. Kelapa Dua Raya No.93, Klp. Dua, Kec. Klp. Dua, Tangerang, Banten 15810
Monthly Rental Price: 2BR starting from Rp 3.500.000,00
4. Fika Rooms (Skandinavia TangCity Apartment)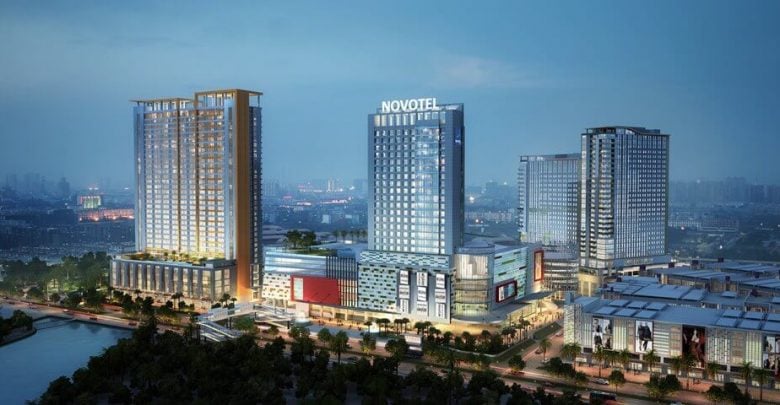 Fika Rooms is an apartelle service at the Skandinavia TangCity Apartment, under the apartment's management. It's part of the TangCity Superblock on Jalan Sudirman, only ten to fifteen minutes away from Karawaci.
Its position on the main road also means that you can get to other Jabodetabek areas and the Soekarno-Hatta International Airport. Fika Rooms is also a perfect accommodation for business travelers visiting the TangCity Business Park.
For shopping and entertainment, the next-door TangCity Mall has everything for you from restaurants to a cinema. There are also shophouses in the nearby Modernland residential complex that includes recommended restaurant chains.
The apartment has facilities such as a tropical swimming pool, a children's playground, a fitness center, and an outdoor area called Fika Corner, where tenants relax with family or friends.
As its name implies, Fika Rooms offer rooms with a Scandinavian-inspired interior design. Your unit also comes with a basic home theater system, an electronic door lock, and an av-intercom.
Address: Jalan Jend. Sudirman No.1 Cikokol, RT.001/RW.005, Babakan, Kec. Tangerang, Kota Tangerang, Banten 15118
Monthly rental price: Studio starting from Rp 6.700.000,00/month
With affordable rental prices, top-notch facilities, and similarly convenient locations, picking the best apartments in Karawaci may be a challenge. However, it all depends on your needs, so pick one that suits you best!