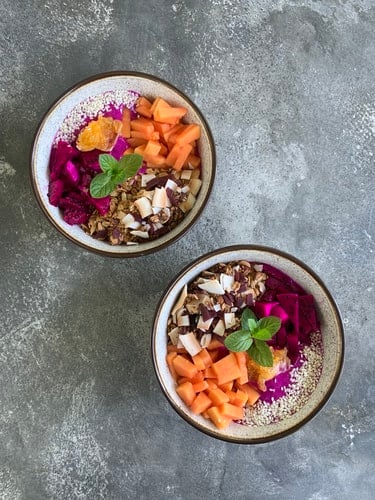 Switching to a healthy lifestyle when you've been so used to an unhealthy diet may be a tough ride. If you have a busy life, you might imagine eating indulging food to celebrate your accomplishments on the weekends. This usually invites unhealthy food choices. For sweet tooths, dessert may be especially hard. What could be possibly good enough than delicious and decadent sweet foods like ice cream or extra-sweet frozen yogurt?
This is where smoothie bowls come in. With a blanket of delicious fruit juice topped with chopped fruits, nuts, and seeds, they are a great source of protein and vitamins. They prove that being healthy doesn't mean you can't eat good foods, because take a look at these smoothie bowls? Your weekends will be just as fun with a little dash of healthy with your friends. We're going to show what food you can pair up to build a healthy menu, too! Fresh, sweet, delicious, and makes good pictures. What else can you want?
Burgreens, Mall of Indonesia, Kemang Village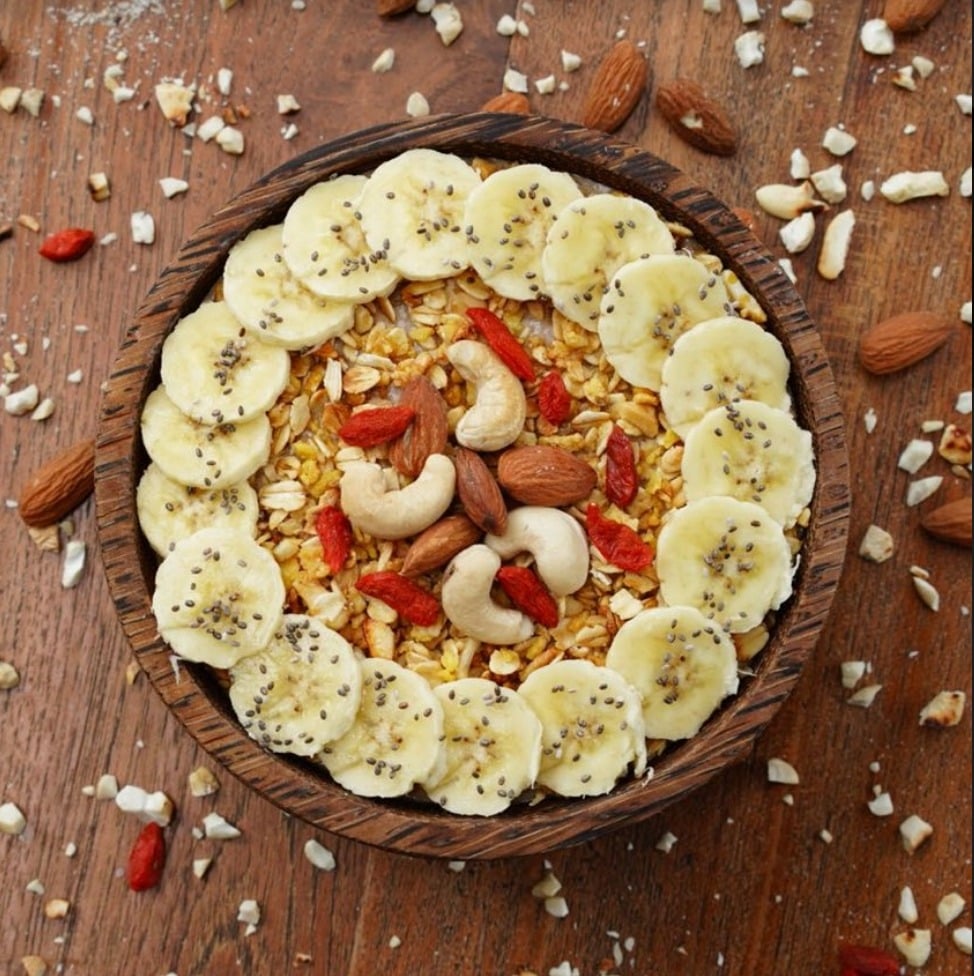 Flokq's Pick: Pitaya Bliss Bowl
The Price range for smoothie bowls: Rp65.000,00-Rp75.000,00
Other locations: Menteng, Darmawangsa, Pacific Place, Kemang Village, Neo Soho, PIM, MOI Oakwood, The Breeze (BSD)
Burgreens is a well known vegan-based restaurant in Jakarta. They are popular for giving vegan alternatives to regular food while maintaining their deliciousness. Burgreens wants to show you that being vegan doesn't mean that you can't enjoy an amazing 3-course meal. They also kindly give information if the menu is vegan, gluten-free, and natural. To start, you can order their Crispy Tofu Salad, one of their unique menu option. For the fulfilling main course, their Holy Mini Trio is to die for. You can even share it with your friends so you can try out other menus!
After that, order the Pitaya Bliss Bowl, star of the show. It contains fruits like dragon fruit, banana, papaya, orange, coconut flakes, served with homemade granola, tropical fruit chunks, and goji berry. They also have a store where they sell vegan foods and products, encouraging you to join in their vegan lifestyle. And Burgreen sure makes it look good.
Berrywell, Citywalk Sudirman
Flokq's Pick: Pina Colada
The Price range for smoothie bowls: Rp40.000,00-Rp65.000,00
Other locations: Shophaus Menteng, Restaurant in Kelapa Gading
Berrywell is an amazing place where you can find fruit-based desserts. They give a variety of healthy options from smoothies, smoothie bowls, chia parfait, pressed juices even quiches and wraps. Berrywell is proof that healthy desserts are amazingly refreshing and will not give you the bad feeling in your body after eating a fulfilling meal. You can put Berrywell on your list to eat desserts instead of going to your usual ice cream parlors for a change.
Berrywell gives many options for their smoothie bowls. From all-green to nutty to exceptionally fruity, all is there for you to choose from. Although we're a fan of everything, Flokq's favorite smoothie bowl is Pina Colada: made with coconut flakes, peaches, granola, and grainy nuts. This bowl of fresh fruits makes it feel like you're enjoying the dessert in the tropical breeze of Bali instead of Jakarta. They also make it possible to order add-ons, to give your individual twist into it. Refreshing for your body and mind, what a catch!
Dinobites Cafe, Greenville
Flokq's Pick: Dragon Bowl
The Price range for smoothie bowls: Rp30.000,00-Rp40.000,00
Dinobites is a cafe located in Grenville, an area found in Kebon Jeruk. Like many cafes in Jakarta, Dinobites gives you a comfortable space where you can hang out with your friends. To accompany your fun, they give choices of drinks like coffee and a team, along with several snacks. But they sure want to give you something else to be unique from the rest. While other cafes only have snacks like sweet cakes or cookies, Dinobites gives a healthier approach. They serve juices and smoothie bowls!
Our favorite smoothie bowl from Dinobites is called the Dragon bowl. Like you might expect, the dragon bowl is made of a layer of dragon fruit juice mixed with yogurt, topped with chunks of fresh bananas and strawberries, and a mix of nuts and seeds. If you're looking for a new cool place to have good conversations with friends without ruining your diet, get a taste of Dinobites!
Rumah Juliet, Tanjung Duren
Flokq's Pick: Frozen Banana Mango
The Price range for smoothie bowls: Rp45.000,00-Rp50.000,00
Rumah Juliet is a little hidden gem in Tanjung Duren. This little cafe was inspired by the character of Juliet from Romeo and Juliet, who wrote letters back and forth with Romeo to maintain their love story. Just like people still do in Italy to Juliet Capulet, you can write a letter to Juliet with your stories filled with hopes or dreams. The next time you come there, there will be a reply from Juliet waiting for you. You'll know which one is yours because each letter is given a secret code.
Other than this lovely form of entertainment, Rumah Juliet offers choices of 100% vegan desserts. From custom cakes to cupcakes to fresh juices, they make sure your day will be especially sweet when you eat their desserts. Now, another hidden gem in this cafe is the smoothie bowls. We recommend you try their Frozen Banana Mango, topped with grains and other fruits. You can have custom toppings as well, so everything you eat here has the aim to please you. If you like secrets and surprises, this cafe is definitely for you!
Smoothies bowls are becoming popular dessert options for people in Jakarta. Delicious, filling, and easy on the eye, there is nothing that smoothie bowls lack. By giving 4 places that serve smoothie bowls, we hope to give you the option to look for. Now, when you're looking for refreshing places to refresh your mind, you can have a delicious bowl of smoothies that are filled with nutrition. You can have fun and stay healthy, and smoothie bowls are proof of that!