In Jakarta, street food vendors are usually gathered in one spot, so we can stroll along the way while choosing what we want to eat. We may say that looking for food and spending time on the roadside is very exciting. You do not know Jakarta as well if you do not yet have the experience of eating at street foods that are spread in many areas in Jakarta.
Read also: Jakarta's Best Street Food
Indonesian Culinary Delights in Jakarta: From Aceh to Papua
Local Food You Should Try in Jakarta
Then, where exactly do we can find places to try appetizing street foods? Here are the top 4 picks of Jakarta's street food spots that you can visit. Let's see it!
1. Jalan Sabang
As we know that street food is very easy to find in Jakarta. Sabang Street is known as one of the culinary centers in the capital city for decades ago. Its located in Central Jakarta, which is relatively close to everywhere. Many visitors come for breakfast, lunch, and dinner. Some time ago, President Joko Widodo also ate here. So, do not be afraid to regret a culinary tour here because it's guaranteed for the taste.
In the afternoon, both sides of the sidewalk along Sabang Street has been occupied by street food vendors. They use food carts, as well as plastic benches under makeshift tents as facilities for visitors who want to dine in. Some vendors also using cars parked on the sidewalk, it's a kind of small food truck.
So, what dishes are offered there? Those in the top of mind are Nasi Goreng Kambing (lamb fried rice), and it is proven that there are quite a number of competing delicious fried rice sellers. Other dishes are also satay, soto (chicken soup), meatballs, and also seafood. Anyway, don't forget to try the iconic satay in Sabang Street, Sate Kambing Jaya Agung. It has been legendary there since 1963. So, no need to hesitate the taste. Besides that, the price is also affordable, you only need to spend Rp57,000.00 for a portion of goat satay and also Rp36,000.00 for a portion of chicken satay.
Central Jakarta's Best satay Spots
2. Bendungan Hilir (Benhil)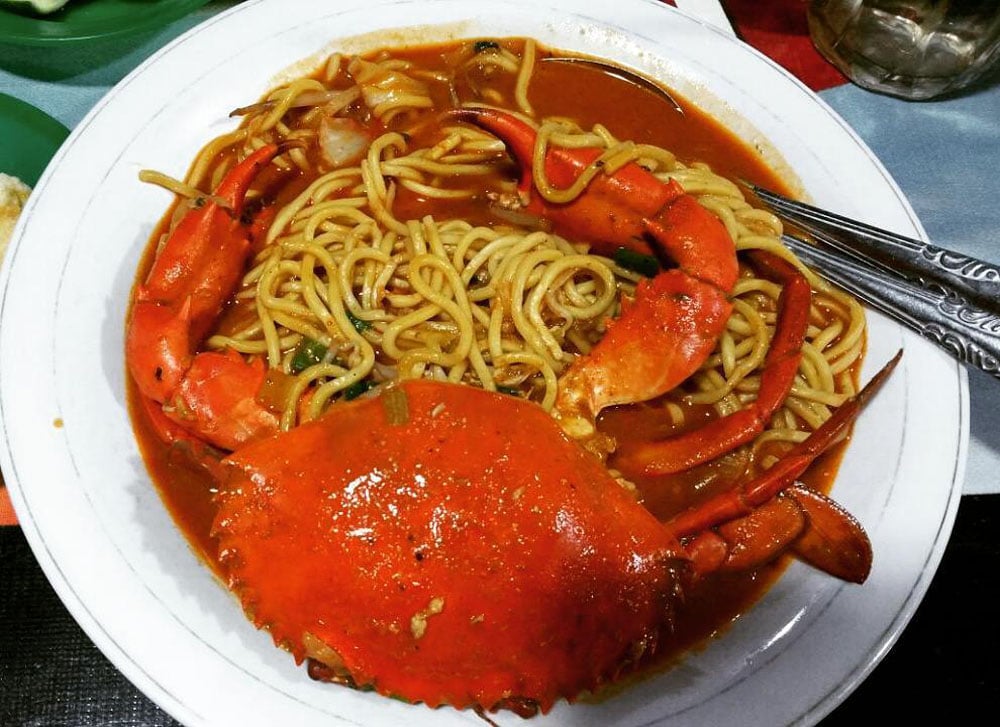 Still around Central Jakarta, exploring various culinary delights is endless. You won't miss the tempting culinary spots in the Bendungan Hilir area or well know as Benhil. Benhil has always been known as one of the most delicious culinary centers in Jakarta. Benhil can be regarded as a 'paradise' of delicious culinary delights. Your stomach will be spoiled with a row of culinary crowding along this road. Because of its strategic location, you can really try culinary in Benhil, especially for those of you who work in Thamrin, Sudirman, Senayan, and surrounding areas. Its nice, right? After a tiring day of activities, you can pamper yourself by eating delicious dishes here.
Not much different from some other culinary spots, Benhil culinary also serves a variety of foods that you should try. If you want something with a spicy sensation, you should try Ayam Penyet Pak Kumis (spicy fried chicken stall) due to a lot of recommendations by Jakartans. A super spicy chili sauce blend with cayenne pepper, candlenut, salt, and shrimp paste will make you addicted. The dish is blended directly on a clay mortar. Only with Rp20,000.00 you can already enjoy this super delicious Ayam Penyet complete with warm rice.
There is also a popular noodle known by many people, its Mie Keriting Mas Pudjo which serves noodles with a chewy texture and chicken wrapped in savory herbs. For only Rp16,000.00 you can already try this tempting chicken noodle. For those of you who want to spoil your tongue with some sweet treats, you can try the Martabak Bangka Acung. Many customers are willing to queue long to enjoy the Martabak here.
3. Glodok Chinatown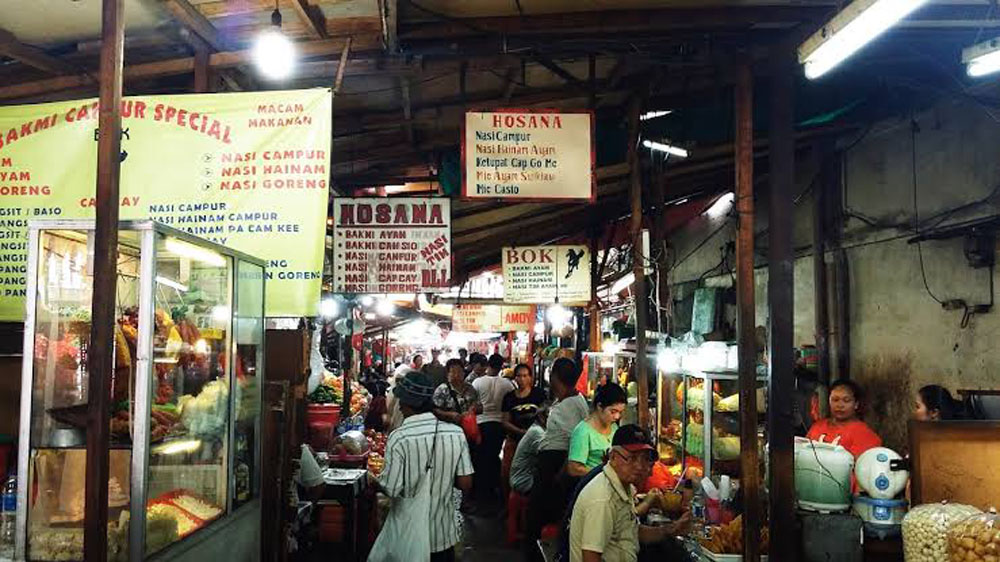 Chinatown is always interesting to visit, especially if you want a culinary hunt. No exception for the famous Chinatown in West Jakarta, the Glodok area. Here, a variety of snacks and delicious foods ready to spoil your tongue. Glodok has become a place for Chinese residents living in Jakarta. Not only for the trade center, but this area is also known as a culinary destination. Glodok Chinatown invites a lot of people's curiosity to taste its primadonna street foods. There are many Chinese foods and unique snacks that you can only find there.
You need to walk into a small alley called "Kalimati" if you want to enjoy the culinary choices here. To start, there are some snack recommendations before you try the main menu. One of them is Beijing Pia which is processed by roasting. It feels different from other Pia. With only Rp5,000.00 you can taste crispy yet delicious Pia here. For the main course, you can find a shop that sells vegetarian menus. There are also man choices of noodle stalls. Whereas, the most iconic of the Glodok Chinatown is Kari Lam (Lam Curry) originated from Medan that is worth a try. Lam Curry is legendary because it has been selling since 1973. They open from 09.00 – 15.00. There is a menu of chicken curry and beef curry with a choice of vermicelli or rice to complete your dishes. Yummy!
4. Bulungan, Blok M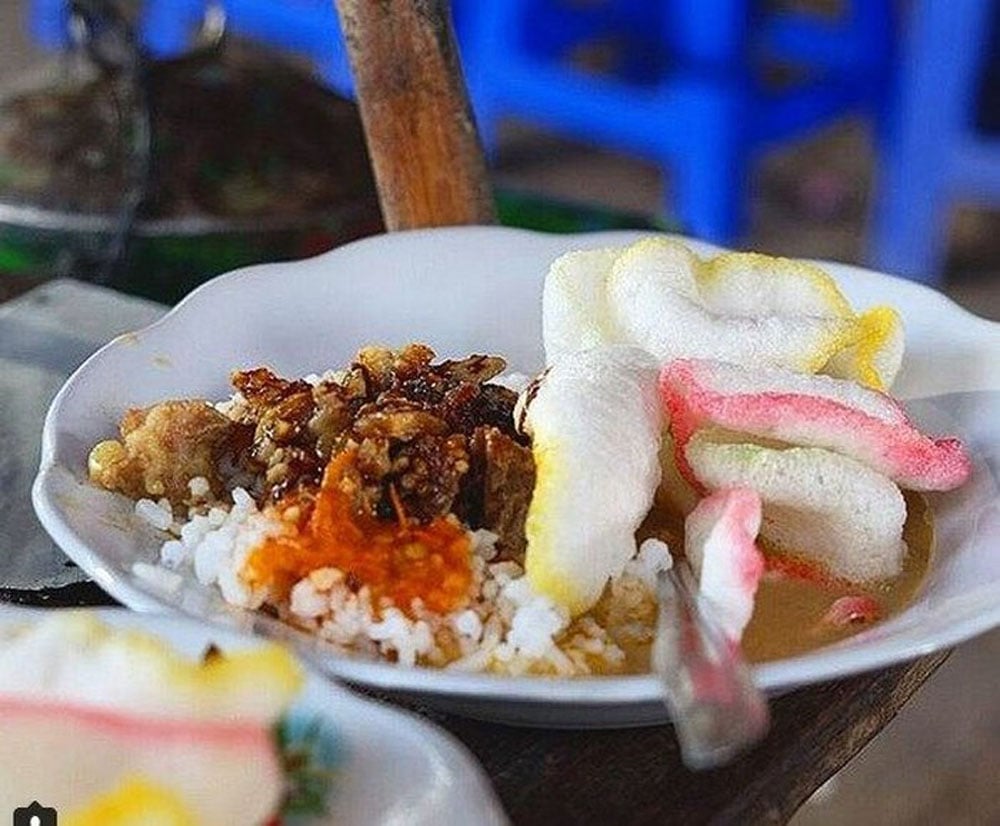 If you visit the Bulungan area, you will find a lot of culinary that must be tried, especially at night. Bulungan is one of the areas that is visited by many young people or millennials in Jakarta to hangout. If you come on weekends, it's really crowded. Also, there are various kinds of entertainment that will accompany you such as live music, buskers, traditional musical instrument players, and even musical poetry.
With the "very Jakarta" ambiance, its turn to try the foods. Before you get your main course, better try light snacks on the roadside. So many snacks like egg rolls, lekker, skewer meatballs, and others. Then, for the main course, you must try the iconic and the most popular in Bulungan, even around Jakarta city, Gulai (curry) Tikungan that served with beef and one serving of rice. Along the way, you will find lots of curry sellers who will make you confused to choose. You don't need to worry, because it all tastes so good.
Now is the time for you to choose your favorite street food spots to have your delightful culinary experience. Happy eating!