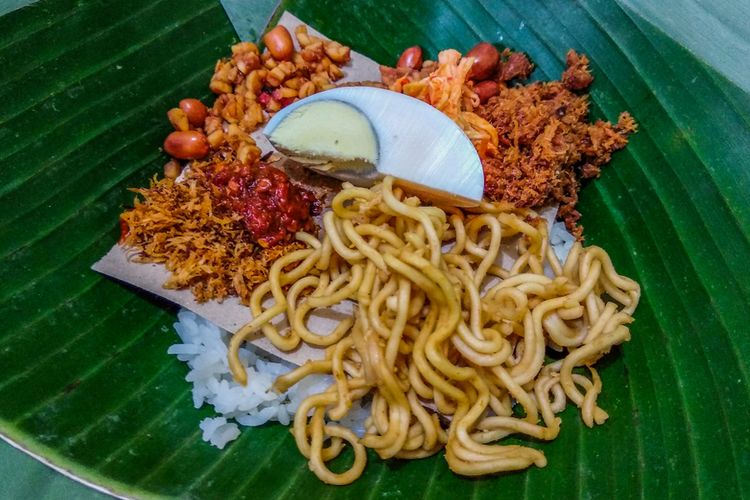 Bali
8 Bali Local Street Foods and Where to Find Them
Bali's culinary scene is only as vibrant as its beach landscape, filled with colourful tastes, traditional customs, and stories. Although there are many excellent high-end restaurants in Bali, you will never fully experience Balinese cuisine before trying the classics, affordable but rich street food.
However, Balinese culinary delights often contain pork. So, many Muslim tourists are a little confused when on vacation on the island of Bali. But don't worry just yet. There are still many street foods in Bali that is Muslim friendly and have an extraordinary taste.
So, these are our selection of local street food dishes to try in Bali and where to find them.
Selection of Bali Street Foods
1. Pisang Rai
Having a sweet taste, Pisang Rai is a Balinese dish that you must taste. This dish is made from bananas wrapped in rice flour, tapioca flour, and coconut milk. As a final touch, the banana is then sprinkled with grated coconut on top.
Generally, the bananas used to make this dish are of the type of plantain or Ambon banana. You can find this Banana Rai easily in a number of traditional Balinese markets.
2. Laklak
At first glance, the appearance of this laklak is very similar to pancakes. But make no mistake, the taste of this laklak has characteristics and is different from pancakes, you know.
Laklak is made from rice flour which is then mixed with natural dyes such as suji leaves and coconut milk. Usually, laklak is served with grated coconut and liquid brown sugar.
3. Rujak Kuah Pindang (Pindang Sauce Fruit Salad)
Unique and different from other street food, this salad is made by the process of making pindang fish.
This rujak pindang sauce has a savoury taste unlike other fruit salad dishes in general. Fruit filling in rujak kuah pindang, such as salak, guava, kedondong, pineapple, young mango, apples and many others.
While the rujak seasoning is also very simple, which is made from chillies, shrimp paste and pindang sauce.
4. Nasi Jinggo (Jinggo Rice)
If you have heard of cat rice on the island of Java, Bali also has a delicious dish, namely Nasi Jinggo.
Nasi Jinggo is generally wrapped in banana leaves. Inside is a bowl of white rice, side dishes in the form of tempeh fried chilli sauce, shredded chicken, and fried noodles.
You can also add Nasi Jinggo with beef, egg, or sambal matah to make it taste even more solid.
'Jeng go' itself in Hokkien means IDR 1,500. Yes, in the past the price of this jinggo rice was sold for IDR 1,500. However, over time, Nasi Jinggo is now priced at IDR 5,000 – IDR 10,000 per portion.
5. Janje Bantal
Janje Bantal is a Balinese street food made from white sticky rice. This snack filling is usually in the form of red beans, peanuts, or bananas.
This street food is generally wrapped in young coconut leaves and tied with bamboo so that it looks like a pillow.
The savory taste of the pillow jaje comes from how to cook the snacks soaked in coconut milk and sugar.
6. Babi Guling
Due to its massive popularity, tourists can now find babi guling, or Balinese roasted pig, from fine dining restaurants and on the streets.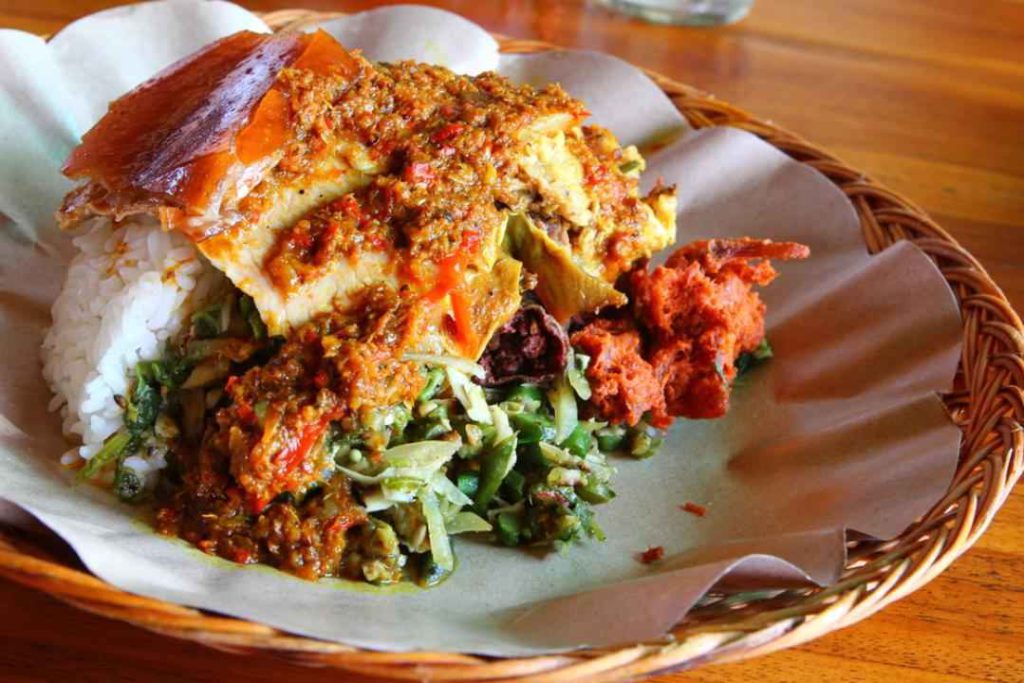 Originally a ceremonial dish, people now can enjoy babi guling casually at street food vendors, at an affordable price without discounting the taste. The meal owes its flavour to the distinctive roasting technique and traditional spices greased all over the meat, making it an outstanding dish.
7. Sate Lilit
Sate (satay) is basically pieces of grilled meat on skewers. As one of Indonesia's classics, you can find sate in fine dining restaurants or at street food vendors. Being a country with a diverse culture, almost every region has their own sate variant, and luckily Bali's sate lilit is among the best in taste and popularity.
The meat for sate lilit, usually pork, chicken, or fish, is minced, soaked with grated coconut, coconut milk, and other spices, then wrapped around the sticks before being grilled. While most Indonesian sate are served with a condiment, the additional sauce is optional for sate lilit, as it already has the delicious combination of spicy, sweet, and savoury taste.
8. Nasi Tepeng (Tepeng Rice)
Nasi tepeng is a common breakfast choice in Gianyar, Bali. Street food vendors line up on the main streets in the morning with their cart, presenting an appetizing aroma of spices and herbs.
Locals love the solid yet soft texture of nasi tepeng, which is somewhere between rice and porridge. You can enjoy Nasi tepeng with fried chicken, eggs, beans, eggplant, and jackfruit, and is often served on banana leaves.
Find more in 13 Local Foods in Bali with Authentic Taste, Must-try!
Where to Find Street Food Vendors
To try a variety of Balinese-flavored food, you can visit the Senggol market which provides various Balinese street food.
For the price, there is no doubt that market food in Indonesia is synonymous with cheap prices, just like some senggol markets in Bali. Dishes with prices ranging from IDR 2,000 to IDR 5,000 will often be encountered.
The senggol market is usually open at night and you can find them in various districts or sub-districts.
If you are a street food lover, or cheap food with a topnotch taste, you can come to some of the Senggol market recommendations in Bali.
1. Gianyar Senggol Market
This senggol market is located in Gianyar, precisely on Jalan Ngurah Rai, Gianyar District, Bali. Market operational time is open from 15.00 – 22.00 local time every day.
This one senggol market is in the heart of the capital city of Gianyar district; about 10 kilometers to the southeast of central Ubud. Gianyar Senggol Market usually crowded with visitors at 17.00 local time.
2. Kreneng Senggol Market
Kreneng Senggol Market is located on Jalan Cambodia, Denpasar, Bali. This market is unique because it is open all day long.
From morning to noon, Kreneng Market sells various household necessities, such as vegetables, meat, fruit, and ceremonial facilities for Hindus. However, from late afternoon until late at night, this market turns into a place of entertainment and is popularly known as Pasar Senggol.
3. Tabanan Senggol Market
Tabanan Senggol Market, which is in the middle of the city along Jalan Gajah Mada, is truly a vibrant culinary centre.
This senggol market is 12 kilometers from the Tanah Lot tourist attraction. Senggol Market is open from 16.00 – 24.00 local time.
4. Sanur Senggol Market
If you are on Sanur Beach, you need to travel two kilometers to get to this Senggol market. Like other senggol markets, Sanur Senggol Market provides lots of street food.
Open from morning to evening, this market offers daily necessities, such as vegetables, fruit, meat, cooking spices, and even ceremonial facilities for Hindus.
At night the market turns into a culinary tour that stores Balinese specialties at affordable prices.
5. Nakula Senggol Market
This Senggol market in the Legian area does not know the word close or stop, because the Nakula Senggol Market is open for 24 hours.
Located on Jalan Nakula No.57, Legian, Kuta, Badung District, Bali, this market offers many traditional dishes at economical prices.
If you are on Legian Beach, which is four kilometres from the market, the distance you have to travel is only 15 minutes.
6. Kuta Senggol Market
The next Senggol Market is the Senggol Kuta Market in Jalan Blambangan, Kuta, Badung District, Bali. This market serves visitors who come until 23.00 local time.
However, this Senggol Market is closed on Saturdays and Sundays and reopens on Monday. This market is a five-minute walk from Kuta Beach.
---
Well, those are the recommendations for Balinese street food for you. Some are Muslim-friendly too, along with places to buy them. Enjoy Bali cuisine delicacy and have a pleasant stay in Bali, Flokqers!