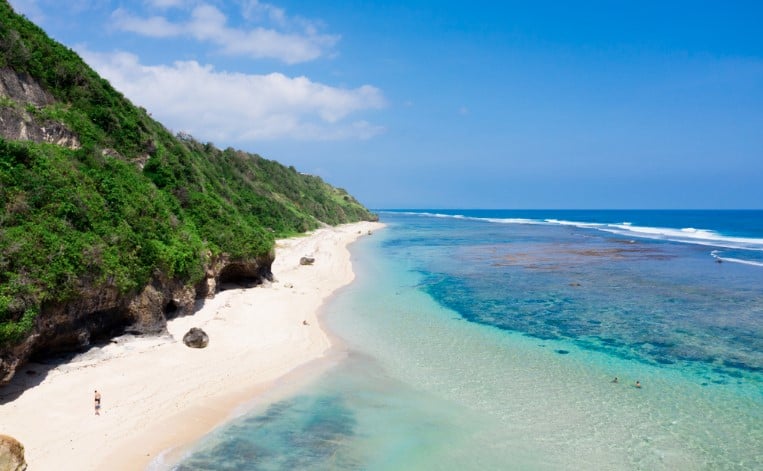 Bali
An Ultimate Neighborhood Guide to Kuta, Bali
Bali always has something for everyone, and one of them is the zen mountainous areas to wild surfing escapades of Kuta. Rich in Balinese culture, plus hip nightlife and great shopping gathered in one place, Kuta is one of the best places for people who want to get the most out of their life. If you're considering Kuta, Bali, for your next vacation or even a long period of stay, read this Kuta ultimate guide for your best experience!
About Kuta, Bali
A former fishing village, Kuta was one of the first towns on Bali to see substantial tourist development, and as a beach resort remains one of Indonesia's major tourist destinations.
Kuta is known internationally for its beach that varied with accommodation. Luxury resorts, restaurants, bars, and clubs are located along the beach. The beach has been notable since the early 1970s. Kuta beach is also known as Sunset Beach and many renowned surfers from around the world, especially Australia, have visit to surf on this beach. Kuta is also very strategic since it is located near Bali's I Gusti Ngurah Rai International Airport.
Things to Do in Kuta, Bali
Kuta is very known for its beach, that is why some of the best things to do in Kuta can be found around the beach. From sunbathing in the early morning to enjoying the clubs in the late night, there are a lot of things to do for you in Kuta.
Aside from its Westernized lifestyle, Kuta also has a cultural spot that offers nightly Balinese traditional arts performances in Kuta Theater.
There are also tourist attractions like Waterbom Bali, Circus Waterpark, Dream Museum Zone, 5GX Bali Reverse Bungy, Upside Down World Bali, and many many more.
Beaches Near Kuta, Bali
There are a lot of beaches in Bali, especially around Kuta. These beaches on Bali's southwestern coast are one of the most popular resort areas in Bali. They are even more recognised among international visitors than the island itself – thanks to its combined features of the beautiful view and weather, also the sun, sand, and surf.
1. Kuta Beach
Kuta Beach is one of the best places to enjoy Bali's famous sunsets. Located on the island's southwestern coast, you can enjoy sunbathing, surfing, swimming, and beach soccer throughout the year.
Hit the beach in the early mornings so that you can claim a spot on the sand, together with surfers steadily watching for ocean swells as the action takes place on the waves.
Throughout the day, troupes of beach vendors and masseuses will all vie for your attention, be it for a beach sarong or a cheap massage, aka 'spa treatment,' on the sand.
During and after sunset, it's a mixed scene – friendly beach soccer matches that you can join, spontaneous 'beach bars' selling cold Bintangs and local bites, chats with locals, djembe drumming jam sessions, and even fire dancers.
2. Pandawa Beach
Pandawa Beach is one of the best spots to spend a lazy afternoon thanks to its golden sand, clean blue ocean view, and fresh coconut water from the vendors around the beach. Located in Kutuh Village, South Kuta District, Badung Regency; around 3 km from the famous Nusa Dua area and Uluwatu Temple.
Pandawa beach is surrounded by two cliffs with one of them, carved into the cliff face the statues of the Pandavas and the Kunti goddess. The six statues from top to bottom are Kunti, Yudhishthira, Bhima, Arjuna, Nakula, and Sahadeva.
3. Balangan Beach
Balangan Beach is one of the Bukit Peninsula renowned surf spots located just north of New Kuta Beach. With its clear blue waves, white sandy beach, and easy access, Balangan is not as crowded as Kuta or other surfing beaches in Bali. On the north coast, there is a rocky hill with views from the sea to the shore of Kedonganan.
4. Kedonganan Beach
Kedonganan Beach is renowned from its seafood and picturesque sunset view. You can spend your afternoon here watching the sunset while eating a very fresh and good seafood. A must visit dine place!
Temples in Kuta, Bali
Kuta does not have a really popular main temple to visit, however, Kuta is sprinkled with regular temples that you can find along the main road.
1. Temples in Kuta Beach
Temples in Kuta Beach can be found along the main road, where you can see Balinese praying and presenting offerings in the mornings and evenings, just after sunset. Some of the most visited Kuta temples are: Pura Kalangan Majelangu on Kuta Beach a few meters east of the main gate, Pura Batu Bolong on Pantai Kuta Street, and Pura Penataran on Kuta Sidewalk.
Pura Kalangan Majelangu is busy during holy days and ceremonies, such as Melasti, which takes place three or four days before Nyepi (the day of silence that falls on Bali's Lunar New Year). During Melasti, locals gather to send prayers and offerings to the Supreme God of Indonesian Hinduism, or Sanghyang Widhi, on Kuta Beach.
2. Vihara Dharmayana Kuta
Vihara Dharmayana Kuta temple is one of very few cultural landmarks that are hidden amid Kuta's traffic frenzy and 'surfer's paradise' buzz. This age-old Chinese Buddhist temple was one of the various Buddhist sites in Bali visited by Tibet's 14th Dalai Lama, Tenzin Gyatso, on his international tour in 1982, so it certainly has the history.
The temple is about a kilometre east from Kuta Beach and is often referred to by the locals as Kongco Leeng Gwan Kuta, or simply 'Kongco Kuta'. It's slightly inconspicuous thanks to its location – on a corner of Jalan Blambangan which is a one-way route usually congested with traffic. You'll easily spot it with its bright red walls and murals.
Shopping in Kuta, Bali
There are many shopping spots in Bali, however, Kuta is the shopping paradise in Bali. Starting from traditional markets to luxury boutiques, Kuta offers you a lot of shopping spots. Here, we picked you some of the best places for you to shop in Kuta.
1. Discovery Shopping Mall, Kuta
Discovery Shopping Mall is the most crowded spot with tourists. It is also the biggest shopping center in Kuta, which is located in the center area of Kuta. Discovery Shopping Mall offers a lot of things, from Balinese souvenirs to international products, you basically can find anything here.
Location: Jl. Kartika Plaza, Kuta, Kabupaten Badung, Bali 80361
Open: 12.00-20.00 (May change due to pandemic)
Website: https://www.discoveryshoppingmall.com/
2. Kuta Beach – Legian Street
The Kuta Beach street (Jalan Pantai Kuta) is one of Kuta's main thoroughfares. This one-way street continues from where Legian's main nightlife and shopping street ends. You can find small souvenir shops, spas, art kiosks, and many more on this street.
3. Beachwalk Shopping Center, Kuta
Same with Discovery Shopping Mall, Beachwalk Mall Kuta offers you a big city-style shopping center. However, as the name suggests, Beachwalk Mall Kuta is located near Kuta Beach instead of the center-crowded-of-building area.
Location: Jl. Pantai Kuta, Kuta, Kabupaten Badung, Bali 80361
Open: 12.00-20.00 (May change due to pandemic)
Website: https://beachwalkbali.com/
Yoga in Kuta, Bali
Aside from exploring Balinese culture, practicing yoga in Kuta has never sounded this good! The waves and Kuta beauty will surely help you in finding peace and energize your soul and body even more.
In Bali, including Kuta, there are many places to do yoga. Here are some of the places we recommend:
1. The Temple Lodge, South Kuta
Located in Pecatu Village, South Kuta, The Temple Lodge offers relaxation facilities with stunning cliff views and a choice of morning yoga classes such as Hatha and Vinyasa Flow.
Apart from yoga activities, tourists can also enjoy swimming pool facilities, breakfast menu choices, and sports surfing accommodation in this yoga place.
2. Desa Seni Yoga, North Kuta
Providing an open place yoga studio, Desa Seni is a yoga accommodation with a village resort concept in Bali which is specially designed to get closer to nature and local culture. It is located in North Kuta.
Some of the yoga sessions that can be enjoyed here are hatha, yin and restorative as well as several meditation classes and holistic spa services. For art enthusiasts, this place also holds traditional art performances and workshops.
3. Bali Mandira Beach Resort & Spa
This 4-star hotel provides yoga classes, Balinese handicraft classes, and there is even an attractive spa.
Besides yoga classes, there is also a very large swimming pool for adults and children.
Nightlife in Kuta, Bali
Kuta has a wealth of bars, clubs, and sunset chill-out spots not far from the coast and Kuta's nightlife scene comes alive once the sun sets. Some of the most popular Kuta night spots are modern clubbing venues that stay open until dawn. Others include bars that transform into party hubs with dance floors and resident DJs spinning their beats to a play of colorful lasers.
Here, we've picked some of the best places in Kuta for you who are looking for a great time to drink, or dance and party the night away.
1. Bounty Discotheque
Bounty is one of the legendary nightspots in Kuta. It is famous for holding 'wet n' wild' parties and attracting young foreigners party goers who are having a vacation in Bali. Also fondly called the 'Bounty Ship', this one-stop entertainment complex comprises its expansive main discotheque venue, a restaurant, and a bar.
Location: Jalan Legian, Kuta, Badung, Bali 80361, Indonesia
Open: Daily from 9 PM to 3 AM (May change due to pandemic)
Phone: +62 (0)361 752 529
2. Paddy's Pub

Paddy's Pub is one of the legendary nightspots on Jalan Legian that attracts the partying crowd with its fun themed parties and reasonably priced drinks. The pub flanks its sister site, Bounty Discotheque, and forms a small yet popular group of spots in Legian for pub crawls.
Location: Jalan Legian No. 166, Legian, Kuta, Badung, Bali 80361, Indonesia
Open: Daily from 5 PM to 4 AM (May change due to pandemic)
Phone: +62 (0)361 758 555
3. Hard Rock Café Bali
Hard Rock Café Bali is Bali's branch of the world-famous rock n' roll restaurant franchise, located right at the front of the Hard Rock Hotel Bali in Kuta. The 2-level café serves American dishes off its rock music-inspired all-day dining menu. The lower stage area and bar is where live music happens on most evenings.
Like any Hard Rock Café worldwide, you can find a Rock Shop that sells official merchandise like logo T-shirts and collectable pins. One-of-a-kind shirts endorsed by artists like Bon Jovi, Green Day and Shakira make the top shelf items.
Location: Jalan Pantai Kuta, Banjar Pande Mas No.1, Kuta, Badung, Bali 80361, Indonesia
Open: Monday–Thursday and Sunday from 11.30 AM to 1 AM, Friday–Saturday from 11.30 AM to 2 AM. (May change due to pandemic)
Phone: +62 (0)361 755 661
Working in Kuta, Bali
Working in Kuta can be easy or hard, or even both. You might find it easy because you can always go to a lot of places to do your work remotely in cafes or by the beach. However, you can also find it hard because there is always a place that you want to visit in Kuta instead of working. Or you don't know where to go to find a co-working space in Kuta.
There are some co-working spaces that you can visit in Kuta to help you increase your productivity. Some places even have special facilities you can enjoy while working too, Flokqers!
1. Berry Biz Hotel, Kuta
Berry Biz Hotel has a co-working room that you can rent for personal or group working space with 24/7 access. They also give people access to events, free Wi-Fi, locker room, printer, refreshment, and guests' pass.
Price : IDR 18.000.000/year
2. Bali Bustle Co-working Space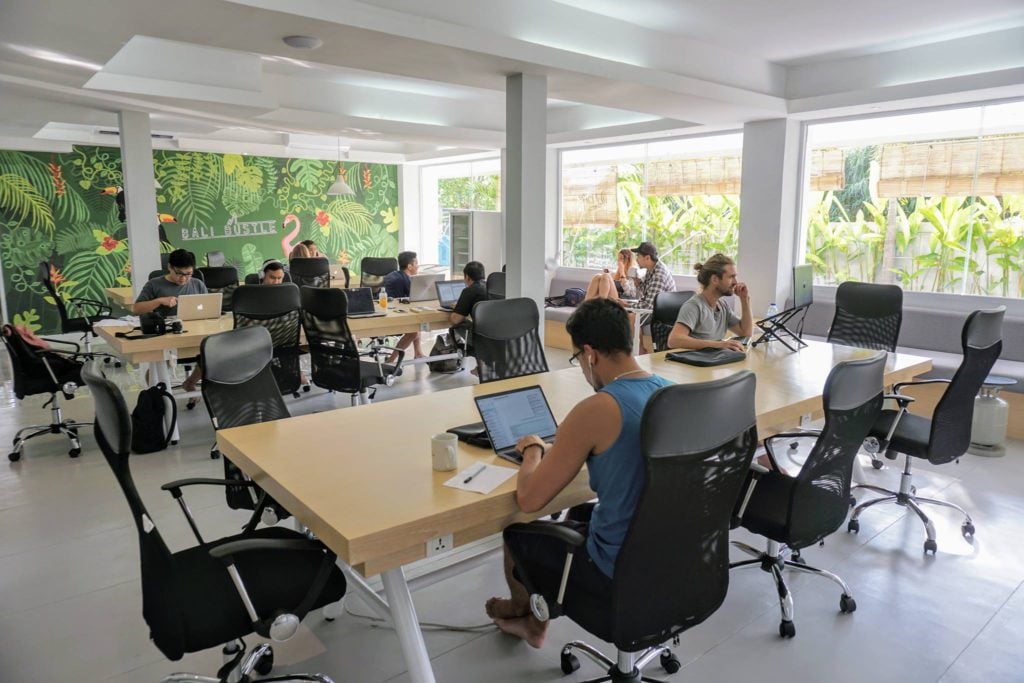 If you're looking for co-working space with a lot of premium facilities, Bali Bustle might be perfect for you! You can rent their co-working space daily, weekly, monthly, or even yearly with also monthly private office. Bali Bustle's co-working space will also give you access to their gym, pool, meeting room, The Bustle Cafe, free Wi-Fi and parking.
Price: IDR 100.000/day, IDR 500.000/week, IDR 1.100.000/month, IDR 10.300.000/year.
Website: https://balibustle.com/coworking/
Getting Around Kuta, Bali
Kuta is about 15 minutes from I Gusti Ngurah Rai International Airport, depending on traffic. You can get a taxi from the official airport stand at the airport when you arrive, or order an online taxi from the local app. If you're coming from another area in Bali, you can take a taxi or a private driver if you want to stop off along the way.
Once you're in Kuta, the best way to get around is by walking. There are a lot of markets and places to eat around the area that if you get around there by a car or bike, you might miss something along the way.
Expat Living in Kuta, Bali
If you have not been in Kuta yet, for sure you are wondering about the lifestyle there. Your mind is full of questions and you are maybe desperately searching for a clear answer to the most important question "how does expat life in Kuta?".
Simply put, life in Kuta is diverse. In fact, Kuta has become synonymous with the term "melting pot". On one hand, the influence of incoming visitors and expats has westernized the island; On the other, the locals of Kuta have not succumbed to this trend completely. The small beach region has been proudly protecting and keeping its culture, tradition, and its indefinable Balinese atmosphere.
---
Also read: 8 Budget Restaurants in Kuta with Delicious Dishes
---
That is all, the ultimate guide of life in Kuta, Bali! Does all of that sound like something you want to experience? If there are still many things to consider, ask your friends about their experience and other expat life in Bali, especially in Kuta. See you in Bali, Flokqers!