Want to go and live somewhere a bit off the beaten path? Do you want your own dream private getaway where you can evade the hustles and bustles of Bali's busier parts? Then you should really lease or buy property in East Bali! They offer a pristine, scenic, and soothing environment for you. If you want to know more, here are the best villas in East Bali for your dream vacation!
Why East Bali?
While it's not an administratively defined area, East Bali can geographically be defined as a stretch of land going from Mount Batur to the Southern tip of Semarapura. It is bordered by Bangli in its Southern tip, mountains in the center, and Singaraja to the north. Most of East Bali is under the regency of Karangasem. This area is particularly hilly compared to most other areas, as three mountains cover a large part of the land. These mountains are Mount Agung, Mount Lempuyang, and Mount Batur. Despite this, there are also a lot of beach attractions that you can visit.
In East Bali, you can find things to be more laid-back and relaxed than other more famous and hip areas such as South Bali. Tourists do come here often, but in the end, you'll find living here is much more slow-paced compared to Denpasar, Canggu, and Kuta. Another thing that is special about East Bali is access to awesome getaways where you can rejuvenate yourself. Boats from ports in East Bali going to places such as Nusa Penida, Nusa Lembongan, and the Gili Islands are much more accessible to you than other areas. If you want to go to one of the islands
All in all, East Bali is perfect for you who is looking for a private getaway, tucked behind the many rice fields, treelines, and mountains stretching all over the land. It is also perfect for those of you who love to take Island trips often.
What can I do in East Bali?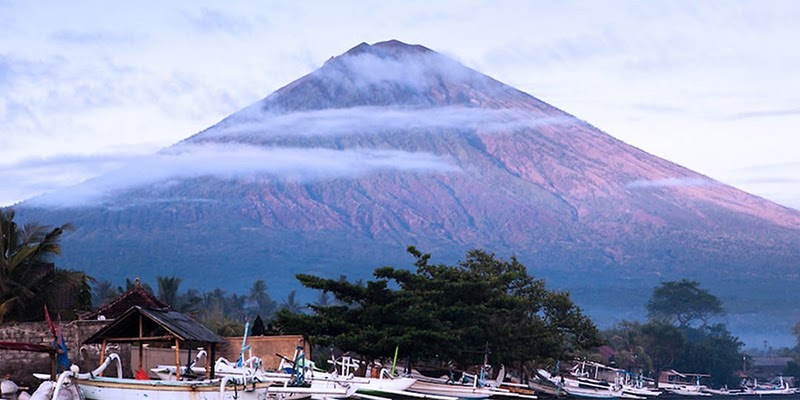 Continuing on that last part, here are some of the things you can do in East Bali:
Trekking mountains
With three mountains being located in East Bali, you have a lot of opportunities to visit and enjoy each of them. Whether it would be from far far away or to reach its top and enjoy the sun. To get you started, here are some example tours you can join up!
Mount Batur and Mount Agung Trekking by Bali Sunrise Trekking and Tours.
Bali Sunrise Trekking and Tours offers trekkers from novice to seasoned an experience of a lifetime. If you're more of a beginner, then we recommend taking the trips to Mount Batur with them. If you feel like you got what it takes, then challenge yourself with Mount Agung. Visit balisunrisetours.com for more info on awesome mountain trekking opportunities by them.
Religious and Historical Tours
This can go pretty much hand in hand with mountain trekking, as in the hillsides of each mountain there is always a temple dedicated to it. This can be seen with Pura Besakih and Pura Lempuyang for Mount Agung and Mount Lempuyang, respectively. In addition to religious ceremonies being held in these places, you can also enjoy the majestic view of mountains. Take the one in Pura Lempuyang for example, where you can visit a beautiful picturesque spot called 'Heaven's Gate'
There are also other notable, one-of-a-kind spots you can visit while living in East Bali, mostly quiet scenic villages and beaches. Some of these places include:
Tirta Gangga
Amed Beach
Padang Bai Village
Candidasa Village
Blue Lagoon beach
Read also: 8 Budget Restaurants in Kuta with Delicious Dishes
Recommended villas in East Bali
Now that you figured out what East Bali is like, here are some recommended villas that might pique your interest.
1. Villa Campuhan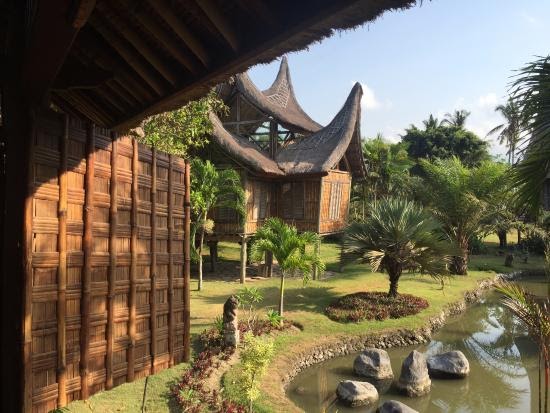 Let's start off our list with something fancy, shall we? One of the most luxurious and variative accommodation in East Bali, Villa Campuhan has a range of different villas to accommodate your aesthetic and functional needs. They have a few villas, but this time we'll be focusing on Villa Lumbung. This 300-400 USD per night (Depending on the season) Villa is your dream romantic escape personified. Private bedroom with one King-Sized Bed, a minang-inspired architecture, and a beachfront view of the ocean, this place will make you feel the love for the night you stay here.
Location: Jalan Pura Mashina, Karangasem, Kec. Karangasem, Kabupaten Karangasem, Bali 80811
Contact number: +62 818-0538-6053
Reservation: villacampuhanbali.com
2. Aashaya Jasri Resort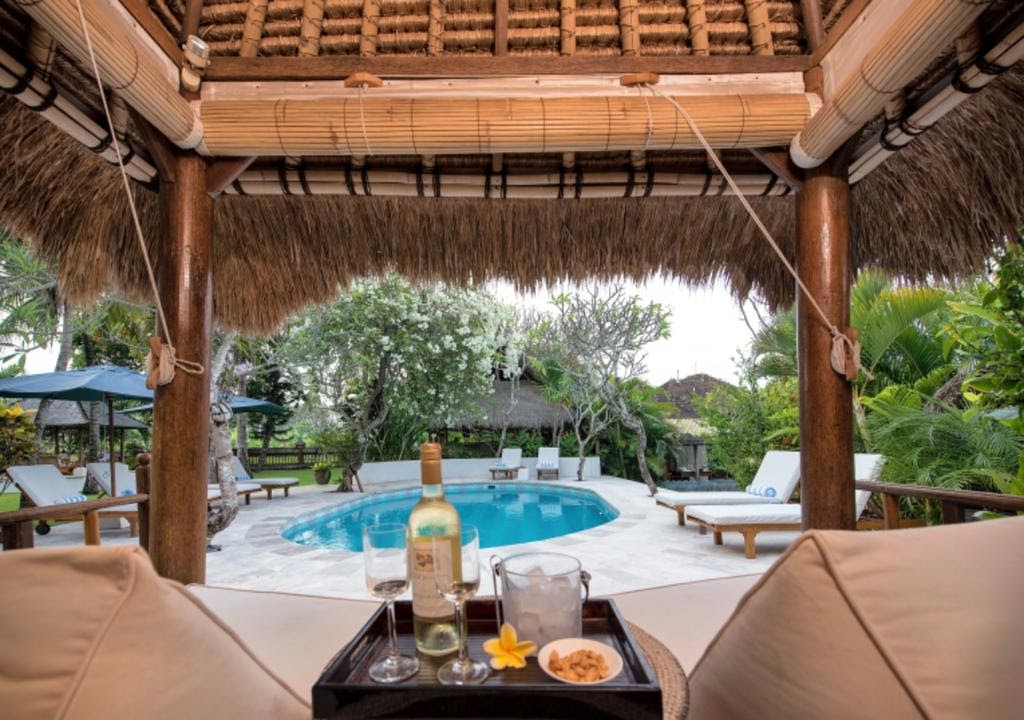 Moving on, we have Aashaya Jasri Resort who offers a short distance walk to photogenic Jasri Beach. They have many accommodations, a resort dining, and a spa. So, you won't need to go anywhere for extra service. From a slew of their accommodation, we chose Villa A kecil with 900 thousand Indonesian Rupiah per night. Featuring a double bed, en-suite bathroom and toilet, Wi-Fi, and Air Conditioning. If you value tranquility and love soothing designs, then this villa in the East Bali might be for you.
Location: Jl. Pantai Jasri, Amlapura, Subagan, Kec. Karangasem, Kabupaten Karangasem, Bali 80813
Contact number: +62 363 21054
Reservation: jasriresort.com
3. The Griya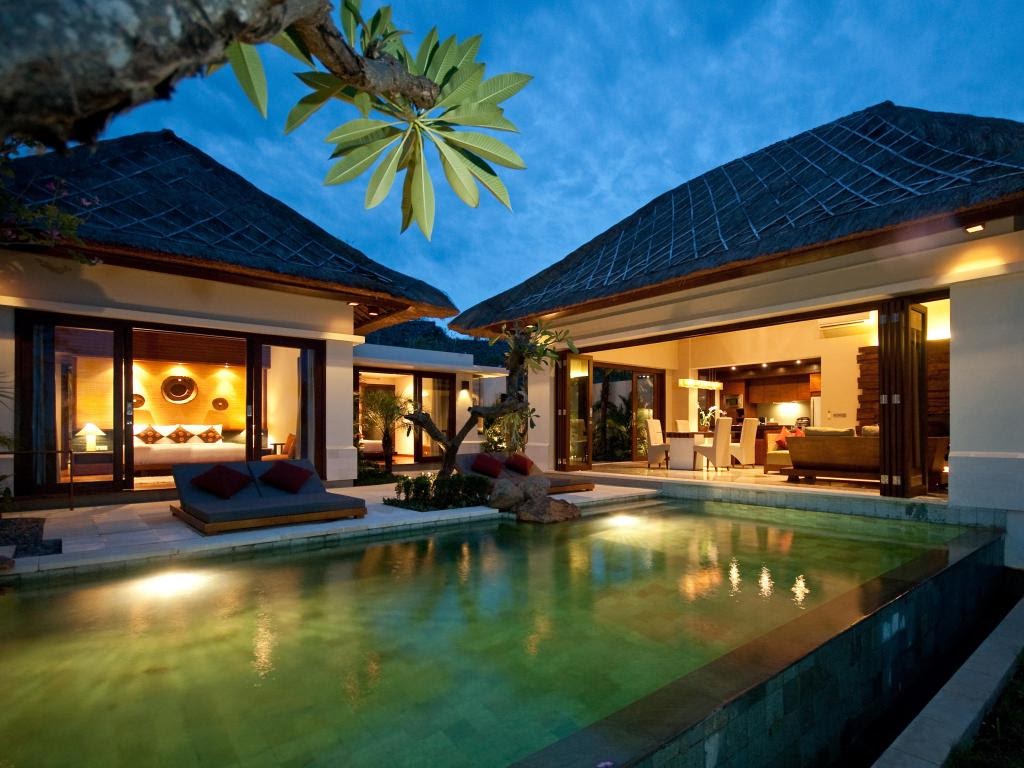 Another luxurious addition to the list, the griya offers more than just a villa. They offer a range of facilities focusing on dining and wellness. From Yoga, Reiki, various meditation practices, a spa, a cafe, a rooftop lounge, and many more. For the accommodation, there are a lot of choices but we particularly picked the 2 bedroom villa which costs more or less 4 Million rupiah for a maximum 5 persons per night. Enjoy a fully equipped kitchen, a scenic view, swimming pool, and more in East Bali!
Location: Jl. Raya Bunut, Bunut, Abang, Kabupaten Karangasem, Bali 80852
Contact number: +62 821-4500-7161
Reservation: thegriya.com
4. Villa Hidden Jewel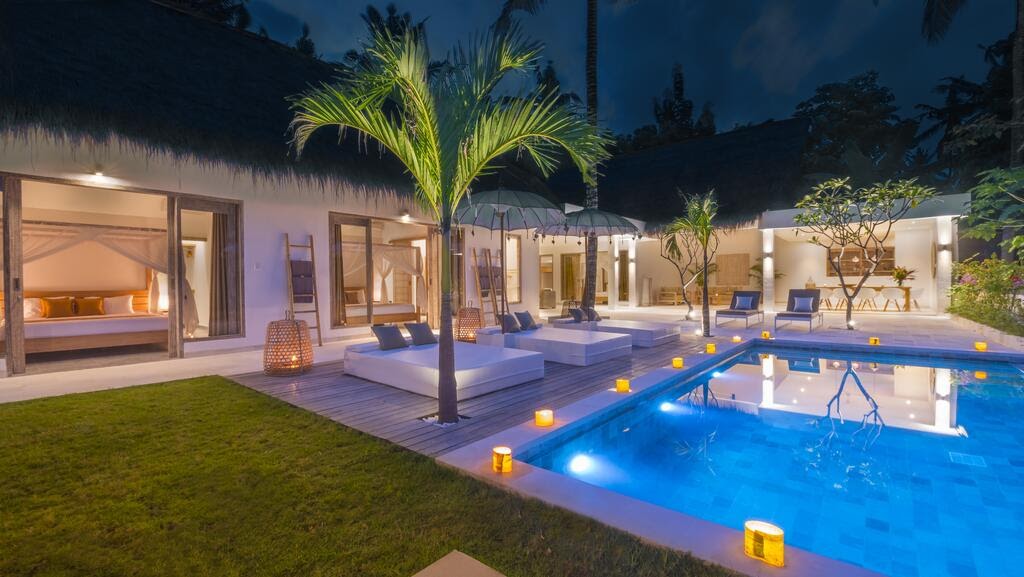 If other places emphasize quantity, then this villa in East Bali emphasizes quality. This could belong to you and you only for 110 Euros. Facilities include 5 bedrooms and 3 semi-outdoor bathrooms. In addition, You will get a private cook and butler just to add to the feeling of exclusivity! Going in a big group? Then just book here!
Location: Desa Buitan, Manggis, Karangasem Regency, Bali 80871
Contact number: +31 6 17144861
Reservation: www.villahiddenjewel.com
5. Palm Terrace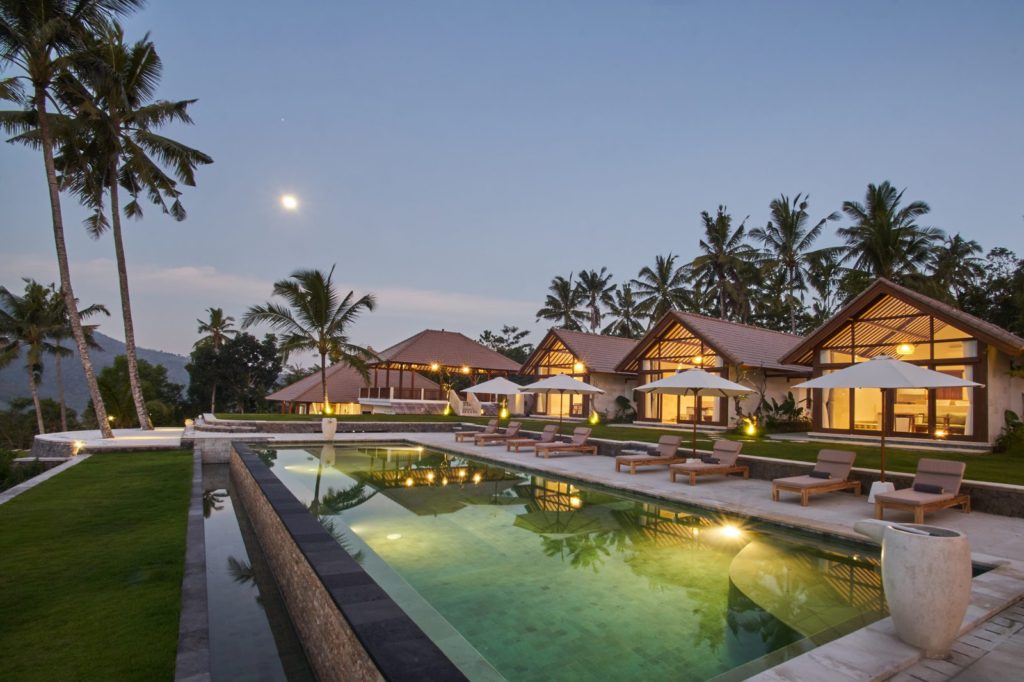 With a nice scenic view of palm trees and mountains, Palm Terrace will give you the privacy and seclusion you need. If you book the two-bedroom master house for 2.5 Million Rupiah, you can enjoy premium facilities such as 1 king sized bed and two single beds, a private garden with a sofa, bathtub in your bathroom, and various other amenities.
Location: Banjar Abang Kelod, Abang, Kabupaten Karangasem, Bali 80852
Contact number: +62 812-3611-9702
Reservation: palmterracebali.com
6. Amed Beach Villa
Amed Beach Villa mainly offers spacious rooms with a good view of Amed beach or the mountains in East Bali. their prices range from 500 thousand to 1 Million Rupiah. All of their rooms have 2x free breakfast for those who visit! Located in Amed Beach, this Villa offers different rooms for your stay. One highlight that we have is the amazing view of East Bali that they have.
Location: Purwakerti, Abang, Kabupaten Karangasem, Bali 80852
Contact number: +62 812-3827-0444
Reservation: amedbeachvilla.com
7. Villa di Bias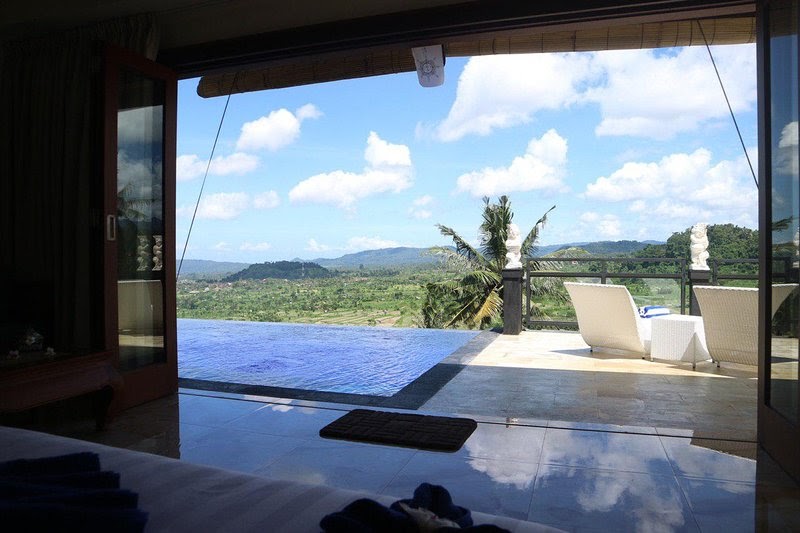 You can get a very affordable price range here for 1 bedroom with a private pool, only ranging between 112 USD-157 USD depending on the season. In addition to the bedroom and the private pool, you'll get a gazebo and a spectacular view of the Balinese countryside. There is also a luxurious bathroom, and a meal service where they will make or deliver food from nearby restaurants!
Location: Jl. Raya Ababi, Ababi, Abang, Kabupaten Karangasem, Bali 80852
Contact number: +62 812-3706-2602
Reservation: villadibias.com
Read also: 10 Online Groceries Bali: Fresh Products into Your Doorstep
And there you have it! We have given you what to expect when living in East Bali while also providing you some appetizers for you to search for your ideal dream getaway. We hope you find this guide to the best villas in East Bali pretty useful. Keep up to date with us to know more about lifestyle and living in Bali! Cheers!