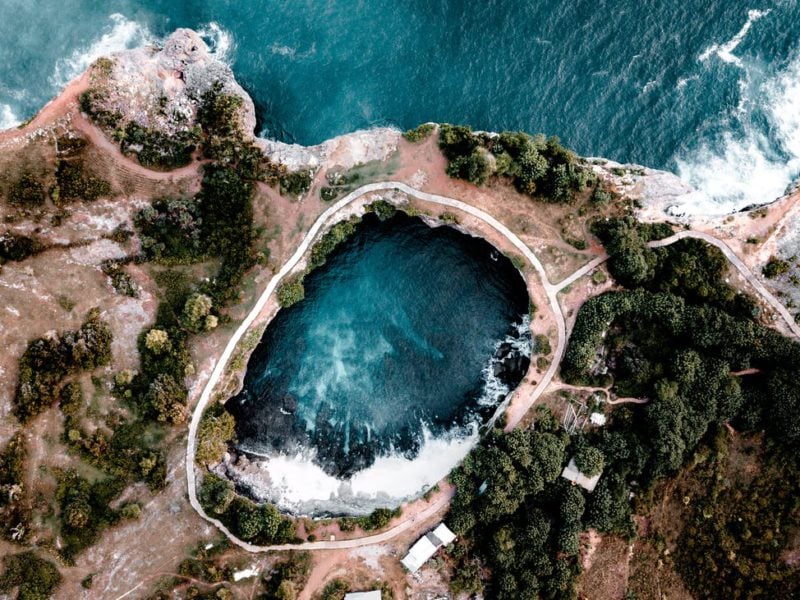 Traveling in Bali can sometimes be quite difficult if you don't know the way to go or don't have the right transportation. Some people solve this problem by traveling by motorbike, either rented or own motorbike. If you are interested in exploring exciting Bali tourist destinations you can reach by motorbike, here are some recommendations that you can try!
1. Penglipuran Traditional Village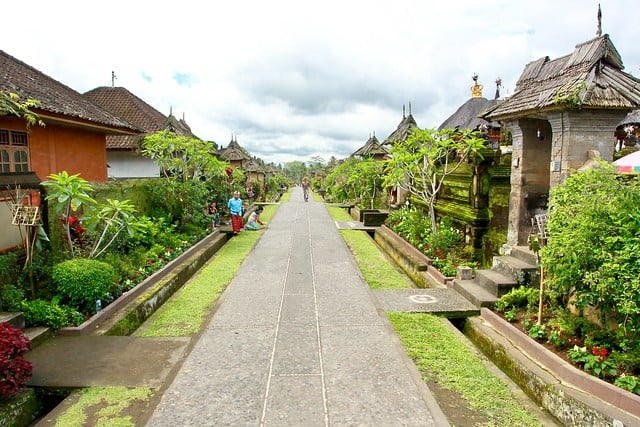 Source: traverse.id
The name 'Penglipuran' comes from the words 'pengeling' and 'pura' which means 'remembering the ancestors' because of the characteristics of this village which still preserves most of their old culture. For example, the uniformity of each house in the village which is almost similar but not the same. You can get a unique experience by traveling by motorbike here.
This village is about 45km from Denpasar and is located in Kubu Village, Bangli, Bali, also close to Kintamani. It is suitable for those of you who are looking for a unique vacation spot and away from the busyness of the modern world. Some of the activities you can do here include dance lessons, learn about Balinese culture, beliefs, social life, and so on.
2. Jatiluwih Rice Terrace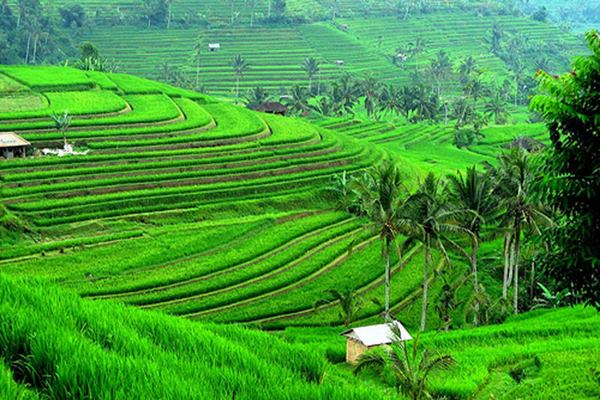 Source: bali.bisnis.com
With an area of ​​6.36km, this rice field is the largest terraced rice field in Bali. This rice field irrigation uses Subak irrigation which is a traditional Balinese irrigation system based on the community and has a temple to worship the goddess of prosperity or the goddess of fertility.
You can enjoy views of the river, temples, or people's houses that are still simple here. Many visitors also use bicycles or cars to get around the rice fields. There are also rafting games nearby for those of you who want a more challenging activity.
3. Bolong Beach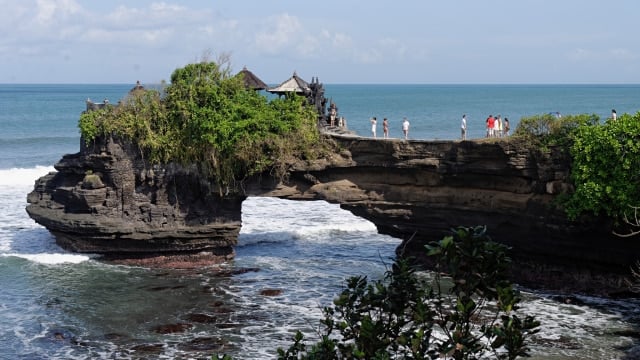 sumber: kumparan
Tourists from Germany, Sweden, and Australia really like this beach because the waves are suitable for surfing. Apart from the waves, you will also find various hotels, villas, shopping places, spas, restaurants, bars and paved roads in the vicinity. The beach is also only 30 minutes from Kuta but not as crowded as the area, so you can drive more freely.
Almost the same as Tanah Lot, Bolong Beach also has a Hindu temple on the beach and is filled with black rocks along the coastline. The name of this beach itself is taken from the Batu Bolong Temple in Canggu on the beach.
4. Air Terjun Kanto Lampo Waterfall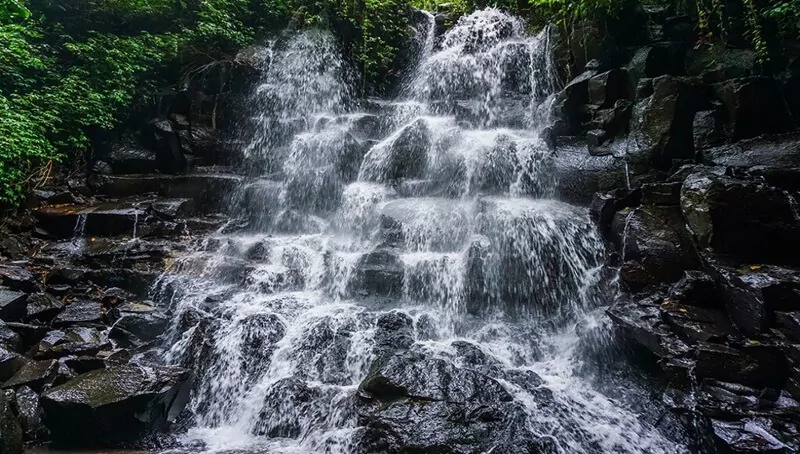 source: nativeindonesia.com
This tourist attraction is located in the lowlands, so it is not difficult to access for visitors. What's interesting about this waterfall is the stratified shape of the rocks, while the name Kanto Lampo comes from the thick trees around the river. This waterfall is also considered sacred by the indigenous community and is used for the ceremonies of Dewa Yadnya and Mendak Toya Ning.
The location of Kanto Lampo Waterfall or Kanto Lampo Waterfall is in Banjar Kelod Kangin, Beng Village, Gianyar District, Bali. You can access this waterfall from Denpasar with a distance of about 30 km, and is 1 km from Gianyar City Park. This attraction also has a large parking area, toilets or showers, separate changing rooms, and a cafe in the area before the location to maximize your comfort.
5. Tukad Bangkung Bridge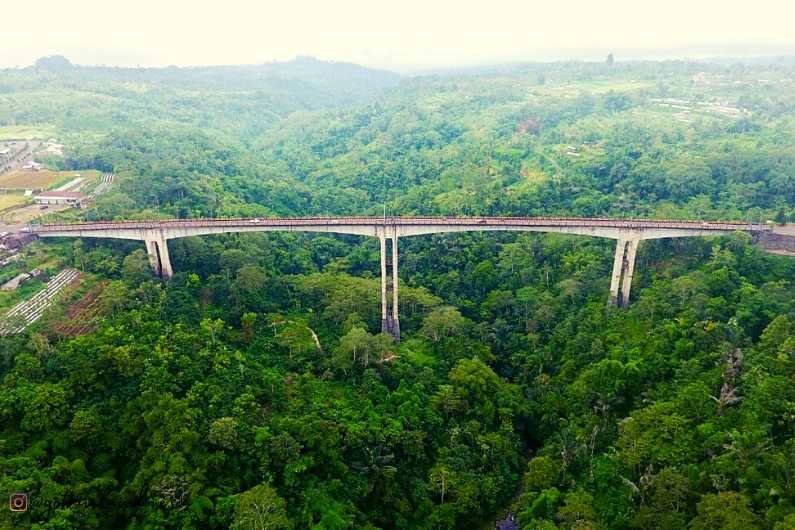 source: gotravelaindonesia.com
Although not as popular as the beaches of Bali, the Tukad Bangkung Bridge is no less great. The bridge which is claimed to be the highest bridge in Southeast Asia has a height of up to 71.14 meters, with a length of 360 meters and a width of 9.6 meters to connect three districts namely Badung, Buleleng, and Bangli.
Tukad bench itself is built with 'balanced cantilever' technology which is expected to extend the service life of this bridge up to 100 years. The construction of this bridge itself is estimated to be earthquake resistant up to 7 on the Richter scale. What's more, the bridge was deliberately designed without a roof so that residents and tourists can see the surrounding scenery. Tracing the length of this bridge by motorbike will be an experience in itself for you. You need about 80 minutes drive from Ngurah Rai or 56 Km from Denpasar City to access Tukad Bangkung.
6. Bunut Bolong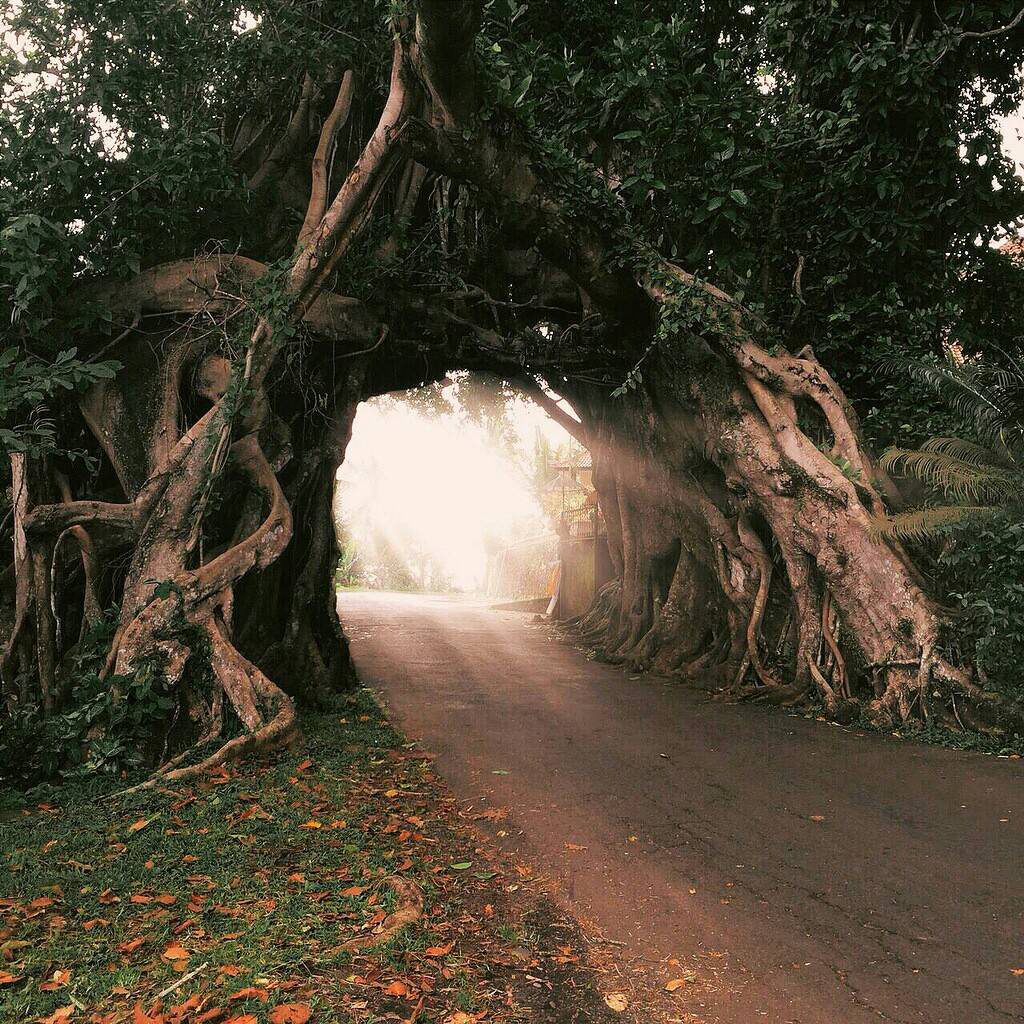 source: ksmtour.com
As a tourist attraction with magical value, Bunut Bolong has its own exoticism. This location is believed to have magical powers and is a place where ancestral spirits reside. Bunut BOlong is located in the Manggisari Village area, Pekutatan District, Jembrana Regency, Bali. From Denpasar City the distance is about 86 km, and can be reached by motorbike in 2-3 hours.
Bunut Bolong is a sacred and unique tree that has a hole in its trunk and is located right on the road. Bunut is a tree that has similar characteristics to the banyan tree, but the roots that hang from the trunk that directly touches the ground become new trunks with beautiful curves. The name of this tree comes from the unique hole in the middle that resembles a passage. This hole is large enough for vehicles to pass freely.
7. Monkey Forest Ubud
source: dolanyok
This forestry has become one of the iconic tourist attractions of Ubud and Bali. Monkey forest Ubud is also a protected forest area that has a sacred Hindu temple, Pura Dalem Agung Padangtegal. Upon entering the location, you will be immediately greeted by fresh air and tall green trees. From Ngurah Rai airport, Ubud monkey forest is only 36km away which you can travel for 1 hour 15 minutes.
In this protected forest, you will meet many supervisors to monitor the safety of the monkeys and your comfort. Furthermore, you will be advised to keep valuables such as earrings, glasses and cell phones in your bag so as not to attract the attention of the monkeys. There is a path that has been provided for visitors so that you avoid the monkey eating zone.
8. Batur Lake
source: kintamani.id
In Kintamani, Bangli Regency, there is Lake Batur which blends harmoniously with Mount Batur and the green hills that surround it. It's an exciting bali destination you can reach by motorcycle. The source of this lake water comes from rain water and seepage water from hill and mountain forests. Local residents use this lake for freshwater fish cages and irrigate plantations on the shores of the lake.
A number of activities you can do here are relaxing while fishing and enjoying the beauty of the lake, renting a boat around the lake to further enjoy the surrounding natural beauty, bathing in one of the hot spring pools to experience a natural spa, recreational watersports, camping, crossing the lake and enjoying tours. unique to Trunyan village.
9. Melasti Ungasan Beach
sumber: Instagram/tropicexplorers
With an asphalt road that buys limestone hills to this beach, you can access Melasti Ungasan Beach easily. If you are at the top of the beach cliff, you can see the beauty of the beach as a whole. This view is often used by the bride and groom to take pre-wedding photos.
Melasti Beach is located on the Bukit Peninsula. This beach has white sand with a coarse grained texture, similar to the texture of the sand on the Pandawa Kutuh beach. It's just that the shoreline is not as wide as the Pandawa beach. The widest shoreline on Melasti beach on the Bukit Peninsula, Ungasan is on the west side. While the shoreline on the east side is not too wide.
10. Big Garden Corner
source: traveloka
The tourist attraction of Big Garden Corner Sanur is a stone art gallery and sculpture garden, but the nuance is very different from other sculpture galleries. Big Garden Corner is one of many exciting bali destinations you can reach by motorcycle. It has many statues, replicas of statues and miniatures of Borobudur temple as high as 5 meters, small tree houses, wooden walkways and tree trunk roofs, seats, walkways with colorful umbrella roofs, restaurants and children's playgrounds, and spacious parking lot. This place is quite popular among teenagers as an instagrammable photo spot.
11. The Keranjang Bali
source: hipwee.com
Finally, before you return, of course it's not complete if you don't bring Balinese souvenirs. One of the best places to buy souvenirs is The Basket Bali. As the name suggests, the building of this place is shaped exactly like a basket. You can find this shop at Jalan By Pass Ngurah Rai No.97 and Jalan Raya Kuta No.70-72, Kuta, Badung Regency, Bali.
Apart from the unique exterior, the interior of this shop is no less beautiful. With colorful nuances and photogenic designs, you can also take pictures inside the shop. There is also a Kampung Langit indoor ride on the top floor of the building with the concept of Tri Hita Karana, which is life that respects God, fellow living creatures, and the surrounding environment. In this ride, you will find Saba Theater, Batik Class, Spa, Kebon Coffee, Paon Loloh, and Goerih Restaurant.
Here are 10 recommendations for exciting Bali tourist attractions that you can visit by motorbike, along with 1 of the best gift shops you can find in Bali! Which tourist attraction will be your favourite?
---
Hungry after the whole day of exploration? This article is going to direct you to the hottest food venues in Bali!