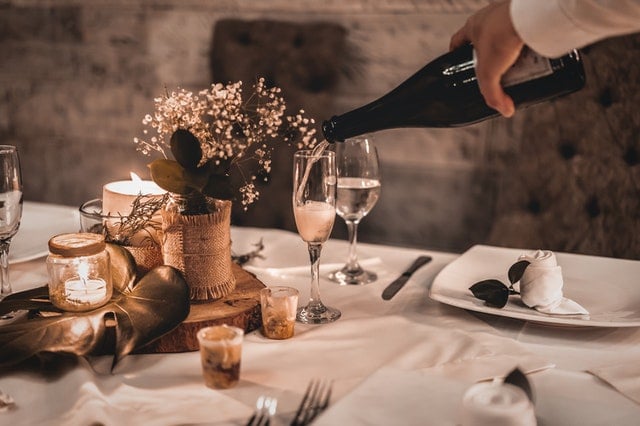 Bali
6 Recommended Best Fine Dining Restaurants in Ubud Bali, Super Classy!
A great fine dining experience must at least leave those who had it feeling satisfied not only about the food but also the ambiance of the restaurant itself. Especially, if you are on vacation in such a lovely place like Bali and would love to have a memorable fine dining moment. There are many beautiful small towns in Bali and Ubud is definitely one of them. Being surrounded by rainforest and terraced rice paddies, dotted with Hindu temples and shrines, Ubud is famous for its magnificent landscapes. With that said, it would be a great loss not to experience a wonderful dinner in any of these recommended best fine dining restaurants in Ubud.
Read also: 5 Recommended Best Brunch Spots in Ubud
That's why it is always important to choose the right restaurant that will live up to your expectations about fine dining. And here, Flokq has garnered several recommended best fine dining restaurants in Ubud that you can visit later. Let's check them out in the following list below!
1. Kubu at Mandapa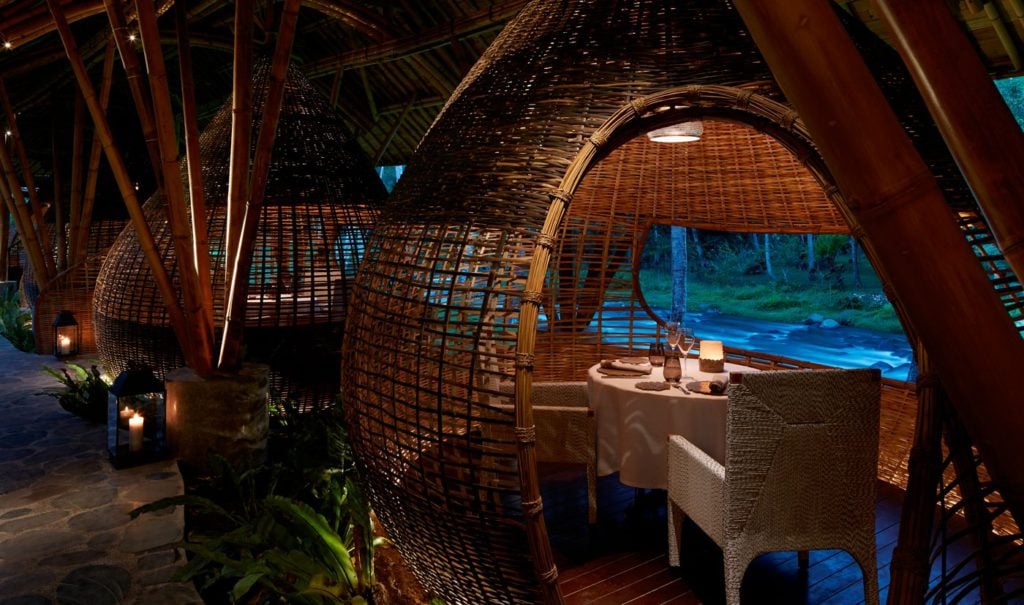 Serving Mediterranean-European cuisine in the option of A la Carte or degustation menus, Kubu at Mandapa is a fine dining restaurant that's worth visiting. If you are currently on a special diet program, they also offer vegan and gluten-free options on their menu. Additionally, if you wish for romantic fine dining with your partner or significant other, Kubu at Mandapa might be the perfect place for you. This restaurant provides 9 private cocoons overlooking the Ayung river for you to feel the tropical breeze and the soothing sound of water while enjoying your best meals of the night. They also serve an extensive list of European wines that will make your fine dining experience even more special!
2. BLANCO par Mandif
Of course, we need to include BLANCO par Mandif when we talk about the recommended best fine dining restaurants in Ubud. This restaurant presents a different approach to Indonesian Heritage Cuisine. Their menu leans more towards seafood, with few meat options, since they reflect the Indonesian archipelago. They offer vegan and gluten-free meals as well. However, those special dietary options are available upon prior request only (1 x 24 hours). Moreover, since their seating capacity is limited, you better make a reservation in advance to secure a table. BLANCO par Mandif also serves various types of alcohol, beer, and wine to complete your lovely fine dining experience.
3. Restaurant Locavore
Craving tasty meals that are served with a different concept in one of the recommended best fine dining restaurants in Ubud? Restaurant Locavore must be the best place for you. To experience great fine dining here, you need to secure a table by making a reservation first. Restaurant Locavore serves modern, contemporary European cuisine using local, seasonal ingredients. They focus on a series of set tasting menus; 5-course or 7-course in either Locavore or Herbivore style. However, if you have a certain dietary preference, you can mention it to them during your booking process. They will happily modify their set tasting menus for you. Also, their cozy restaurant is equipped with a free WiFi network.
4. Cascades Restaurant Ubud
Looking for a spectacular spot for a memorable fine dining experience? Then, you should consider visiting Cascades Restaurant Ubud. Perfectly positioned atop Gunung Kawi, also known as Bali's "Valley of the Kings", you'll definitely get to witness the beauty of the tropical valley views. They serve gourmet traditional Indonesian dishes alongside Western classics. In addition to that, they have a fantastic wine list that will be perfect for your dinner. Furthermore, Cascades Restaurant also provides live music that is surely going to entertain you all night long and make your fine dining experience even more precious.
5. Apéritif Restaurant & Bar
With their 8-course degustation menu that brings together global flavors of modern gastronomy, lesser-known Indonesian ingredients, and exquisite produce, Apéritif Restaurant & Bar should be listed as one of the recommended best fine dining restaurants in Ubud. Moreover, you can enjoy a fine selection of cocktails, wine, and whiskey as a pre-dinner aperitif or late-night tipple at the bar. Not to mention the beautiful view that you'll get to enjoy while having dinner here. Especially, since Apéritif Restaurant & Bar is set overlooking a jungle valley setting. This place is the perfect choice if you look for a lovely romantic fine dining experience.
6. Bridges Bali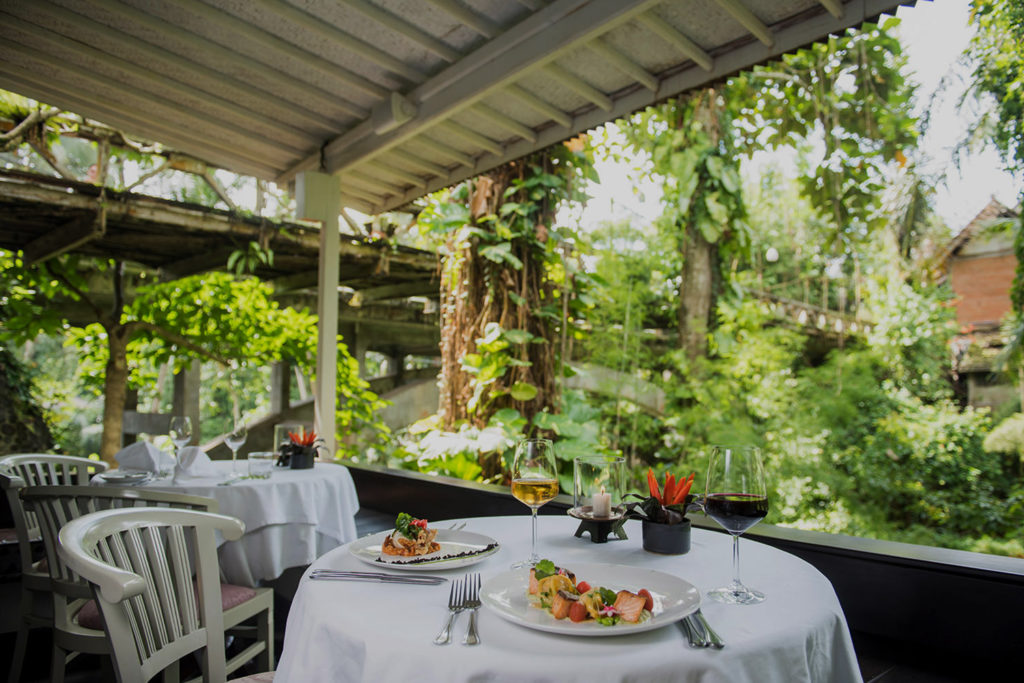 Without any doubt, Bridges Bali is one of the recommended best fine dining restaurants in Ubud. You can taste a sample of their signature dishes such as Seared-Scallops, Pan-seared Wagyu, Thai-style Barramundi, or Cajun Chicken on the A la Carte and BBQ menu. Besides that, they also provide vegetarian-friendly, vegan options, and gluten-free options for you who have dietary restrictions. Fine dining wouldn't feel as complete without a selection of fine wine or cocktails. Last but not least, your special fine dining experience will be accompanied by some live music provided by this beautiful restaurant with a nice ambiance. Bridges Bali is surely worth visiting!
That's all the 6 recommended best fine dining restaurants in Ubud, Bali, that you can choose later. To make sure you get a table, it is strongly recommended to make a reservation first in each restaurant above. However, after getting a glimpse of those fine dining restaurants, which one piqued your interest the most?