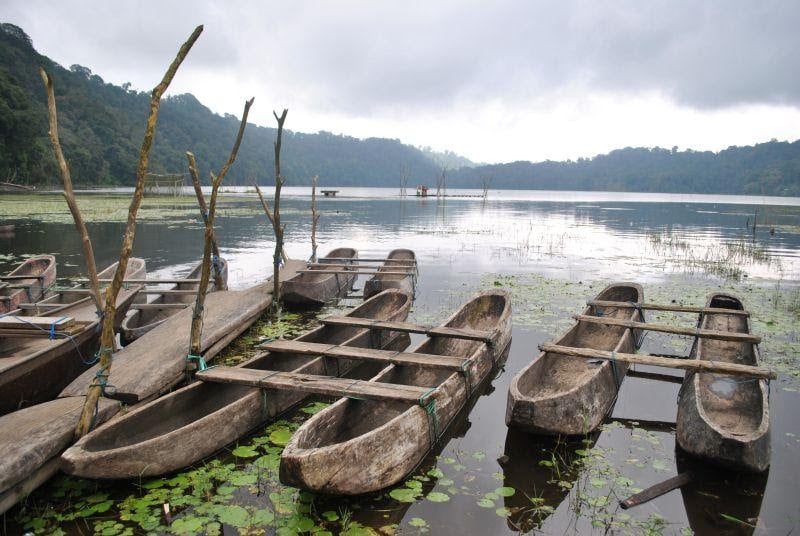 When you hear the word 'Bali', the beaches might come to your mind first. But besides the beaches, you can also find other natural tourist destinations, one of which is the lake. Although not as famous as the beaches, some lakes in Bali are no less interesting to visit, and they have stunning views you can enjoy!
Here are our picks of the top 5 beautiful lakes in Bali!
1. Lake Batur
The first lake that has stunning charm in Bali is Lake Batur. Located in Kintamani, this lake should be included in your travelling wishlist when visiting the Island of the Gods.
Not only is the natural panorama that makes you feel at home, but this lake also has its own romance, especially at sunrise or sunrise. The beauty of this lake will surely stun you.
The source of water from this largest lake in Bali comes from rainwater and water seepage from hill and mountain forests. Residents commonly use Lake Batur for freshwater fish cages. The water is also used for irrigating plantations by the lake such as shallots, cabbage, chillies, and tomatoes. This lake is indeed a double benefit apart from being a tourist destination as well as for irrigating people's plantations.
In addition to presenting exotic natural panoramas, Lake Batur also has a hot spring that is being hunted by tourists, which is the Toya Bungkah Hot Spring. The existence of the hot spring adds to your reason for visiting Lake Batur, even on the shores of Lake Batur you can find a campsite.
2. Lake Beratan
Apart from Batur, Bali also has another exotic lake, which is Lake Beratan. Located not far from the Candi Kuning Bedugul Market, this lake offers the charm of natural beauty that is so romantic through the presence of Pura Ulun Danau Beratan.
The existence of the temple seems to be floating, looks beautiful and blends in harmony with the natural surroundings of the lake. The charm of nature offered is very interesting, instagramable, and beautiful.
It is so beautiful that Ulun Danu Temple becomes a picture on the IDR 50,000 denomination. There are also several other activities you can enjoy here, such as taking a boat or fishing around the lake.
3. Lake Buyan
Shifting to the North Bali region, there is a lake that you don't have to doubt its beauty. It is Lake Buyan, a lake located in Sukasada District, Buleleng Regency, which has an extraordinary attraction.
The 490-hectare lake is still very beautiful, even tourists can easily find a herd of long-tailed monkeys. Not only that, this lake has a stunning panoramic view from above.
Lake Buyan is surrounded by tropical forests, with a field that is often used for outing activities, such as camping events. Natural tourism here is also functioned by locals for nature adventure activities. Such as trekking in the tropical forest around the lake, from Lake Tamblingan to Lake Buyan.
For local people, Lake Buyan is also a source of irrigation because it has a lot of water discharge. In addition to irrigation, this lake is used as a place for cultivating consumption fish.
---
Also read: 16 Breathtaking Waterfalls in Bali You Must Visit!
---
4. Lake Tamblingan
Still in the Buleleng area, Lake Tamblingan is one of the lakes that cannot be missed while on vacation in Bali. Its adjacent location makes Lake Buyan and Tamblingan often referred to as twin lakes.
Lake Tamblingan offers natural tourism which is not for commercial or modern design, such as Lake Beratan which is now one of the most popular tourist destinations in Bali. Tamblingan Lake is more designed for spiritual tourism with beautiful natural treats and dense forests around it, the atmosphere is calm, comfortable and away from the crowd, so that the audience can relax more and freely enjoy the green nature around it.
Lake Tamblingan is also usually used as a place for taking pre-wedding photos by couples who are getting married. Besides that, at night, this lake is also the right place to hunt for Milky Way photos.
Interestingly, around Lake Tamblingan there are also 11 temples which add to the beautiful panorama of the lake. In fact, two of the temples are said to be relics of the Hindu kingdom since the 10th century BC.
5. Lake Yeh Malet
Finally, in Karangasem, Bali you can find another beautiful lake, namely Yeh Malet Lake.
This is because Yeh Malet Lake has water hyacinths that have purple and white flowers and look beautiful when they are in bloom. In addition, there are water hyacinth flowers that are shaped like the words 'I Love U' and make it even more romantic.
The lake which is located in Banjar Yeh Malet, Antiga Kelod Village, Manggis District, Karangasem has become one of the Instagramable spots in Bali because of its beauty.
---
Also read: Getting Around Bali with These 8 Public Transportations!
---
Those are the 5 lakes in Bali that offer a sensation of beauty and a different atmosphere. Hope this article helps you and see you in Bali, Flokqers!
Click Here to Find Your Bali Home