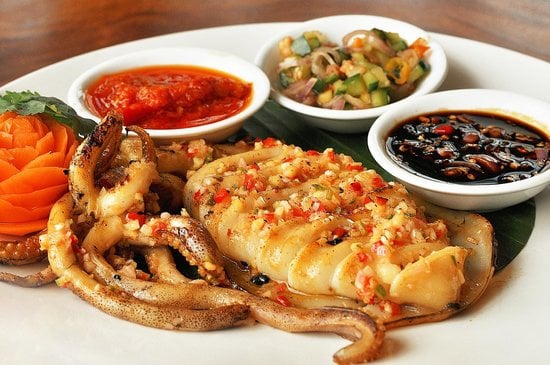 Bali
10 Best Affordable and Delicious Restaurants in Nusa Dua
As we all know that Nusa Dua is famous for its upscale exclusive bars, 5-star resorts and hotels, and luxury restaurants. Indeed, Nusa Dua was designed exclusively. However, we are sure that there are still many tourists who are looking for cheap places to eat in Nusa Dua. The question is "Are there cheap places to eat in Nusa Dua?" The answer is "Yes!" In fact, there are many delicious restaurants in Nusa Dua. They are not only delicious but also offer affordable prices.
So, here are the 10 restaurants in Nusa Dua that we recommend for you who have a budget vacation in Bali.
1. Nusa Dua Beach Grill
The first restaurant on this list is Nusa Dua Beach Grill. This is one of the cheapest restaurants in Nusa Dua, Bali. This restaurant is located on Geger Beach. Therefore, this restaurant offers a view of the beach.
Apart from that, Nusa Dua Beach Grill also offers you seafood and grilled meats in large portions and at affordable prices. Try ordering Red Crab Fettucine with White Wine Sauce, one of their best menus.
2. Matsuri Japanese Restaurant
If you want sushi, then you can go to the Matsuri Japanese Restaurant. Usually, Japanese cuisine is expensive, but it will be different if you go to Matsuri. This place offers a wide selection of Japanese dishes.
How about the price? Don't worry, it's affordable! This restaurant is very popular in Nusa Dua. Our recommendations are tuna sushi, salmon roll sushi, Maki sake, and Gyoza. The price is cheap and the place is also very aesthetic.
3. Restoran Pizza Nusa Dua
Pizza will always be our go-to choice when it comes to food. Children will certainly like this choice too. In Nusa Dua, you can go to the Pizza Nusa Dua restaurant. There you can eat authentic Italian pizza. There are classic and contemporary flavours too.
To achieve a different taste in pizza, this restaurant cooks pizza on a wood fire. Our recommended menu here is Pizza Hawaii.
4. Restoran Ketut BBQ's Kitchen
For those of you who want to try Indonesian cuisine, Ketut's BBQ Kitchen restaurant is highly recommended.
The reason why people come to this place is because of the large portions of food. The portions are worth the price as you also get big meat with high-quality ingredients.
5. Warung Bule dan Susy
This restaurant is loved by many locals and tourists. The food is very affordable and there are many amazing dishes too. You can get a plate of classic fried rice for only USD 2!
If you want a meat dish, you can try roast beef ribs for USD 7. This restaurant is famous for Indonesian dishes such as fish soup, grilled meats and kebabs as well. Warung Bule dan Susy also changes their lineup regularly so that people can enjoy a variety of dishes to try. Our recommendations are tofu, mixed rice, a selection of vegetables, as well as meat and fish served with rice.
6. Warung Dobiel
Warung Dobiel offers traditional Balinese dishes. You can try various local foods such as smoked chicken and pork roll.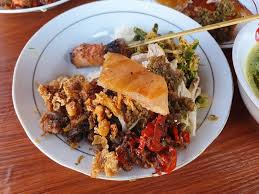 If you want to have fancy food then you can skip this place. However, if you are looking for an affordable place with delicious Indonesian food, then Warung Dobiel is the right choice. This place is also famous for its fresh ingredients. This place is very popular with locals and tourists alike, so you have to be prepared to wait to be seated at a table.
7. Hong Xing Club & Restaurant
Chinese food is always the best if you don't like the local food there and if you need a place to eat at an affordable price too. The typical Chinese restaurant in Nusa Dua is Hong Xing Club and Restaurant.
This place has noodles and dim sum which are famous for their delicacy. This restaurant is very popular with both locals and tourists. Hong Xing is the perfect place for a family dinner. Our recommendations besides the two dishes are the chilli crab with Singapore style, fresh oysters and steamed prawns.
8. Nyoman's Beer Garden
If you eat too much local food and you want to eat western food, then come to Nyoman's Beer Garden. This place offers the perfect mix of Indonesian, Asian and German cuisine.
Those who love European-style food will definitely love this place. Nyoman's Beer Garden has a large selection of foods such as burgers, pasta, sandwiches, sausages, pizza, and many more. You can also choose a set menu such as Asian dishes, seafood, German dishes, or Vegetarian. The menu includes an appetizer or soup, main course, and dessert.
9. Mai Mai
Mai Mai is a great place to have lunch in Nusa Dua. This place has dishes for a cheap price and also they have a lot of delicious dishes that will satisfy everyone.
Mai Mai offers international dishes so you can enjoy a lot of food there. The main highlight of Mai Mai dishes is fresh seafood. In addition, you can select the ingredients and then proceed with the chef's cooking.
10. Bebek Bengil
If you want to eat crispy duck, then Bebek Bengil will be your favourite place to eat. Bebek Bengil is also famous for its Bebek Betutu or smoked duck. It is also one of the famous traditional Balinese dishes.
When looking for a restaurant that serves duck, Bebek Bengil is the best on the island. Bebek Bengil is the Indonesian name of Dirty Duck. Even though the name has the word 'bengil' (dirty) on it, everything you will see and eat at Bebek Bengil Restaurant is very hygienic.
The menu in this restaurant is almost all related to duck. For example smoked duck, crispy fried duck, duck chilli sauce, or duck fried rice. Bebek Bengil is the best food and you can eat crispy duck in Bebek Bengil! But you have to order this meal the day before.
---
Those are the 10 best places to eat in Nusa Dua, Bali. The restaurants are reasonably priced and have delicious food too! See you in Bali, Flokqers!
Click here to read our Nusa Dua ultimate guide!