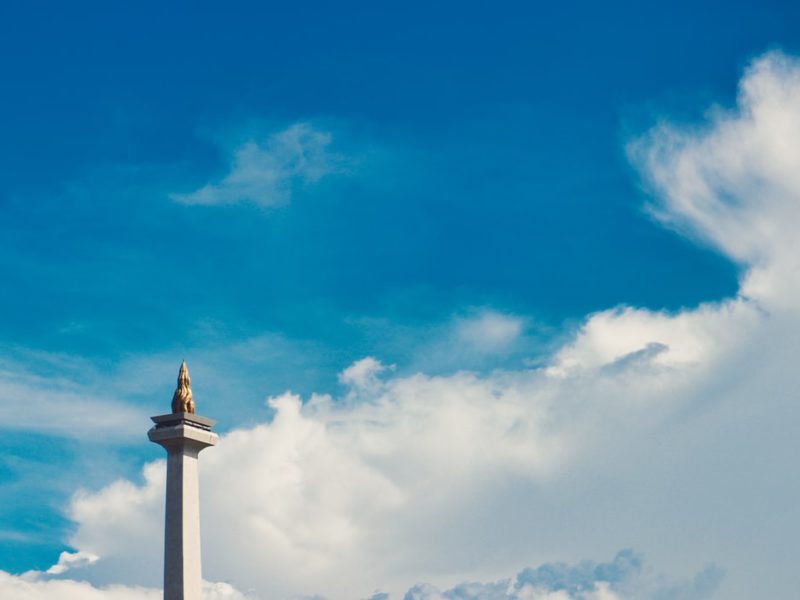 In Jakarta, you'll get to sample away in a bustling metropolis teeming with life and activity. In fact, you'll be surprised that there are a lot of fun things to do in Jakarta that are free! The number of free things to do in Jakarta makes this a perfect destination for anyone, especially for budget travelers.
This list compiles free activities you can enjoy with friends and family if you're traveling on a budget.
Car-free day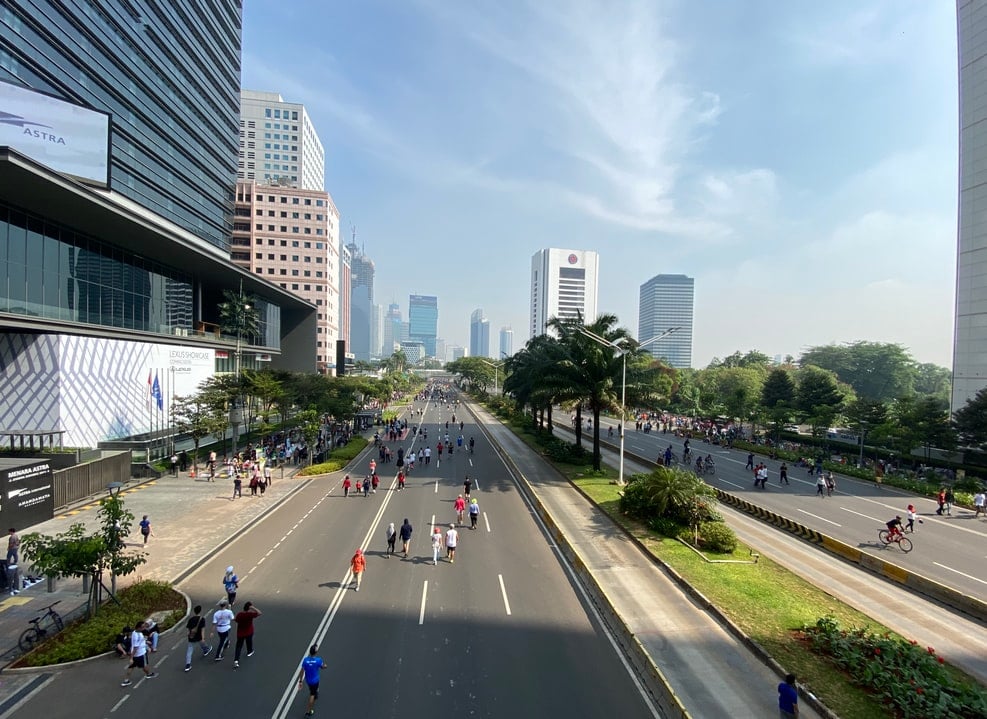 Every Sunday from 6 am to 11 am in Jalan Sudirman, South Jakarta, there will be no motorized vehicle at all. Since it was started in 2007 by the Fauzi Bowo administration, Car Free Day in Jakarta has become a favorite event among kids, youth, and families to exercise and start building a healthier lifestyle.
There's a lot of locals who come for a run, ride a bicycle, and even some people do skate. At the same time, there's a lot of sellers who opened up stalls selling local food, like nasi uduk, pecel, and even coffee!
Want to find a great brunch spot in Menteng after car free day? Click here!
Location: Jl. M.H. Thamrin No.20, RT.9/RW.4, Gondangdia, Kec. Menteng, Kota Jakarta Pusat, Daerah Khusus Ibukota Jakarta 10350
Website: https://www.infocarfreeday.net/
Kota Tua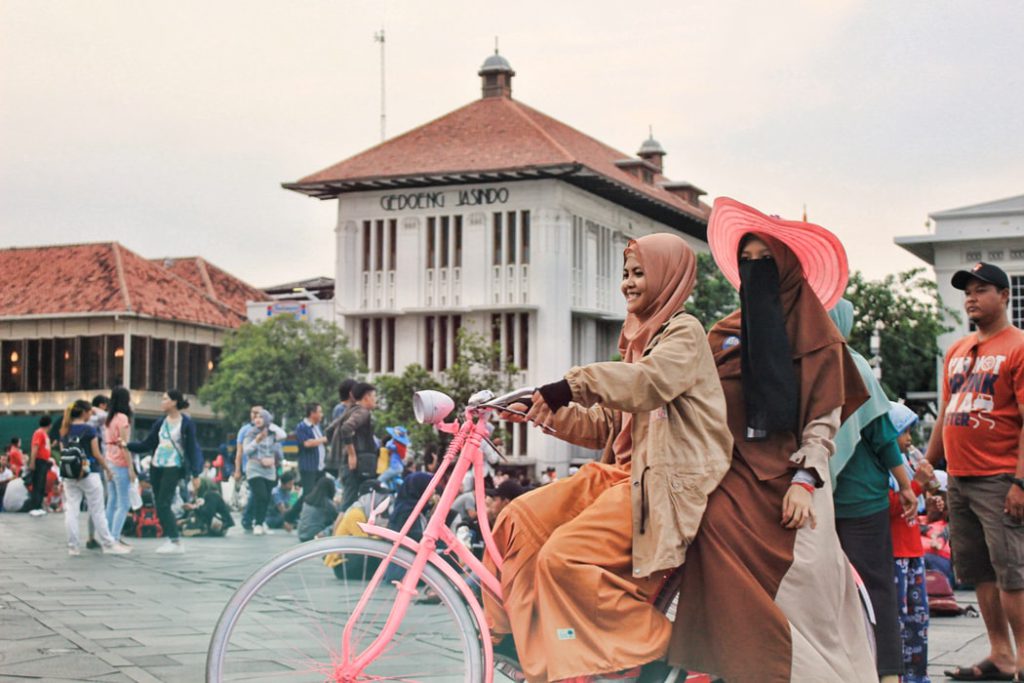 Kota Tua or Jakarta Old Town is a square located in North Jakarta, where you can find a lot of beautiful Dutch historical architecture. All you have to do to enjoy it is walk around and explore the old town area. Many of these buildings have been repurposed as museums, such as the Bank Indonesia Museum, Wayang Museum, Fatahillah Museum, or the Fine Arts and Ceramics Museum.
Also, there's a lot of café and restaurants. Don't miss Café Batavia, one of the colonial landmarks built in the 1830s.
Location: Jalan Taman Fatahillah No.1, Pinangsia, Kec. Taman Sari, Kota Jakarta Barat, Daerah Khusus Ibukota Jakarta 11110
Website: http://kotatua.id/
The National Monument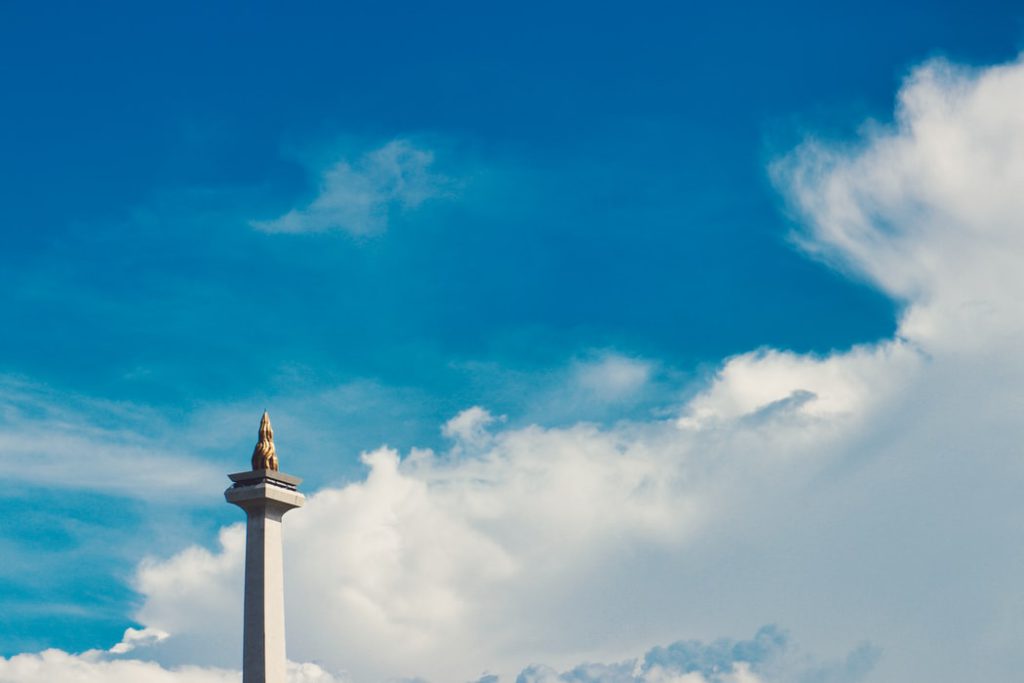 Located in the center of Merdeka Square, Monument Nasional or Monas is a 132 meters tower topped by a flame covered with gold foil, stands magnificently to symbolize the fight of Indonesia and to honor the struggle of Indonesian Independence.
During the Dutch Colonial era the square was called Koningsplein (King's square), and now Monas is a major landmark of Jakarta, and it is a must-visit place!
Location: Gambir, Kecamatan Gambir, Kota Jakarta Pusat, Daerah Khusus Ibukota Jakarta
Website: https://www.museumnasional.or.id/
Pasar Baru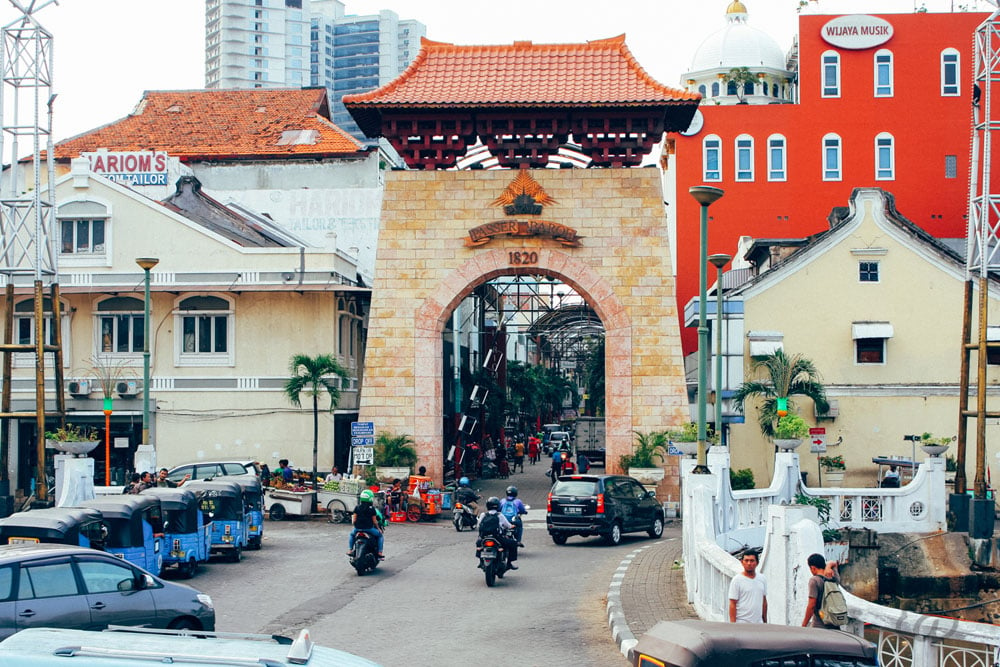 Pasar Baru means a new market, but in reality, Pasar Baru was built in the 1920s under the name Passer Baroe, and it is the oldest market in Jakarta. Located in Central Jakarta, you can come here for a free walk enjoying the many local's family-run businesses here.
The market offers a lot of good Indonesian foods, Batik, and vintage fashions. The unique mix of old buildings and a lively market scene create a wonderful atmosphere to experience, you can still enjoy sightseeing and take photos on the streets even if you're coming home with nothing.
Want to explore other Jakarta's traditional markets? Click here!
Location: Ps. Baru, Kecamatan Sawah Besar, Kota Jakarta Pusat, Daerah Khusus Ibukota Jakarta
Website: http://pasarjaya.co.id/
Istiqlal Mosque and Cathedral Church
The most obvious example of the nation's diversity. Istiqlal Mosque is the largest mosque in Southeast Asia, 4th largest mosque in the world, and has the highest capacity – up to 200, 000 persons at once. Opened in 1978 by the first President of Indonesia Soekarno. This impressive building consists of four floors of beautiful sculptures and surrounded by balconies. World leaders around the world have come to visit this mosque themselves. It is located just next to Merdeka Square and Jakarta Cathedral.
And just around the corner, there's an old catholic church. This cathedral in Jakarta has its unique architecture for a church, somewhat reminiscent of Notre Dame of Paris with its two tall spires. Jakarta cathedral dates back to the Dutch colonial era.
Location: Jl. Taman Wijaya Kusuma, Ps. Baru, Kecamatan Sawah Besar, Kota Jakarta Pusat, Daerah Khusus Ibukota Jakarta 10710
Website: https://istiqlal.id/ and http://www.katedraljakarta.or.id/
Visit Suropati Park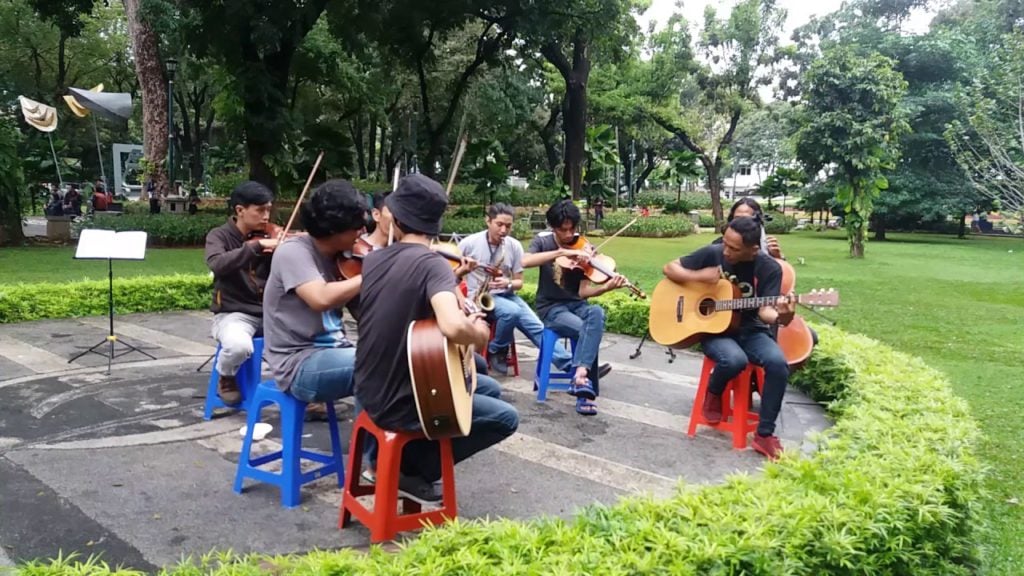 Suropati Park can be found right in the center of Jakarta, located in Menteng. This lush green space is about as central as it gets – and it's free!
Aside from relaxing beneath the trees, you can also enjoy or in with the local music community playing their instruments on the weekends. Popular with joggers, dog-walkers, or just anybody wanting an instant escape from the city life, the park is home for dozens of doves.
Location: Jl. Taman Suropati No.5, RT.5/RW.5, Menteng, Kec. Menteng, Kota Jakarta Pusat, Daerah Khusus Ibukota Jakarta 10310
Stroll Around Chinatown
Chinatown, also known as Glodok, located not so far from Kota Tua. This part of town has a strong oriental atmosphere, signified by the architecture, people, businesses, and, most prominently, gorgeous temples and shrines.
Here, you can find a lot of shops including jewelry, electronics, Chinese restaurants, and traditional herbs medicine stores. Besides, there's a popular iced coffee shop named Tak Kie. The coffee shop has been in business since 1927.
Location: Jl. Gajah Mada, RT.2/RW.1, Glodok, Kec. Taman Sari, Kota Jakarta Barat, Daerah Khusus Ibukota Jakarta 11120
Galeri Indonesia Kaya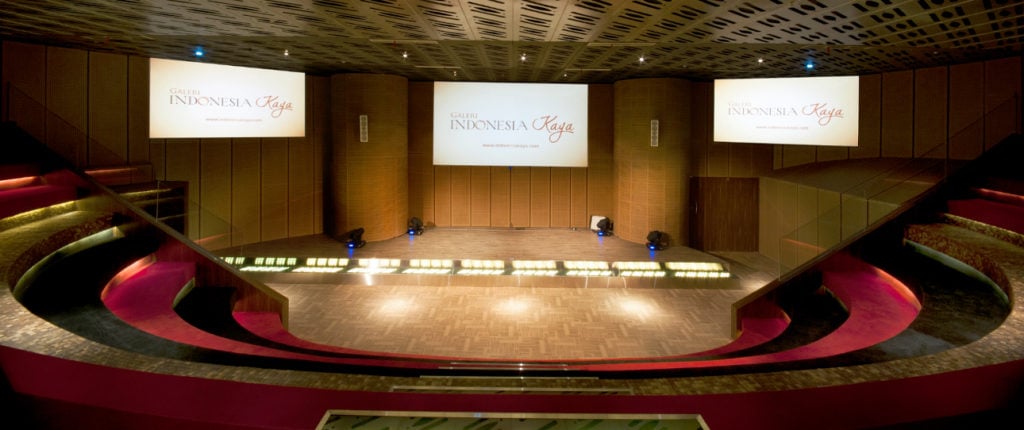 Located on the 8th floor of Grand Indonesia Shopping Mall, beside the CGV cinema. Galeri Indonesia Kaya is a place where you can learn about Indonesian art and culture. Combining education with technology, this place offers various virtual experiences, such as taking pictures using Indonesian traditional clothes without changing your clothes, and you can try to play and listen to any Indonesian traditional music digitally.
There's also a VR where you can explore Indonesia through a virtual map, and play some Indonesian traditional game. This place also has an auditorium, located in the center of the gallery. At the weekend you can enjoy the show in the auditorium. It's free but the ticket is limited. You can book the ticket via online reservation, or just come on the day of the show.
Location: Jl. M.H. Thamrin No.1, RT.1/RW.5, Kb. Melati, Tanahabang, Kota Jakarta Pusat, Daerah Khusus Ibukota Jakarta 10230
Website: https://www.indonesiakaya.com/
And there you have it! All in all, there's plenty of things to do in Jakarta that cost no money at all – you just have to know where to look!
Now, we'd love to hear from you: what are some of your favorite things to do in Jakarta? Let us know in the comments below!