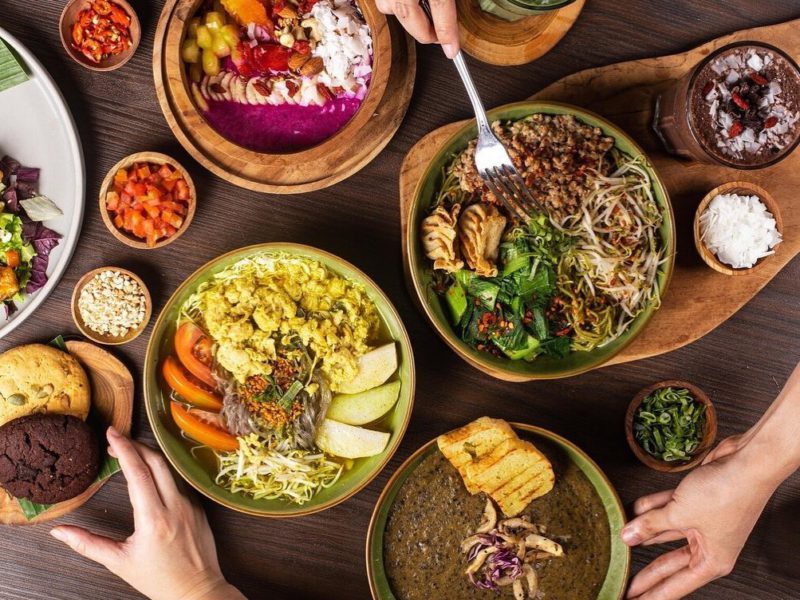 Everybody loves weekends. It is the time where we can get enough rest, hang out with our friends, or just have some 'me-time. We could also wake up late. Thus, usually, most of us would skip breakfast. The last option is getting a brunch. Exploring Sunday brunch in the city and mainly in Menteng on our day-off is an option rather than sleeping all day long. Or maybe you need to grab something to eat after a mid-morning jog on one of Jakarta's most popular jogging tracks. The weekend is our chance to make ourselves happy, even by just having a good meal and enjoying the view around us.
Nowadays people love to share amusing places and food, and there are many places to do so. Some of them are eco friendly and the rest are pleasing to see. We can find several of those spots all over the city, especially in Menteng. Menteng itself is a sub-district in Central Jakarta that has many elite residents and becomes a strategic location for both locals and expats. Now we have collected 5 of the best Sunday brunch spots in Menteng that you can try. Let's take a look!
1. Maple and Oak
Having fancy brunch in a homey place would be very nice. Maple and Oak is the one that you can visit for sure. It is located on the ground floor of the De Ritz Building, making it a hidden gem. The interior itself is simple and creates a cozy ambiance. Though the place is quite small, don't worry because their service is fast so you definitely can be seated even when it's crowded. Make a reservation in advance if you don't want to gamble. The waitress would also kindly help you if you want to take a picture with your friends or family. Furthermore, you can enjoy their complimentary free wifi.
Their menus are quite pricey but we assure you, it is worth the price. For those who want to spend your Sunday here, we recommend their signature menu Maple Butter Brioche (78K) to taste their soft brioche and scrambled eggs. They also have Halal or vegan options that you can try such as the Chick'N Cheese Burger or Avocado on Toast.
Instagram: @maple.oak
Address: Jl. HOS. Cokroaminoto No. 91, Menteng, Central Jakarta
Phone Number: +6221 3906757
Price Range:
Food starting from Rp50.000 to Rp100.000
Drink starting from Rp30.000 to Rp60.000
Opening Hours:
Monday to Saturday 08.00 – 21.00
Sunday 08.00 – 20.00
2. Berrywell Menteng
Trying to start a healthy life?. Berrywell Menteng has many healthy and fresh options for you. This place is located on the first floor of ShopHaus. It has both indoor and outdoor spaces that are nice and convenient.
Getting healthy food does not mean bitter or tasteless, instead, you will get to taste sweet but fresh meals in this place. Most of their menus are smoothie bowls containing fresh fruits and multigrain milk or yogurt. You can try their signature menu named Berrywell Signature, or Dragon Bowl-Z and Green Energy. Don't worry about gaining weight because you can check the number of calories in their menu book! These are great healthy options for a fresh and filling Sunday brunch.
Address: Jl. Teuku Cik Ditiro No. 36, Menteng, Central Jakarta
Instagram: @berrywelljkt
Website: http://berrywell.co.id/
Phone Number: +62 821-6120-0088
Price Range:
Food starting from Rp40.000 to 65.000/serving
Drink starting from Rp35.000
Opening Hours:
Sunday to Thursday 07.00 – 21.00
Friday to Saturday 08.00 – 22.00
3. Relish Bistro
Want to enjoy some snacks and drinks in front of a beautiful swimming pool for brunch on a warm Sunday? Relish Bistro is the one that can give you that. Located in Fraser Residence Menteng, this place provides indoor and outdoor seating in the form of a semi-bar area. The outdoor space would give you a great sight of the pool area, and having a romantic dinner with your spouse is very possible in this bistro. It's best to make a reservation in advance so that you don't have to wait in line.
Live music in the evening would add to the romantic atmosphere that you cannot forget. For the menu, Chicken Avocado Steak and Relish Pizza are recommended to try! For those of you who want to have a sip of wine or cocktails, Relish Bistro offers a range of alcoholic beverages for you to choose from.
Address: Jl. Menteng Raya No. 60, Kb. Sirih, Menteng, Central Jakarta
Instagram: @relishbistrojkt
Phone Number: (021) 29551850
Price Range: Rp100.000-200.000
Food starting from Rp80.000 to 135.000
Drink starting from Rp30.000 to 60.000
Opening Hours:
Sunday to Thursday 06.00 – 23.00
Friday to Saturday 06.00 – 00.00
4. Burgreens Flagship
Our health is number one, isn't it? For those who are vegan, this is a great spot for Sunday brunch in Menteng! Burgreens offers vegan and organic dishes produced by local Indonesian farmers, therefore this eatery spot gives many social impacts to the Indonesian community. This healthy food place is located in some areas such as Menteng, Kemang, Tebet, and many more. The one in Menteng is named Burgreens Flagship. Mostly served with green veggies, the meals would not disappoint your tongue as well as your stomach because you can calculate the calories of each food.
The price itself is quite affordable. It opens every day so you don't have to worry if you want to come over anytime. At Burgreens, you will find lots of Instagramable food such as Superfood Smoothies, Burgers, and Raw & Nourishing Desserts. Raw Strawberry Cheesecake is recommended for you who love dessert. If you want to taste organic Asian or Western food for brunch, Burgreens is the answer.
Address: Jl. KH. Wahid Hasyim No. 47, Gondangdia, Menteng, Central Jakarta
Instagram: @burgreens
Phone Number: 0878-8678-2082
Website: http://burgreens.com/
Price Range:
Food starting from Rp50.000 to 200.000
Drink starting from Rp50.000 to 100.000
Opening Hours:
Monday – Sunday 08.30 – 21.30

5. Spumante All Day Dining
Enjoying brunch with our families could be fun, especially on a Sunday. Spumante All Day Dining is a modern restaurant serving many cuisines such as pasta, pizza, and many other Indonesian favorites. Its spacious and cozy ambiance makes you feel comfortable to have a family gathering. Some spots are also nice for you to take pictures and the plating of the food is Instagram-worthy. The interior design is beautiful and there is an outdoor space in the backyard. 
Their Asian cuisines such as Soto Tangkar would satisfy your tongue because of its flavorful taste. They have various brunch menus like Spumante Hamburg Steak and Eggs Benedict. The waitress is very helpful so you won't miss any information about the food. When you decide to come over, we recommend that you order the Pitaya Fruitbowl and the Chicken Sambal Matah with Rice or Soto Tangkar.
Phone Number: (021) 3106188
Instagram: @spumantejkt
Address: Jl. Teuku Cik Ditiro No. 50, Menteng, Central Jakarta
Price Range:
Food starting from Rp55.000 to 165.000
Drink starting from Rp25.000 to 50.000
Opening Hours:
Monday to Sunday 08.30 – 22.00
There you go, our top 5 picks for the best Sunday brunch spots in Menteng. Even if you aren't in Menteng but are craving for brunch food, do not fret. Jakarta, in general, is full of amazingly delicious brunch places. So we urge you to check out brunch restaurants in other areas like Kemang, Setiabudi, and Kebayoran Baru.