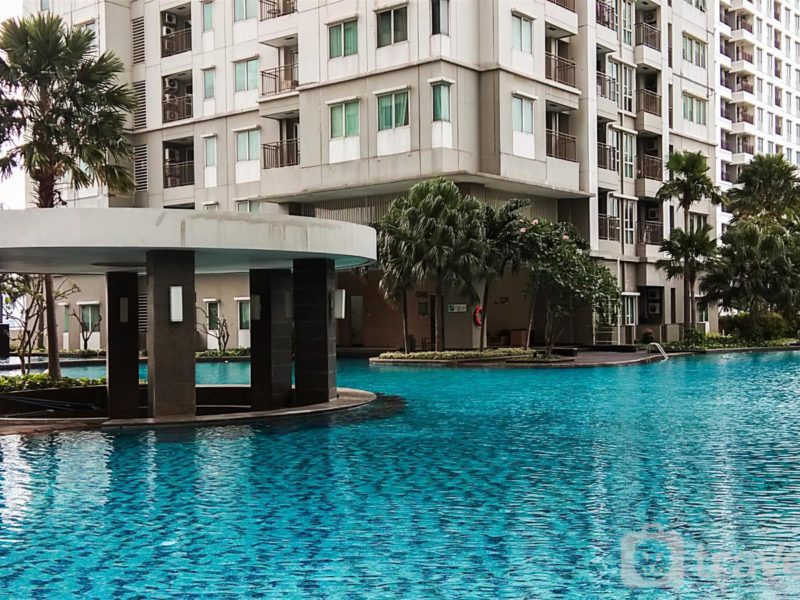 Hunting for apartments in the Thamrin area can be tricky. Firstly, it's a strategic area located in the golden triangle of Jakarta and has a large number of expatriates residing in the area. As you can imagine, the monthly rental prices in Thamrin apartments can be very high.
Luckily, with the rise of apartment-hunting websites and apps, apartment rooms are now rented out through better deals. Now, you can get a fully-facilitated apartment right at Thamrin, at affordable prices! Here are some affordable apartments in the Thamrin area.
Thamrin Executive Residence is a work under PT Jakarta Realty, a joint venture between Agung Podomoro Land and Jakarta Propertindo. It's an affordable residential apartment with a single tower in the Thamrin area.
It attempts to bring up the concept of Work to the city. In their words, they want all residents to commute to their workplace conveniently without dealing with traffic jams. While it's still a challenge to drive around the area using a personal car, public transportations like buses and online motorcycle taxis can help you.
From the apartment, you can walk approximately 11 minutes to the nearest commuter line station, Karet. There is also the Bundaran HI MRT station that you can reach in about 15 minutes on foot.
It has also many malls and food courts that you can explore. There's Thamrin City, the locals' favorite shopping center, famous for its affordable yet fashionable Muslim wear.
For more luxurious shopping and dining experiences, there's Plaza Indonesia. Just across from it, there's Grand Indonesia, the most famous and busiest mall in Jakarta.
Address: Thamrin Executive Residence, Search Results, RT.7/RW.9, Kebon Melati, Tanah Abang, Central Jakarta City, Jakarta 10230
Monthly rental price: Studio starting from Rp 5.000.000,00
Read also : 4 Affordable Apartments Near Setiabudi
Cosmo Terrace is a residential tower located within the complex of the Thamrin City shopping center, under the ownership of Agung Podomoro Land (APL). It's a favorite among ex-pats thanks to its affordable monthly rent and closeness to Grand Indonesia.
It is, of course, is very close to the Sudirman-Thamrin business area and attracts the aforementioned expatriates, executives, and families with activities in the center of Jakarta.
Other than Thamrin City, Cosmo Terrace is also within a walking distance from Central Jakarta's other famous malls such as Grand Indonesia and Plaza Indonesia.
If you enjoy going bar-hopping and dancing in discotheques, then it will make a good start. There's a high chance that you'll get to know clubbing buddies living in the same building.
The Cosmo terrace offers facilities that pamper their residents, such as indoor and outdoor swimming pools, fitness center, children's playground, a rooftop garden, and even a jacuzzi. Inside the buildings are also minimarkets, laundry services, and restaurants.
Address: Jl. K.H. Mas Mansyur, Thamrin City, Jakarta Pusat, Daerah Khusus Ibukota Jakarta, Indonesia 10230
Monthly rental price: Studio starting from Rp 4.500.000,00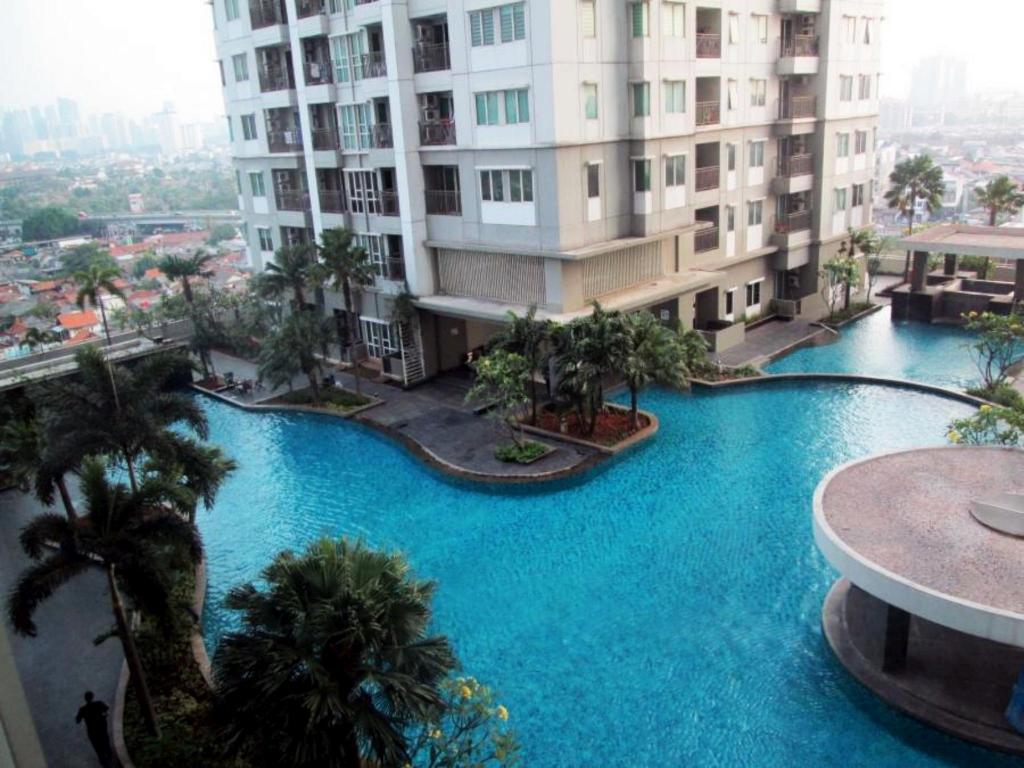 Just like its predecessor, Thamrin Executive Residences, this five-tower complex is a joint project between Agung Podomoro Land and Jakarta Propertindo.
Due to its location within the golden triangle and just several minutes away from foreign ambassadors, its occupants are mostly expatriates and tourists.
Thamrin Residence is just directly behind Thamrin Executive Residence. You can still walk for eleven minutes to the nearest Karet commuter line station, or reach the Bundaran HI MRT station in front of Plaza Indonesia.
Shopping will be no different than if you live in Thamrin Executive Residence. You can walk to Thamrin City for a quick clothing haul, or hang around and splurge at Plaza Indonesia and Grand Indonesia.
In terms of facilities, however, Thamrin Residences is a bit more extensive and family-oriented compared to Thamrin Executive Residences. Their outdoor swimming pool is large and crowded on the weekends. There are two jacuzzis as well.
Thamrin Residences does a little more with its sports facilities. They have a fitness center complete with a multifunctioning mirror room for aerobics, yoga, or dance practice. There are also a walking track and two well-maintained tennis courts outside.
The apartment is family-friendly, as there's a kid's playground inside a tropical garden. There is also a barbecue area for outdoor dinner parties.
On the ground floor and the first floor, there are kiosks made up of affordable Indonesian, French, Italian, and Indian restaurants. Others include three 24-hour minimarkets, with one of them selling imported products. There are also laundry services, including a coin laundry. Complete with an ATM Center, this apartment is a miniature of the one-stop living concept.
Address: Jl. Kebon Kacang Raya, RT.3/RW.8, Kb. Melati, Tanahabang, Kota Jakarta Pusat, Daerah Khusus Ibukota Jakarta 10230
Monthly Rental Price: 1BR starting from Rp 6.250.000,00
Also above the Mall Thamrin City, the Cosmo Mansion and the adjoining Cosmo Residence are right across the Cosmo Terrace, with the Cosmo Park between them.
Cosmo Mansion takes full advantage of its location in Tanah Abang, a trading area. It also takes full advantage of being near the Thamrin road, with its offices and foreign embassies.
The Cosmo Mansion and Residence, Cosmo Terrace, and Cosmo Park (landed houses on top of the Thamrin City building) are a housing area for executives, expatriates, and families whose lives revolve around the area.
This area is especially strategic for people who rely on public transportations. Residents will only be thirteen minutes away on foot from the Bundaran HI MRT station. The nearest Transjakarta stop, the Tosari ICBC, is also only ten minutes on foot.
Shopping centers aside from Thamrin City in this area include Grand Indonesia, Plaza Indonesia, and Jakarta City Center. For those seeking some nightlife, it's best to direct your attention to Mega Kuningan and SCBD. However, the Tanah Abang area does have popular bars like Skye, Burgundy, Social House, and more.
Meanwhile, this apartment provides several facilities within the building. Those include a swimming pool, a jacuzzi, a fitness center, ping-pong tables, as well as a kids' playground. Other services are also available within the complex, such as minimarkets, laundry, ATM centers, spas, salons, etc.
Address: Jl. Kebon Kacang Raya, RT.3/RW.8, Kb. Melati, Tanahabang, Kota Jakarta Pusat, Daerah Khusus Ibukota Jakarta 10230
Monthly Rental Price: Studio starting from Rp 5.000.000,00
And there you have it, a list of affordable apartments in the Thamrin area. Price tags in this area are relatively expensive, as it's aimed for families rather than a single person. However, most of the facilities here are top-notch and you can even compare this to three to four-star hotels in Jakarta. However, if you're working near Thamrin and worried about what to choose for a living, consider renting an apartment based on our list!
Want to discover more about the best co-living options in Jakarta? Click here!