Jakarta is definitely a city that is heavily influenced by Korean and Japanese culture. Nowadays people love to watch anime or K-pop and purchasing comic books or music albums to complete their collection. They also love to eat Japanese and Korean cuisine as well, such as ramen and K-BBQ. A lot of people also like to cook these cuisines in their homes. Unfortunately, they might have a hard time finding the ingredients they need to cook because it's hard to find some ingredients that aren't normally sold in local supermarkets. If you're looking to find imported Korean or Japanese products, then these Asian supermarkets will help you fulfill your cravings and daily needs as well.
Papaya Fresh Gallery
Probably one of the most popular Asian supermarkets in Jakarta, Papaya Fresh Gallery is known to have lots of imported brands from Japan. They also provide imported vegetables and fruits from Japan such as Perilla leaf and radish, and also a variety of meats such as chicken and beef. If you want to make sushi, they sell a bunch of seaweed of different brands and assorted types of fish for you to make it at home. And if you're hungry, they sell prepared foods such as bento boxes and salads just like any other supermarket. They also have a bakery that sells a variety of bread and cakes with cute condiments just like the ones you can see on animes.
Phone Number: +6021 72793777
Social Media:
Facebook: https://www.facebook.com/pages/Papaya-Fresh-Gallery/317977379136401
Address: Jl. Melawai Raya No.28, RT.3/RW.1, Melawai, Kec. Kby. Baru, Kota Jakarta Selatan, Daerah Khusus Ibukota Jakarta 12160
Opening Hours: 09.00 – 21.00 (Monday – Sunday)
Mu Gung Hwa
Mu Gung Hwa is the place where a lot of Koreans buy their groceries because they're known to have a complete stock of imported Korean goods. We have to recommend buying their kimchi because it has a great authentic taste. Here you can buy your kimchi in bulk or even make your own since they provide all the ingredients to make it at home. You can buy different types of meat such as beef and pork for your meals. If you're looking forward to eating hot pot or K-BBQ, it'll be easier because the meats are already classified. Samyang BuldakIf you're too bored to cook, Mu Gung Hwa also sells a variety of top instant ramen and tteokbokki (rice cake) brands such as Shin Ramyeon. They also sell top brands of soju and Korean snacks for those of you who are looking for a fun night with friends.
Mu Gung Hwa Supermarket Senayan
Phone Number: +6221 7222214
Social Media:
Website: www.ilotte.com/brandmall/Mu-Gung-Hwa/000000116107/main.do
Address: Jalan Senayan Blok S No. 43, RT 8/RW 5, Rawa Barat, Kec. Kebayoran Baru, Kota Jakarta Selatan, 12180
Opening Hours:
08.30 – 20.30 (Monday – Thursday)
08.30 – 21.00 (Friday – Sunday)
COSMO
Looking for a supermarket and restaurant? Look no further because COSMO is the place to go. They are conveniently placed so you won't have any trouble arriving there. COSMO's supermarket provides a lot of Japanese food and ingredients that they made in houses such as natto, tofu, and pickles. They also sell organic vegetables and fruits that they make domestically at cheap prices. Not only that, but they also make their own Japanese rice which they brought from Japan and are locally grown here. If you're not fluent in Bahasa yet, not to worry! They have Japanese employees and some of their Indonesian employees can speak Japanese and English as well! They also have an eating area and there you can eat after a long day of grocery shopping as they also provide delicious food such as sushi, sashimi, and even burgers. Just like any other supermarket, they also have a bakery where you can buy pastries to bring back home to your family.
Phone Number: +6221 7258589
Social Media:
Website: http://www.cosmo-store.com/
Instagram: @cosmo.bulungan
Address: Jl. Bulungan No.16, RT.11/RW.7, Kramat Pela, Kec. Kby. Baru, Kota Jakarta Selatan, Daerah Khusus Ibukota Jakarta 12130
Opening Hours: 09.00 – 21.00 (Monday – Sunday)
K-Mart Wijaya
K-Mart may be relatively small compared to the others, but make no mistake, they've got a great range of Korean brands. They sell a number of Korean ingredients such as gochujang and ssamjang sauce. You can also buy products such as seaweed, perilla leaves, and pork if you want to have a Korean-barbecue party at home. You're not a pork eater? Don't worry because here, non-halal and halal foods are separated so you can shop with ease. You can also rely on them as their products are always on stock. If any of their products are sold out, the store will quickly restock them as soon as possible so you don't have to worry. If you're a foodie, K-Mart is known to have a great food scene that's not only delicious but cheap as well. They have a food stall called K-Bunsik and you can buy corndogs, ramen, and lots of other Korean foods as well.
Phone Number: +6221 22775526
Social Media: –
Address: Wijaya Grand Centre, Jl. Darmawangsa Raya No.43-44, RT.5/RW.1, Pulo, Kec. Kby. Baru, Kota Jakarta Selatan, Daerah Khusus Ibukota Jakarta 12160
Opening Hours: 08.00 – 20.00 (Monday – Sunday)
Lotte Mart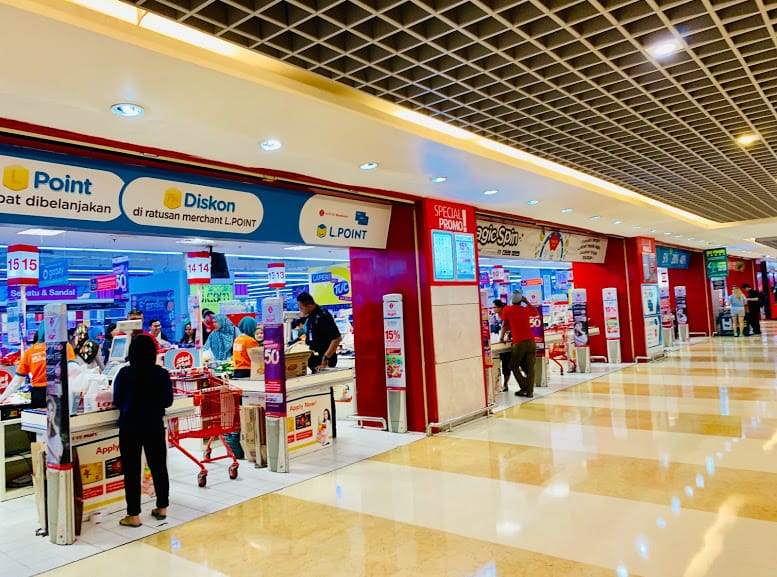 Last but definitely not least, we have Lotte Mart as one of our recommendations for you to go grocery shopping in Jakarta. Lotte Mart is currently the biggest International Korean supermarket in the world and they're quality is no less than great. They have been one of my favorite supermarkets to go shopping as a lot of their products aren't available in other places. Their inventory is stacked with not only Korean brands but local brands as well, so you can shop Indonesian products such as Indomie! Their service is also great, so if you're having trouble finding a product, don't be afraid to ask for help. For the ladies, you can also buy top make-up brands imported from Korea as well!
Lotte Mart Kuningan City
Phone Number: +6221 30480888
Social Media:
Website : https://www.lottemart.co.id/
Address: Address: Jl. Prof. DR. Satrio No.18, RT.14/RW.4, Kuningan, Karet Kuningan, Setia Budi, Kota Jakarta Selatan, Daerah Khusus Ibukota Jakarta 12940
Opening Hours: 10.00 – 22.00 (Monday – Sunday)
So, these are the top 5 Asian supermarkets. We hope this might be helpful in helping you choose your preferred supermarket to go shopping in the future.