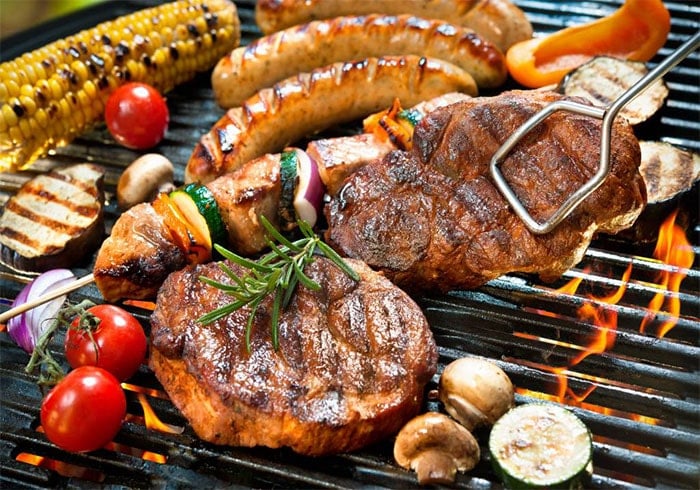 The idea of barbeque has come from millions of years ago by a human ancestor called Homo Erectus. They began to cook meat by grilling it on fire. Nowadays, especially Americans, know the term barbeque when the meats are cooked over grill or pit covered with sauces or spices. If you are keen on partying or gathering for special events at home, you can make it fancy by hiring a BBQ Service. A BBQ party is very fun since you will get the fun by grilling together, holding the food while mingling and talking with a friend.
Talking about food, who can resist the high-quality meats combined with sauces? Well, guess what, BBQ services are probably offering side dishes such as French fries, sausage, and drinks such as ice tea, lemon tea, juice, etc. A BBQ party is very suitable if you have a garden or swimming pool at your home. The BBQ services usually also offer the service where the chef will also cook for you along with an additional waiter and waitress. Enjoy the togetherness and happy tummy with your family and friends, then. Here, we will some recommendations of BBQ Services available at Jakarta:

1. Steak at Home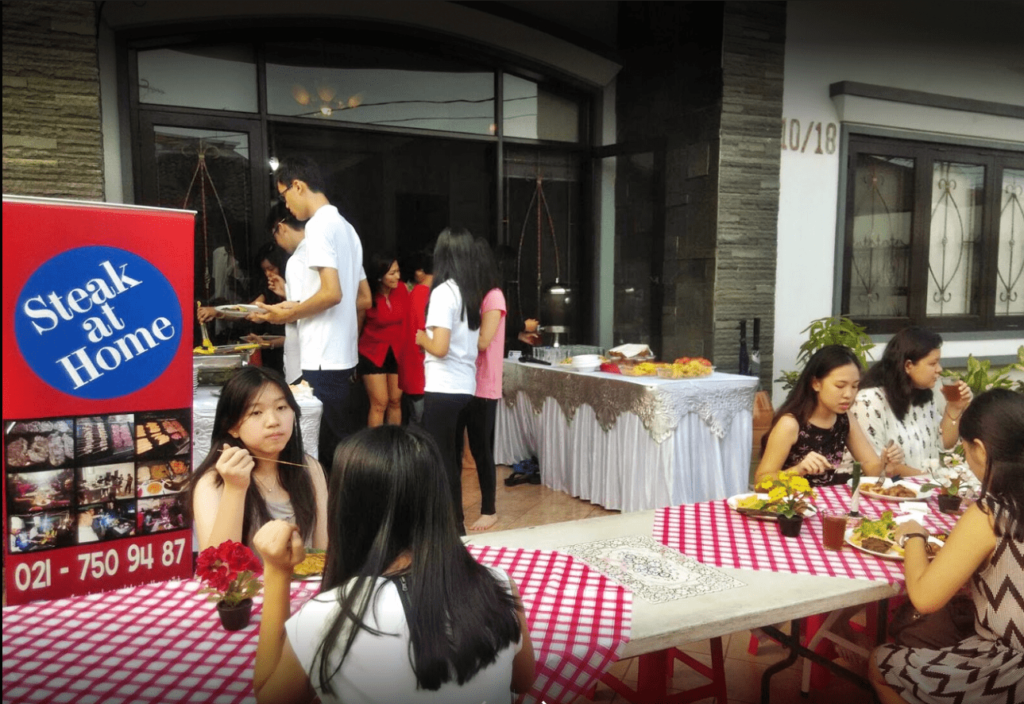 Steak at Home provides a BBQ service for a private party at home or the office. There are 5 benefits from steak at home, which are: Easy way of shopping, cheap price, save time & cost, 100% halal & hygiene pack, and high-quality beef. The meat choice is high-quality Australian Beef Cattle. They also offer various choices of meats from salmon, calamari, prawn satay, beef saikoro, wagyu tenderloin, gyutan, chicken, etc. The menus also include ala carte such as spaghetti soups, drinks, side dishes, etc. All of the BBQ Services include professional cooking crews, waiters/waitress, BBQ tools, decorated tables, and cutleries. It also provides bbq up to 200 pax with three main categories which are gold, platinum, and wagyu.
Contact:
Phone : 087877964660
Address: Jl. Alam Pesanggrahan 5 Blok OE 4 No.11 Komplek Bukit Indah Cinere Depok Cinere Indah Cinere Cinere, Cinere, Kec. Cinere, Kota Depok, Jawa Barat 16514
2. BBQan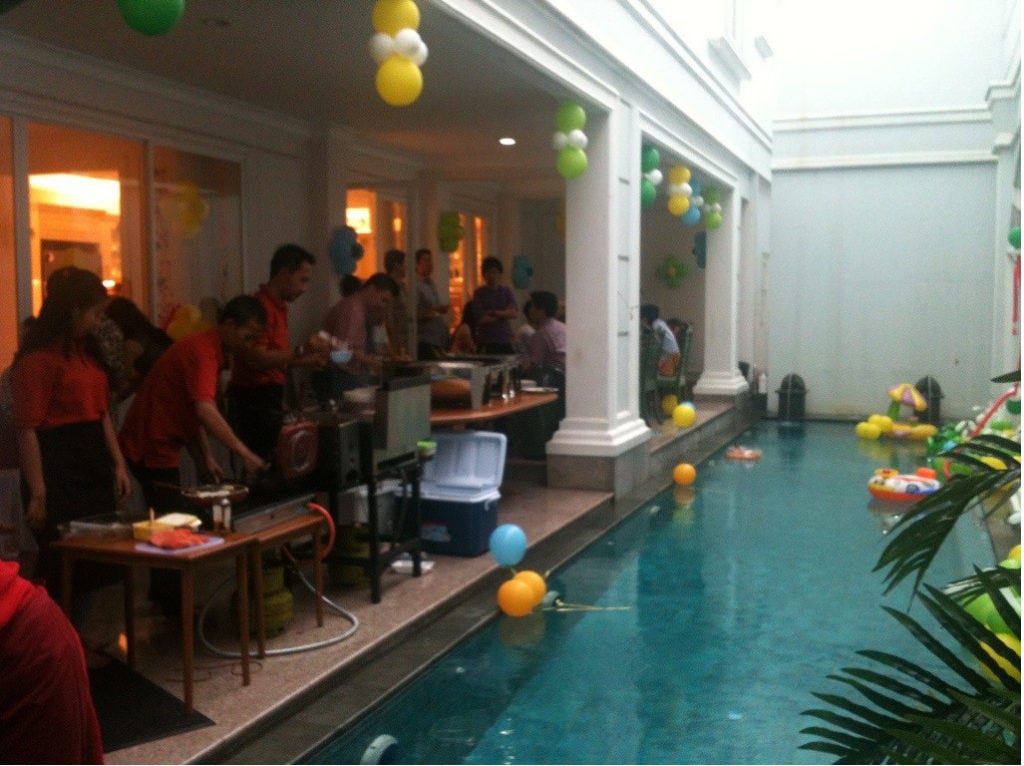 BBQ-AN provides BBQ service for every party, event, gathering and is facilitated with high-quality BBQ utensils & tools, experienced chefs, high-quality meats, and delicious home-made sauces. It guarantees healthy ingredients without preservatives and MSG to maintain their qualities. Some choices of side dishes are available such as French fries, boiled potatoes, & mashed potatoes. There are also various choices of drinks such as ice Lemon Tea, Orange Juice, Thai Ice Tea and Soft Drinks. For sauces, it will be made 3 hours before the event to maintain the quality of the food. There are 3 choices of sauces, such as Brown Sauce (Barbeque Sauce, Mushroom Sauce & Black Pepper Sauce), White Sauce (Cream Sauce, Mushroom Cream Sauce), and Butter Base Sauce.
Contact:
Phone: 0817 410 3737 (Order at least 1 week before the event, and minimum deposit 50%)
3. MY BBQ
The new concept of BBQ service at home where bare hands and mallet are the tools of your choice. There are 6 choices of packages that you can choose where it offers different meats starting from IDR 2 M – IDR 5 M. The choices of meats are chicken & ribs bbq, ribs bbq, sirloin & ribs bbq, sirloin steak, tenderloin steak, and, wagyu sirloin steak mb+9. This BBQ service is owned by Indonesian celebrities Raffi Ahmad & Nagita Slavina.
Contact:
Phone: 08118777155 (home delivery) and 08119311558 (home service available for Jabodetabek).
Instagram: @my.bbq
4. BG Catering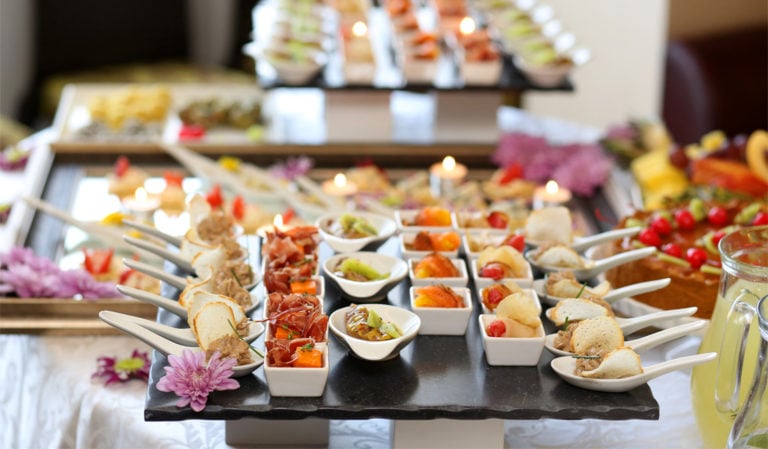 BG Catering was established in 1999, and ready to fulfill the needs of buffet and BBQ service. It ensures that every ingredients and cuisines are fresh, flavorful, and beautiful. Not only serving high-quality food, but it also makes sure the presentation looks good. The good thing is, you can custom your buffet or bbq according to your budgets. Don't be afraid, since the services are provided by experienced, knowledgeable, and friendly staff. It is very suitable for private events, birthday parties, corporate events, and gatherings, wedding parties, sports events, and anniversaries.
Contact:
Address: Eastern Promise (headquarter), Jl. Kemang Raya No.5, RT.1/RW.7, Bangka, Kec. Mampang Prpt., Kota Jakarta Selatan, Daerah Khusus Ibukota Jakarta 12720
Phone: 021 71790151
Opening Hours: Mon – Fri 10 AM – 5 PM, Sat-Sun 11 AM – 2 PM
Read also : Best Korean BBQ Restaurants in Jakarta
5. Amorasa BBQ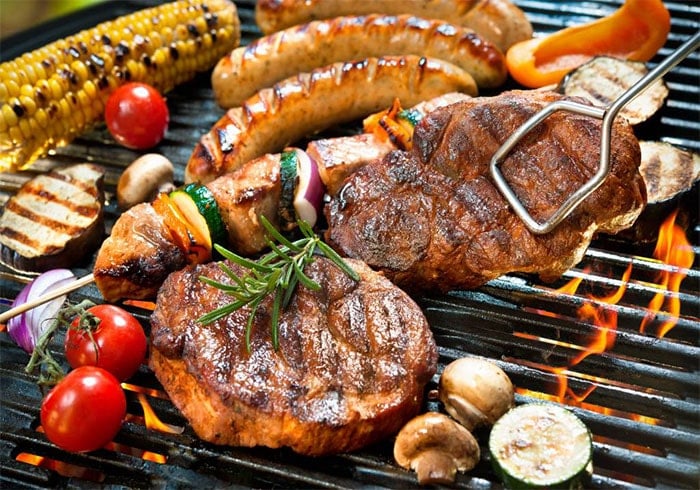 It was established in 2017 and offers various choices of meats from AUS sirloin, rib eye, tenderloin, chicken breast, and sausage. It has 4 main selling points which are, hiqh quality ingredients, affordable prices, best chefs, and, hygiene. Amorasa BBQ serves for every parties, events, gathering, and ensure that the ingredients are without preservatives or MSG. The BBQ packages come with options of 20, 30, or 40 pax.
Contact:
Address: Jalan Kedaung 4 no 19, RT 11, RW 11, Petukangan Utara, 12260, Jakarta Selatan
Phone Number: 081319799005
6. Holycow by Chef Afit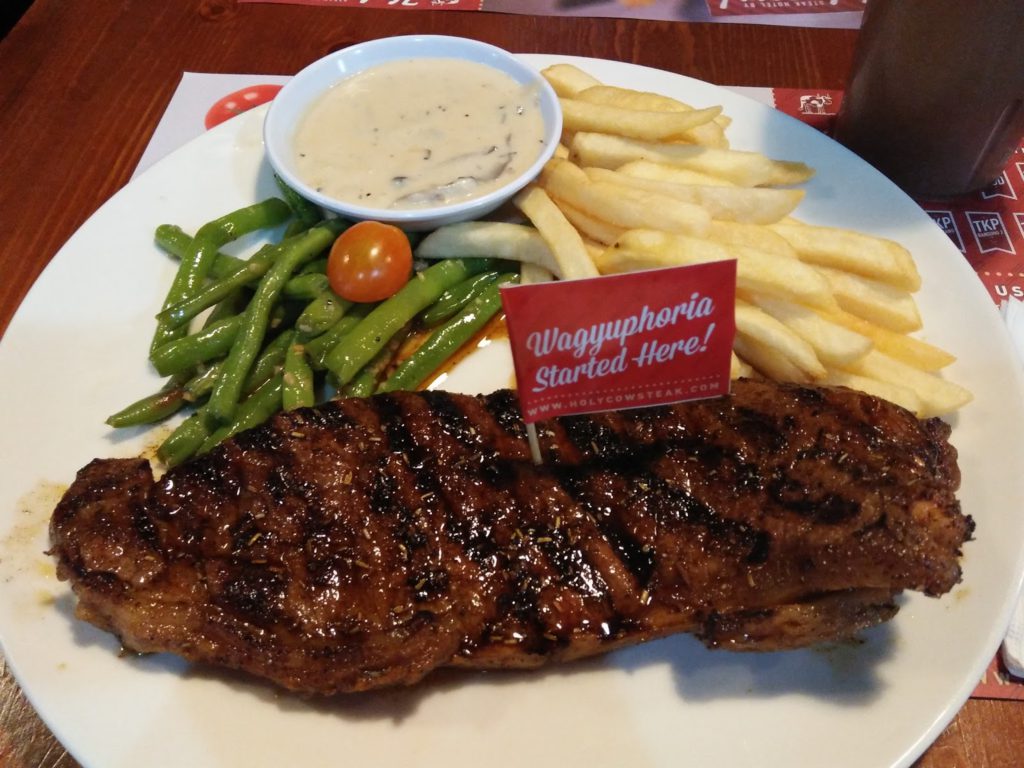 This famous steak restaurant is established by Chef Afit in 2010 and is ready to give the best steak-perience by providing high-quality meats served with proud-to-serve quality. Started from a very humble beginning in a non-permanent location in South Jakarta, now it has grown and opened 22 outlets in Jakarta, Surabaya, Bandung, Medan, Jogja, Malang, and Pekanbaru. The BBQ catering's division is called HolyTruck and serves in Jakarta only. HolyTruck is ready to serve you for any events at home, corporates, etc. It provides cutleries, and all the grilling process will be done inside the truck where you can also view the process. It keeps the events neat and clean.
Contact:
Address:
– Pondok Indah Plaza 6 (next to Masjid Pondok Indah) Tel. 0877-4659-0018 & Lotte Shopping Avenue 3rd floor. Tel. 0877-4659-0017
– Jl. Panjang no.18, Jakarta Barat & Jl. Kapt. Tendean no. 41, Jakarta Selatan
– Jl. Panjang no.18, Jakarta Barat & Jl. Kapt. Tendean no. 41, Jakarta Selatan
Phone Number: (021) 22869087
And there you have it! Some of the best bbq servvices that you can use to make your home party or event interesting. Under these pandemic times, bbq party can be very demanding especially from the middle to upper class of our society. However, if you happen to live in Jakarta and want to host a home party with some barbeques, this list might be useful for you. Also, don't forget to leave your reviews after using their service so that they can improve later on!