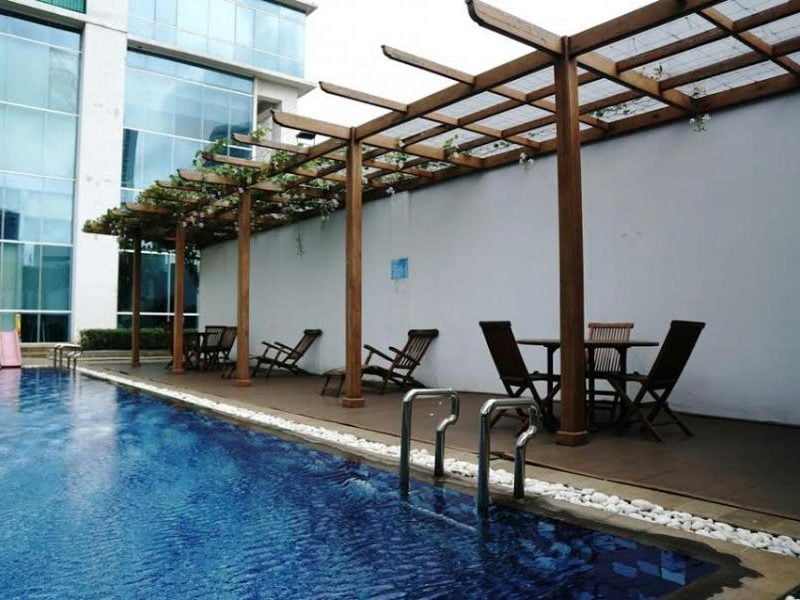 Are you currently looking for an apartment with affordable price in Setiabudi? No need to worries! We got you the list of budget apartments in Setiabudi! The Setiabudi area is a very prestigious neighborhood located within the famous golden triangle of Jakarta. Not only is it in proximity to the headquarters of multinational and national companies, but it's also where thriving startups climb their way up to the top. Not to mention, this area is the place where the trendiest shopping malls and restaurants are established.
However, all of those precedences also mean that living in the Setiabudi area can be challenging, with high monthly rental prices on top of the living costs. For those who have just started their career in the business districts, looking for accommodation is only just the first of their problems.
Luckily, budget apartments and middle-class apartments with affordable rent prices in Setiabudi aren't that rare. Here, we have a list of affordable apartments in the Setiabudi area that might suit you.
1. Taman Sari Semanggi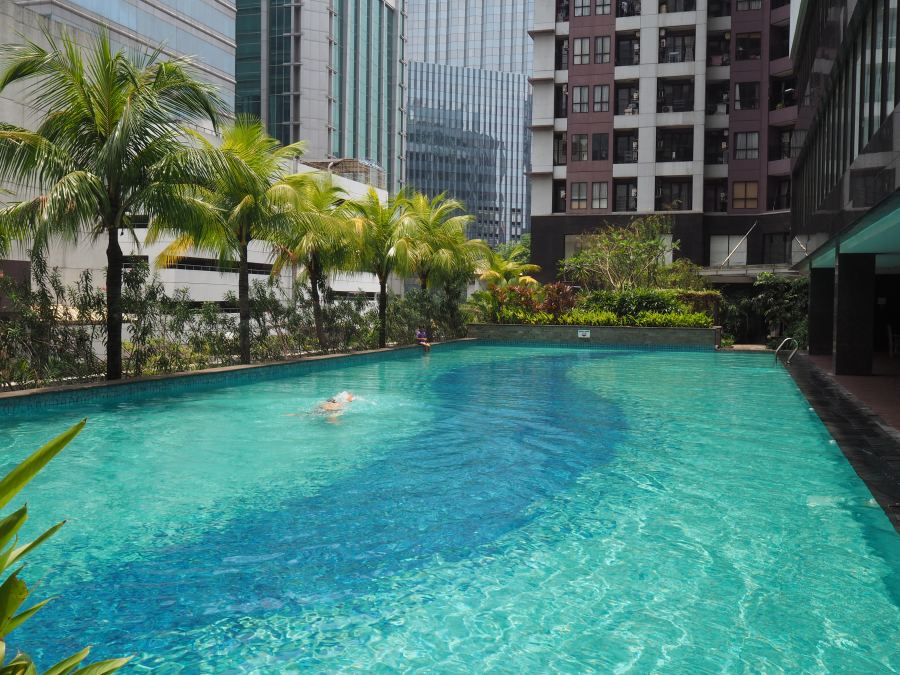 Our first recommendation for budget apartment in Setiabudi area is Taman Sari Semanggi. This apartment is a two-tower apartment of the state-owned developer PT Wika Realty in the Semanggi area, not too far away from the Gatot Subroto main street.
This apartment's location is very strategic as it's very close to Mega Kuningan, Sudirman, and Senayan business districts.This apartment is also a few minutes away from embassies in the Kuningan area such as Singapore, Thailand, and many more. That's why it's such a popular pick among expatriates.
Finding entertainment around won't be hard, either. There's Cinema XXI at Hotel Kartika Chandra, Cinema XXI's very first cinema in Indonesia. If you're thinking of shopping and dining, you can easily reach malls like Pacific Place, Grand Indonesia, and Plaza Semanggi, among others.
Despite being a medium-end apartment, the facilities in Taman Sari Semanggi are all high class. They have a swimming pool for you to relax around. There is also a fitness center inside the apartment for your daily workout. Other facilities inside the apartment grounds include minimarkets, function halls, spa and salon, dentists, drug stores, laundry, and an ATM Center.
Address: Jl. Akri No.136, RT.5/RW.2, Karet Semanggi, Kecamatan Setiabudi, Kota Jakarta Selatan, Daerah Khusus Ibukota Jakarta 12930
Monthly rent price: Studio starting from Rp 4.750.000,00
You can also read here for Budget Apartments in Menteng Neighborhood
2. Ambassade Residence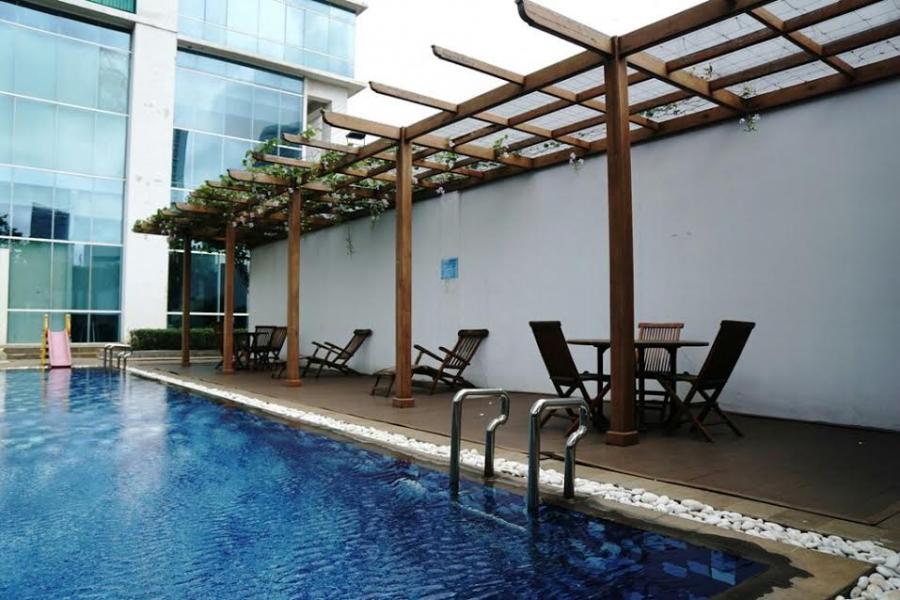 Next affordable option is Ambassade Residence. Located in the Kuningan area, still easy to reach from Setiabudi, this budget apartment is a four-tower residential apartment under the portfolio of the prestigious PT Duta Regency Karunia. 
The Ambassade Residence stands within Jakarta's golden triangle, precisely on Jalan Denpasar in Kuningan. This apartment is right among Jakarta's famous shopping centers, such as ITC Kuningan, Ambassador Mall, Bellagio Boutique Mall, Setiabudi One, and many more. Its strategic location and competitive price make it a favorite among employees and executives alike.
Furthermore, Ambassade Residence, like apartments around the area, is close to foreign embassies as well as several international hospitals. Ambassade Residence's built-in facilities are very extensive, considering the price tag. To support their inhabitants' wellbeing, they have swimming pools, jogging tracks, and a fitness center.
For leisure, they have children's playgrounds and cafes as well. There are also clubhouses and function rooms for those planning an event or ceremony.
The Ambassade Residence security also guarantees the safety of its residential areas through access cards, fingerprint verification, as well as CCTV as part of their 24-hour security system.
Address: Jalan Denpasar Raya Kav. 5-7, Kuningan, RT.16/RW.4, Kuningan, Karet Kuningan, Kota Jakarta Selatan, Daerah Khusus Ibukota Jakarta 12950
Monthly rent price: Studio starting from Rp 5.000.000,00
People also check out Luxury Apartments in Kuningan
3. Taman Rasuna Apartment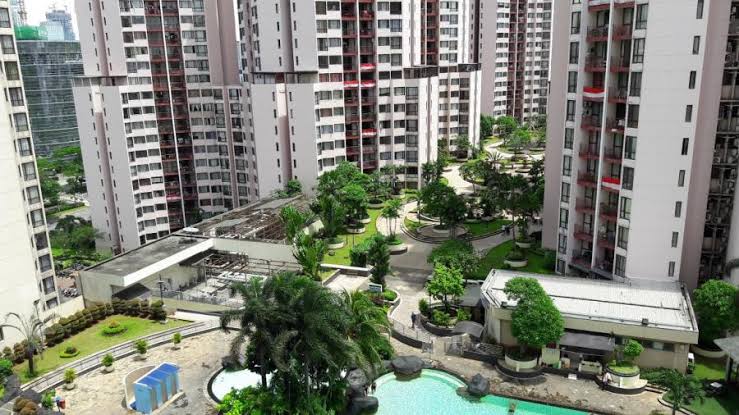 Also located in the Kuningan, Taman Rasuna has long been a favorite for expatriates and everybody else who are making their way in the golden triangle of Jakarta, which is only twenty minutes away. This midrange apartment is one of the oldest and largest apartment complexes in Jakarta, starting from 1998. The 14-tower high rise residential area is a project under PT Bakrie Swasakti Utama.
The Taman Rasuna complex is part of the Rasuna Epicentrum, which houses the Epicentrum Mall, Club Rasuna sports facilities, Plaza Festival, Aston Rasuna, Grand Rasuna Business Park, and other landmarks. However, there are other malls around this budget apartment such as Epicentrum Walk, Grand Indonesia, and food courts like Setiabudi One. The Rasuna Epicentrum is also a favorite for fans of social bars as well as a vibrant nightlife.
Address: Jl. H. R. Rasuna Said No.2, RT.16/RW.5, Karet Kuningan, Setia Budi, South Jakarta City, Jakarta 12940
Monthly rent price: 1BR starting from Rp 5.750.000,00
Read also : Recommended Apartments in Karet
4. Taman Sari Sudirman Apartment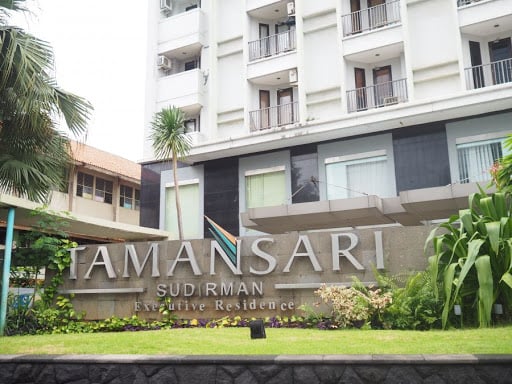 Another budget apartment in Setiabudi with affordable price is Taman Sari Sudirman. This is a two-tower residential apartment complex in Setiabudi, only 400 meters away from Jalan Sudirman. It's a project under the state-owned PT Wika Realty, which also owns the nearby Taman Sari Semanggi complex.
Taman Sari Sudirman is in Setiabudi, a neighborhood within Jakarta's golden triangle. It's a popular choice among people who just start to build their career in the SCBD, thanks to its competitive price that you'll otherwise only find it elsewhere.
Access-wise, it's relatively easy. If you rely on public transportation, you'll be at a great advantage since the nearby Transjakarta Karet station is only 10 minutes away (on foot). Furthermore, there's the Bendungan Hilir MRT Station right in front of the Jalan Sudirman World Trade Center office building. Making it even easier for you to go around Jakarta!
Malls are all available within 10 minutes by car as well. You can go to Ambassador Mall, Plaza Semanggi, Lotte Avenue, Kuningan City, and Pacific Place. Drive for 20 minutes, and you'll reach Grand Indonesia, Plaza Indonesia, Plaza Senayan, Senayan City, FX Mall, and CityWalk Sudirman. 
Within the building, you can expect an ATM center, function rooms, a gym, a swimming pool, and a children's playground. The ground floor also has laundry services, minimarkets, as well as some cafes.
Address: Jalan Bek Murad No.42 RT.9/RW.1 Karet Kecamatan Setiabudi RT.9, RT.9/RW.1, Kuningan, Karet Kuningan, Kota Jakarta Selatan, Daerah Khusus Ibukota Jakarta 12940
Monthly rent price: 1BR starting from Rp4.250.000,00

So, there you have it! A list of some of the most affordable budget apartment to live near Setiabudi. If you happen to work in SCBD or the Golden Triangle area and it's far from your home, you can try to consider these living options, especially if you're not a kost person. Last but not least, consider its benefits outweighs its cost and make sure you have an adequate budget to afford living there!
Also check out our main blog for more informations about coliving spaces or more apartments recommendation by Flokq!