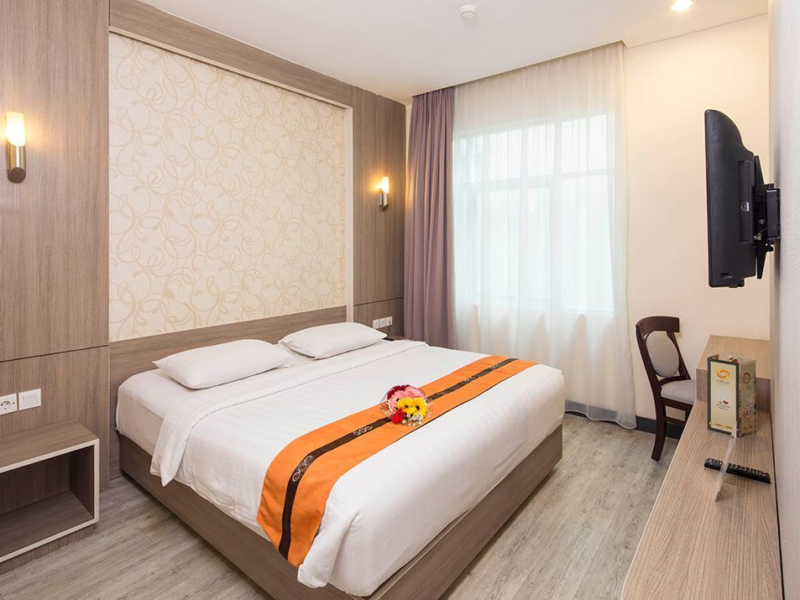 Trying to live comfortably while working in a town like Jakarta sometimes feel really hard to get. Especially when you want to live near the center, finding a nice place to stay may be too difficult. What's even more difficult is adjusting your choices to your rent budget. But fret not, we're here to help you find the hidden gems – budget ones for apartment choices. As Menteng is an especially busy and expensive area, these affordable budget apartments options in Menteng area might help you a lot. So here are our top 3 picks!
People also read Budget Apartments in Thamrin
The first one on the list is a residence in a strategic location right in the center of Jakarta. For business, having a residence in Menteng Square Apartment would be a total delight since it's near several business centers. The business areas that are all within easy access for residents include Sudirman-Thamrin, Mega Kuningan, and Gatot Subroto. Because of its location, residents will feast their eyes on the most modern Jakartan buildings with their high-rise architecture. This surely is an affordable and budget friendly apartment in Menteng
For relaxing between the concrete jungle, residents can easily watch a movie at the Metropole XXI Cinema. Bookworms, on the other hand, can take a look at the catalog in the nearby Gramedia bookstore. For those interested in the local arts and culture, Taman Ismail Marzuki is close enough for you to visit hassle-free. As for transportation, ride-hailing apps, or public ones, all of them come easy because the area is one of the most developed parts of town. So expect to find traffic, but at the same time find many alternative ways to make it all go away from your daily lives.
As far as food goes, the area seems to have an endless supply of options for it. From quick bites to fine dining, from eastern dishes to western dishes. One place where you can get more of it is by visiting the Pasar Festival where all kinds of restaurants meet cafes and bars. For some nightlife fun, one way to satisfy your cravings is to head down to La Vue Bar for some classy evening.
Address: Jl. Matraman, Kenari, Senen, Central Jakarta, Special Capital Region of Jakarta, Indonesia 10430
Price: Starting from Rp 3,450,000.00/month
Facilities:
Swimming pool
Badminton court
Jogging lanes
Playground
24-hour security system
Cafe
Minimarket
Restaurant
Laundry
Read more: Luxury Apartments in Menteng
2. Menteng Park
With its modern and homey decor through designs of marble and granite, Menteng Park will soothe its residents' everyday lives. Located in one of the oldest residential areas of Jakarta, Menteng Park provides comfort as well as a class for residents. The neighborhood is relatively quiet and ridden with low-rise buildings. One of the benefits of living here, especially for workers is its proximity to the thriving business area of Thamrin. Especially because this residence is in Menteng's Cikini, you'll be the ones to know the feeling of Jakarta's atmosphere. 
Menteng Park offers two options for residence, the budget option of the Common room, and also the mid-range option of Queen Room. The Common room provides residents with a small but cozy design. This room type comes with its furniture of wardrobe/shelf and mostly single bed to comfy up the place's atmosphere. When this type of room is not part of a master or junior master apartment, would share the bathroom with another floqker.
Menteng Park is an easily accessible residence even for those using public transportations such as KRL Commuter Line and MRT. That makes it even easier for residents to travel aside from the already numerous ride-hailing apps available for Jakartans. While not exactly known for nightlife, the neighborhood has Camden or Melly's Garden if you want to drink and chill.
Address: Jl. Cikini Raya No.79, RT.1/RW.2, Cikini, Kec. Menteng, Kota Jakarta Pusat, Daerah Khusus Ibukota Jakarta 13310
Website: https://mentengparkresidence.com/
Price: Starting from Rp 5,800,000.00/month
Facilities:
Grocery store
Laundry
ATM
Gym
Jogging track
Tennis court
Swimming pool
WiFi
Cable TV
Playground
For those looking for an affordable and budget friendly apartment in Menteng with a guaranteed comfortable experience, Flokq @ Oria might be the right pick for you. Located in the heart of Jakarta, Flokq @ Oria provides convenience from its cooperation with Oria Hotel's management. For residents of Flokq @ Oria, they will get the Master Room that is an arguably budget option for the area. The Master rooms will come with private ensuite baths that are generally more spacious than others. The Master room is fully furnished with king/queen size bed and wardrobe.
Flokq @ Oria's located in Gondangdia, so it'll be easy for shopaholic residents to get to Plaza Indonesia and Grand Indonesia. Head over to Kuningan City or Kota Kasablanka if you want to find something different. For a close-by decent bite, head down to Casazuki Restaurant located right in Flokq @ Oria guaranteed to give a taste of local and international cuisine.
Of course, because Flokq @ Oria is at the center of Jakarta, the nightlife is easy to come by. Just head over to Menteng or Kuningan to sightsee the options available for you. Also, transportation here is as easy as it can be with various public transportation options and ride-hailing apps always ready.
Address: Jl. KH. Wahid Hasyim No.85, RT.1/RW.4, Gondangdia, Kec. Menteng, Kota Jakarta Pusat, Daerah Khusus Ibukota Jakarta 10350
Price: Starting from Rp 5,500,000.00/month
Facilities:
WiFi
Dining halls
Meeting rooms
Coworking space
Free parking
There you go, top 3 budget apartments in Menteng Neighborhood. Of course, you won't be alone in hunting for decent and budget apartments in Menteng, so always keep an eye out for vacancy!
Also read Budget Apartment in Central Jakarta
Discover some of the best co-living options that you can find around Jakarta here!