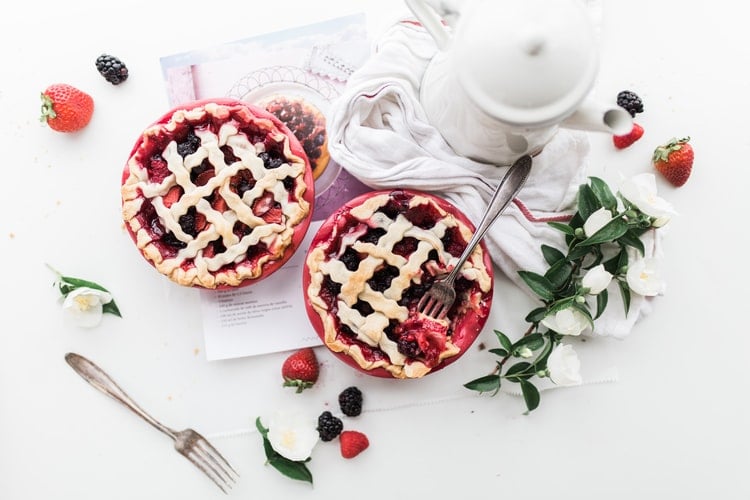 Local Guide
Best Dessert Places: Satisfy Your Cravings in South Jakarta
You're never too old to eat sweets!
Everyone loves the tastiness and beautifully crafted dessert always has a special spot in our cravings. Desserts like ice creams, pancakes, waffles, or the combination of all of them are just perfect. Especially to enjoy with your loved ones with a cup of tea or a glass of wine to do something out of the ordinary.
Living in South Jakarta gives you a perk of easily spotting dessert restaurants in town. Home to plentiful restaurants, swarming around the street and inside the malls. Furthermore, commuting in South Jakarta is pretty easy. For public transportations, you can travel using MRTs and Transjakarta. The stations are located in almost every corner of South Jakarta and the fee is very affordable. It comes with great comfort, too. So, if you're looking for the perfect dessert places in South Jakarta, here are some of them!

Read about zone guide: South Jakarta
1. Paris Sorbet
A stylish and minimalist dessert parlor located in South Jakarta, professionally made by two Parisians, Jonas Bourhis and Sacha Lefebvre. Their sorbet and ice cream are beautifully served with other components that enhance the taste, among biscuits, cream chantilly, pieces of fruit, and jelly. The uniqueness of Paris Sorbet is that it always apprehend to use local materials. Instead of using vanilla Madagascar that commonly known for making dessert artisan, they're using vanilla pod which came from Papua, Indonesia. They are also using apples from Malang for their Baked Apple Sorbet. Even though Jonas and Sacha are not from Indonesia, yet they promote Indonesian local supplies for their ingredients.
Furthermore, you don't have to be worried about artificial and additional sugars. Because Paris Sorbet is not adding additional sweetness into their dessert, they solely rely on the natural sweetness of the fresh fruits. Serving distinguished and high-quality dishes at an affordable price is one of their goals. Moreover, they offer pâtisserie packaged in a jar. So, takeaways won't be a problem for their customers.
Try these amazing menus of Paris Sorbet:
Sorbet-full of fresh fruit flavors such as Strawberry, Mango, Raspberry, Pineapple Ginger, Baked Apple, and Orange. This sorbet is garnished with vanilla chantilly, yuzu cream, hazelnut or speculoos biscuit, and meringue.
Ice cream-dark chocolate, vanilla, honey, tiramisu, coffee, and banana. All of these flavors accompanied by tasty biscuits, peanuts, and caramelized seeds.
Pâtisserie Jar Collection-tiramisu, mango & co, strawberry. All of them are beautifully packaged inside a jar and garnished with biscuits, chantilly, and zest..
Address: Jl. Wolter Monginsidi No. 71, Senopati, Jakarta Selatan 12180
Phone: +62 21 2751 5207
Social Media: @paris.sorbet on Instagram
Price: Rp45,000.00 – Rp80,000.00/serving
Opening hours: 9.00 AM -10.00 PM (Every day)
2. Cold Moo
The place is also well-known amongst all Jakartans. Big media in Indonesia, like CNN Indonesia, Traveloka, and WhiteBoardJournals have promoted the brand. Cold Moo has also featured on Indonesia's indie musician music video, Kurosuke. It has amazingly, some sweet fresh baked goods, like ice cream, cookies, puddings, and brownies delicacy. Cold Moo is a perfect place to spend the lovely sunny days and listening to your favorite songs or hanging out with your friends. They serve amazing sweet delicacy with a budget-friendly price, one of the reasons why Cold Moo always has high-craving demands.
Their must-try menu for satisfying your sweet tooth:
Cups
Cookie D'oh: A sweet milk ice cream with raw chocolate chip cookie dough.
Special K: Fresh milk ice cream with strong strawberry flavor and corn flakes.
Berry-o: A mixed flavor of strawberry and oreo ice cream.
Bakeshop
Choco Chip Cookies: Classic golden brown chewy chocolate chip cookies.
Cookies N Creme Cookies: Soft and chewy cookies baked with oreo cookie chunks.
Fudgy Brownies: A chocolate lover's favorite. Maybelle's fudgy brownies with premium dark cocoa and a perfect texture.
Address: Jl. Dharmawangsa VI, No. 20, Pulo, Jakarta Selatan 12160
Phone: +62 813 8677 7661
Social Media: @coldmoojkt on Instagram
Website: https://www.coldmoo.com/
Price: Rp20,000.00 – Rp45,000.00/serving
Opening hours: 9.00 AM – 9.00 PM (Wednesday – Sunday)
3. GROM
A dessert parlor specialty in gelato located in a prominent location of Jakarta, Sudirman Central Business District (SCBD). Grom will spoil you with swarming sky-scrapers buildings and beautifully arranged scenery. Grom's story starts in 2003 with a gelateria of 25sm in the center of Turin, Italy, two friends, one dream: trying to do the best gelato in the world. Their products are made with such care, choosing the best ingredients that nature can offer (fresh high-quality milk, cage-free eggs, white cane sugar), without tricks or shortcuts. Grom has a curious, detail freak, agriculture nerd, and emotions towards their food; they have learned all they know by myriad trials and errors. And finally created an amazingly delicious and finest gelato.
Tasty menus to try from Grom:
Crema Come Una Volta "The Way It Used To Be": a lot of eggs, fresh cream, and a little grated lemon peel.
Crema Di Grom: Grom signature flavor comes about from the meeting between Guido's passion for the highest quality raw materials of pastry cream, Venezuela chocolate chips, and Grom Meliga biscuits.
Stracciatella: One of the most traditional Italian gelato flavors, simple yet ingenious: fiordilatte and chocolate chips. To give the customers the pleasant tactile sensation of crunchy chocolate, they filter the chopped chocolate through a large-mesh sieve in order to get only the largest pieces (6 mm diameter!). They use Ecuadorian chocolate to enhance its strong and robust delicacy and so just right for a true love match with Fiordilatte.
Sorbet-Grom's finest frozen dessert made from sugar-sweetened water commonly with fruit juice, fruit purée, wine, liqueur, or honey. They do not use flavorings, colorings, emulsifiers, or preservatives. They provide the best what nature can offer. Thus, their sorbet consists 55-60% real fruits, sparea water from Piedmont, Italy and white cane sugar. Pick your flavor:
Mirtillo: Lots and lots of blueberries, Sparea® spring water, white cane sugar, and a pinch of carob seed flour: these are the ingredients in Grom's refreshingly sharp blueberry sorbet, the ideal companion for those who seek in a simple sorbet the magic of a walk in the woods.
Fragola: A great gelato classic, too often ruined by the use of coloring agents and aromatic pastes. The Mura Mura organic farm's experimental strawberry beds allow Grom to find the best variety for a sorbet. Once they've found it, they ask the farmers they work with to grow it for them, and then they use loads: one kilo of Grom gelato contains half a kilo of strawberries. But watch out: the odd strawberry seed might get stuck in your teeth!
Address: Pacific Place, Lantai 1, Jl. Jenderal Sudirman, SCBD, Jakarta
Plaza Senayan, Lantai 3, Jl. Asia Afrika, Senayan, Jakarta
Lotte Shopping Avenue, Lantai Ground, Jl. Prof Dr Satrio, Karet, Jakarta
Phone: +62 811-134-766
Social Media: @grom_indo on Instagram
Website: https://www.grom.it/
Price: Rp55,000.00 – Rp99,000.00/serving
Opening hours: 10.00 AM – 10.00 PM (Every day)
4. Honest Spoon
Honest Spoon is another hype dessert place in Senopati, South Jakarta. Their colorful tasty dessert will satisfy your sweet tooth in lots of variety. Uniquely, Honest Spoon is spotted in a petite stall across the street with a fun ambiance. On weekends or holidays, it's going to be difficult to get a spot in the shop. Due to a bulk of buyers queuing for their delicacy. Honest Spoon is famous for its house specialty Triple Cookie Monster.
Honest Spoon is selling a great quality dessert with a low-cost price. Its uniquely crafted and designed desserts are one of a kind. Oftentimes, Honest Spoon collaborates with notable chefs in Jakarta and creates amazing new menus. One of their collaborations was with Chef Yuda Bustara, a Sahabat Nestle chef and mixologist for Buavita. Both of them created three gelato variants, namely Cheetos (cheese flavor of Cheetos), White Rabbit (old traditional sweets), and Calippo Sorbet (a combination of fresh sour delicacy).
Other sweets worth trying:
Chocolate Ice Cream-A creamy and smooth Belgian dark chocolate is made only with high- quality dark chocolate ice cream.
Pumpkin Pie Ice Cream-Just in time for recalling Thanksgiving season. Bask in the sweet taste of pumpkin and the comfort of cinnamon in every spoon!
Sundae-Available in four flavors: Chocolate, Strawberry, Salted Caramel, and Matcha. Be ready for the texture and sweetness of home-made sundaes with a toasted marshmallow on top.
Address: Jl. Cikajang No. 63, Senopati, Jakarta Selatan 12170
Phone: +62 812 8607 4438
Social Media: @honest_spoon on Instagram
Price: Rp35,000.00 – Rp55,000.00/serving
Opening hours:
10.00 AM – 9.00 PM (Monday and Sunday)
10.00 AM – 10.00 PM (Tuesday – Thursday)
10.00 AM – 10.30 PM (Friday and Saturday)
There you have the best dessert places you could find in South Jakarta! All of these dessert places have the highest ratings and great reviews. Now, it's time to give your judgment because the best desserts for your sweet craving are yours to try!