Settling Down
A Guide to Get an Indonesian Driver's License (SIM) for Foreigners
Foreigners residing in Indonesia with KITAS or KITAP visas are allowed to have an Indonesian driver's license or Surat Izin Mengemudi (SIM). The main requirement before having a SIM is that the individual must be 17 years of age or older and pass theory and practice exams. The process is actually very simple. So, you can use the agent or yourself. However, this time, we will provide information on how to get a driver's license (SIM) in Indonesia for foreigners independently in Jakarta.
This link will direct you to Bahasa 101: Public Transportation to help you with the language barrier.
Before you register yourself to get a driver's license (SIM), you need to know the types of driver's licenses in Indonesia, as follows:
SIM A – for private 4-wheeled passenger or cargo vehicle
SIM B1 – for private passenger or cargo vehicle
SIM B2 – for cargo vehicle, semi-trailers and other large rigs
SIM C – for two-wheeled motor vehicles (motorcycles)
SIM D – Special vehicle for a disabled person
But keep in mind that foreigners can only register for SIM A or SIM C, with a time period of 1 year. Diplomats and KITAP holders can get a 5-year driver's license. So, here are the things that you need to know to make an Indonesian driving license, especially in Jakarta.
A. Procedure to make a driving permit in Jakarta
Go to Satpas (SIM Administration issuance Unit)-Polda Metro Jaya. Jl. Daan Mogot Km. 11 West Jakarta opens at 08.00 until 16.00 (Monday-Friday), 8.00 to 12.00 (Saturday). If you make a request before 12.00, it will be resolved that day as well. If the application and file delivery is done between 12.00-13.00 Then the SIM will be taken the next day. The officer will stop accepting SIM applications if it has passed at 13.00.
Requirements to bring:
Original Passport
Photocopies of the identity, entry stamp, and valid visa pages in your Passport
Original valid KITAS (Temporary Stay Permit) or KITAP, depending on which one you have
Photocopy of your KITAS/KITAP
Original and copy of KTP-OA (foreign resident card) or SKTT (Residential certificate), if applicable. You will need a photocopy of Surat Tanda report (STM) If you don't have KTP-OA. STM is a letter issued by the Indonesian Police and contains proof that a foreigner has been registered with them.
Photocopy of your current driver's license from your home country, if applicable
Doctor's certificate (doctor's note of good health). If you don't have this, it can be issued by the police for an extra fee (Rp25,000).
You could also be asked for additional files, such as:
Sponsorship Letter from your company/sponsor (with stamp/Materai)
Copy of your Blue Book/POA
Copy of your promissory report (STM) — A Police certificate which indicates where A foreigner, whether resident or tourist, is residing and for how long. This means that the Foreigner's shelter (hotel/wife/friend) must report the Foreigner's residence within 24 hours of arrival.
Copy of statement of Self-report (SKLD) — this note is only applicable for KITAS or KITAP visa holders. It is a report to the police of your arrival and must be made within 30 days of arrival.
Copy of your Residential certificate (SKTT) — This is a certificate of your place of residence and it must be obtained from Kelurahan office (Sub-District Office) in your area. This certificate is needed when applying for the SKLD.
A personal letter stating your height, weight, body details, mother's and father's names.
Go to the counter and fill out the "Tanda Pembayaran Permohonan Pembuatan Surat Izin Mengemudi" form. This form comes from two banks, namely Bank Rakyat Indonesia (BRI) or Bank Internasional Indonesia (BII), now Maybank.
The fee to be issued to obtain a driving license (SIM) is:
SIM A = Rp 120,000, extended = Rp 80,000
SIM C = Rp 100,000, extended = Rp 75,000
International SIM = Rp 250,000, extend = Rp 225,000 after submitting bank slip and then will be given form of SIM application letter.
Fill in all the data on the form, and submit it at Counter No. 17 (Loket Orang Asing/ Foreigner counter). This counter will be required:
Photocopy of Passport
Copy of temporary residence permit (KITAS or KITAP)
Photocopy of driving license from home country
Bank slip
Completed forms
At the counter 23-26, you will be taken photos and fingerprints in a digital way as well as a signature on the paper that is then scanned by the officer.
Once everything is completed, applicants will be asked to wait. It usually waits for 30 to 45 minutes. When the applicant's name has been called immediately took the SIM at the counter 26 or 28, depending on the SIM of the class of what it was applied to.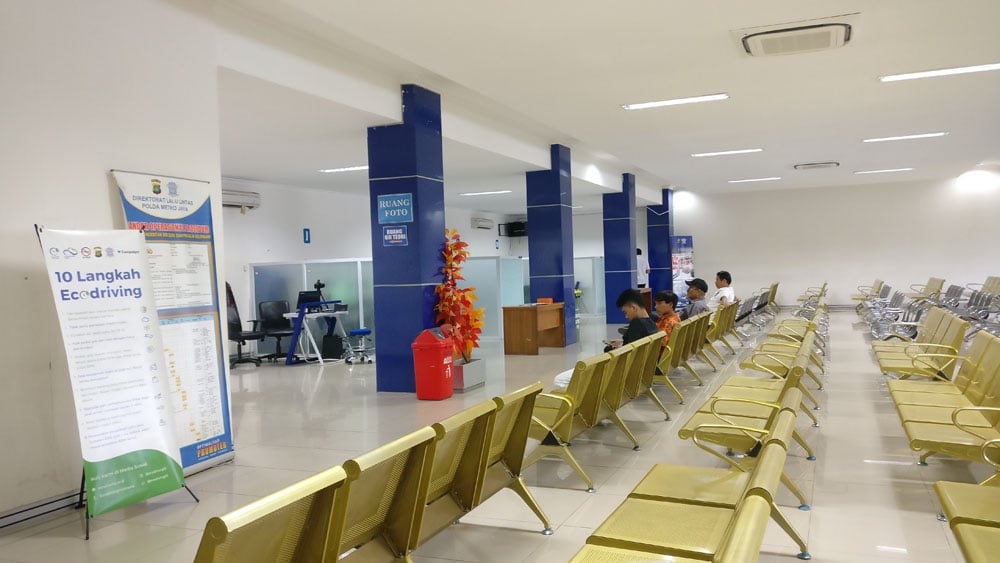 The driving license (SIM) for foreigners is only valid for 1 year. However, it is different from the driver's license for the embassy/family staff that can be valid for 5 years.
The government has also created a 1 day SIM program. This program is devoted to the tourists who live for a few days in Indonesia and decide to want to ride a motorcycle for example, for a whole day.
By paying only Rp100,000 (including taking photos) then the temporary SIM will be obtained. This fee will certainly be adjusted to the length of validity. But this program can only be enjoyed in Denpasar, Bali only.
B. Written Test
You will be faced with a written exam before you proceed to the practice test stage. In written tests, there will usually be questions about basic traffics signs and rules in Indonesia. It is easy to answer, but it is full of Indonesian. You can bring a friend or translator to help you with this exam. If you don't pass this test, you can retake this test in 7, 14, or 30 days. If you want to take a look at the sample of the test, you can check the official website of Korlantas POLRI (Indonesian National Police) here.
C. Practical Test
Begins with driving for 2 minutes around the test area to warm up and has begun observation related to driving habits.
Driving in a zig-zag form about 10 poles (each pole has a width of about 30 cm, from the pole one with the other is about 2 meters) for a total distance of about 30 meters. The driver must pass this and then turn back and do it again from the opposite direction.
Do parallel parking to the parking lot that has been formed by the officers of the poles.
Drive half the road uphill or tilt, stop on the ramp, emergency brake arrangement, release the emergency brake and keep walking to the end of the climb; Then drive on the derivative road, stop on the derivative road, setting the emergency brake, release the emergency brake and keep walking down.
In Jakarta, only motorcycles and ordinary cars (SIM group A) can conduct practice tests. Test takers are welcome to drive their own vehicles for the test.
As for other advice from the forum WNA in Indonesia, they feel worried about this practice test and advise to take the driving course and so that it can simultaneously get the SIM. Then it will be necessary to make a photo to the Polres, scan the fingerprint, signature, and pay the fee.
D. Renewing Your Indonesian Drivers License (SIM)
You must extend your driver's license (SIM) before the time expires. The process is very fast, just come to the Department of Motor Vehicles on Jalan Daan Mogot, West Jakarta, and do the following:
You must take a very brief eye test in the building on the edge of the parking lot,
Then go to the main building with your expired driver's license and other ID (best to bring your passport or KITAS/KITAP and a photocopy of both).
The total cost for renewal is Rp20,000.
And you're done! Your latest SIM is going to be on that day as well.
Important Note: If you haven't renewed or extended your SIM before the expiry date, you will need to apply for a new SIM and repeat the process from the very beginning. So, it is better to renew your SIM at least two weeks before the expiry date.
So, those are all the necessary things you need to know to make driving license in Indonesia. It's also important to always check the news and update from the official website of the Indonesian National Police. Asking from friends who already took the license also can be a great source of information. Good luck and drive safely!
New in Jakarta? This link will make it easier for you to find Affordable Transportation in Jakarta.