Eating is one of the most important activities that we can do while meeting, hang out with friends, or even just want to chill. If you want to stroll around one area and do food hunting, try to visit the Mampang area in South Jakarta. From morning till night you can expect to experience great culinary experiences there. Mampang is one of the districts are located in South Jakarta. Mampang consists of 5 smaller areas which are Kuningan Barat, Pela Mampang, Bangka, Tegal Parang, and Mampang Prapatan. Talking about South Jakarta, it's very famous for its high-end restaurants, bars, and clubs, especially in the Kuningan area. If you want to try to dig deeper into this area, try to spend a day food hunting in this area. You will be amazed by how many great & unique restaurants in Mampang.
From café, fine dining restaurants, or even street foods there is so much to try in this area. Geographical categories ranging from local Indonesian food, western, Middle-East, or fusion foods, there is nothing you cannot try. Here, we try to list several restaurants for breakfast, lunch, dinner, and desserts you can try. These places are also good for meetings, gathering, special events, or meet up with friends.

Breakfast
1. Dijan's
It's a restaurant with an authentic and classic menu of Dutch serving pannekoek, poffertjes (small fluffy pancakes with super light and spongy textures), & Bitter Ballen ( hard outside soft and spongy inside with mustard sauce). Once you enter this restaurant, the ambiance of the Dutch atmosphere is very thick. Very perfect for those who want to have snacks, desserts, or even breakfast. The must-try menu includes Hollandse Bieftstuk that consists of tenderloin, fried potatoes, and vegetables. It is well-cooked, juicy, and tasty. There are also grilled vegetables which consist of carrots, tomato, and zucchini. For sweet-tooth, you can also try banana pancakes that are served with a banana topping, icing sugar, whipped cream, and maple syrup.
Address: Jl. Kemang Sel. No.102A, RT.1/RW.2, Bangka, Kec. Mampang Prpt., Kota Jakarta Selatan, Daerah Khusus Ibukota Jakarta 12730
Phone: (021) 71793538
2. Dimsum Inc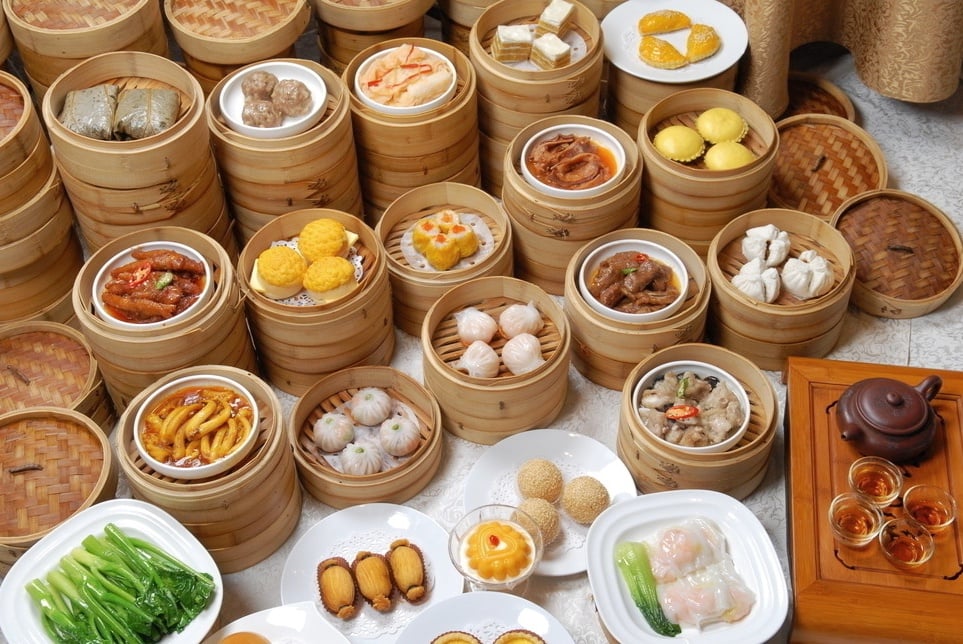 Dim Sum is a Cantonese dish that served with tea which flavor ranges from savory & sweet tastes from a variety of which it's steamed alongside fried buns, dumplings, and rolls. Originally, a dim sum is eaten at breakfast time. With the ranges of proteins and carbohydrates, it's very suitable to give you a pack of energies in the morning. In Dim Sum Inc, there are siomay, Cheong fan, Ceker Ayam with black pepper sauce that is freshly served. It opens 24 hours and allows us to smoke so lots of youngsters come here to gather and chill with friends. Try their salted egg bun (bun that is filled with salted egg pasta), & chicken karage. The ambiance there is dark and cozy.
Address:
TRIPLE NINE BAR & LOUNGE
Jl. Kemang Raya No.20, RT.11/RW.5, Bangka, Kec. Mampang Prpt., Kota Jakarta Selatan, Daerah Khusus Ibukota Jakarta 12730
Phone: (021) 7182249
Lunch
3. Nutmeg Cuisine & Bar
It is an international cuisine served in a cozy, relaxed space with exposed brick & art-lined walls. Nutmeg Cuisine & Bar is known for Vintage shabby chic interiors with natural light for a soothing afternoon meal and coffee. The decoration inside this place makes it very popular for special events such as bridal shower, birthday party, anniversaries, gala dinner, etc. Though it's quite pricy with great taste and presentation. The ambiance is well decorated with low lights and glass windows. The recommendations for foods are their spaghetti roast beef and penne chicken alfredo. They also have live music so it's quite perfect for chilling nights.
Address: Roosseno Plaza, Jl. Kemang Utara B No.1, RT.4/RW.1, Bangka, Kec. Mampang Prpt., Kota Jakarta Selatan, Daerah Khusus Ibukota Jakarta 12730
Phone Number: (021) 7195020
Dinner
4. Fez Kinara Dine & Lounge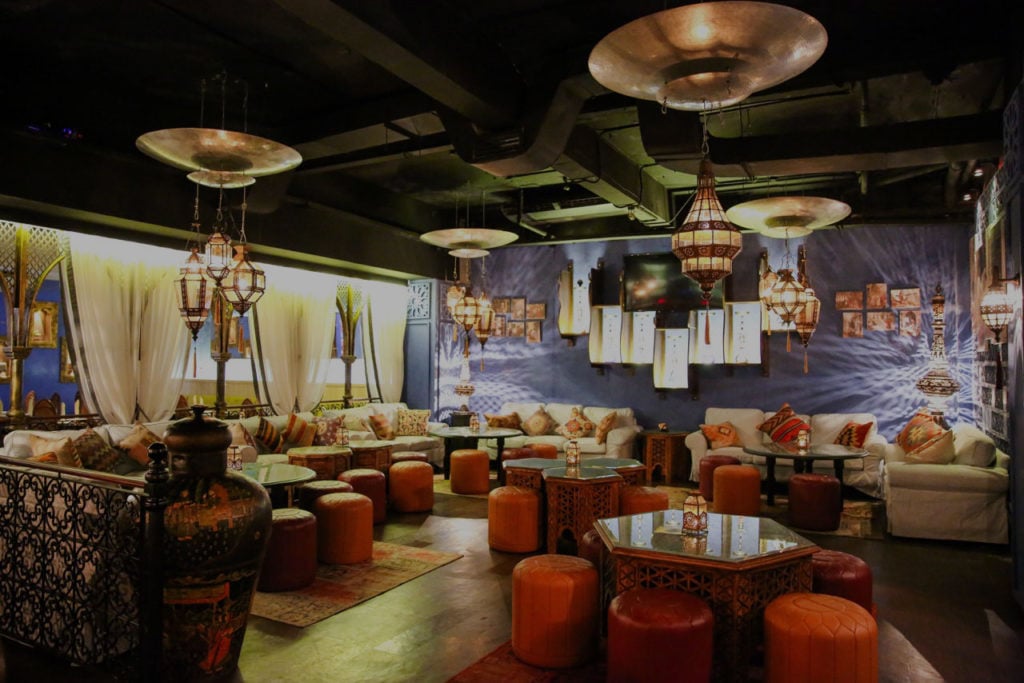 It's the casual dining and bar that serves Indian-Moroccan, Middle-Eastern, and Thai foods. The decoration of these restaurants represents the culture and ethnicity of the Middle-East and India. It's very suitable for gala dinner, special events & gatherings, or even dinner dates. The taste and presentation are authentic. The must-try(s) menus are cheese naan, butter chicken, and murgh Makani (butter chicken curry comes in small portion). They also serve shisha. If you want to come with friends for hangout this is the best place to talk, shisha, and chit chat with them.
Address: Jl. Kemang Raya No.78B, RT.4/RW.2, Bangka, Kec. Mampang Prpt., Jakarta, Daerah Khusus Ibukota Jakarta 12730
Phone: (021) 7192677
Read also : 6 Restaurants You Must Visit in Kemang
5. Koi Kemang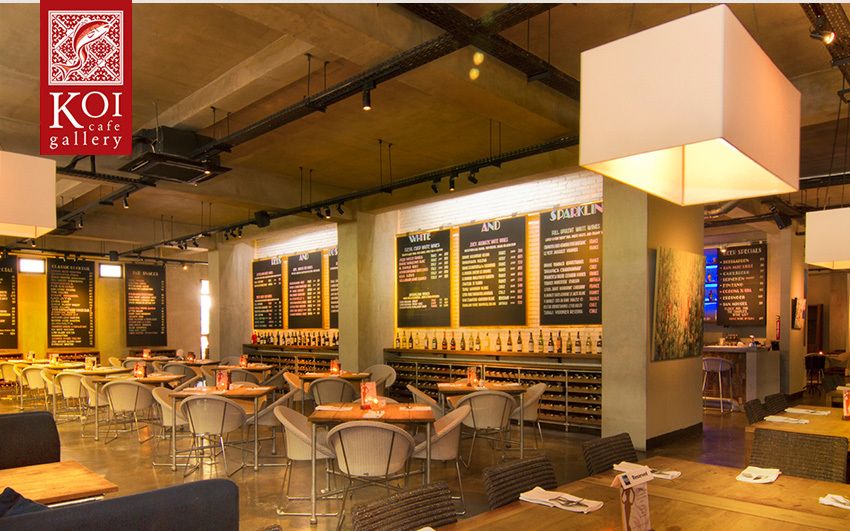 It serves Western and Asian foods with Wi-Fi, live music, wine, and beers. As one of the three restaurants under Koi Groups, Koi Kemang offers you 3 floors restaurants & bar, furniture & art gallery and private dining and event spaces including a rooftop terrace for your tailor-made events. Koi Kemang is also suitable for private party & business meetings. As it led by Chef Benoit Claeys, the cuisine is created with the utmost care and attention to provide you with premium quality at reasonable prices. You can enjoy the option of distinctively "French Brasserie" food or authentic Asian dishes while tasting a glass of the wine of the month or choosing one of the numerous international wines or beers that are available. For your comfort, the seats are even separated between smokers and non-smokers. Choose for sofas or prefer sitting at a table. For your convenience, there are free Wi-Fi connection and the power plugs that are under every table or on the walls. At peak times, you'll be supported by our valet service to park your car.
If you're seeking more privacy to suit a business or family lunch or dinner, book one of our private rooms on the 2nd floor and appreciate the full KOI restaurant catering quality.
Address: Jl. Kemang Raya No.72, RT.7/RW.2, Bangka, Kec. Mampang Prpt., Kota Jakarta Selatan, Daerah Khusus Ibukota Jakarta 12730
Phone: (021) 7195668
And there you have it! A full one-day guide for places to eat in Mampang. If you happen to live near Mampang or work there, this list might be helpful. Don't forget to bring out your friends, colleagues, or co-workers as it's better to eat with some companions! You can also eat alone if you prefer it. And last but not least, don't forget to leave some reviews after visiting them!