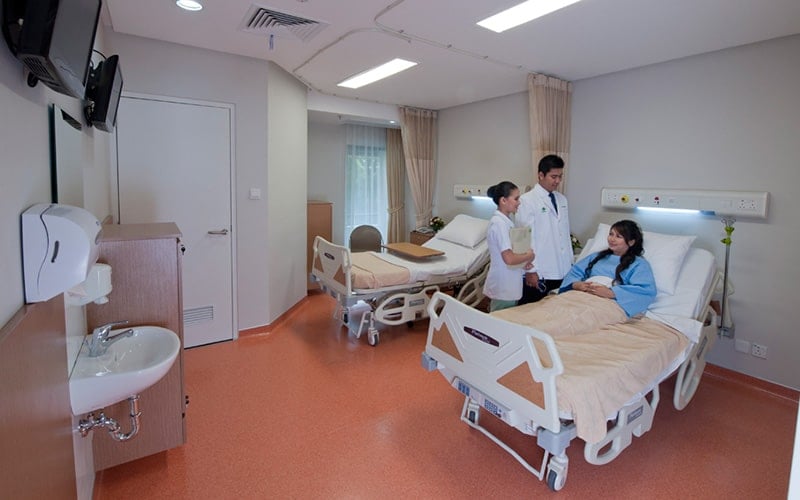 Health is the number one asset. It is the foundation upon which you build your life. Without your health, it may be very difficult to do all the things you want to do and to enjoy life to the fullest. But living in Jakarta may not be easy for your health. Filled with major pollutions caused by the city's millions of vehicles, it can push one's health to the limit.
Thankfully, Jakarta is blessed with numerous health facilities ranging from small clinics to major and reputable hospitals. With so many medical facilities in Jakarta, it can be difficult to know which hospital suits you best. For instance, how do you know which hospital is the best for your medical condition? And how do you know that you're able to afford the healthcare bill?
To help you understand these differences, we wrote a guide on how to choose the right hospital and giving you the best options for your needs.
Public Hospital vs Private Hospital
Public Hospitals are hospitals that are owned by the government but are run by private companies. Public hospitals usually provide government subsidies to Indonesian citizens by using Kartu Indonesia Sehat (KIS). Waiting time for public hospitals usually takes longer, ranging between one and four hours. Patients are admitted on a first come first serve basis unless it's an emergency.
While private hospitals operate as private companies, they're usually more expensive than public hospitals and they don't provide subsidies for their patients. However, you get what you pay so that you can get extra facilities that aren't provided by public hospitals such as Wi-Fi, air conditioner, and a flat-screen TV.
Below are some of the international-class hospitals either it's public or private that you can go to whenever you need to see a physician or do your regular medical checkup.
1. Pondok Indah Hospital Group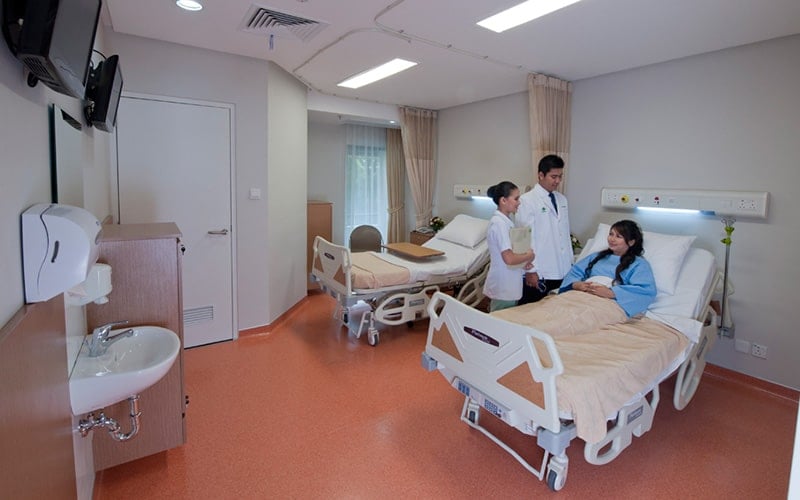 Established in 1986 by PT Binara Guna Mediktama, the group opened two more RS Pondok Indah hospitals: RS Pondok Indah – Puri Indah in 2008 and RS Pondok Indah – Bintaro Jaya in 2017.
Accredited with JCI's gold seal of approval, Pondok Indah Hospital is known for being the first to adopt some of the most sophisticated and advanced technologies, including Endo Alpha Surgery System which is a type of minimally invasive surgery and Endorectal Ultrasonography (ERUS) for rectal cancer treatment.
Pondok Indah Hospital is also one of the first paperless hospitals in Indonesia where all of its data and documents have been digitized, using a method called E-Medical Record.
Location: Jl. Metro Duta Kav. UE, RT.4/RW.14, Pondok Indah, Kec. Kby. Lama, Kota Jakarta Selatan, Daerah Khusus Ibukota Jakarta 12310
Phone number: (021) 7657525
Website: https://www.rspondokindah.co.id/id
Instagram: @rspondokindah
2. Rumah Sakit Umum Pusat Nasional Dr. Cipto Mangunkusumo
Also known as RSCM, this state-owned hospital is named after popular Indonesian pre-independence figure dr. Tjipto Mangoenkoesoemo (1883–1943). This centuries-old health facility was born in 1853 as Sekolah Dokter Djawa or Dokter Djawa School (in Dutch) and transformed into School tot Opleiding van Indische Artsen or Indies Medical School in 1898.
Best known for their cancer care, RSCM provides a wide range of affordable and high-quality medical services for patients from different socio-economic backgrounds. Often appointed as a referral hospital, RSCM features a variety of medical departments including Neurosurgery, Clinical Microbiology, and even Forensic. It's also the first and only hospital in Indonesia that offers Tomotherapy, an advanced radiation technology to cure tumors and cancers.
Location: Jl. Pangeran Diponegoro No.71, RW.5, Kenari, Kec. Senen, Kota Jakarta Pusat, Daerah Khusus Ibukota Jakarta 10430
Phone number: 021-500135
Website: http://www.rscm.co.id/
Instagram: @rscm.official
3. Jakarta Eye Center
JEC is an eye hospital which is fully equipped with international standards. Within 36-year since its establishment on February 1, 1984, JEC has been turned into the most comprehensive and modern eye hospital in Indonesia.
The patients who come to JEC to get their treatments don't need to find other hospitals due to the 'One Stop Service' concept that JEC has. This concept is made for all patients with refractive disorders to be able to be treated in one place, which is at JEC, without being referred to other hospitals. This fact is very much possible since JEC has the most experienced and professional physicians and practitioners, the skilled and best staff, and also the only eye hospital in the country that is JCI certified.
Location: Jalan Terusan Jl. Arjuna Utara No.1, RT.7/RW.3, Kedoya Sel., Kec. Kb. Jeruk, Kota Jakarta Barat, Daerah Khusus Ibukota Jakarta 11520
Phone number: 0804 122 1000
Website: https://jec.co.id/
Instagram: @jeceyehospital
4. Mochtar Riady Comprehensive Cancer Centre Siloam Hospital
Part of Siloam Hospital Group, The MRCCC Semanggi Siloam Hospital is the first private hospital in Indonesia that specializes in treating cancer. The hospital provides a variety of health services, ranging from early detection of cancer, surgical oncology, chemotherapy, and radiotherapy in an effective, reliable, and excellent quality. The hospital also has a modern building that is comfortable for visitors.
Opened in 2011, this modern 30-story hospital building is a tertiary cancer center receiving referrals from hospitals and clinics around the country for both private and insured patients, where early detection, surgical oncology, chemotherapy, and radiotherapy are housed under a single roof.
Location: Jl. Garnisun No.2-3, RT.5/RW.4, Karet Semanggi, Kecamatan Setiabudi, Kota Jakarta Selatan, Daerah Khusus Ibukota Jakarta 12930
Phone number: (021) 29962888
Website: https://www.siloamhospitals.com/en/Hospitals-and-Clinics/Hospitals/MRCCC-Siloam-Hospitals-Semanggi
Instagram: @siloamhospitals
Want to know more about hospital in Jakarta? Click Here!
5. Rumah Sakit Pusat Angkatan Darat (RSPAD) Gatot Soebroto
RSPAD Gatot Soebroto is a public hospital owned by the country's Defense Ministry. Opened on March 8, 1942, this hospital is the highest referral in the TNI(Army) environment that provides health care for soldiers of the Army, Civil Servants, and the general citizens.
Some of the excellent services from the Rumah Sakit Pusat Angkatan Darat Gatot Soebroto include medical check-up, intensive care unit, dental implants, medical cosmetic clinic, and many others. The hospital's operating hours are from Monday to Sunday for 24 hours.
Location: Jl. Abdul Rahman Saleh Raya No.24, RT.10/RW.5, Senen, Kec. Senen, Kota Jakarta Pusat, Daerah Khusus Ibukota Jakarta 10410
Phone number: (021) 3441008
Website: http://www.rspadgs.net/
Instagram: –
There you go, a guide to find the best hospital in Jakarta and some of their facilities. There're still a lot of hospitals in Jakarta, and make sure you find the right one!