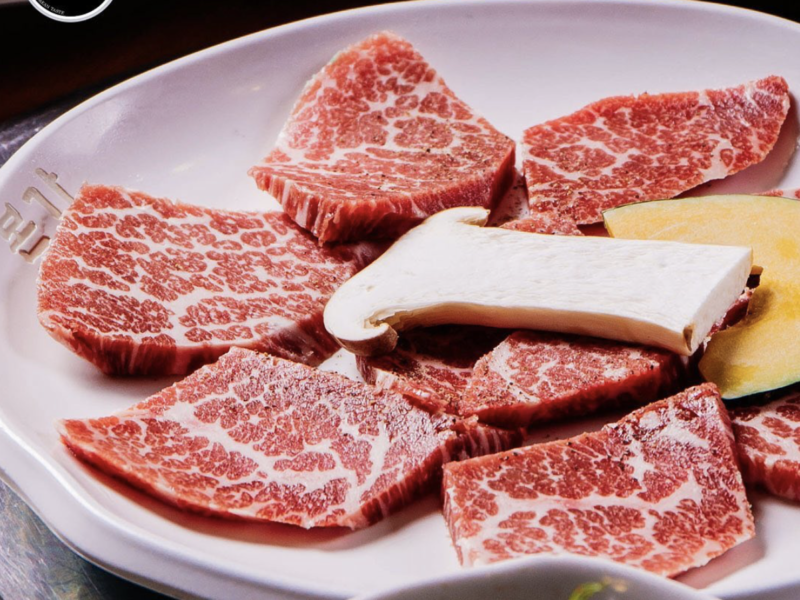 Korean cuisine is only getting bigger in Indonesia, and Jakarta is the mecca of it all. The city has so many must-try Korean restaurants ranging from bubbling cauldrons of spicy red stews, braised short rib stews, and crackling rice cooked in stone bowls to platters of fatty barbecue that you can have during your Karaoke session; and it all rarely disappoints. But all those options can get a little overwhelming, especially when dozens of restaurants often compete to make the same dish. But there's always a winner in battles like these, and the difference tends to come down to quality and service.
Here are 5 must-try Korean restaurant in Jakarta filled with all of our favorite gems. Get your chopsticks and hands ready for some serious munchies.

1. BORNGA
BORNGA is a premier Korean barbecue restaurant in Jakarta. BORNGA delivers prime grade meats served at the table, along with a slew of other traditional Korean dishes in a clean, smoke-less ambiance. Chef Baek Jong Won, a successful and renowned celebrity chef-created BORNGA with a dream to popularize Korean cuisine worldwide. The restaurant is now an empire of more than 33 branches in South Korea and nine stellar outlets in Jakarta.
Focusing on delivering the most authentic Korean Cuisine with a wide selection of quality dishes and generous portions, BORNGA serves the best signatures like Japchae, Haemul Pajeon, Kimchi Jjigae, and finally the Woo Samgyup, a secret recipe created by Chef Baek himself. Woo Samgyup is the most popular menu of BORNGA, it's a thinly sliced beef drenched in signature BORNGA dressing. The quality of the meat and banchan (side dishes) is simply unsurpassed, some might say it rivals some of the best in Seoul itself. If you're a first-timer, fear not, you don't even have to lift a finger in barbecuing your meats – BORNGA servers will help your table to cut, grill, and teach you how to eat your meat the authentic way!
Address: Jl. Bulungan Raya No. 14, Blok M, Jakarta (this location is usually not as crowded as other locations. You may choose other outlets as BORNGA is situated in various locations).
Phone Number: +62-21-2930-6849.
Average Cost: Rp400.000 for two people (approx.)
Alcohol: Available.
Opening Hours: 11:30-21:30 (Mon-Sun); (may vary depending on each location)
Social Media: @bornga.indonesia
2. Yongdaeri Korean BBQ
One of SCBD area's hottest Korean barbecue restaurants, Yongdaeri continues to produce excellent quality meat with generous quantities., Yongdaeri is also available at Mall of Indonesia. Yongdaeri might even be better than Korean barbecue restaurants in South Korea with rich, tender beef and thick-cut pork belly slices. Yongdaeri serves various authentic Korean meals from jiggaes (stew), fine marbled meat cuts, to some unique Korean street snacks. Yongdaeri signatures include; Sam Gyeop Sal, Jek Seok Teokpoki, Hwangtae Kalguksu, and Su Je Sut Bul-Tteok Galbi. You can order up a few bottles of soju and enjoy their free private Noraebang (karaoke room); just be sure to RSVP the room before! Still hungry at the end of the meat and free banchan (side dishes) parade? Order the refreshing yummy Korean Yoghurt Ice Cream!
Address: Galeria SCBD – Lot 6, Jl. Jenderal Sudirman, SCBD, Jakarta.
Phone Number: +61-21-5150-773 or +62-812-5723-7627 (table booking is recommended)
Average Cost: Rp250.000 for two people (approx.)
Alcohol: Available.
Opening Hours: 11:30-15:00 – 17:00-22:00 (Mon-Fri) and 11:30-23:00 (Sat-Sun).
Social Media: @yongdaeri.koreanbbq
3. Legend of Noodles
Legend of Noodle is famous in town for its chewy noodles and Tangsuyuk (Sweet and Sour Chicken). This establishment regularly fields ridiculously long waits and it's also filled with Koreans (you know the restaurants are good when it's filled with their locals). As for the noodles, both the Jjampong (spicy noodle soup) and Jjajangmyeon (Noodle with black bean sauce) are worth trying. The rest of the stuff here, like Tangsuyuk, a fried tangy sweet and sour chicken or pork to cream cheese shrimp, are also very good. Be sure to come here on an empty stomach because the owners are very generous with its portions!
Address: Jl. Senopati No. 81, Senopati, Jakarta
Phone Number: +62-21-5210-230 or +62-21-5290-6995
Average Cost: Rp200.000 for two people (approx.)
Alcohol: Not available.
Opening Hours: 11:00-22:00 (Mon-Sun).
Social Media: @legendofnoodles
4. Young Dabang
Situated in the heart of Senopati, Young Dabang becomes one of the hottest late-night spots to hang out for young K-pop and Korean food enthusiasts. When you've arrived at this establishment, you'd feel like you've been transported to Korea by the deafening levels of K-pop and live music blaring throughout the building. Serving authentic Korean Soul Food with specialties such as a large Tteokpokki and fried Korean chicken, you can indulge with refreshing options of Soju. Get a full experience of Young Dabang by joining their open-mic Karaoke nights and sing your heart out!
Address: Jalan Senopati No. 57, Kebayoran Baru, Jakarta 12110.
Phone Number: +62-21-2793-7251 (Customer Service) and +62-812-9220-0063 (Reservations only, Whatsapp)
Average Cost: Rp400.000 for two people (approx.)
Alcohol: Available.
Opening Hours: 11:00-23:40 (Sun-Thur) and 11:00-24:00 (Fri-Sat)
Official Website: https://www.youngdabang.id
Social Media: @youngdabangid
5. Chir-Chir
We gotta say that Koreans do fried chicken better than anyone. Korean fried chicken differs vastly from American-style or Indonesian-style fried chicken as they have an ultra-crisp exterior while still super juicy inside. Chir Chir specializes in serving the best version of Korean fried chicken and has four locations in Jakarta alone, including in the Kelapa Gading area. The chicken, served hot, fast, fresh, and amazingly crispy, comes whole, by the wing or drumstick, or as a combo special. Some of our favorites worth ordering are Garlicky Wings, Chir Chi Queen, Original Chicken, and Topokki Cheese as a side dish. Chir-Chir trumps all other fried Korean chicken restaurants in Jakarta that will guarantee a happy belly to everyone who visits!
Address: Mall Kelapa Gading 3, Lantai 3 Jl. Kelapa Gading Boulevard, Kelapa Gading, Jakarta. (Located in various locations)
Phone Number: +62-21-452-9656
Average Cost: Rp350.000 for two people (approx.)
Alcohol: Not available.
Opening Hours: 10:00-21:30 (Mon-Sun).
Social Media: @chirchirindonesia
By now, your stomach has probably growled a couple times. So what are you waiting for? Go check out these must-try Korean restaurants in Jakarta!