Bintaro is now one of the most sought after areas by housing seekers because of the various conveniences it offers. Bintaro itself has become a prestigious area for people in South Jakarta and South Tangerang, with easy access and close proximity to the city center as well as various important places such as office centers, shopping centers, education, and train stations. Apart from that, Bintaro also has many entertainment centers such as malls, restaurants, and cafes. Well, for those of you who want to live in Bintaro, you can choose various residential units such as apartments or kost. Make no mistake, Bintaro's exclusive kost is not inferior to an apartment, you know! Apart from offering complete facilities, several kost exclusive also provide quite affordable prices. The following is a list of recommendations for kost exclusive in Bintaro:
1. Terrace 10A Residence

This modern minimalist kost is quite famous around Bintaro. It is strategically located, so you can meet your daily needs easily. Bintaro Jaya Xchange Mall and Bintaro Modern Market can be reached in just 5 minutes, you know. The nearest hospital, namely RS Premiere Bintaro, is also only 1 km away. Starting from IDR 2,000,000.00 per month, Terrace 10A Residence offers several standard-size rooms equipped with wifi, air conditioning, TV, single bed, wardrobe, work desk, and bookshelf. Additionally, each room has an en suite bathroom with a water heater. Meanwhile, housekeeping is an additional option. For shared facilities, there is a kitchen with a refrigerator, dispenser, stove, and cooking utensils.
Address: Jl. Baitis Salmah Kav. 10A, Ciputat, Tangerang Selatan
Phone: +62 812 1076 575
Check out: Rent Bintaro Plaza Residence Apartment
2. Grass House Bintaro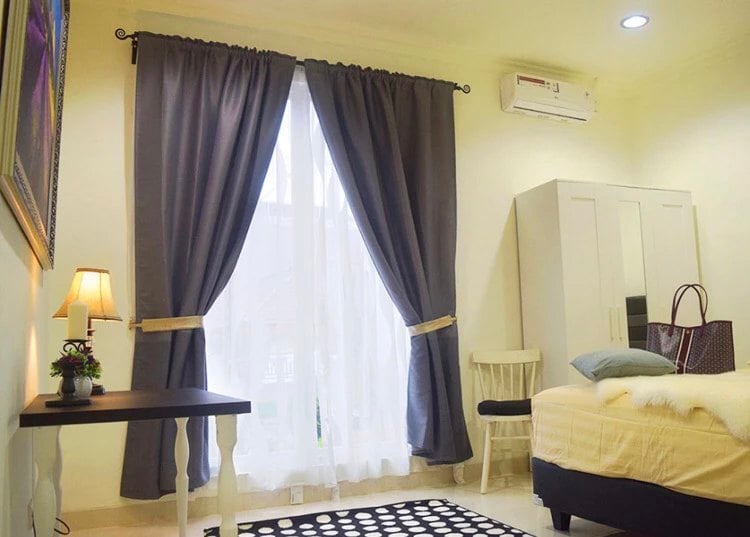 This kost exclusive in Bintaro Sektor 9 is intended for women and married couples. The interior design is beautiful and elegant with a homey feel, plus a garden and fish pond. For Rp2,500,000.00 per month, you will get a room with a private bathroom, water heater (solar cell), AC, cable TV, mini-fridge, cupboard, table, and chairs. For shared facilities, Grass House provides wifi, parking for 8 cars, and a fully equipped kitchen with a dispenser, microwave, refrigerator, gas stove, and induction stove. Don't be confused about laundry or cleaning issues, because they provide free laundry services for 2 people and a janitor. Don't worry about security either, because there are CCTV and 24-hour cluster security.
Address: Jl. Elang V Blok HG 3 No 31, Bintaro Jaya Sektor 9
Phone: +62 817 001 9797 (WhatsApp)
3. Park 8 Residence Bintaro
Park 8 Residence Bintaro offers a modern, comfortable, and complete form of housing and living, where you can find all your needs in one area. This is because, apart from a comfortable place to live with a modern design, they also have an Asian fusion restaurant, a co-learning space, a haircut, a canteen, and a coffee shop which is in the same area as the kost. With a price of IDR 2,500,000.00 per month, you will get room facilities in the form of wifi, air conditioning, TV, private bathroom with water heater, cupboards, as well as tables and chairs.
Address: Jl. Pondok Pucung, Pondok Aren, Tangerang Selatan
Check Out: Rent The Accent Apartment in Bintaro
4. The Roemah Sektor 7
This kost exclusive in Bintaro is a mixed kost (kost campur) that can be occupied by men and women. Its strategic location makes this kost mostly filled by employees. You can find supermarkets, places to eat, hospitals, and campuses around the kost. You only need 5 minutes to Taman Menteng Bintaro, Bintaro Trade Center, Carrefour, and Premier Bintaro Hospital. In addition, it only takes 10 minutes for you to reach McDonald's Bintaro, Bintaro Plaza, Bintaro Xchange Mall, and the Pondok Indah toll gate. By paying IDR 2,000,000 per month, you will get a room with wifi, cable TV, cupboards, tables and chairs, cupboards, and water heaters. Outside the room, you can use the kitchen, living room, washing machine, and parking area to park your car or motorcycle. How about the security? Relax, they have guards and CCTV in the boarding area, really.
Address: Jl. Cut Nyak Dien II No. Fg 12 – 19, Bintaro, Tangerang Selatan
5. Kost Jalak Bintaro
As the name implies, this kost is located right on Jalan Jalak in Bintaro Sektor 2. This 2-story house has a homey and comfortable atmosphere, so it feels like home. You can also hang out at Bintaro's iconic mall, Bintaro Plaza, which you can take about 10 minutes from this kost. Kost Jalak has a parking space that is not too large for cars, but enough for several motorbikes. There are 3 rooms on the first floor and 8 rooms on the second floor, with an area of 3 x 3 meters each. With a price of Rp1,500,000.00 per month, all rooms are equipped with beds, air conditioning, wi-fi, TV, shelves, and private bathrooms. This kost also provides a kitchen and living room for its guests, as well as a 24-hour security service.
Address: Jl. Jalak XIII No.C03/8, Bintaro, Tangerang Selatan
Phone: +62 818 156 494
Lihat juga: Sewa Unit di Emerald Residence Apartment Bintaro
There you go! Those are 5 recommendations for kost exclusive in Bintaro. You must take many things into account when looking for a kost. So, opefully this Flokq recommendation helps and makes it easier for you to find the right kost.