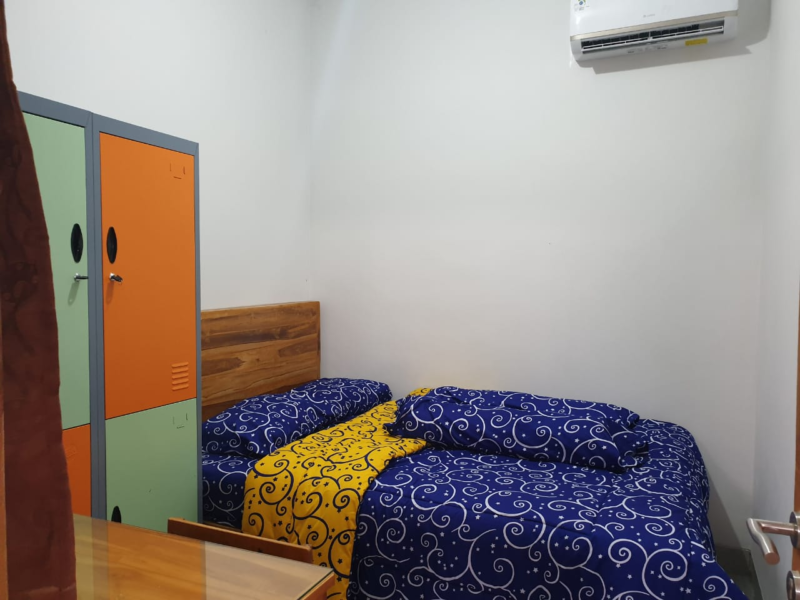 Parents and families may feel worried when their children are away from Home. They definitely need a lot of consideration, especially regarding kost security. When you have to stay for a long time, you need to choose a suitable place according to your preferences. For example, do you prefer a place with air conditioning at a high price? Or do you feel okay if you use a shared bathroom? Do you prefer private rooms or shared rooms? To help you find the right kost, here are our recommendations for the best kost in Gading Serpong.
Affordable Kost Gading Serpong for Under 2 Million
1. Treasure Kost
As the name suggests, this Treasure Kost really reflects the treasure trove in the middle of the Gading Serpong area. In this place you can get the comfortness and also a conducive environment. This kost has a private bathroom equipped with a water heater, so you don't have to worry about taking a shower in the morning. This room is also equipped with air conditioning and also a wifi connection. In addition, you can also get facilities at this kost like a star hotel.
They also complement the room furniture such as tables, cabinets, and chairs. There is a complete kitchen on each floor of the building for you to cook food. The facilities are also complete with a family room which can be a place to gather with friends. Good news for UMN students, this place is only 500 m from UMN. If you pay kost fees in 1 year, you can get a 10% discount.
Address: Jl. Curug Sangereng rt / rw 02/05, Curug Sangereng, Kelapa Dua, Tangerang. Gading Serpong
Phone Number: +628161988068
Price: Rp. 1,450,000 / month
Facilities:Private
Fully Furnished
bathroom with
AC
Water heater
Living room
Kitchen
Fridge
dispenser
TV
Ironfan
table
Wash room
Parking area
2. Wiens Residence
Kost Wiens Residence is a very strategic location because it is close to Summarecon Mall Serpong, Tangerang. This kost area is easy to reach because it is traversed by public transportation. Even though it is simple, the facilities offered are quite complete so that you will still feel comfortable living in this kost.
Address: Jl. Kelapa Gading Selatan Blok AH 10 No.11-12
(Next to Mall SMS) Gading Serpong Tangerang.
Phone Number: 085100234021
Price: Rp 950,000 – Rp 1,350,000
Facilities:
Wardrobe
Desk
Beds
Wi-Fi
parking place
Guard 24-hour
Fridge
Bathroom with water heater
Premium Kost Gading Serpong with Budget Above 2 Million
1. House of Seven8Nine
This kost is located in one of the clusters in the Gading Serpong area which is classified as exclusive. House of Seven8nine is located very close to the UMN campus and the SDC mall. This kost is a mixed kost that accepts both men and women as residents.
Spacious rooms offer spacious enough that is the type with a size of 18m2 and 24m2 Both are fully furnished, equipped with AC, private bathroom, and Wifi. There are also a swimming pool and function room as the provided facilities that can be used by residents. If you pay the annual direct rent, you can get a discount so it's cheaper.
Address: Cluster Alloggio – ALGB3 / 2-50, Scientia, Gading Serpong, Tangerang
Phone Number: +628158728738
Price: Rp. 2.100,000
Facilities:
Private bathroom
Full AC,
Full furnished
CCTV Secured
Security Internal 24 hours
Free Wi-Fi
Laundry
Kitchen ( refrigerator, microwave, gas stove)
Multipurpose room Large
Parking area
Swimming pool
Miniclub
Basketball court 3 on 3
Kost Gading Serpong for Men
1. Cozy Residence
Just like other kost in the cluster, here you can also benefit from a swimming pool, parking space, and also 24 hour security. Kost Cozy Residence is located close to UMN and Pradita Campus, Summarecon Mall Serpong, and SDC Mall only 15 minutes away. The Spring Bed provided is guaranteed to be comfortable because it comes from the Airland brand and also Pillow Top for additional foam.
This kost which is classified as exclusive in Gading Serpong offers comfort and quality of sleep because the mattress is soft and comfortable. In addition, you don't need to worry about laundry because the services are provided for 15 kg per month (clothes only).
Address: Jl. Allogio Barat VII No. 50, Cluster Allogio Summarecon Serpong, Gading Serpong – Tangerang
Phone Number: +6281908450006 (Whatsapp), +6285781592192
Price: IDR 1,800,000 / month
Facilities:
Fully furnished
AC
LED TV
Wifi
CCTV
Kitchen
Fridge
Parking area
2. Riviera
Kost is also a one of the male-only kost located in the Gading Serpong area. It is strategically located because it is close to Living World Alam Sutera shopping center and Summarecon Mall Serpong. This residence is very suitable for UMN students because the distance is quite close to the campus building. Besides that, the environment is quite beautiful and very comfortable.
The facilities offered are quite complete. With an affordable price you will get a fully furnished room, AC, kitchen set, Wifi, and electricity costs are included. There is also a swimming pool that you can use. Don't worry, the security in this kost is maintained 24 hours.
Address: Riviera Village Blok Timur No. 22 Gading Serpong – Cihuni, Pagedangan, Tangerang
Phone Number: 087788785579
Price: IDR 1,800,000 / month
Facilities:
Bed
Study table
Wardrobe
AC
Kitchen set
Wi-Fi
Swimming pool
24 hour security
Parking for cars and motorbikes
Kost Gading Serpong For Women
1. Holan Kost
This kost location is near UMN and Surya University, so it is suitable for you as a student on that campus. There are minimarkets, restaurants, and malls around the area, such as Summarecon Mall Serpong, AEON, Giant, and Hypermart. Each room is equipped with 24 LED TV, and the room measures 3 x 2.5 m. Enough to provide a very comfortable space to enjoy television shows at leisure. This room has air conditioning and also has its own bathroom. Every month, you can get a laundry voucher worth 12 kg. Since Holan Kost is only available for women, it is forbidden to bring male guests into kost rooms.
Address: Jl. Scientia Square, Ruko Newton Barat No. 36, Gading Serpong, Tangerang
Phone Number: +628192291992
Price: Rp 2,000,000 / month
Facilities:
Fully Furnished
AC
Private Bathroom
LED TV
Wi-Fi
Fridge
Electric stove
Dining room
24 hour CCTV
Water heater
2. Guest House Milano
Kost Guest House Milano is located between the Gading Serpong and BSD border, with a distance of 3 km from the UMN campus. You can invite friends to stay here for an additional fee of only 1 million rupiah. You will get 1 month free if you pay direct kost fees for 1 full year, so in total you only pay 11 months. The amount paid includes electricity, laundry and vehicle parking. Large windows make your room get enough lighting. This house is open 24 hours with security on duty around the clock.
There is a shared kitchen with complete cooking utensils as well as ample parking space. In the cluster residential, residents can exercise using a jogging track and swimming pool. In the housing complex, there are several clubs with activities that you can participate in, such as Zumba. You will not feel bored because the location of this kost is very close to Summarecon Mall Serpong.
Address: Cluster Milano Village, Medang, Kec. Pagedangan, Tangerang, Banten 15820
Phone Number: +6287878882233
Price: IDR 2,500,000 / month
Facilities:
Fully furnished
AC
Living room with TV Cable
CCTV
Wifi
Refrigerator
Kitchen
Parking area
Read also: Best Kost in Karawaci
So, if you are going to work near the Gading Serpong area and don't know where to find the best place to live, you can use this article as your guide. Hope this helps! Check out other recommendations on our blog for enjoying life in the Jakarta area.